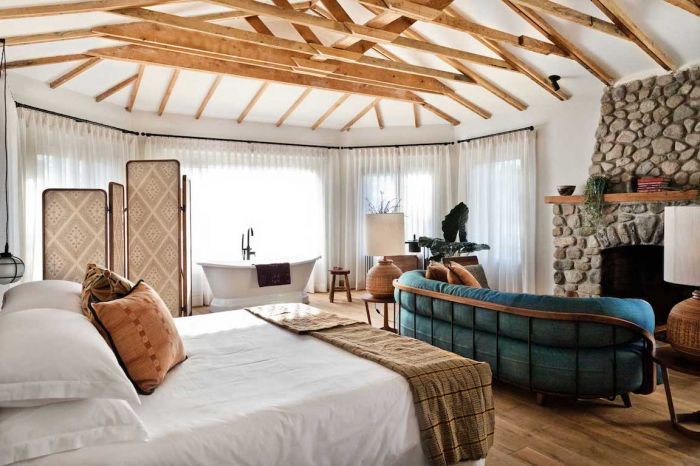 Two Bunch Palms
While not as glitzy as sister city Palm Springs, thanks to its natural hot water aquifers Desert Hot Springs is a low-fi oasis for health and wellness. Perhaps nowhere more so than Two Bunch Palms, the granddaddy of local spa resorts whose mineral-rich waters make for an incomparable therapeutic soak. Built in the 1920s and rumored to be the West Coast hideout of Al Capone, Two Bunch is nestled within a lush oasis amidst 77-acres of desert landscape two hours outside of Los Angeles. An iconic relaxation destination in Southern California – it's the perfect retreat for a weekend away.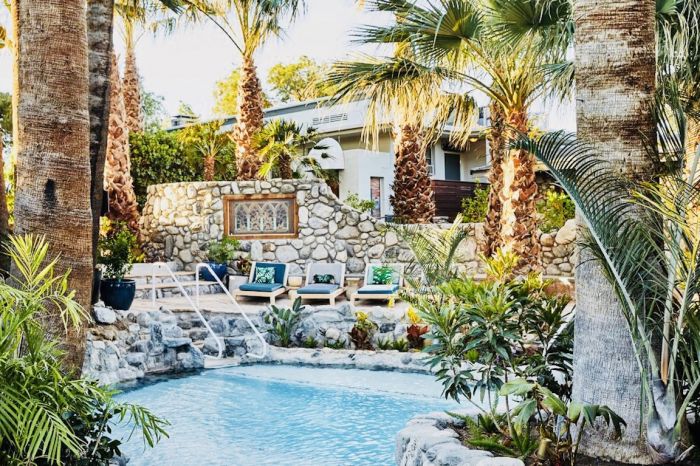 Two Bunch Palms
THE WATERS
Could there be a more gentle way to cleanse the body, relax the heart, refresh the mind, and purify the soul than 'Taking The Waters'? Legendary healing springs inspire rejuvenation for wellness-minded travelers and for years the star of the show at Two Bunch was its meditative grotto pool now guests make a beeline for the teak and concrete soaking tubs dotted within its grove of whispering palms and tamarisk trees. Fed by a 600-year-old natural spring, the soothing artesian waters are low in sulfur and rich in lithium, a unique composition famed for its therapeutic properties.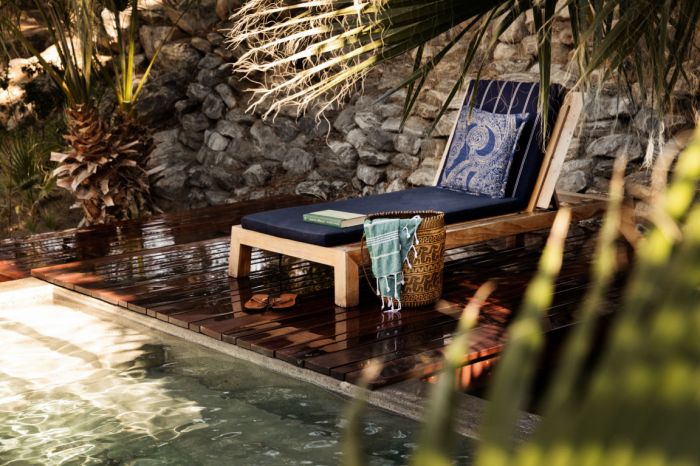 Two Bunch Palms
THE SPA
While a brand new outdoor-focused spa with modular treatment rooms and views of the San Jacinto Mountains is planned for the eastern edge of the property, for now, the Two Bunch spa has a total of 22 treatment rooms, including two mud cabanas. The peat moss, groundling clay, and mineral water mixture is brilliant at exfoliating the skin and soothing tired muscles. A multitude of holistic therapies is offered too, such as chakra balancing and reiki, massages, facials, and body treatments, including a Himalayan Salt Glow, and Two Bunch Body Ritual. For those who can't stay over the TBP Day of Wellness Package includes a 60 or 90-minute spa treatment, spa meal, access to the mineral baths and all wellness classes until 6.30 p.m. Pack light — it's easy to spend an entire stay here in your spa robe.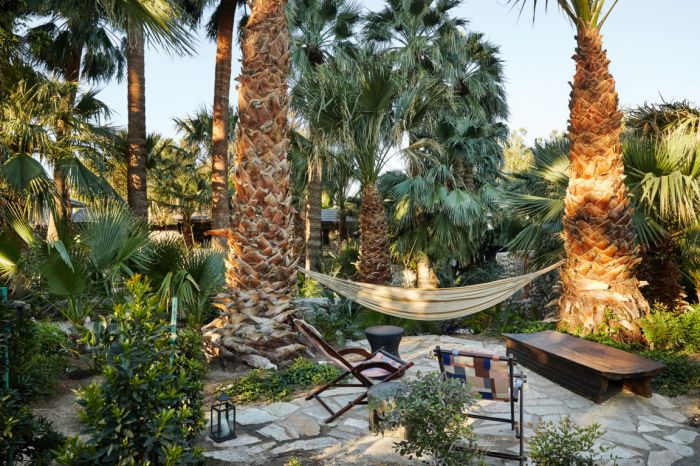 Two Bunch Palms
WELLNESS PROGRAMS
Two Bunch Palm's recently revamped wellness programs include a variety of classes and workshops for guests with a focus on alternative therapies and relaxation techniques. Hosted by pro-surfer Kassia Meador, the unique Floating Sound Bath series creates a three-dimensional experience as vibrations from the crystal singing bowls travel through the mineral-rich grotto pool waters, while the Sacred Cacao Sound Bath and Healing Yoga session combines yoga and guided meditation with a meditative sound bath. The 3,000-square-foot Celestial Dome frequently hosts yoga classes and retreats, while small gatherings and workshops, including drum circles, art classes, and seasonal events, like summer stargazing, also feature.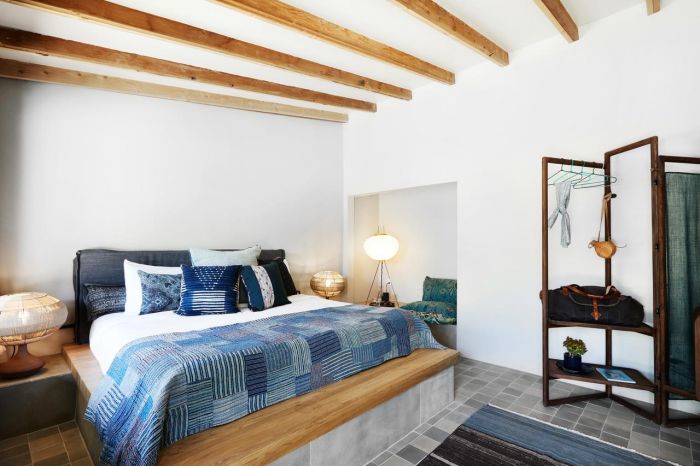 Two Bunch Palms
SUITES & VILLAS
Fresh from its recent $2-million renovation led by principle designers Studio MAI (the Los Angeles-based firm behind Austin's iconic South Congress Hotel) all guestrooms, including 13 suites have custom remodeled interiors featuring mid-century modern details and understated custom décor. The oh-so-chic Capone suites now have a private entrance (the master its own outdoor soaking tub) while Spring suites are just steps from the grotto. Beyond the meditation pools towards the southern end of the property, stylish Desert rooms and suites each have an intimate outdoor space. And tucked inside a compound in the heart of the property, the Grove Villa Suites boast a private pool and the ultimate feeling of seclusion.
THE RESTAURANT
In collaboration with chef Phuong Tran of West Hollywood's trendy Croft Alley, the resort's menu also underwent a redesign with Tran emphasizing local ingredients and the clean, California flavors. Open daily for brunch and dinner, many of the dishes are prepared with organic ingredients grown on the property or sourced from local farms. Those following specialized diets are well catered too with a wide range of options, including vegan lasagna and gluten-free alternatives. Drinks-wise think everything from cocktails and wellness elixirs––all of which can be infused with CBD––to imported bottled beers, plus a balanced wine list featuring both Old and New World varietals.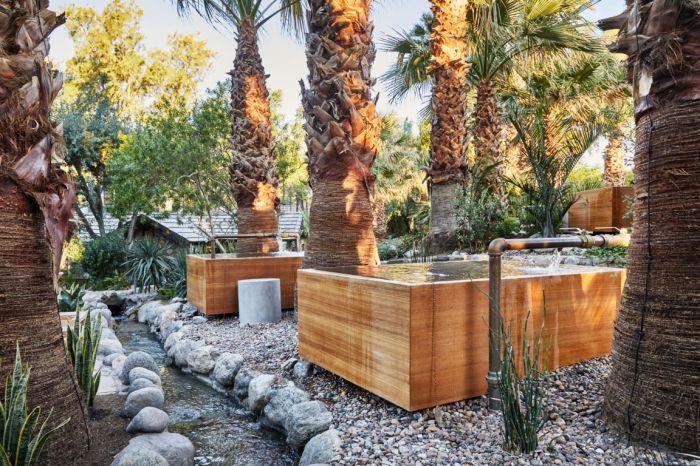 Two Bunch Palms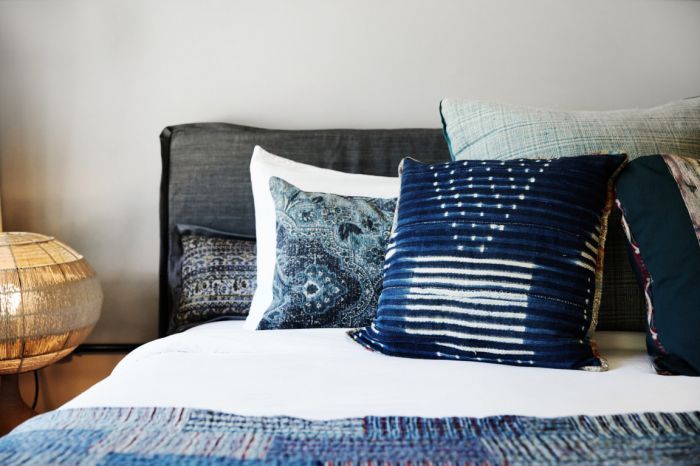 Two Bunch Palms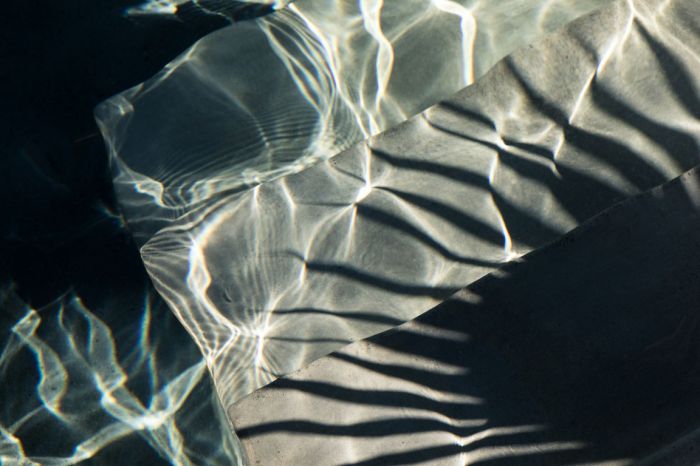 Two Bunch Palms
Two Bunch Palms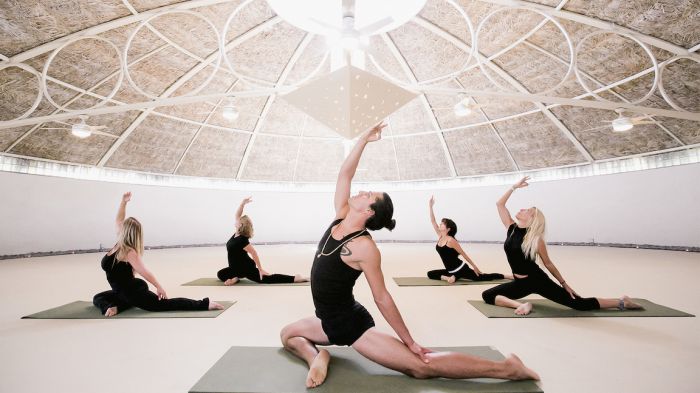 Two Bunch Palms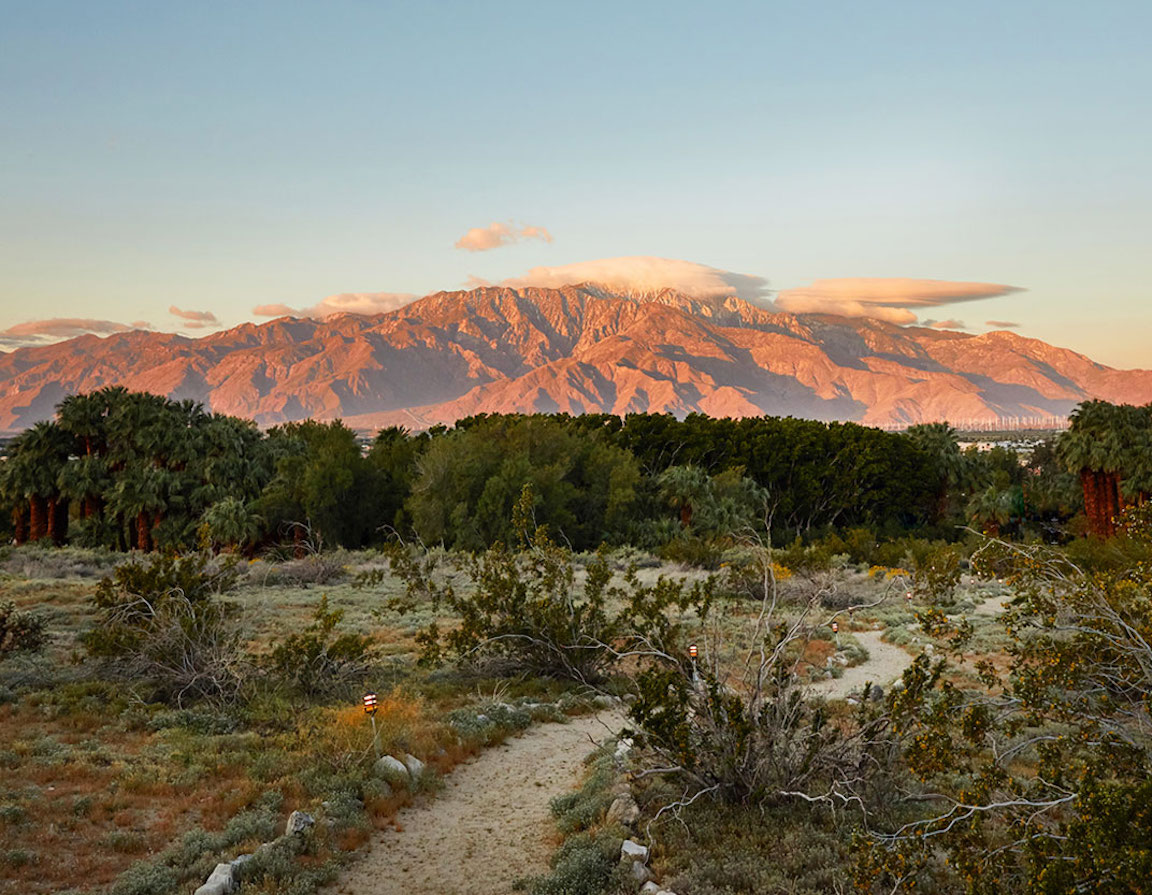 Two Bunch Palms