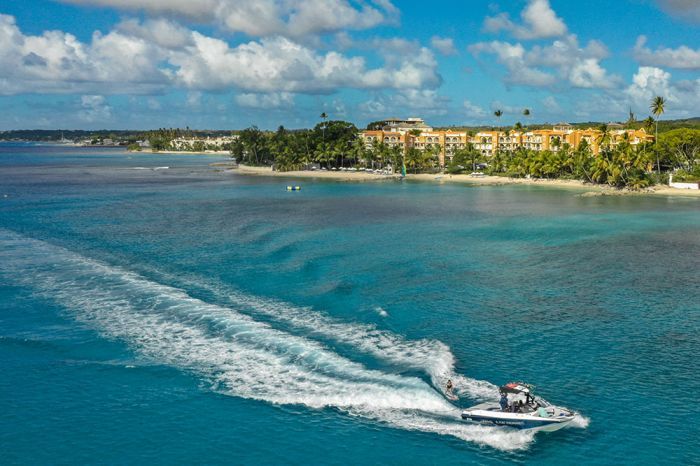 When you close your eyes and picture your paradise, what do you see? A cloudless sky with crystal blue water to match? Sandcastle-spotted beaches mesmerizing the little ones? Maybe you picture your soulmate docking the yacht on an island all your own. . .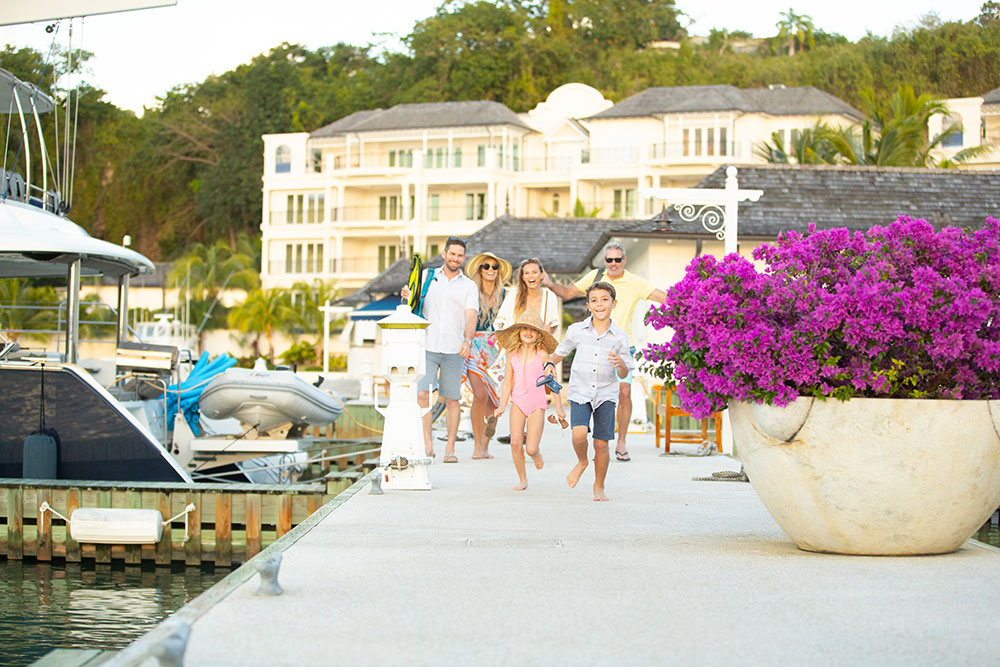 Bringing one or all these visions to life isn't impossible. In fact, some places are simply destined to do so. Barbados is one of those places and though you've likely heard of the West Indies island, there's much to discover about what makes it so special.
The Destination
Situated along the Northwestern Tip of the Lesser Antilles, the island is easily accessible from the U.S., Canada, Europe, South America and the United Kingdom. The climate is pleasantly predictable, with temperatures hovering around the upper 70s and waters calm and welcoming.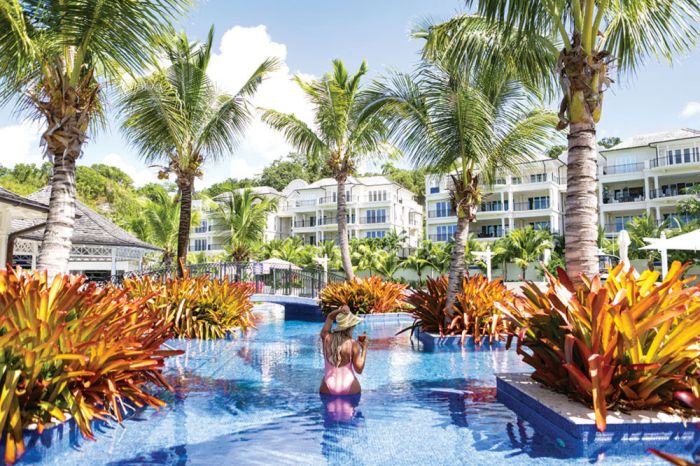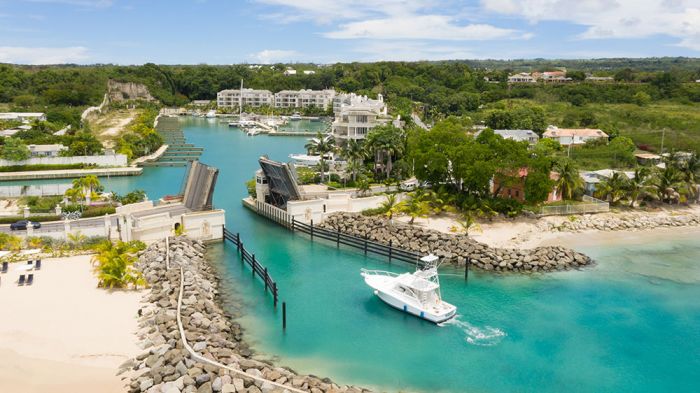 World-class fishing, sailing and aquatic sports appeal to the water buffs, along with premier scuba diving and snorkeling. On land, championship-style golf and scenic hiking are popular pastimes. Sunning and swimming are always encouraged and once you've worked up an appetite, there's no shortage of tasty cuisine in the "Culinary Capital of the Caribbean." Hello, Barbados!
The Details
So, what could possibly be better than this? Perhaps all of the above plus a state-of-the-art marina and private boat dock. Port Ferdinand Yacht and Beach Club Residences exceed expectations in every respect. Unifying authentic 'Bajan' hospitality with a luxurious oceanfront lifestyle, it's a living dream for yacht lovers and curious travelers alike.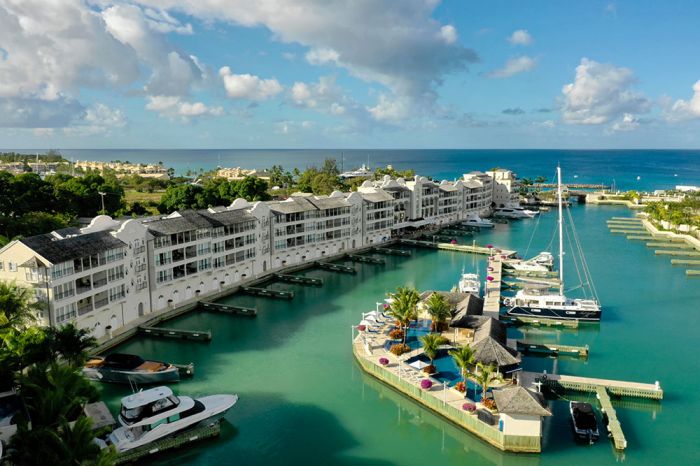 A collection of 46 residences, the exclusive property lends itself to an intimate and convenient way of life. The resort was built to last, which is evident in the high-quality construction of every home and facility. Villas center on a spectacular marina and each features a personal, deeded slip measuring at least 60 feet in length. Don't own a boat? Fortunately, these slips are in high demand and as such can be easily leased out. If a refined boating community with an elevated level of service speaks to you, planting roots at Port Ferdinand is a no-brainer.
The Style
Colonial in nature, the aesthetic is sophisticated and timeless. Natural light pours in through massive pane-less windows and complements crisp marble floors. Oversized indoor and outdoor living spaces make for prime entertaining and indulge-worthy amenities include a Chef's kitchens with top-of-the-line appliances, an outdoor dining area and a private whirlpool overlooking the marina.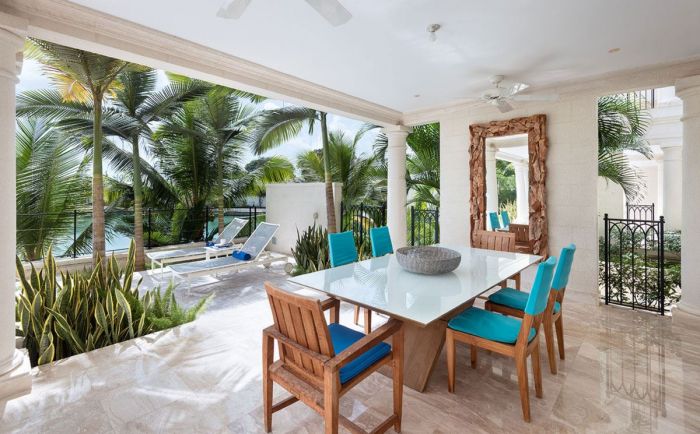 Maybe the most impressive – and unexpected – attribute is the spaciousness of these villas. From 2,000-square-foot single bedrooms to expansive three-bedroom units and a handful of six-bedroom penthouses upwards of 6,300-square-feet, they're available for purchase or vacation.
Marrying serious comfort with epic views of the Caribbean Sea, these dwellings beckon guests to retreat within for hours on end. But the rest of the island is calling and when in Barbados, you'll want to answer.
The Scene
Nothing tempts guests to do so quite like mouthwatering fare. The Quarterdeck Bar & Pizzeria serves up poolside essentials for breakfast, lunch and dinner. The casual eatery is a solid choice with plenty of options. For a slightly more polished dining experience, Dockside at 1359 pleases palettes with Caribbean-French-fusion. It's also notorious for hosting the island's greatest Sunday Brunch.
The spot to see and be seen is Nikki Beach. Think cabanas, live music and a lengthy cocktail menu. With enduring traditions like Rosé Saturdays, you're like to get caught "drinking pink" by noon.
When the sun sets, the party goes on. And Sandbox Tree Spa is fully equipped to aid in post-revel recovery. Standout treatments include the Beachside Massage and Bamford Full Body Exfoliation. Other means of detoxing are via the onsite yoga room and high-tech fitness center. Afterall, finding internal balance is key to enjoying such a dreamy environment.
The Next Step
Close your eyes once more. If it's Barbados you see, it's time to make a move. Visit website for details on Port Ferdinand or sister property, Saint Peter's Bay. Linked by complimentary water taxi, the resorts offer shared amenities to all residents and guests.