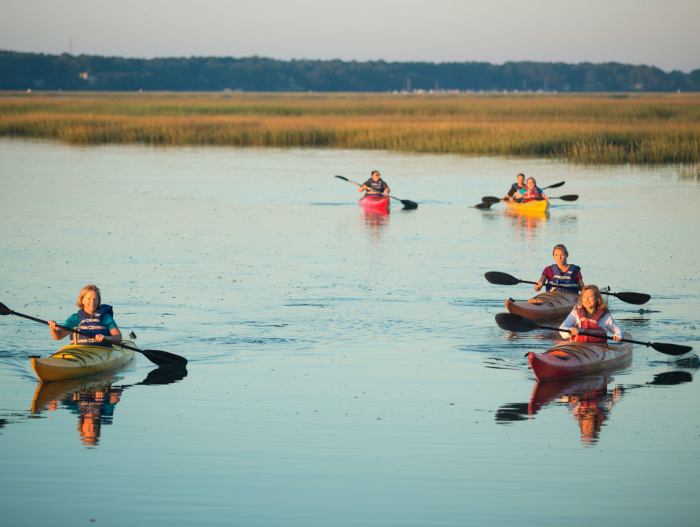 Hilton Head Health
Yup, after my recent visit, I can see why Hilton Head Health was voted "America's #1 Weight Loss, Health, and Wellness Resort of 2019" by USA Today. H3 (as it is affectionately referred to by its guests) also scored "Best for Weight Loss" 7 Years in a Row by SpaFinder Wellness.
Even though I was there only for a much-too-short reboot (their four-day, all-inclusive Healthy Getaway Program. They also offer a 7+ day JumpStart Program or the let' s-get-serious, life-changing 28+ day LoseWell Program) I left feeling soooooo much healthier, relaxed, equipped with some newfound exercise and dietary strategies to put into play.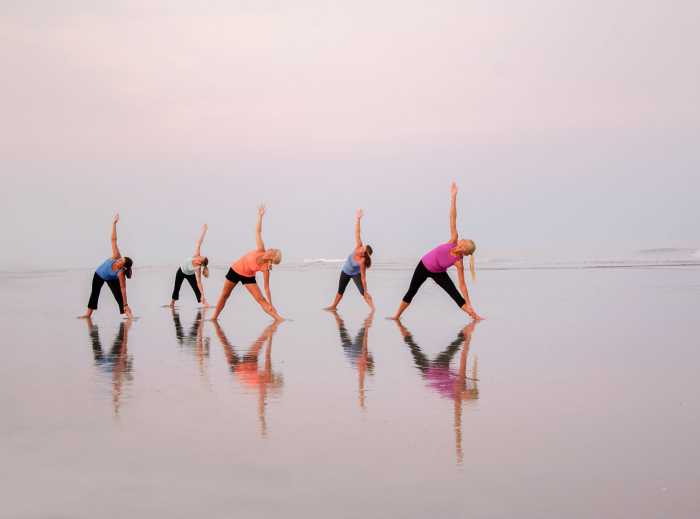 Beach yoga is fun! Hilton Head Health
I'm sure there are many different reasons why H3 has racked up numerous awards over their 40 years in business, but for me it was their freakin' fabulous food! First off, no buffets here, which is usually the case in most spa resorts.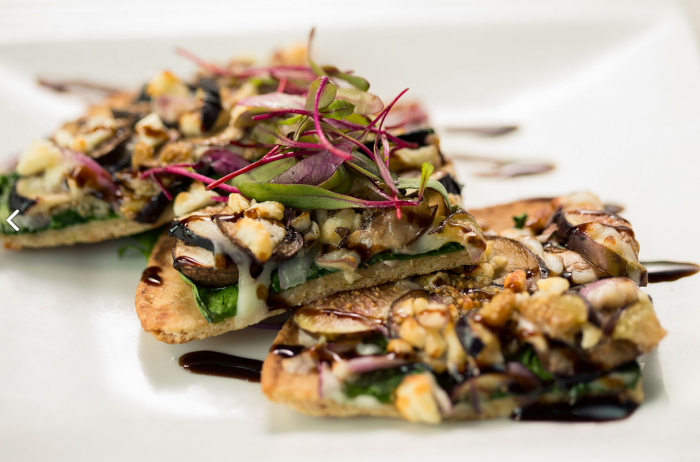 Fresh and filling chicken flatbread. Hilton Head Health
Instead, upon entering True, the bright welcoming dining room, you are cheerily greeted by the wait staff who hand you an enticing à la carte menu as well as an alternative plant-based one.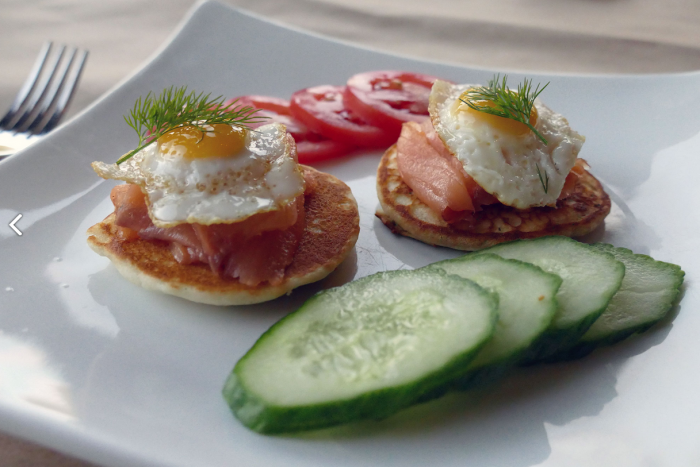 Smoked salmon and eggs was my fave breakfast. Hilton Head Health
The menu offered many enticing ethnic choices ranging from a veggie-laden pad thai, jerk chicken sammie, spring rolls, and a yummy seared Ahi tuna sushi bowl.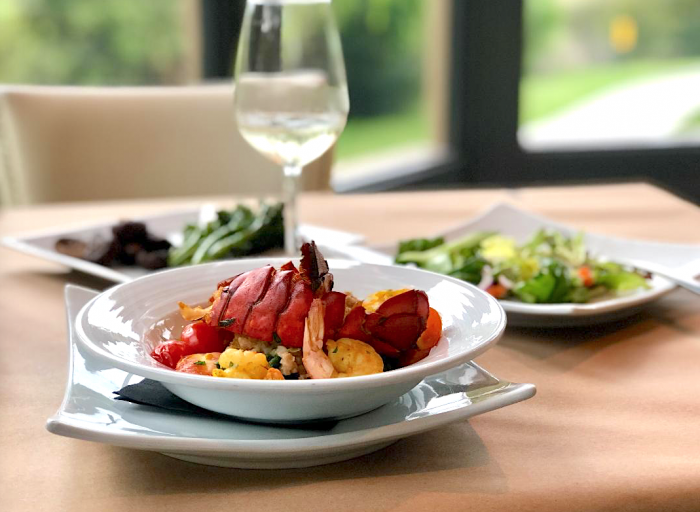 I was thrilled that I could order wine with my lobster. Hilton Head Health
True's tag line reads: "True Food is local, flavorful and wholesome. True to nature. True to you." Which is all so true, but since they are too humble too brag I would add: their food was also TRULY scrumptious, beautifully plated, and totally satisfying.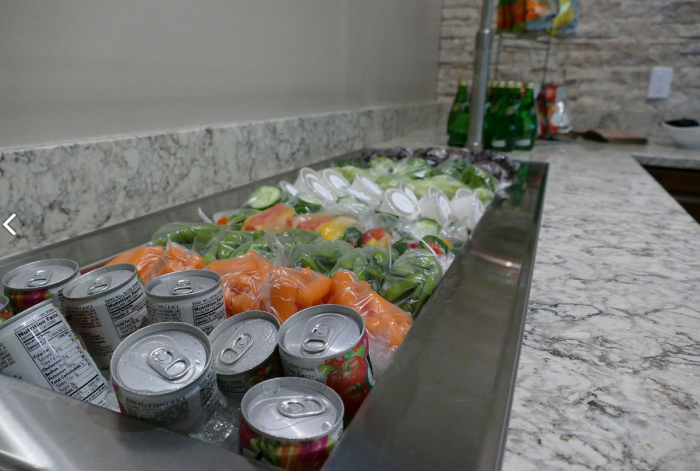 Veggie fit bites. JRN
Since I normally chow down like a truck driver, I was amazed that I never suffered any hunger pains even though I was following the low end of Hilton Head Health's suggested program calorie range: 1200-1600 calories a day. This included three meals a day plus a morning and afternoon snack, aka Fit Bites. Fit Bites are adorable, little individually wrapped cups of fresh fruit and veggies and dips were all about in the 25-50 calorie range. The berries with a mini side of yogurt were a welcome treat.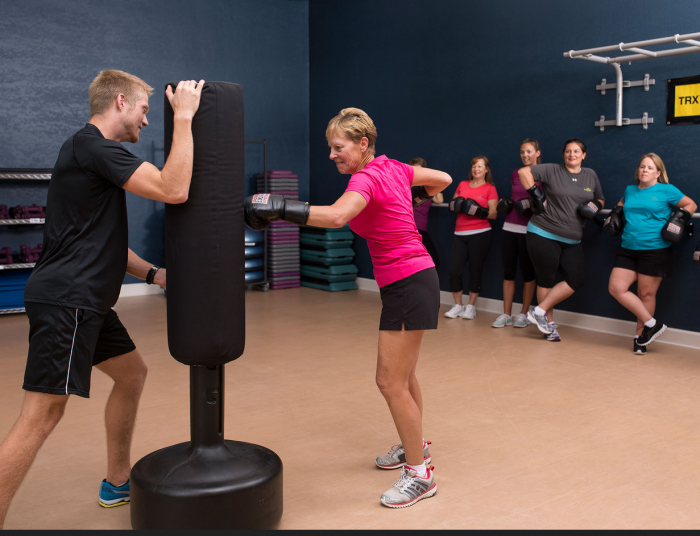 Punch out your frustrations. Hilton Head Health
With over 50 exercise classes to choose from, there is something for every fitness level, emphasizing flexibility, strength and cardio fitness. Many, from Aqua Boxing to Yoga on the Beach, are held outdoors, taking full advantage of the stunning island setting.
The caring, upbeat instructors manage to make even dreaded sit-ups fun, although this is definitely the place to try something new. Although I'm no stranger to treadmills, after taking their Dynamic Treading class, I learned techniques for a much more effective workout. Cardio boxing was a blast and released all my pent-up frustrations.
Although, as a non-bendy person who has flunked more yoga classes than you can count, in the Gentle Yoga class, I actually managed to do a credible "Down Puppy"!
I followed this with a Hip Mobility Stretch class (taught by Ty-a perennial favorite) that magically released tension in my lower back I've had for years. I swear I stood an inch taller after this one.
Other fun-sounding classes that I didn't have a chance to try are:
Salsa dancing, Self-Defense and Martial Arts Skills taught by Paul, a 2nd Degree Black Belt, Country Line Dancing, and Yoga Nidra, which I've never heard of before but since it translates to "Yoga Sleep," it's right up my alley.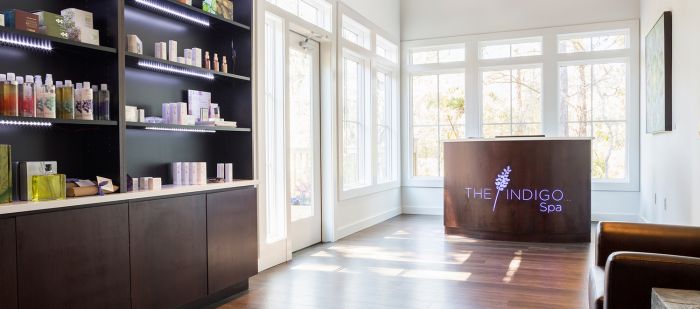 Bright and welcoming spa with great products. Hilton Head Health
Ahhhh — the Spa
A treat for all your senses, you soon learn that The award-winning Indigo Spa is a (most welcome) integral part of H3 holistic experience. While many others struggle with self-nurturing, I rule when it comes to pampering, and Indigo has this down to a science.
Go early for your treatment so you can unwind a bit in their seductive, serene, relaxation room overlooking a beautiful oak-shaded lagoon, home to grey herons, white egrets, and the occasional gator. Stay after for a shower at the spa to take advantage of the vast array of products available in the women's locker room. I loved being able to try big dollops of luxury shampoos, bath salts, body oils, and facial balms from top cosmetic lines such as Red Flower, Eminence, Jane Iredale and Living Proof, rather then those measly little sample packets they hand out at retail store counters.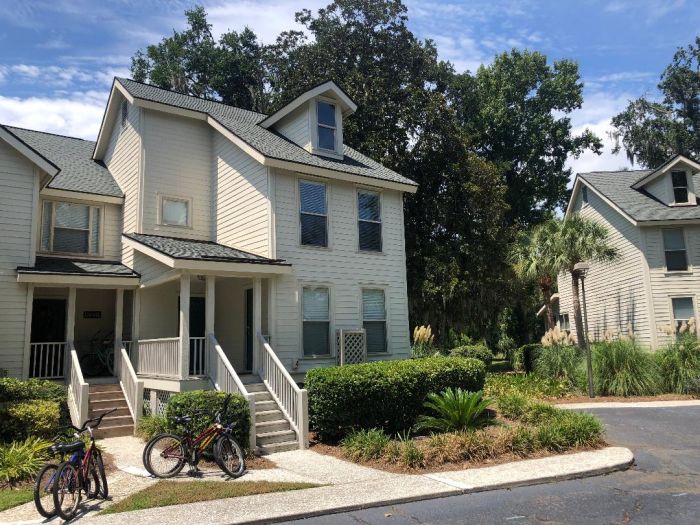 Bikes are a popular mode of transportation here. JRN
Roomy Accommodations
Hilton Head Health is conveniently located inside Shipyard Plantation, a scenic 800 acre gated community filled with miles of attractive pedestrian paths lined with moss-draped oak trees and tropical palms.
H3 does not have a central hotel; rather guest accommodations are provided by 2 or 3-bedroom cottages sprinkled around the property. Some are quite a long walk from the "main campus" so you might want to call and ask about this when you are making reservations. Since many of the condos are privately owned, they are all uniquely furnished.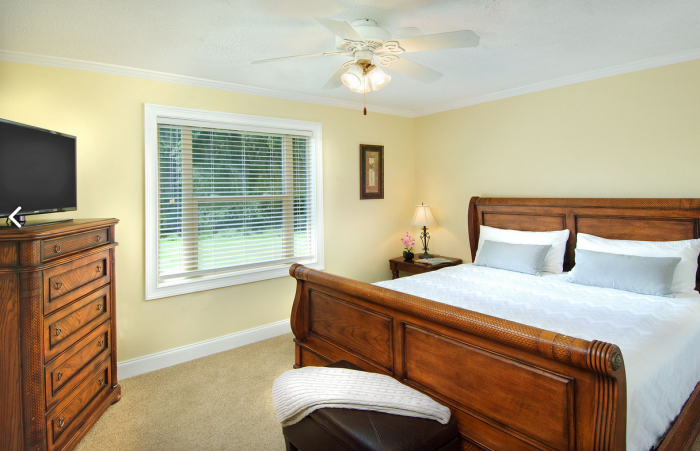 JRN
Although there is not an abandance of charm, my cottage was clean, roomy and very quiet, with an adequately furnished kitchen, in case I wanted to try out any of my newly acquired healthy cooking skills.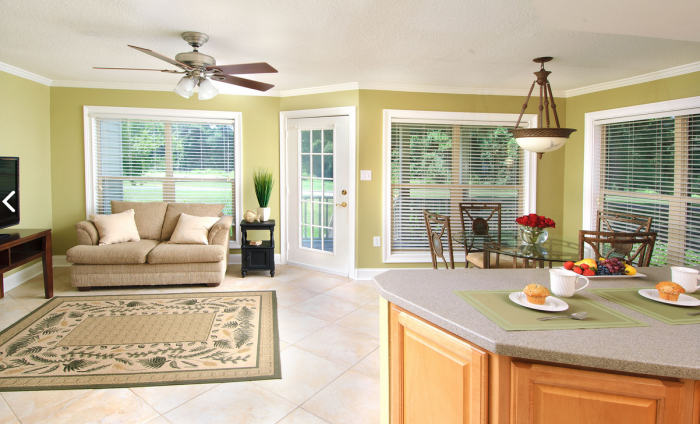 Hilton Head Health
Hilton Head Health-Weight Loss Resort and Spa
14 Valencia Road, Hilton Head Island, South Carolina
For more information and to find out about special offers check their website.