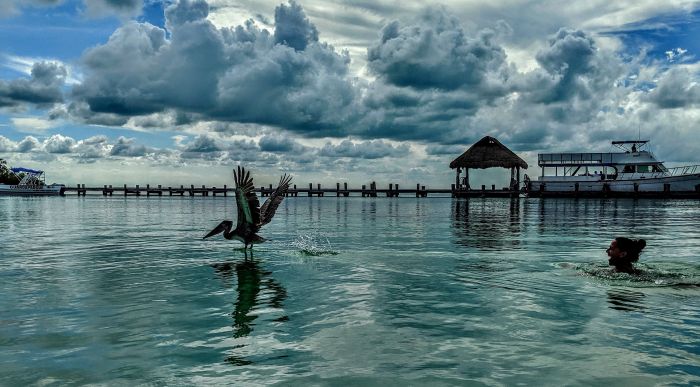 Photo by Lavinia Lumezanu
With Cancun airport being an easy gateway for both international and domestic flights, the entire Riviera Maya is a beautiful protected jungle by the ocean that not only survived the general Mayan collapse, but was also largely left untouched by the Spanish colonists. Currently one of the most popular tourist destinations in the Yucatan Peninsula, Riviera Maya never ceases to amaze with its beautiful clear waters, its ancient ruins and archeological sites, its nature preserves, and its world-renowned cenotes.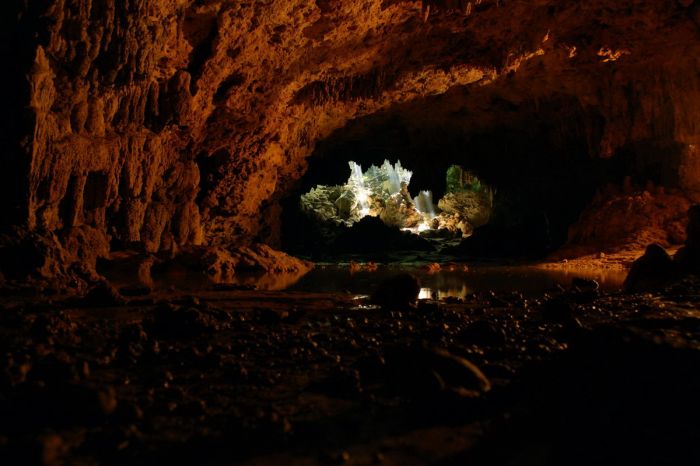 Photo by Rio Secreto
Located about an hour away from Cancun international airport, Riviera Maya is host to a variety of beautiful beaches, incredible jungles, and amazing cenotes, which are sinkholes, resulting from the collapse of limestone bedrock that exposes groundwater underneath.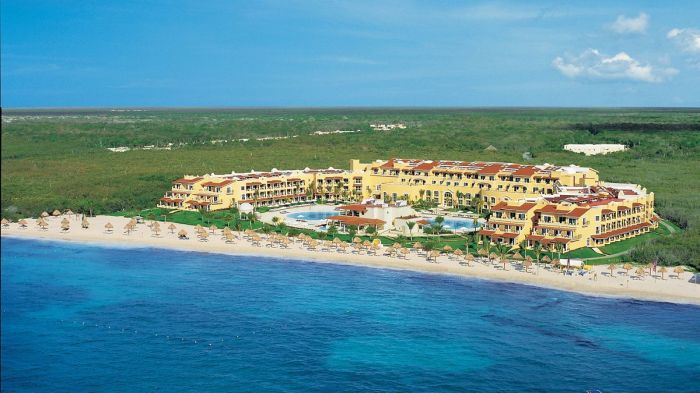 Photo by Secrets Capri Riviera Maya
With so many natural splendors to protect, it's no wonder that more and more hotels and organizations in the area are fighting to keep it environmentally conscious. One such hotel is Secrets Capri Riviera Maya, an oasis located right on the beach, on a 71-acre lot in the middle of nature, where every decision is made with a deep respect for the surrounding environment. The resort is Rainforest Alliance Certified™, a certification that assures the commitment of Secrets Capri Riviera Cancun to reduce the impact of its activities on the planet and local communities. The requirements for certification are aligned with the Global Sustainable Tourism Criteria.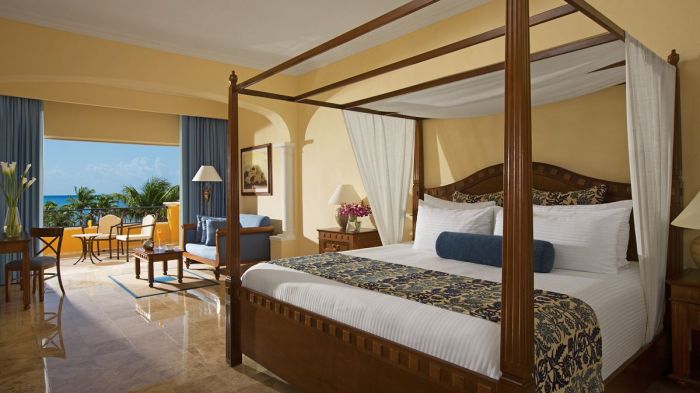 Photo by Secrets Capri Riviera Maya
Secrets Capri Riviera Cancun boasts 291 all Preferred Club luxurious smoke-free guestrooms and suites designed to reflect the romance and charm of a Mediterranean villa, that come equipped with a complimentary mini-bar and room service as well as a private terrace and balcony.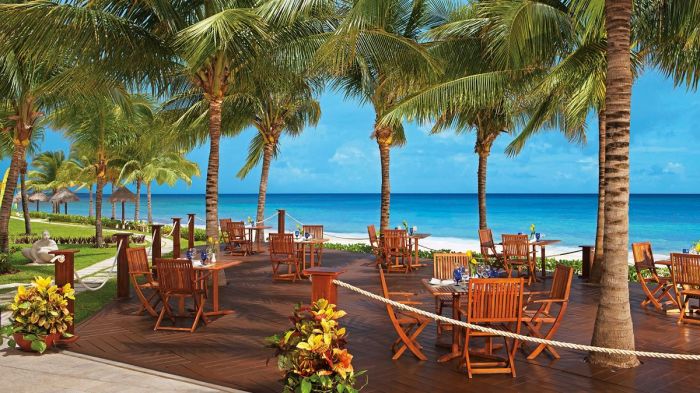 Photo by Secrets Capri Riviera Maya
Guests can indulge in an expansive array of local and international cuisine and a number of health-conscious options at each venue or they can choose to stay in and order room service, which is available 24 hours.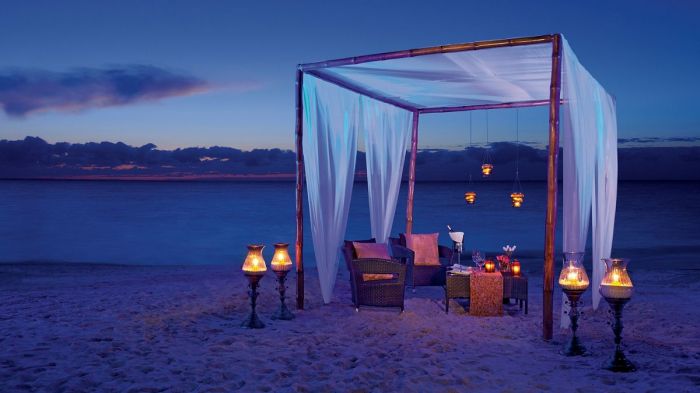 Photo by Secrets Capri Riviera Maya
In alignment with the highest requirements of each guest, the special menu items include vegetarian, gluten-free, sugar-free, organic, and more. Your Unlimited-Luxury® privileges include all meals and top-shelf spirits.
While staying at the Secrets Capri Riviera Maya, there are a few things that should be on every visitor's list.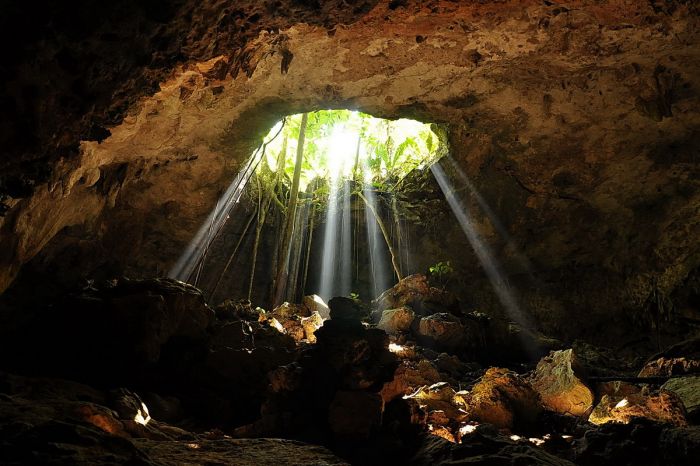 Photo by Rio Secreto
Head off to Playa del Carmen for an unforgettable experience in the underground caves of Rio Secreto, where tourists can observe natural history dating back millions of years, as they hike and swim through a route of about 1 km full of beautiful stalactites and stalagmites.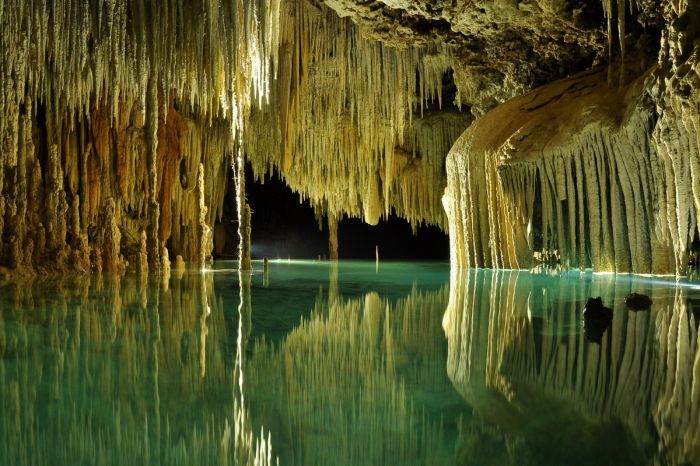 Photo by Rio Secreto
Deep inside an underground cave, visitors can experience true silence among some of the most dramatic mineral formations in the world.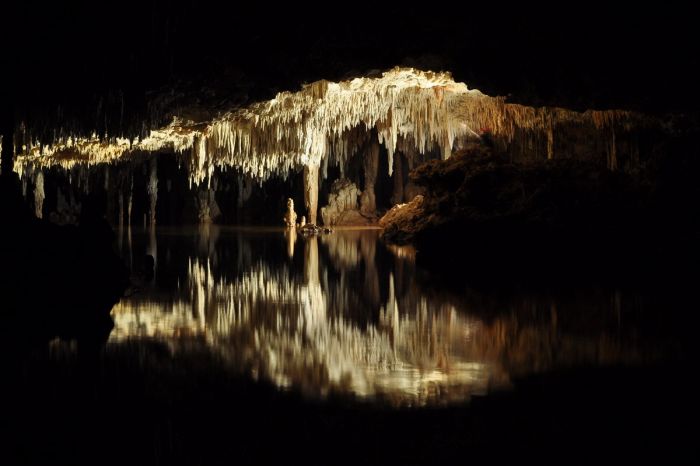 Photo by Rio Secreto
These underground caves called cenotes are the result of water seeping through the limestone over millions of years, creating unbelievable patterns and shapes and creating a home for small fruit bats and species of fish that have perfectly adapted to the lack of light.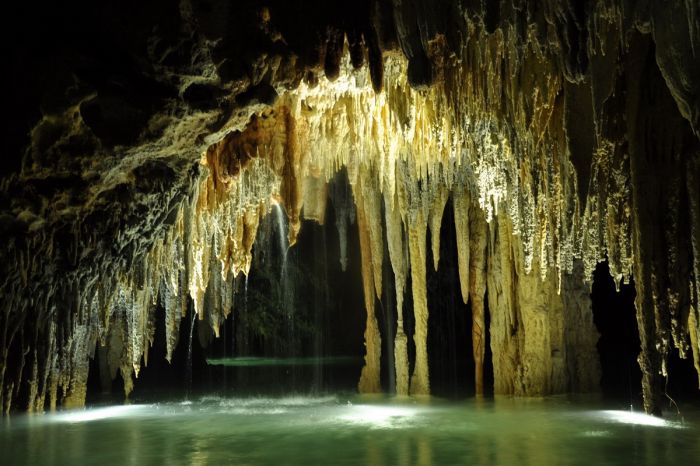 Photo by Rio Secreto
There are a few options for the tours, yet all of them begin with a Mayan blessing for safe passage and good luck.
For another eco-friendly adventure in the Riviera Maya, Isla Mujeres and Isla Contoy are an absolute gem of the Carribean.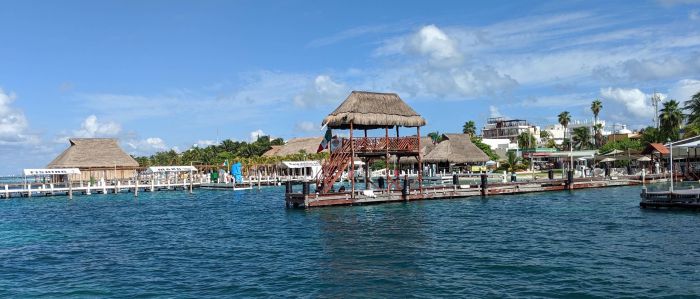 Photo by Lavinia Lumezanu
In Pre-Columbian times Isla Mujeres (Island of Women) was considered sacred to the Maya goddess of childbirth and medicine, Ixchel and was named Isla Mujeres by the Spanish who arrived in the 16th century and saw all the images of goddesses on the island.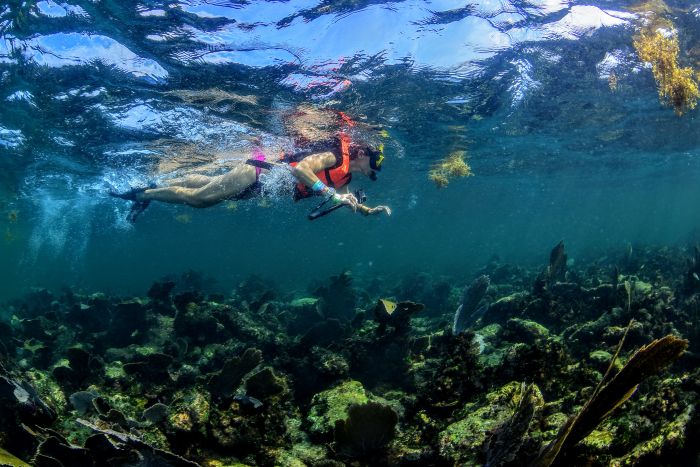 Photo by Alltournative
Today the island is home to various environmental endeavors from rebuilding the coral reef to bringing awareness to the conservation of the Carribean island.
Photo by Lavinia Lumezanu
Isla Contoy is another small island in Quintana Roo, just 18 miles north of Isla Mujeres. The island itself is only 1.22 sq miles and is protected by the Mexican government. Supervised eco-tourism and regulated commercial fishing is allowed on and near the island. Only a few tour companies have permission to bring the only at maximum 200 daily visitors to Isla Contoy. Visitors need to apply for permission to visit the island at the park offices in Isla Mujeres or Cancún.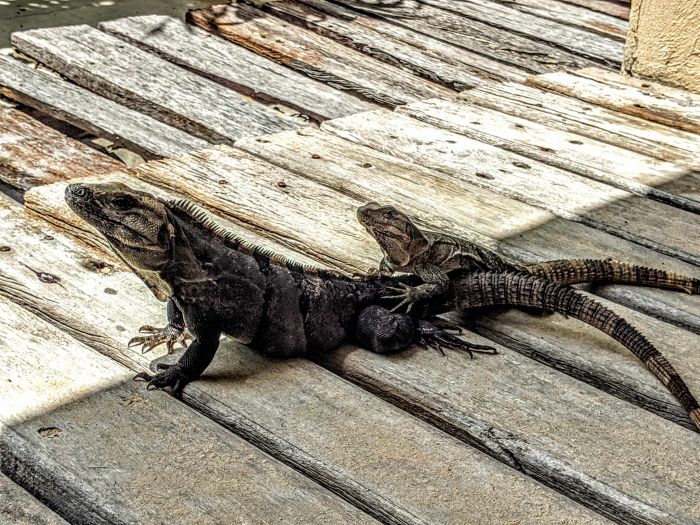 Photo by Lavinia Lumezanu
The island seems broken off a dream with hermit crabs and iguanas running wild and popping off for a visit during lunchtime.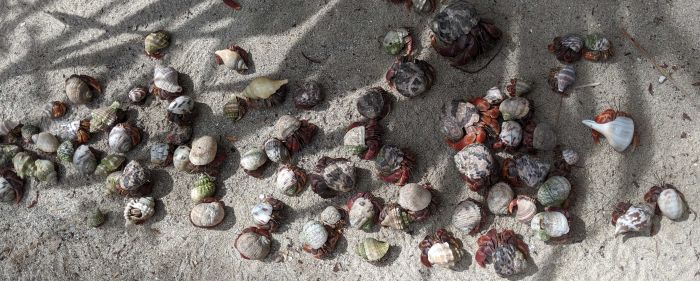 Photo by Lavinia Lumezanu
The pelicans surveil the island which is a safe haven for 152 tropical marine birds such as the frigate bird and the double-crested cormorant, 4 species of turtles that nest on the beaches. Sunscreen is completely forbidden on the island as it interferes with the natural balance of the ecosystem.
Photo by Lavinia Lumezanu