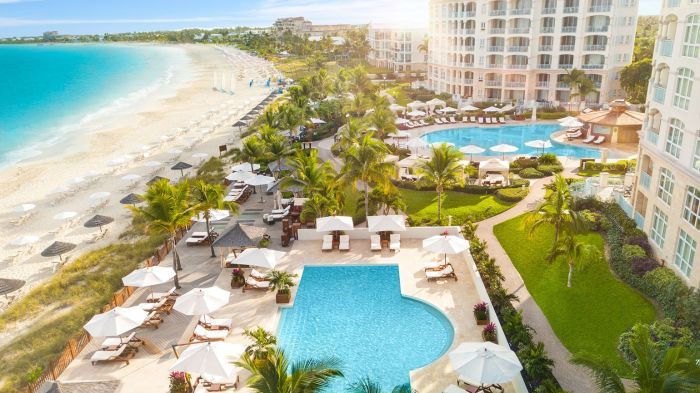 Seven Stars Resort & Spa
US travelers who are ready to get their travel fix without the need to fly to Europe this summer may now rejoice for the beautiful islands of Turks and Caicos await you with open arms. Currently, flights from the United States are up and running, so with just three hours from New York, two hours from Atlanta, and one hour and fifteen minutes from Miami, Turks and Caicos is ideally situated for convenient and worry-free travel. Presently, the Turks and Caicos Islands are now requiring a negative COVID-19 PCR test result that has been issued within five days of travel. Children under the age of 10 years old are not required to be tested. Additionally, travelers must have medical travel insurance that covers medevac, a completed health screening questionnaire, and certification that they have read and agreed to the privacy policy document. All of these documents can be conveniently uploaded to the TCI Assured portal that is available on the Turk And Caicos Islands Tourist Board website in advance of their arrival.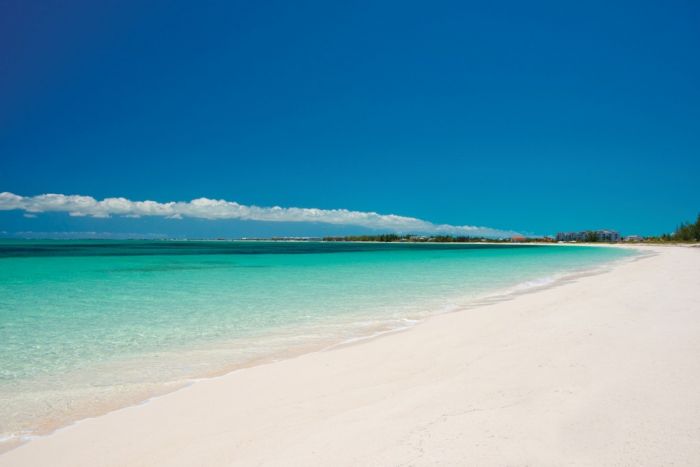 Grace Bay Beach
Consecutively awarded for being the Caribbean's Leading Beach Destination in addition to being awarded the Caribbean's Most Romantic Destination 2020 at this years' 27th Annual World Travel Awards Caribbean Gala, Turks & Caicos is the destination of choice for travelers who are seeking luxury, exclusivity, unparalleled beauty and new safety practices that will insure worry-free travel. Accepting the award, Minister of Tourism Hon. Ralph Higgs stated,"It was my pleasure to have accepted the World Travel Awards on behalf of the Turks and Caicos Islands we are extremely honored. Being recognized as the Caribbean's most romantic destination in particular, is an excellent attainment as we have taken steps to position the destination as a preferred wedding and honeymoon destination. These achievements are testament to the commitment and hard work of our amazing team and partners, who continue to work diligently in promoting brand TCI".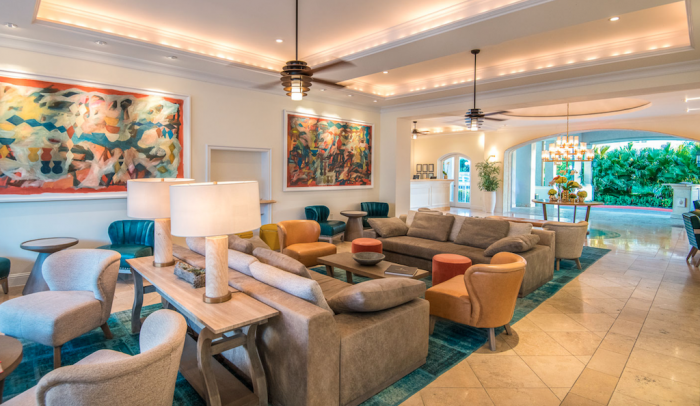 Lobby Lounge
While Turks and Caicos is made up of multiple islands, Providenciales is the most populated and well-known for its plentiful and exquisite beaches. Thanks to the broken shells and coral, the sand is white, soft and powdery and free of the sediment that typically mars most beaches. The most popular and easy to access beaches are the famed Grace Bay Beach, The Bright Beach and Leeward Beach.
Ocean Front Master Bedroom
The majority of the luxury hotels, resorts and vacation rentals can be found on Grace Bay which is consistently ranked as one of the best beaches in the world. Set along the tranquil waters of Grace Bay, Seven Stars Resort & Spa takes its name from the seven stars of the Pleiades constellation of Greek mythology which are said to shine most brightly when positioned above the islands. And shine brightly it does, as Seven Stars Resort & Spa embraces the concept of 'barefoot elegance" fully by offering white-glove service, five-star dining, endless water sports and a Champagne Shack that offers chilled Champagne by the bucketful in addition to refreshing coconut cocktails and alcohol-free beverages.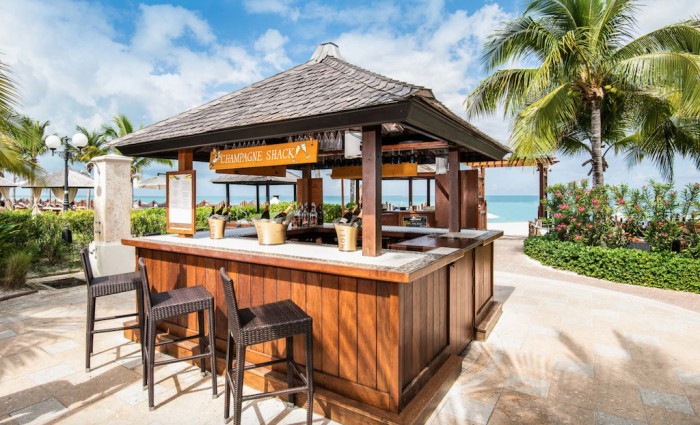 Champagne Shack
In 2019, Seven Stars Resort & Spa debuted more than $12 million in property wide capital improvements which included a complete redesign of its 167 expansive suites and living room lobby; the addition of a second, heated salt-water adult pool; upgrades and renovations to its fitness center; an expansion of its spa and boutique; and most recently the opening of its private dining room, The Tasting Room. The redesigned rooms are luxuriously appointed in tones of white, grey and blue, offering junior, one- bedroom, two -bedroom or three-bedroom options with private balconies and gourmet kitchens.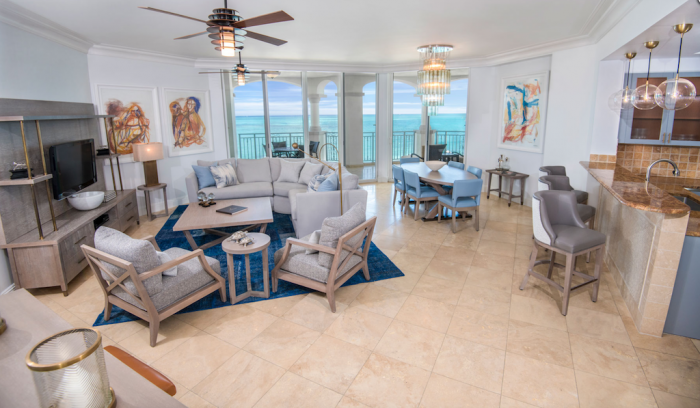 Ocean Front Suite
Prepare to be pampered with the resort's highly personalized service that now includes an Anywhere Dining Program which allows guests the freedom to enjoy private, socially distanced meals virtually anywhere on property, including private cabanas, on the beach, on The West Deck, and in-suite. The new dining program is outlined below:
-New private dining room, The Tasting Room and soon-to-open Rooftop Garden – an intimate, open-air dining space – provide guests with additional, exclusive and intimate dining venues options
-Guests can also stock up on snacks and essentials at the resort's Gourmet Shop and nearby Grace Bay Market
-New single-use menus, digital menus (online), and a new QR code system allow guests to make selections easily and with little to no contact when placing orders at Seven Restaurant, The Deck, or from the pools and beach
-Reduction in tables and seating throughout all lounging areas, on the beach, pools, and food and beverage outlets
-Guests will have ready access to hand sanitizer gel and wipes at all food and beverage outlets
-Staff required to wear masks while serving and preparing food and drinks
-Enhanced sanitization measures in the kitchen and back-of-house receiving areas
-Single-use containers, straws, napkins and coasters in place as part of Seven Stars Resort's property-wide eco-friendly practices also support new guest safety procedures while being kind to the environment

Private Dining
Additional Clean Stay Promise sanitation measures are also in place across the following areas with changes made to some of the resort's signature services and offerings:
-Advance check-in formalities via email and online to reduce "front desk" time upon arrival
-All guests to receive a temperature check upon arrival using an infrared "no touch" thermometer
-Guests to receive a Seven Stars Resort & Spa care kit at check in containing hand sanitizer
-Face masks to be provided for those guests who do not have their own
-Guest luggage to be cleaned and disinfected upon arrival
-Guests provided with swabs upon request to clean and sanitize phones and/or credit cards
-Hand sanitizer readily accessible throughout the property
-Public spaces – from elevators, pool rails and loungers to the resort's fleet of bikes and watersports' equipment – to under-go strict sanitization protocols after each use, at regular intervals throughout the day, and overnight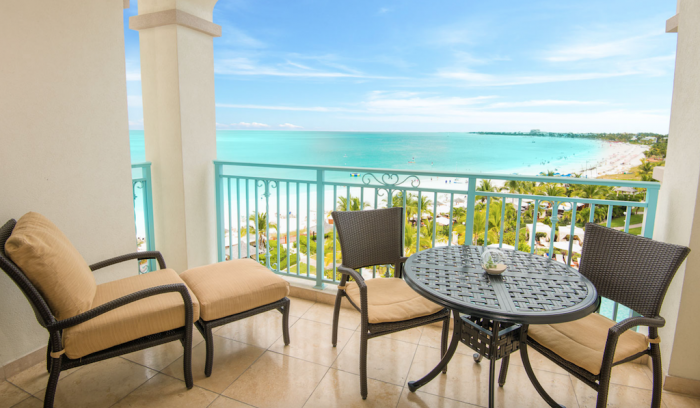 Private Balcony
As far as In-suite sanitation goes, housekeeping is offered upon request as well as turn-down service. There will also be hand sanitizer in all suites while advanced cleaning products will be used with special attention being paid to all switches, appliance controls, doorknobs, countertops, faucets and remotes. All staff is subject to wear masks, routine temperature screenings and health assessments to ensure the safety of resort guests.
There have also been some changes made to the resort's guest offerings as the complimentary breakfast buffet will be replaced by a la carte table service and all activities and excursions are restricted to families and private groups. Additionally, no more than six guests are permitted at a time in the fitness center.
For a limited time, Seven Stars Resort & Spa is offering an enticing Summer & Fall Offer with up to 35% off all rooms that are booked by 8/31. Save 25% off Island View rooms and 35% off Ocean Front rooms for travel through December 19, 2020. If you decide to stay for four nights or more, you will receive either a $150 or $300 room credit that is dependent on the room type booked. Plan your worry-free vacation now as new reservations booked from now until December 19 can be changed or canceled with no fees 24 hours before your scheduled arrival.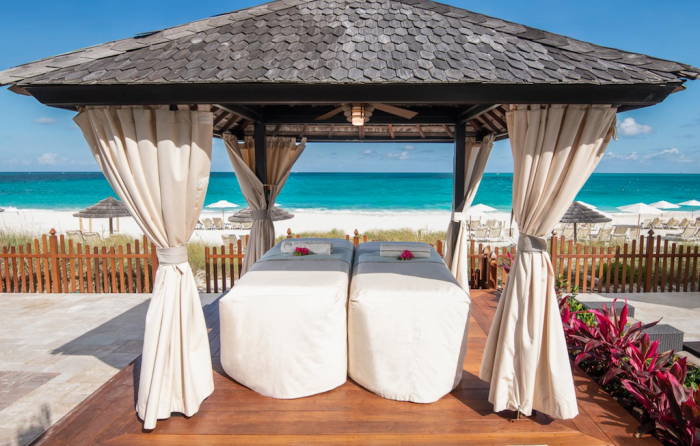 Outdoor Spa Treatment For Two