Image courtesy of Nobu Hotel Los Cabos
Indisputably one of the most stylish resorts in Baja California, the uber-chic Nobu Hotel Los Cabos has reopened its doors in time for the summer season, with an enhanced commitment to safety and focus on health and luxury wellness. Nobu Hotel Los Cabos — which celebrated its grand opening in November of 2019 — quickly became the hotel of choice for aesthetically-inclined jet-setters in search of relaxation, and a decidedly more refined take on the traditional Los Cabos holiday experience. Unlike other luxury resorts on the peninsula, Nobu Hotel Los Cabos was designed with holistic wellness and foundational principles of Japanese zen as primary tenets of the overall guest experience. The 200 room, seaside Shangri-La is the brainchild of legendary Japanese chef (and design aficionado) Nobu Matsuhisa and Academy Award-winning actor Robert DeNiro. Together, the powerhouse duo have successfully expanded the Nobu mark of excellence into the rarified space of luxury hotels.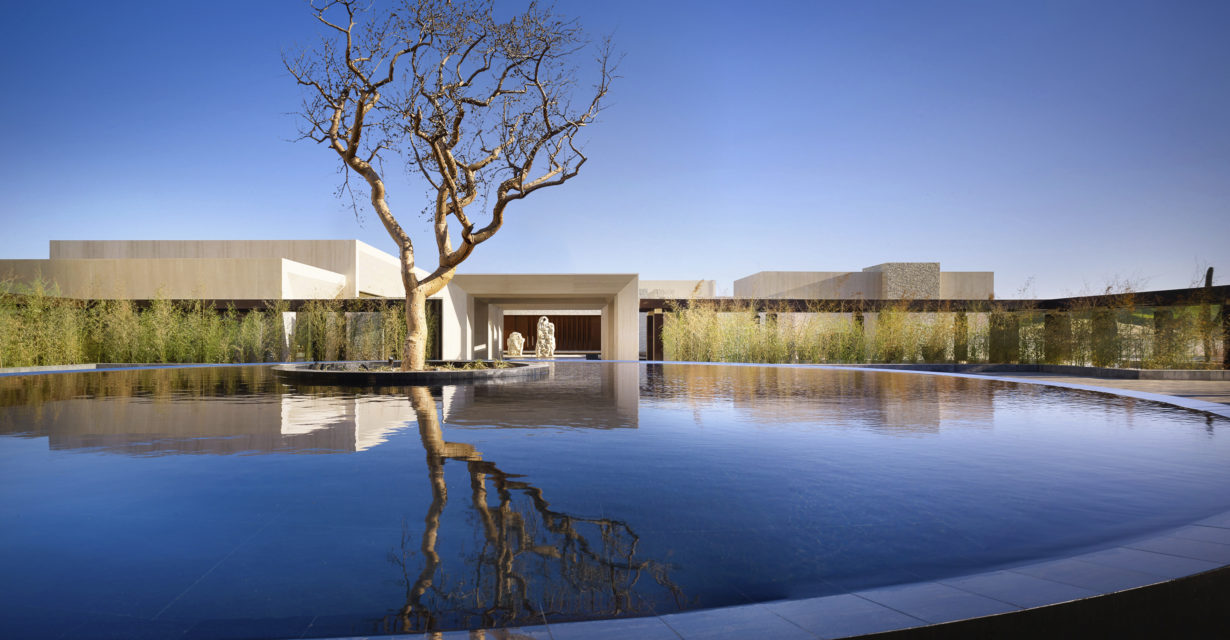 Image courtesy of Nobu Hotel Los Cabos
With integrated concepts of physical and spiritual health built into its DNA, every facet of Nobu Hotel Los Cabos has been designed to encourage relaxation and inspire renewal. With this in mind, it is no surprise that in the wake of the onset of COVID-19, the resort was among the first in the region to implement a comprehensive, site-specific plan to ensure the health and safety of the resort's guests and team members. Nobu Hotel Los Cabos' precautionary hygiene protocols have been tailored to the guest experience, so as to adhere to CDC standards without detracting from the luxury experience for which the hotel is renowned. This includes luggage disinfection, non-invasive temperature readings via thermal camera, pristine check-in process, strictly enforced hygiene practices and physical distancing throughout the spa, salon, gym, pool and beach areas.
Nobu Hotel Los Cabos' attention to detail and safety begins well in advance of guest arrival to the property. The resort's in-house transfer service is comprised of a fleet of luxury SUVs, all of which arrive sanitized and equipped with individual sanitization packs containing masks and hand sanitizer for each passenger. Upon arrival the Nobu Hotel guest experience begins with what is known as "kokoro" service, which loosely translates from Japanese to English as "heartfelt feeling." Nobu Hotel Los Cabos' high-levels of service have not been sacrificed for the newly implemented safety protocols. Instead, the resort has made precautionary measures part of their signature luxury experience. De rigueur hand sanitizer is accompanied by chilled traditional oshibori towels presented on wooden trays by a team of personal attendants on-hand to greet guests and ensure that the check-in goes smoothly and any potential need or requirement is met. It is worth noting that check-in is completely touch-free, adding an additional layer of protection for both guests and staff.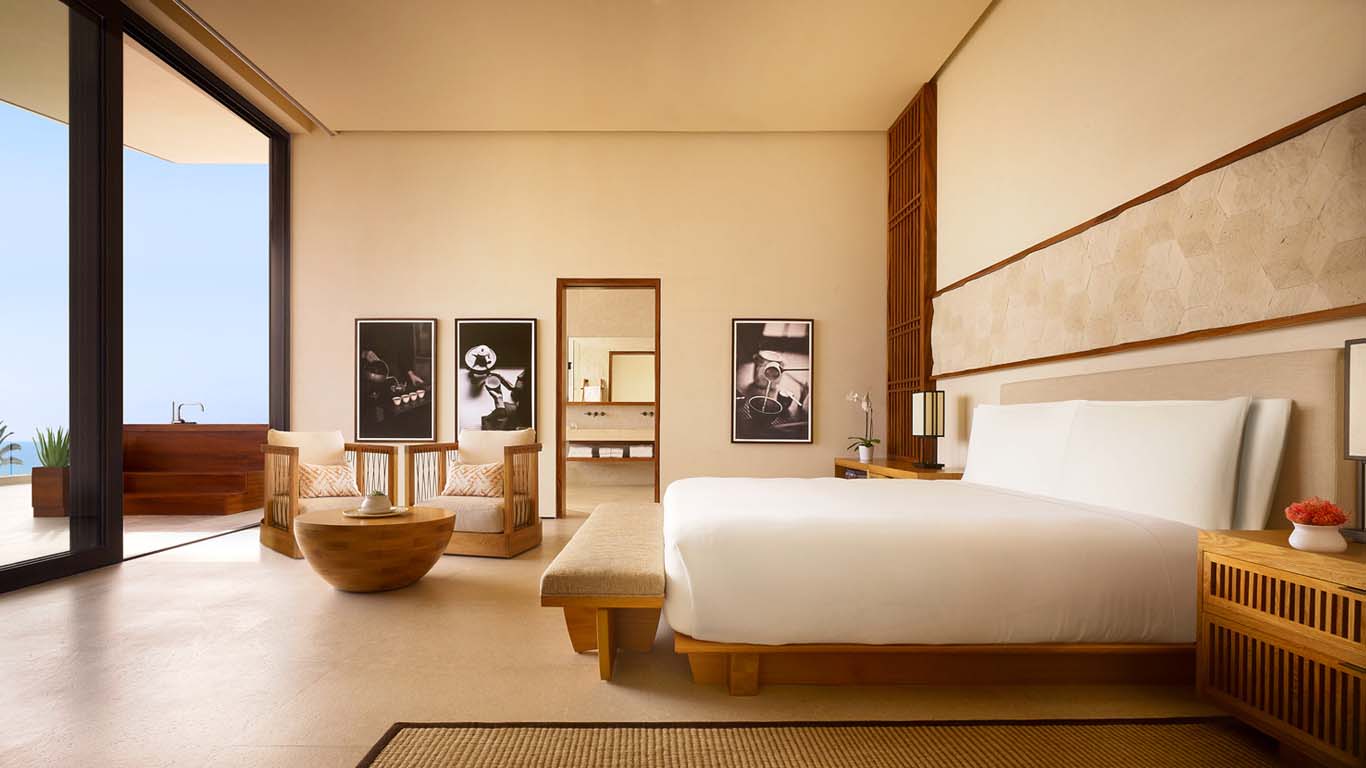 Image courtesy of Nobu Hotel Los Cabos
While beautifully executed and slightly ceremonial, Nobu Hotel Los Cabos' safety procedures are very thorough and strictly enforced in accordance with the Center for Disease Control (CDC) and local and national health authorities. Antibacterial hand-sanitizing stations can be found throughout all areas of the hotel, with additional signage throughout back-of-house and guest areas reminding everyone of important health and hygiene protocols such as hand washing and physical distancing. Physical contact is minimized as much as possible, and guests can rest assured knowing that the resort has arranged for a medical doctor to remain onsite 24-hours a day to provide medical assistance as needed.
As part of the resort's recent changes, all hotel staff has received thorough up-to-date training on standard protocols and will continue to receive training on global standards of sanitation set forth by third parties such as Ecolab and Cristal Standards. In addition to ongoing training, employees will be closely monitored for any symptoms (including a temperature reading) on a daily basis, and will be required to wear the appropriate PPE (personal protective equipment) based on their roles and responsibilities. Nobu Los Cabos has also increased the frequency of deep-cleaning and disinfecting including all common areas, public spaces and guest rooms, with an emphasis on high-contact surfaces such as front desk check-in counters, elevators and elevator buttons, door handles, public bathrooms, room keys and locks, ATMs, handrails, tables, gym equipment, dining surfaces, seating areas, pool chairs and more.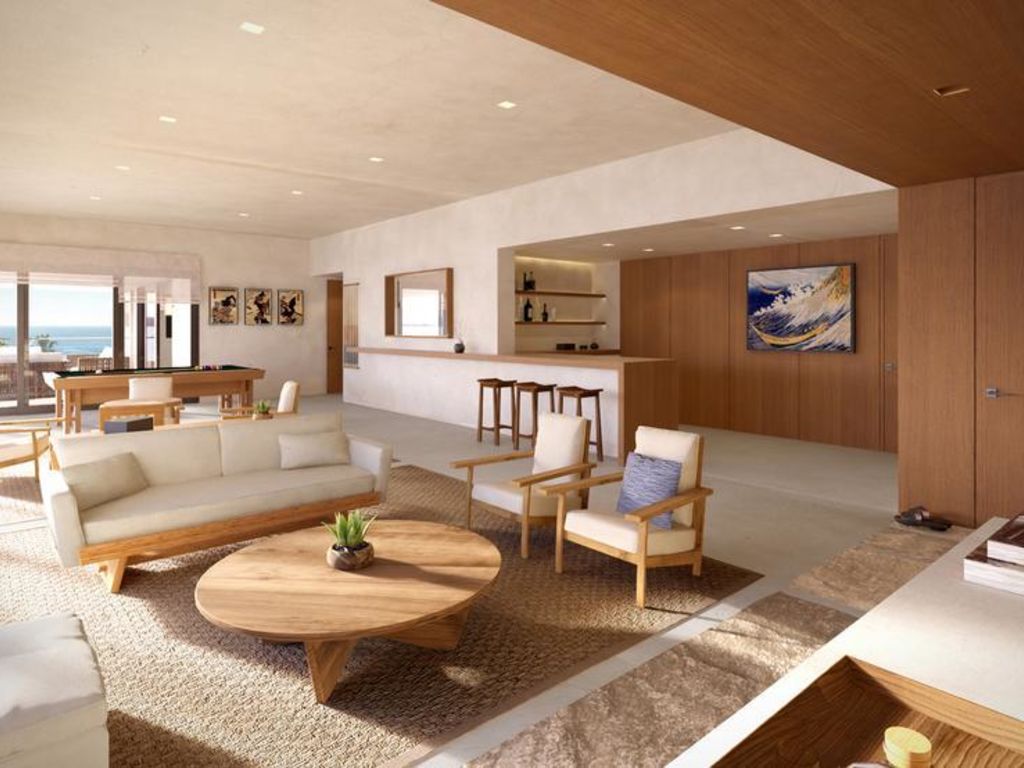 Image courtesy of Nobu Hotel Los Cabos
Guests and employees are instructed to practice physical distancing by standing six-feet away from other groups who are not traveling with them; this includes while standing in lines, waiting for elevators (including limited capacity), or walking throughout the hotel. Additionally, furniture placement throughout all common areas and back-of-house has been rearranged to allow for increased spacing, including redesigned layouts for meetings and events.
Even with these protocols and changes, the luxury experience of Nobu Los Cabos remains intact with the high level of service for which Nobu Hotels is known. Merging the laid-back charm of Mexico with the refinement of traditional Japanese design, Nobu Los Cabos is a surrealistic empyrean of lines, volumes, and finishes which come together to create the perfect backdrop for a relaxing getaway. Nobu Los Cabos sits on the Pacific side of the Baja California peninsula, where the rough currents of the sea do not allow for swimming — though its seaside perch does make for a beautiful view and an ambient soundtrack. That being said, the hotel's multiple pools and private palm tree-shaded cabanas more than compensate for this slight drawback. The hotel's tranquil design is the main attraction, extending into the guest rooms, where Japanese minimalism is paired with locally-sourced wooden accents and Mexican art. Furnished balconies and teak onsen-style soaking tubs in each room create opportunities for privacy and encourage leisure — certain categories of rooms and suites offer private plunge pools or direct access to the fully serviced main pool. Esencia Wellness Spa is a main attraction of the resort and home to a spacious, sunlit gym and indoor/outdoor hydrotherapy areas. The spa boasts an extensive list of physical massage and beauty treatments — many of which use Natura Bissé luxury skincare products. For those more inclined towards outdoor recreation, the resort offers an Instagram-friendly poolside ping pong set-up, beach games, yoga, tennis, and golf at the Tiger Woods-designed Diamante Golf Course — part of Los Cabos' 20-mile corridor of world-class championship golf courses.
Image courtesy of Nobu Hotel Los Cabos
The Nobu Hotel experience wouldn't be complete without a few culinary adventures along the way. There is of course a signature Nobu restaurant, complete with a 180º sunset view of the ocean and regionally-influenced specialty dishes alongside Chef Nobu Matsuhisa's classics. The resort is also home to Mexico's only outpost of the highly popular Los Angeles restaurant, Malibu Farm, which for now is limited to an exceptional daily breakfast menu comprised of fresh, organic, and sustainably-sourced farm-to-table cuisine (think: artisanal interpretations of time-honored Mexican favorites). For a more traditional option there is Pacific Restaurant, a fine dining Mexican concept helmed by Chef Paolo Della Corte, an Italian-born culinary artist with a special affinity for Mexican gastronomy. Della Corte draws upon his experience with some of Europe's most renowned masters — including Jöel Robuchon of the 2-Michelin starred L'Atelier Saint Germain — to create an exquisite and mouth-watering menu that focuses on colorful, intense, and unexpected flavors. From its advanced-level health and safety methods to its modern refinements, and wealth of 5-star amenities, Nobu Hotel Los Cabos strikes the perfect balance for a safe and restorative summer getaway in the new era of luxury travel.
To make a reservation or learn more about Nobu Hotel Los Cabos' newly implemented safety measures, please visit loscabos.nobuhotels.com