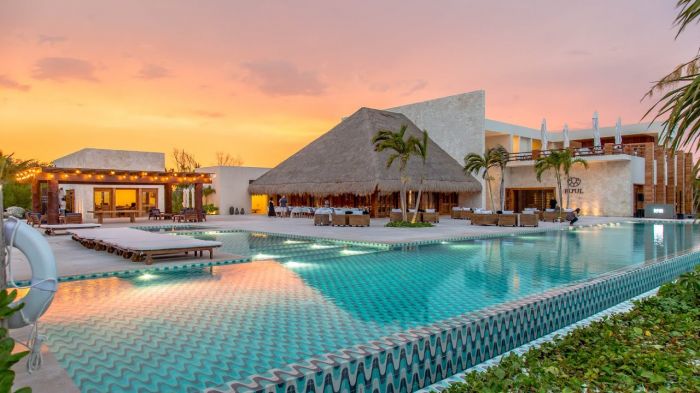 Image courtesy of Chablé Hotels
Surrounded by the lush greenery of the Yucatán Peninsula and nestled against the cerulean waters of the Mayan Riviera, Chablé Maroma is the sort of otherworldly wellness resort that leaves a lasting impression on all those fortunate enough to discover it. A short ride from Cancun International Airport, a narrow gravel road off of the main highway transports arriving guests into the jungle and towards the powder white sands of Mexico's Caribbean coast through a vibrant kaleidoscope of palm trees and mangroves. At the end of the road lies Chablé Maroma, a jungle-chic beachfront hideaway that harkens back to a time when this part of the world was still a well-kept secret. While it's safe to say the secret is out, Chablé Maroma offers a truly bohemian escape for travelers in need of a little barefoot luxury.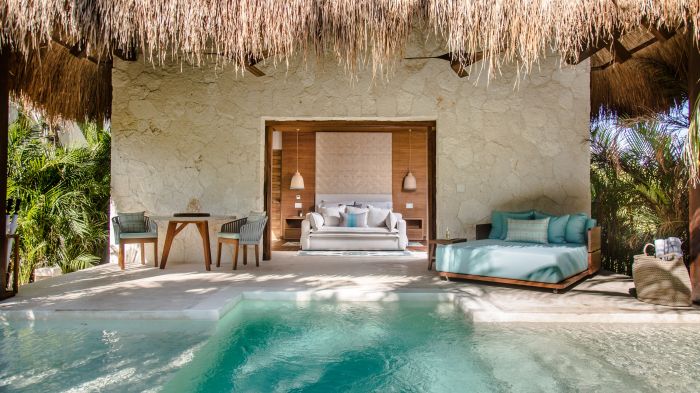 Image courtesy of Chablé Hotels
Seamlessly merging 5-star comforts and eco-authenticity, Chablé Maroma delivers peak luxury while simultaneously embracing its rustic natural environs. Cancun-based designer Paulina Moran, is the creative force behind the look and feel of Chablé Maroma's stylish interiors, including the majestic open-air lobby, which sets a relaxed yet elegant tone upon arrival. The design aesthetic of the property is reflective of Mayan culture and the natural beauty of the region. This is best experienced in the accommodations, which include presidential villas, standalone villas, and standard villas, all of which feature private plunge pools, outdoor living areas, and/or terraces. Moran accomplishes this through the use of local materials, including natural fibers, stone, and crafted pieces by local Mexican artisans. Textures are used throughout Chablé Maroma's interior spaces to create a soothing aesthetic comprised of beautifully grained tropical hardwoods, generously cushioned fabrics and subtle pops of color that reflect the soothing hues of sand and sea. All of these elements are paired with the finest of amenities - including top-shelf personal care products, European bedding, and plush linens. Other luxurious design elements include outdoor rain showers, thatch palapa-style roofs, open air lounge areas and floor-to-ceiling windows that open up to rainforest inspired gardens. This juxtaposition of elements creates a mesmerizing indoor/outdoor flow that brings the beauty of the jungle inside, and allows guests to feel seamlessly connected to their natural surroundings.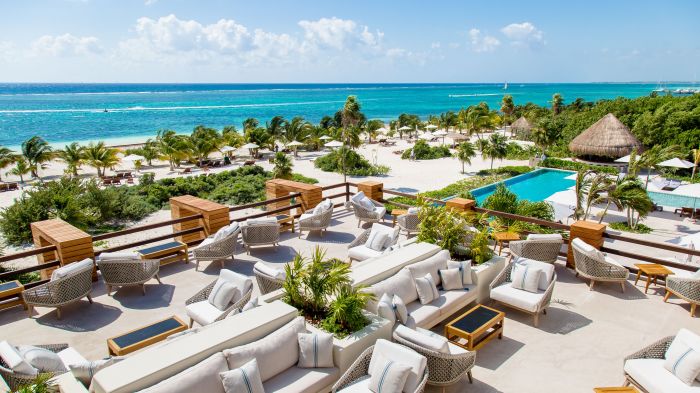 Image courtesy of Chablé Hotels
As tempting as it would be to simply stay within the luxurious confines of your private villa, many of Chablé Maroma's best features are just a short stroll away. Winding stone paths meander through lush beds of flora - which include palm trees, banana trees and native shrubbery - eventually opening up to an Instagram-worthy main pool. Distinguished by vintage-inspired serpentine patterned tiles in shades of blue, the pool lies between Chablé Maroma's two main restaurants and parallel to the resort's private 650 ft white sand beach. It is here where guests will find shaded hammocks alongside pairs of umbrellas and loungers, spaced for social distancing amidst wild coconut palm groves. Far from the more crowded shores of Cancun and Tulum, this is a place for ultimate relaxation. The fully serviced beach is the perfect place to spend an afternoon in full relaxation mode, enjoying a hand-crafted margarita or refreshing coconut water. As the day turns to night, guests can look forward to a rooftop sundowner at Raw Bar by Bu'ul which offers a well-edited bar menu, exceptional cocktails - most notably, the signature Black Margarita. A charcoal-infused tequila libation garnished with fresh rosemary and pink peppercorns - and postcard-perfect views of the Caribbean Sea. Afterward, guests can choose between a relaxed poolside meal at Kaban or a more formal dinner at Bu'ul, Chablé Maroma's night time social hub and its culinary crown jewel.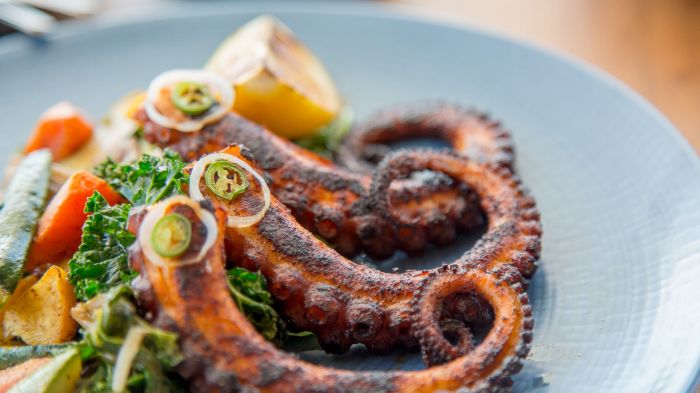 Image courtesy of Chablé Hotels
Translating in English as the Mayan word for bean, Bu'ul offers contemporary cuisine from southern and central Mexico along with wines from the resort's vineyards in Valle de Guadalupe and its signature Oaxacan tequilas. Helmed by Chef Jorge Vallejo - of the renowned Mexico City restaurant Quintonil - Bu'ul showcases Vallejo's skillful interpretations of regional traditional recipes with unique dishes, including roasted octopus and caviar with leek and salmon roe sauce, Fresh fish prepared "barbacoa" style with grasshopper adobo and nixtamalized beans, Durango beef with eggplant and grilled pico de gallo, and the exceptionally delicious cheese flan with Cajeta chocolate, mango and avocado. Memorable dishes that embody the refined techniques of Mexican fine dining and offer guests the opportunity to take a special culinary journey at every meal.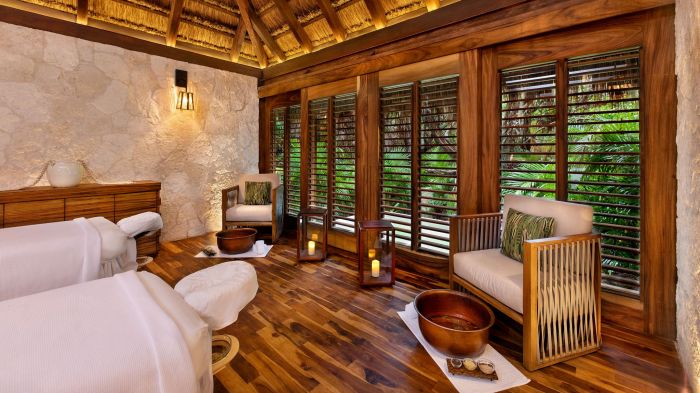 Images of Chablé Hotels
Of course a visit to Chablé Maroma would not be complete without a visit to the resort's world-renowned spa. Deeply rooted in Mayan wellness rituals, the 17,000-square-foot indoor/outdoor wellness mecca is a world of its own. Guests will experience renewal and restoration of mind body and spirit through the Chablé Maroma Spa program. This unique wellness program celebrates life and life-giving practices that are rooted in expressions of movement found throughout the natural world. Inspired by the ocean as a source of life and transformation. Concepts of spiritual release, cleansing, and purification are emphasized in the treatments which include massage, sound therapy, hydrotherapy and a temezcal "steam house" ritual. This ritual is unique to the Yucatán region and is based on one of the oldest forms of medicine where the physical, mental and spiritual realms come together. For guests seeking a more traditional spa day, the facility offers private spa suites, double cabins for couples treatments, and outdoor hot and cold hydrotherapy pools - including an expansive outdoor stone therapy pool inlaid with petrified wood and surrounded by palm trees.
Chablé Maroma is a fresh take on luxury wellness travel that offers more than indulgence. The Chablé Maroma experience is an all-encompassing sensory journey wherein mind, body and spirit come together to restore and inspire.
For more information on Chablé Maroma and other Chablé Hotels visit www.chablehotels.com