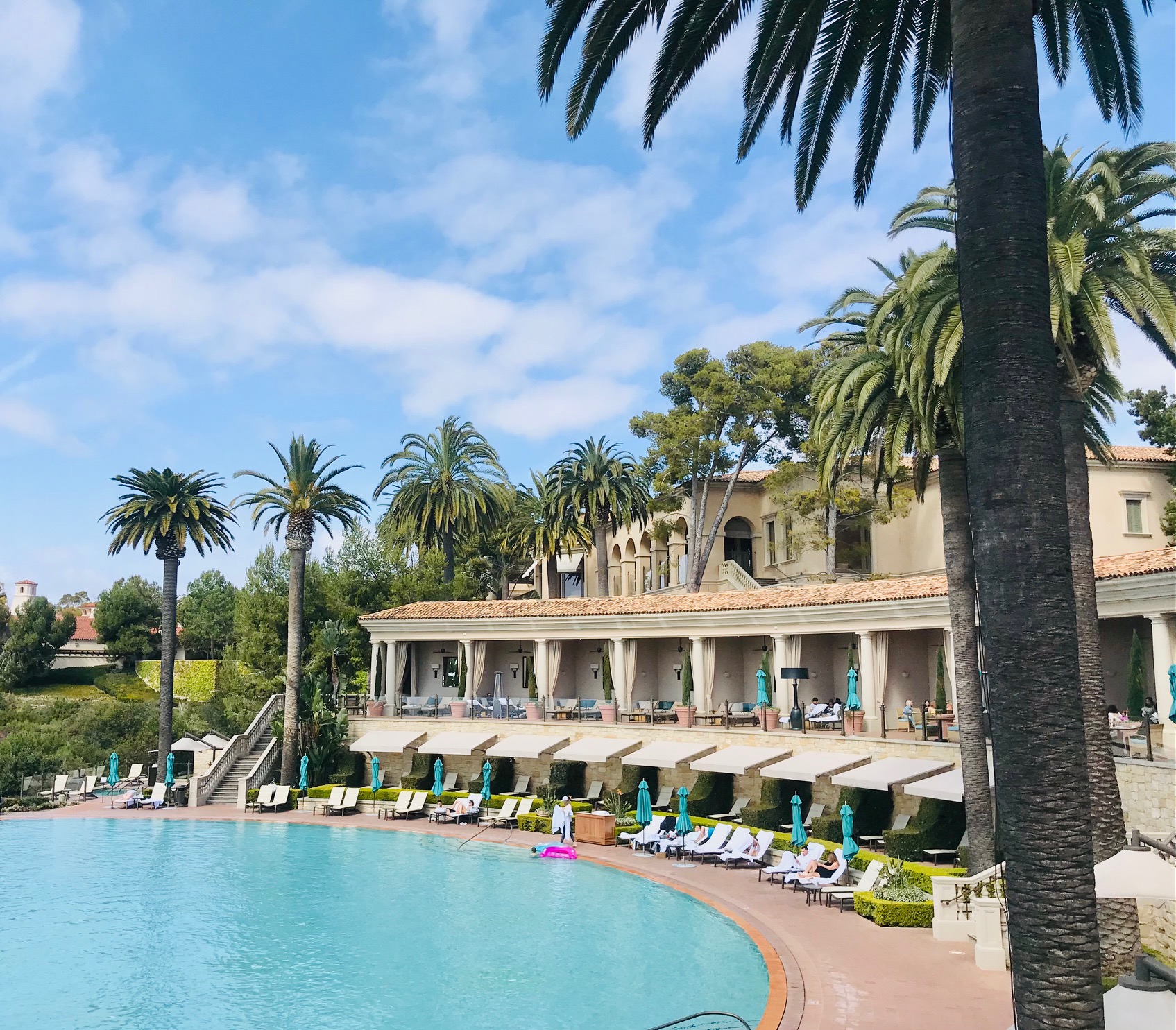 Jill Weinlein
Enjoy a Mediterranean vacation in Southern California at the ultimate Newport Coast resort destination, The Resort at Pelican Hill. Perched upon 504 acres of protected land along a Southern California coastal enclave, The Resort at Pelican Hill opened in 2008, as the only luxury Italian Renaissance 5-star resort in the Golden State.
It's a world unto itself, inspired by the design of the 1500s Italian architect Andres Palladio. His architectural masterpieces were influenced by classic building principles of ancient Rome and Greece.
This creative legend's 16th-century vision is replicated throughout the beautiful resort from the moment you walk into the soaring ceiling lobby. Large archways and a 28' in diameter domed rotunda are reminiscent of the Palladio's Villa Rotunda in Northern Italy. Atop the front desk are antique olive jars from Spain, Italy and France.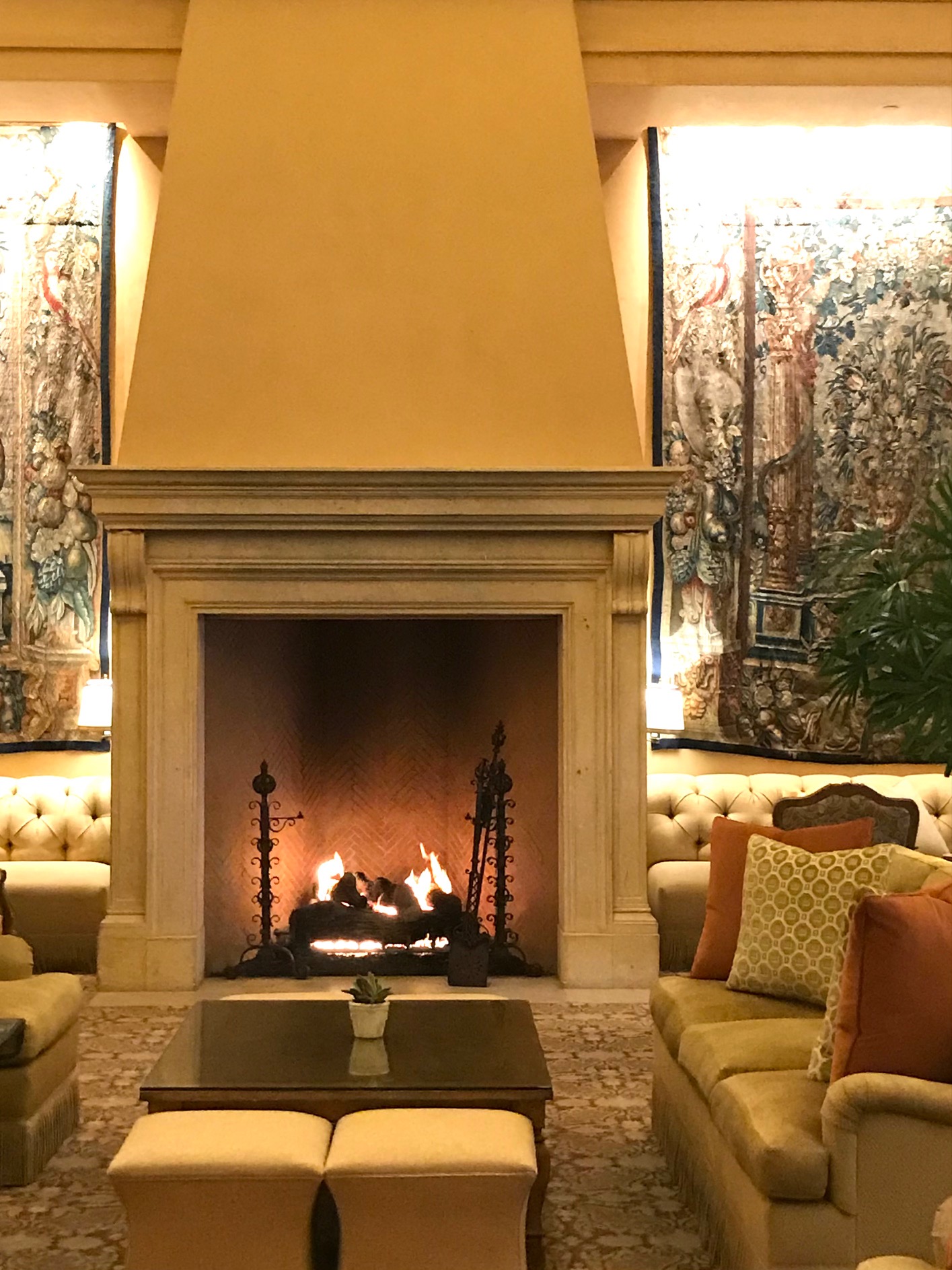 Jill Weinlein
Furnishings in the lobby and expansive Great Room include a 17th century Italian walnut table with fluted pilasters that are reminiscent of the Palladian columns in the lobby. Also in this room the grand limestone fireplace was hand-cut and carved in Italy. On the wall framing this enormous fireplace are two Flemish tapestries dating back to the 17th century. From Brussels, they are made with woven wool and silk depicting a vase filled with flowers within a columned pergola. These tapestries may have been hanging at Chateau d'Amenoville and are from the collection of the Marquis de la Rochefoucauld.
The resort features a collection of more than 120 contemporary California plein air paintings that celebrate the sea and land. These pieces are influenced by French Impressionist painters Claude Monet, Camille Pissarro, and Pierre-Auguste Renoir. The art displayed was specifically commissioned for The Resort at Pelican Hill by local outdoor painting artists paying homage to the vanishing natural vistas and preserved land surrounding the resort.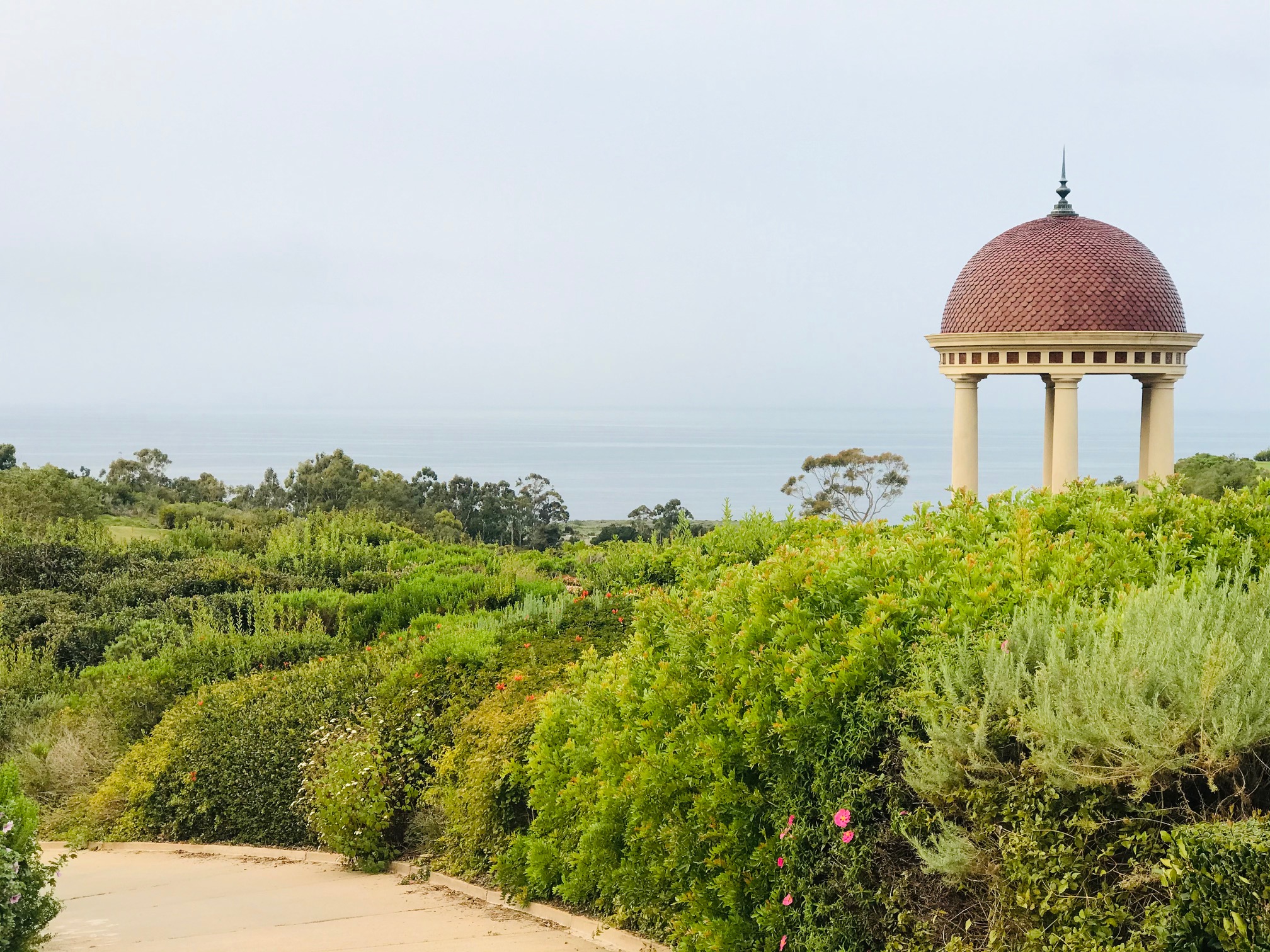 Jill Weinlein
Beyond the lobby is a covered Portico terrace supported by Roman columns bringing the coastal outdoors into the lobby. The spectacular views of the resort's golf course and the Pacific Ocean beyond allow one to feel as if they are at an extraordinary country villa in Tuscany. Sculpted fairways and thousands of acres of preserved land provide beauty and tranquility.
The free-standing Renaissance rotunda looking out to the Pacific Ocean is an ideal area for weddings, receptions and photo opportunities.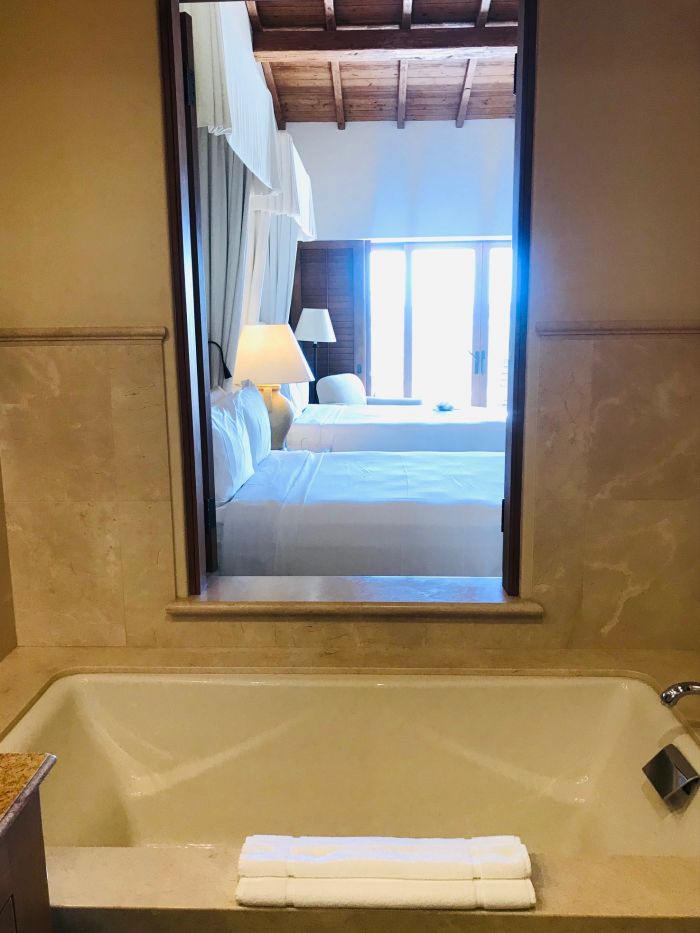 Jill Weinlein
Scenic pathways and residential-scaled streets are enhanced with hundreds of olive trees and Italian-inspired landscaping, lead guests to elegant bungalow guest rooms and suites, ranging in size from 847 to 2,486 square feet. Step inside to appreciate the soaring hand-hewn wood beam ceiling, working limestone fireplace, granite wet bar, hidden cabinet safe and mini-refrigerator.
Marble bathrooms offer double sinks, deep soaking bathtubs with a peek-a-boo window, and a walk-in shower. Open glass sliding doors out to a table with chairs for coffee in the morning or sit on one of the lounge chairs on the terrace offering panoramic ocean views for reading, sunbathing or napping.
Bungalow suites are almost double in size and offer two fireplaces and two plasma TVs, as well as a dining table and chairs and large sectional seating. Each suite offers glorious ocean and golf course views.
The resort also offers the largest selection of oceanview villas. These luxury home accommodations range from two to four bedrooms for daily rental. Starting at 2,200 square feet up to 3,581 square feet, step out onto the oceanview terrace to take in the views, cook in the gourmet kitchen or have a personal butler and staff take care of your desires and needs.
Villa guests have the exclusive privilege to the 10,000-square-foot Villa Clubhouse, offering personally tailored service, private gourmet dining, a radiant blue pool, cabanas and stunning vistas of the Pacific.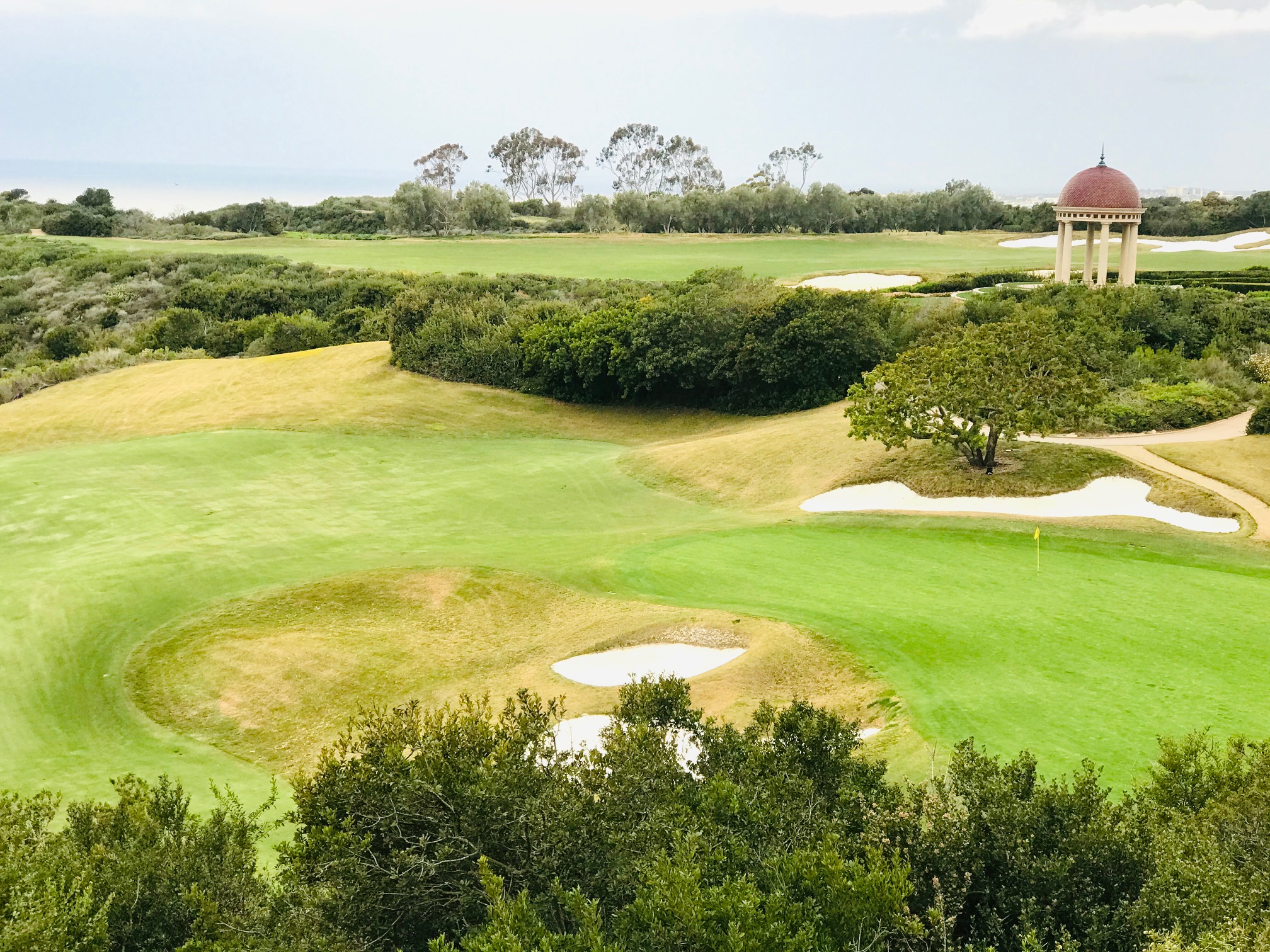 Jill Weinlein
The ocean views from the two golf courses at the Pelican Hill Golf Course designed by renowned course architect Tom Fazio are hypnotic and may have golfers not keep their eye on the ball throughout their game.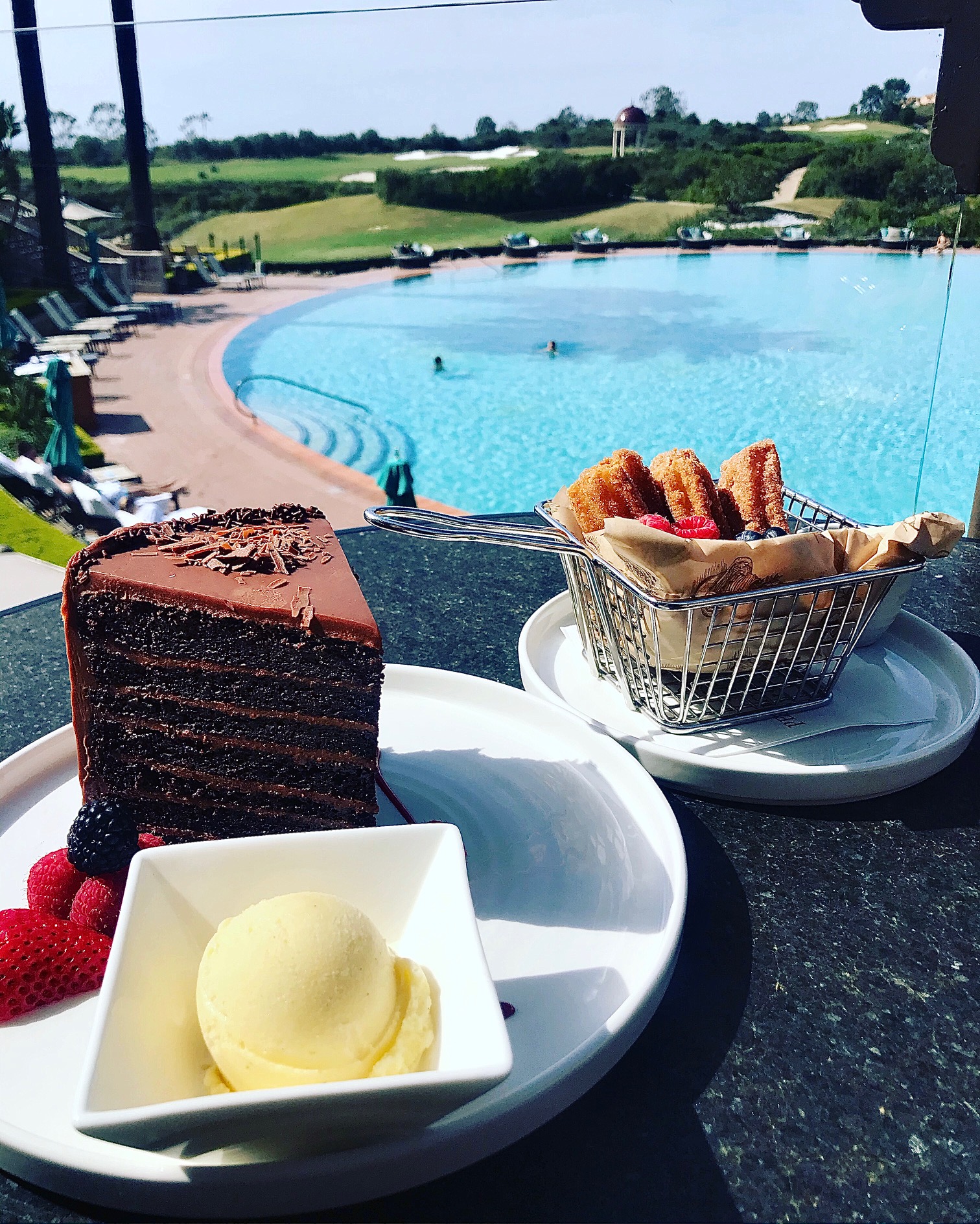 Jill Weinlein
Looking to the south is another signature architectural feature that is a social hub at this luxury resort, the Coliseum Pool and Grill. The pool is the largest circular pool in the world. Its radiant blue bottom is created by 1.1 million hand-cut glass tiles. Surrounding the pool is the Coliseum Grill set amphitheater-style on a terraced deck. Meals are served on one level of the terrace overlooking guests relaxing and swimming in the pool, as well as sipping bubbly on lounge chairs, day beds and private cabanas. The coastal California healthy menu focuses on avocado enhanced toasts, grilled proteins and fresh fish, salads, sandwiches, pasta and decadent desserts.
Looking for a Mediterranean vacation without having to fly to Italy? The Resort at Pelican Hill offers Tuscan ambiance, 5-star luxury amenities and service. For reservations, click on The Resort Pelican Hill for availability and rates.