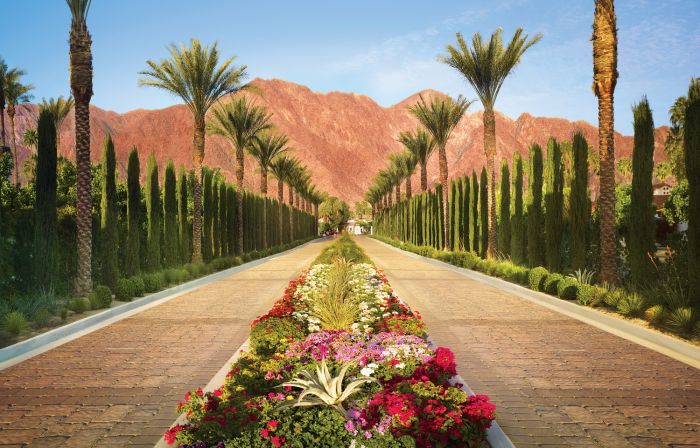 (credit: La Quinta Resort & Club)
Since June 21, 2015, all around the world, yogis and those aspiring for true asana, have been taking one special day to celebrate the physical, mental and spiritual practice. An invaluable gift of India's ancient tradition, yoga has been practiced for centuries bringing its practitioners in union with reality. While there are broadly four types of yoga - Karma yoga, Kriya Yoga, Bhakti yoga and Jnana yoga - yoga has seen a modern renaissance inviting a full range of people to practice. To celebrate International Yoga Day on June 21, these seven beautiful and energetic resorts are hosting creative yoga classes, unique treatments and special gatherings.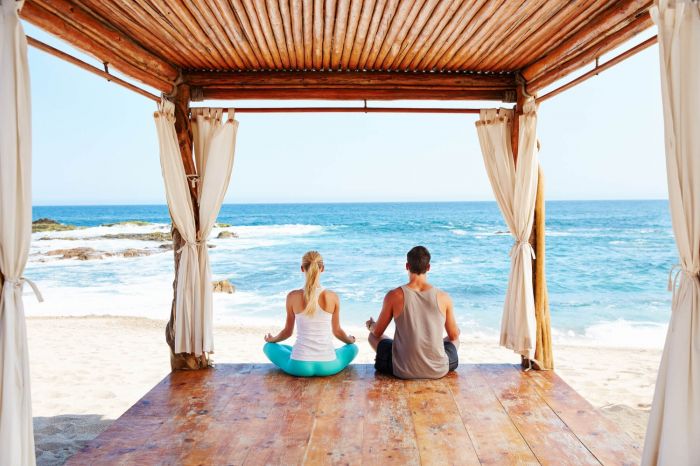 (credit: Esperanza, Auberge Resorts Collection)
Esperanza, Auberge Resorts Collection in Los Cabos, Mexico is Los Cabos' only private beach resort and it will be celebrating the holiday with a 120-minute dynamic yoga and spa treatment. The Flow & Restore Yoga/Massage Treatment will harmonize your body and elevate your well-being with Flow & Restore, a private yoga session in your treatment room followed by a full body massage (price: $305). Additionally, guests can begin or end June 21st with complimentary group yoga sessions from dawn to dusk, either sunrise on the beach, or candle lit at the movement studio.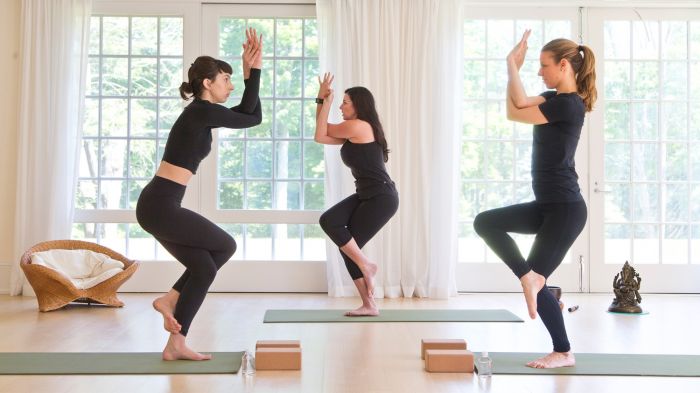 (credit: Mayflower Inn & Spa, Auberge Resorts Collection)
On International Yoga Day, guests can empower themselves through an athletic, vinyasa-based class, transformative alignment-focused class or simply enjoy a peaceful practice outdoors at Mayflower Inn & Spa, Auberge Resorts Collection in Washington, CT. Escape to this idyllic countryside retreat to learn the art, science and language of yoga at its holistic wellness destination, THE WELL at Mayflower Inn. The Northeast's premier wellness destination will leave you feeling activated and refreshed while strengthening your body and mental focus.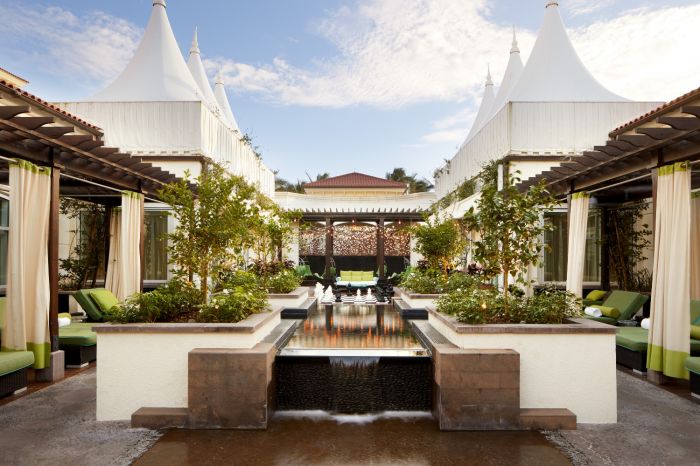 (credit: Eau Palm Beach Resort & Spa)
Starting the day before International Yoga Day guests and locals can kick off the yoga holiday and align their practice with the Summer Solstice Flow at Eau Palm Beach Resort & Spa in Palm Beach, FL. To celebrate the Summer Solstice on June 20, Eau Palm Beach is hosting a social gathering, including yoga, champagne and a spa pass (price: $55/person). The 90-minute experience will guide yogi guests to celebrate the centering energy of the sun during the Solstice with an energizing flow that cultivates inner fire, emanates light and burns away all that no longer serves.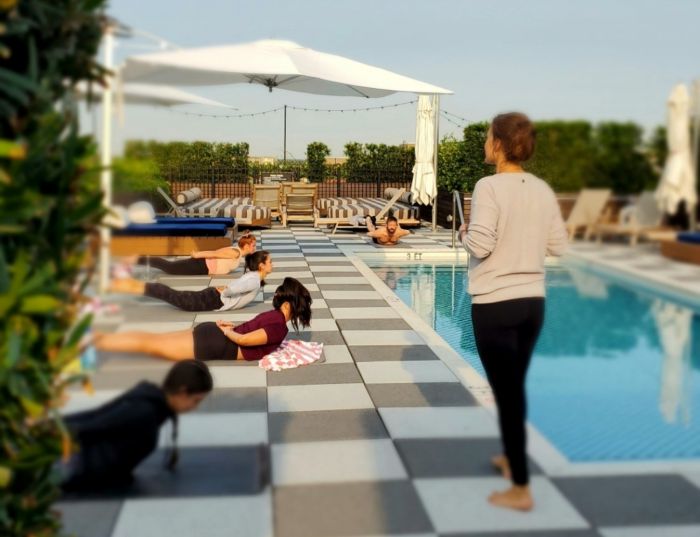 (credit: Perry Lane Hotel, A Luxury Collection Hotel, Savannah)
At Perry Lane Hotel, A Luxury Collection Hotel, Savannah in Savannah, GA, guests can start their day of yoga poolside with a private yoga session lead by an instructor at Otium Studio, Savannah's boutique wellness studio located just steps from the property. Arranged by Perry Lane's Guest Services team, travelers can book an intimate or one on one class during their stay. Throughout their flow, yogis will take in 360-degree views of Savannah's stunning Historic District from the rooftop pool while waking up the entire body and calming the mind for the day ahead.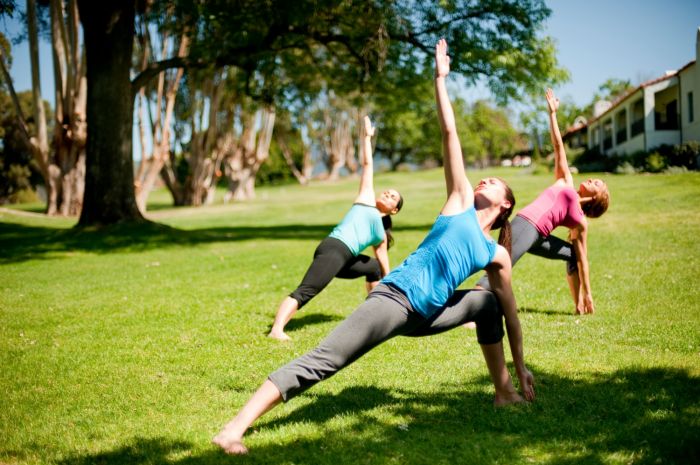 (credit: Ojai Valley Inn)
Set against the Topa Topa Mountains in Ojai Valley, the Ojai Valley Inn has long drawn wellness travelers due to its world-class spa and serene setting. At Spa Ojai, guests can participate in a number of yoga classes for International Yoga Day and Summer Solstice including: Detox & Thrive Yoga, Yoga Hybrid, Poolside Yoga, Yoga Nidra and two Summer Solstice Offerings. For The Eight Limbs of Yoga session, guests will explore all parts of this healing practice (beyond just the physical postures) and begin to feel lasting benefits on and off the mat while Summer Solstice Yoga will present an all-levels flow yoga class underneath the basking light of the sun.
(credit: La Quinta Resort & Club)
La Quinta Resort & Club in La Quinta, CA offers a number of yoga and mindfulness classes from Flow Yoga, Meditation, Restorative Yoga, Yin Yoga and a Yoga Hike. The iconic desert oasis will help guests navigate the challenges of daily life while relaxing on vacation over International Yoga Day with a combination of its yoga classes and its holistic wellness offerings. From vegetarian menus and juice cleanses to detox offerings and spa treatments at the world-famous Spa La Quinta, guests at the resort will realign their mind and body with their offerings.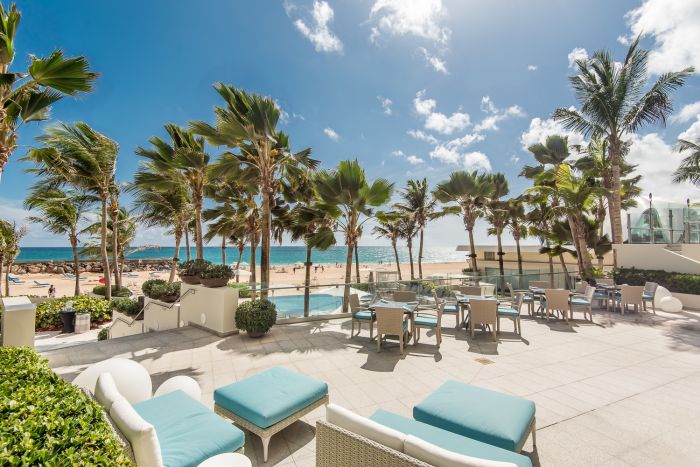 (credit: La Concha Resort)
La Concha Resort in San Juan, PR is a Caribbean playground for detox and retox and is home to an exclusive hatha yoga class, Wine Yoga (60 min, $175 for 6 people). The resort's spiritual guru, Virna Flores, will take guests through a wine tasting paired with a mindful flow that stimulates the senses. The dynamic combination of asanas (postures), pranayamas(breathing techniques) and wine guide your body to follow its own balance and release.