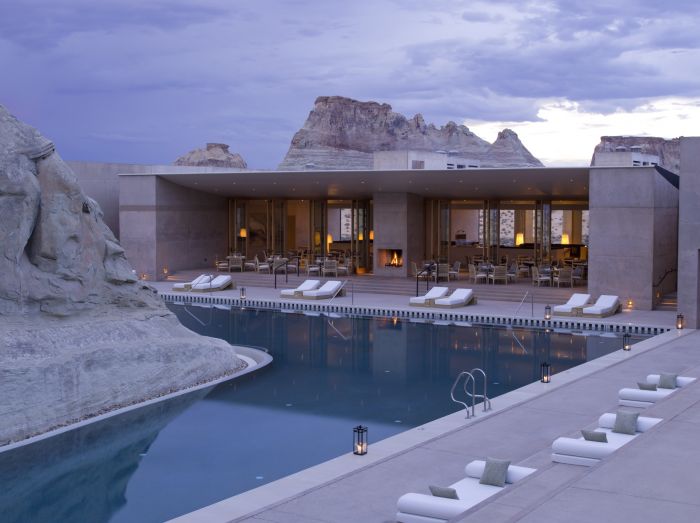 Amangiri
A trip to America's national parks once meant packing a tent or finding the nearest roadside motel. Indeed, in the mid-century heyday of the road trip, it was part of the charm. But as park visitors have become more diverse, and more discerning, over the decades, so too have the surrounding accommodations.
Today, travelers can choose from desert bungalows with private plunge pools, five-star hotels with room service, or chic cabins with outdoor rain showers -- all in close proximity to open spaces and natural beauty.
For travelers looking to explore the Great Outdoors with full-service amenities, these luxury resorts offer front-row access: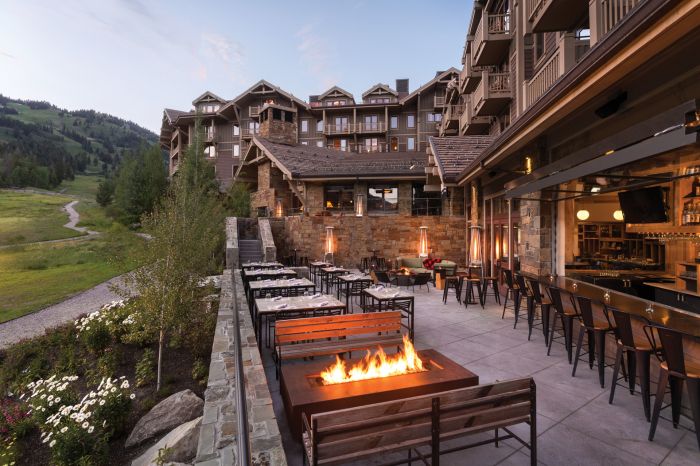 Four Seasons Resort and Residences Jackson Hole
Four Seasons Resort & Residences Jackson Hole - Grand Tetons National Park
The Four Seasons Resort & Residences Jackson Hole sits at the edge of Grand Teton National Park, about 90 minutes from Yellowstone National Park. Winter guests may also appreciate that it is slope-side to Jackson Hole Mountain Resort for direct ski access.
Among the year-round offerings are wildlife safaris through the Grand Tetons, guided day trips to Yellowstone, fly-fishing on the Snake River, and stargazing with a professional astronomer. Those who prefer self-guided adventures can take advantage of the resort's test-drive program with a luxury SUV.
Three on-site restaurants, a full-service spa, 24-hour room service, and plush room amenities like private fireplaces and marble bathrooms serve as a reminder that exploring the outdoors need not mean sacrificing comfort.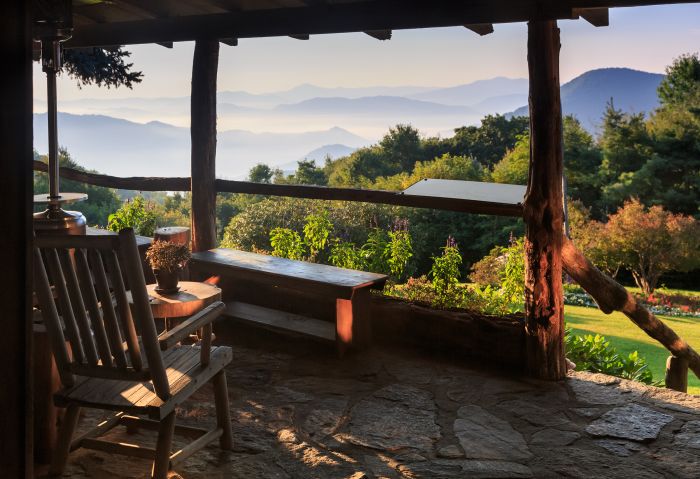 Chip Henderson for The Swag
The Swag - Great Smoky Mountains National Park
Great Smoky Mountains National Park attracts more than 12 million guests a year from across the world, yet high-end accommodations remain few in the surrounding area. The Swag, a collection of luxe cabins just 25 feet from the eastern edge of the park, is a notable exception.
An hour outside Asheville, North Carolina, this mountaintop resort embodies the rustic ambience of the Smokies while adding unpretentious sophistication with sprawling lawns, a social hour of hors d'oeuvres, and a library of curated books for guests to enjoy across the property.
Each uniquely styled room has cozy accents like stone fireplaces and hand-crafted rocking chairs, while offering modern luxuries like steam showers, private saunas, and high-thread-count linens. The resort's Experts in Residence share local music, art, storytelling and more through interactive classes and events.
Amangiri
Amangiri - The Grand Canyon, Zion and Bryce Canyon
A sprawling resort on 600 acres of the Colorado Plateau, Amangiri offers access to three bucket list national parks -- The Grand Canyon, Zion National Park and Bryce Canyon. Guests of the five-star property can book experiences with local Aman guides that range from private helicopter flights or Navajo-guided tours of the area's famed slot canyons.
Accommodations range from modern-minimalist stone suites with gas fireplaces and roomy terraces to the Mesa House, a 4-bedroom property with a private infinity pool. For more privacy and seclusion, consider Camp Sarika, a collection of tented pavilions five minutes into the desert. Each one has a private fire pit and outdoor plunge pool.
Environmentally minded guests can feel good about the resort's practices, which follow guidelines of the Global Sustainable Tourism Council (GSTC).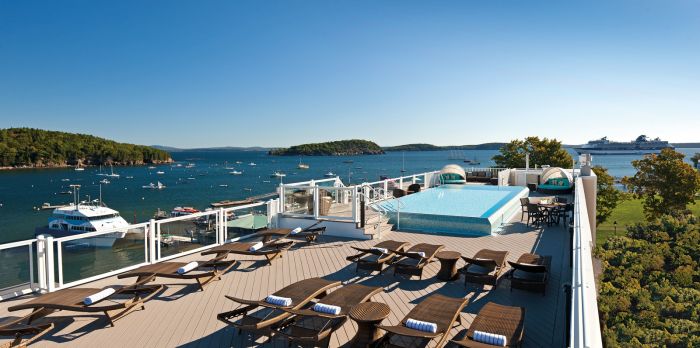 West Street Hotel
The West Street Hotel - Acadia National Park Maine
A destination for travelers who crave variety, Acadia National Park on the coast of Maine doesn't ask visitors to choose between ocean and mountain adventures. Here, guests can book a whale watching cruise in the morning, and hike Mount Cadillac, the highest peak on the Atlantic Coast, in the afternoon.
The West Street Hotel, overlooking Frenchman's Bay in Bar Harbor, lies at the heart of the action. Ambitious guests can set sail from the full-service marina, kayak from the harbor, or book complimentary shuttle service to the hiking and biking trails of Acadia. For a more leisurely tour of the nearby mountains, they can stroll across the street to catch Oli's Trolley, a locally operated, air conditioned stagecoach.
On-site dining, an indulgent spa, stylish Tommy Bahama mahogany furnishings, and Maine's only rooftop pool add to The West Street Hotel's luxe ambience.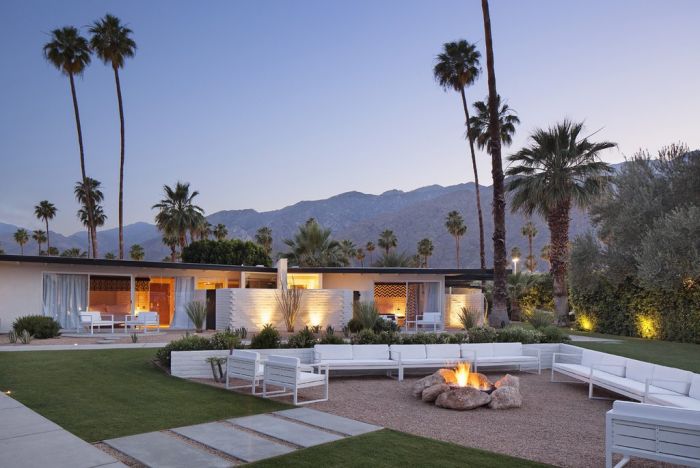 L'Horizon Resort & Spa
L'Horizon Resort & Spa - Joshua Tree National Park
A collection of 25 private bungalows on three acres of manicured desert grounds near the foothills of the San Jacinto mountains, L'Horizon Resort & Spa offers prime access to hiking, horseback riding and wildlife viewing locally and in Joshua Tree National Park, an hour's drive.
The storied resort, once a favorite haunt of Old Hollywood stars like Betty Grable and Marilyn Monroe, lies just 10 minutes from the restaurants, galleries and boutiques of downtown Palm Springs. Designed by William F. Cody in 1952, it was recently reimagined by Steve Hermann with pine ceilings, marble baths and vintage furnishings. All rooms have 600-thread-count Frette linens, private patios, and floor-to-ceiling windows.
For guests seeking rejuvenation after exploring the surrounding parks and trails, L'Horizon also has a refreshing pool, on-site bar and restaurant, full-service spa and private yoga classes.
However you choose to explore America's national parks, be sure to research permits or reservations ahead of your visit. For a more tranquil experience that also reduces your environmental footprint, consider visiting outside peak season.