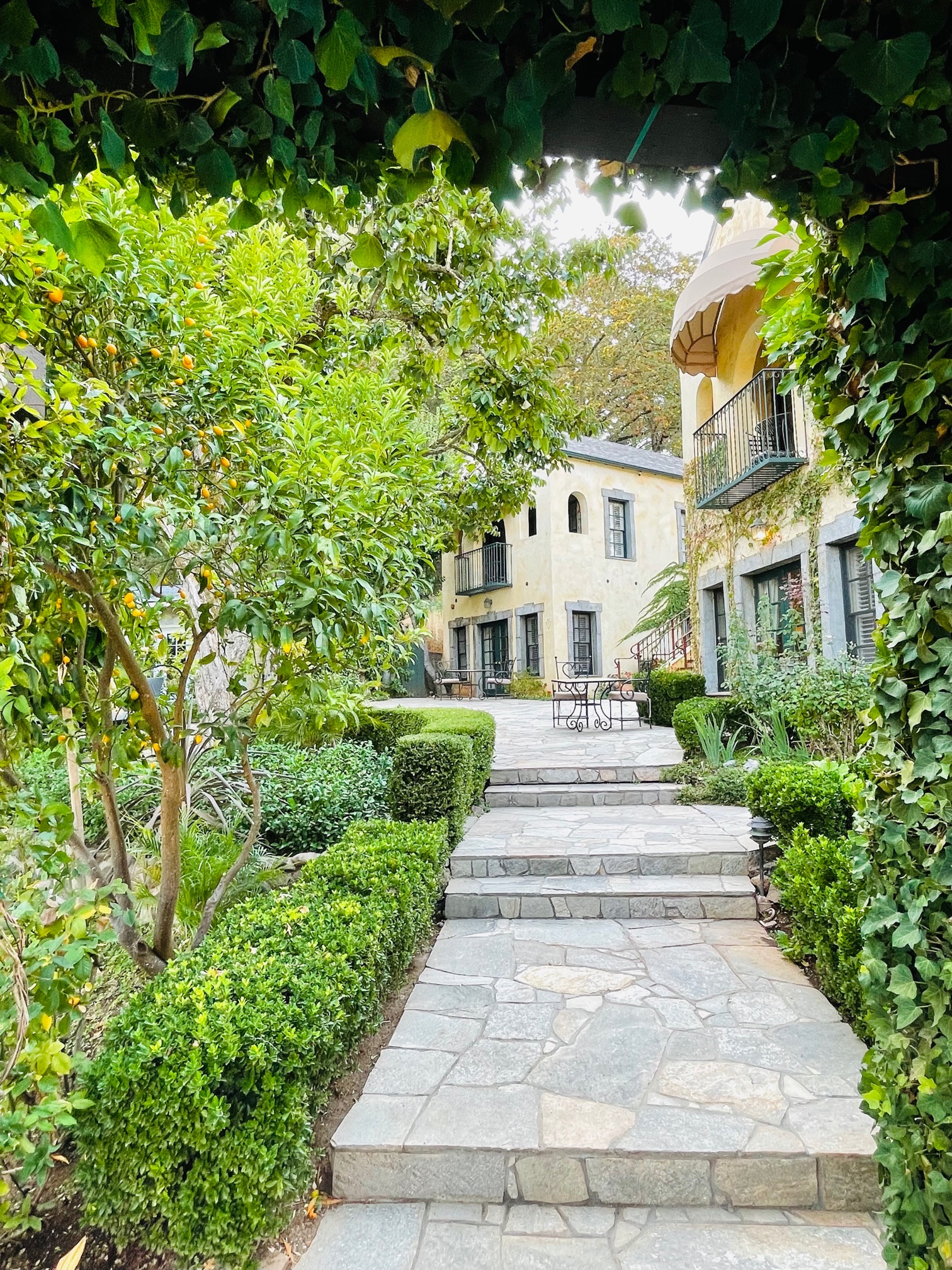 Jill Weinlein
Fortunately, the Tuscany-inspired Kenwood Inn & Spa was saved from the extensive Sonoma Complex Fire in 2017. Over 87,000 acres were burned in Sonoma County. Most of the scrub oaks, land and native plants are recovering, regenerating, and exhibiting the ability to survive and thrive.
Since many travelers put their travel plans to Europe and Italy on hold due to the pandemic, the Kenwood Inn & Spa is a fabulous alternative. It's one of the charming Four Sisters Collection in Sonoma County Wine Country, offering warm and gracious personalized service.
This boutique bed and breakfast was once a historic antique shop. In June of 1989, the building was converted into a small bed-and-breakfast and later in 2002, a major renovation added two more courtyards and a total of 30 rooms.
Upon arrival, guests step into the Old World lobby up to a custom-milled oak and black marble-topped desk. Upon receiving a brass and tasseled room key from a custom wooden key cabinet made in Italy, guests walk through the cozy lounge displaying a limestone fireplace and comfortable sitting area. The windows imported from Italy continue to provide a European feel.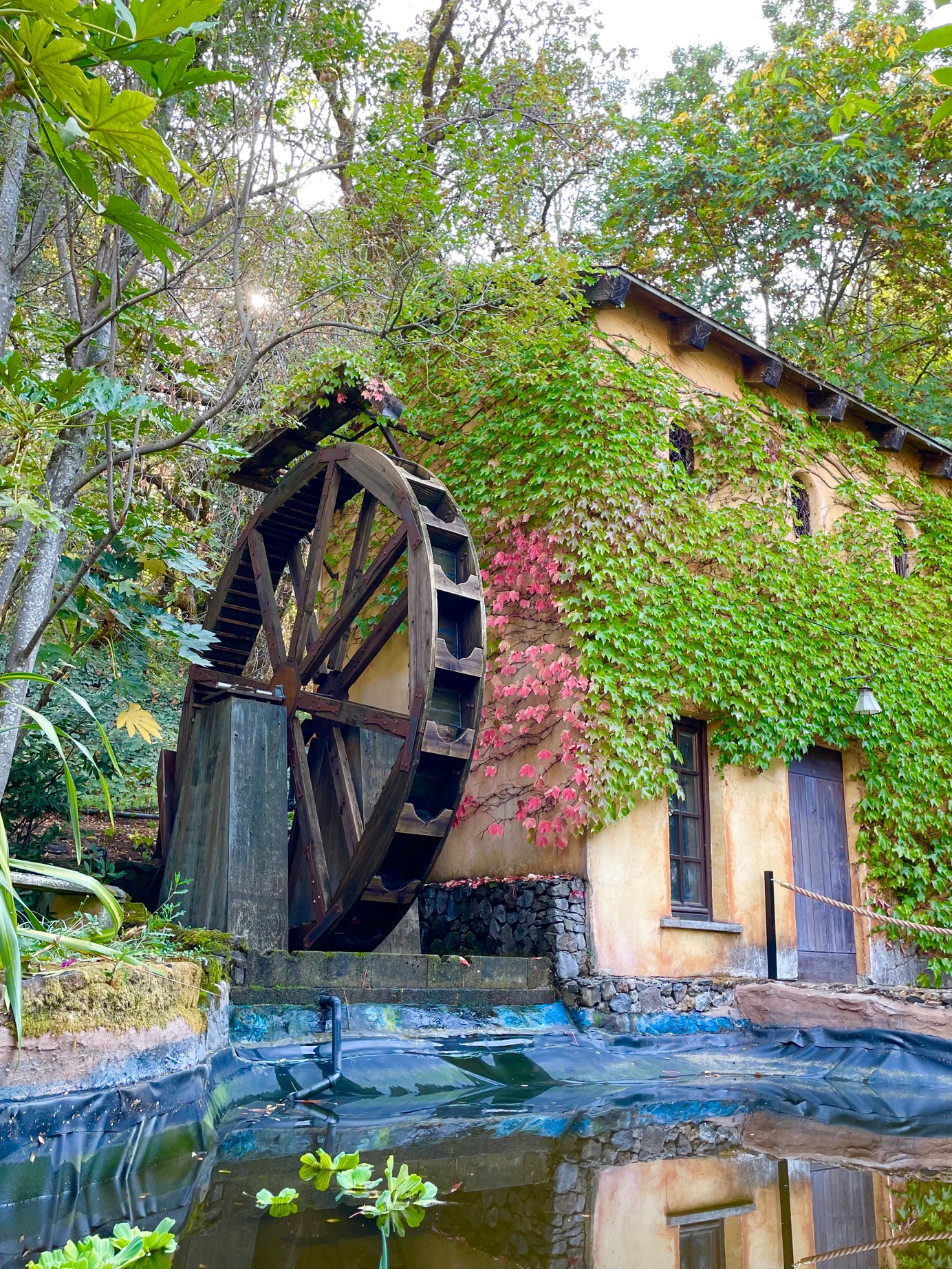 Jill Weinlein
Each of the discerning guestrooms and suites have a separate outdoor entrance, featherbed, and Italian furnishings. Some offer a fireplace, private terrace or balcony and jetted spa soaking tub in the marble bathroom.
The Garden King has feather bed, fireplace and rainfall shower. Guests staying in a Kenwood King and Double Queen enjoy a spacious sitting area, plus a spa tub and separate shower. Those staying in the Tuscany Suite have a private balcony overlooking one of the pool areas, plus a fireplace, large soaking jetted tub and separate walk-in shower.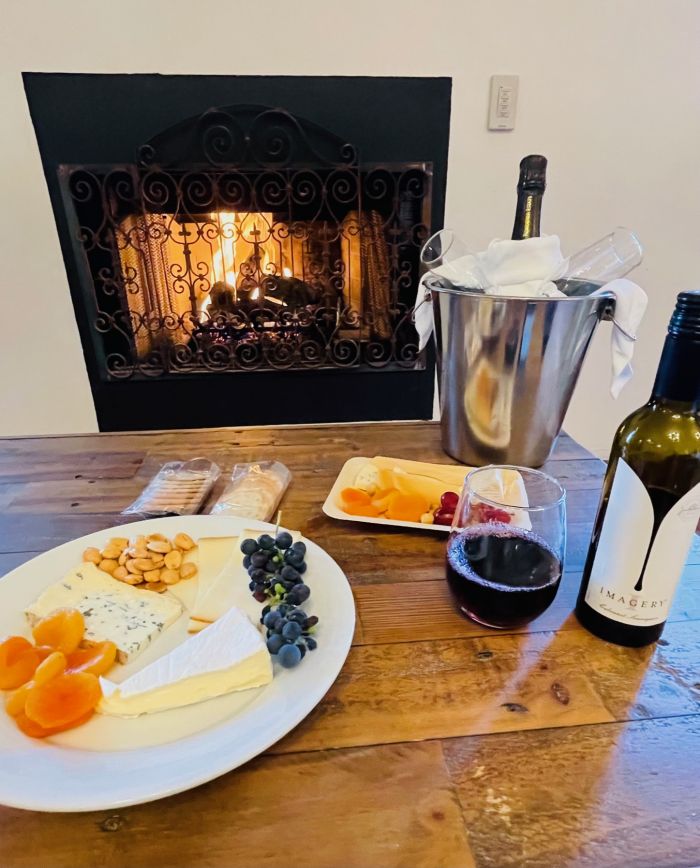 Jill Weinlein
Since wine and culinary experiences are central to life in Sonoma County, they are highlighted at Kenwood Inn and Spa from the moment you check in. Guests receive an inclusive wine and cheese welcome with a half bottle of red or white local wine and a plate with cheese, crackers, dried fruit and freshly baked cookies.
Guests are requested to complete a breakfast item menu before retiring. In the morning a complimentary made-to-order breakfast for two is prepared in the kitchen and delivered directly to guests' outdoor patio. Guests celebrating a special occasion can add on a bottle of bubbly to make morning mimosas.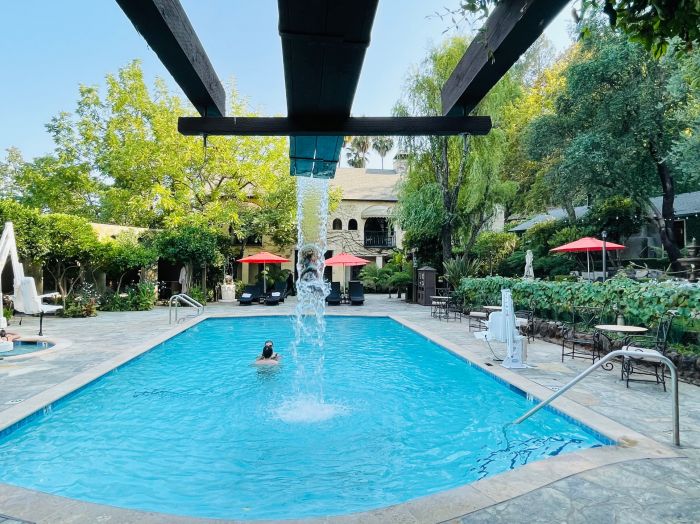 Surrounded by vineyards, orchards and ancient oaks are two pools. The main sparkling pool near the Spa is heated in the 80s, and offers plenty of lounge chairs and an outdoor bar to order wine or bubbly by the glass or bottle.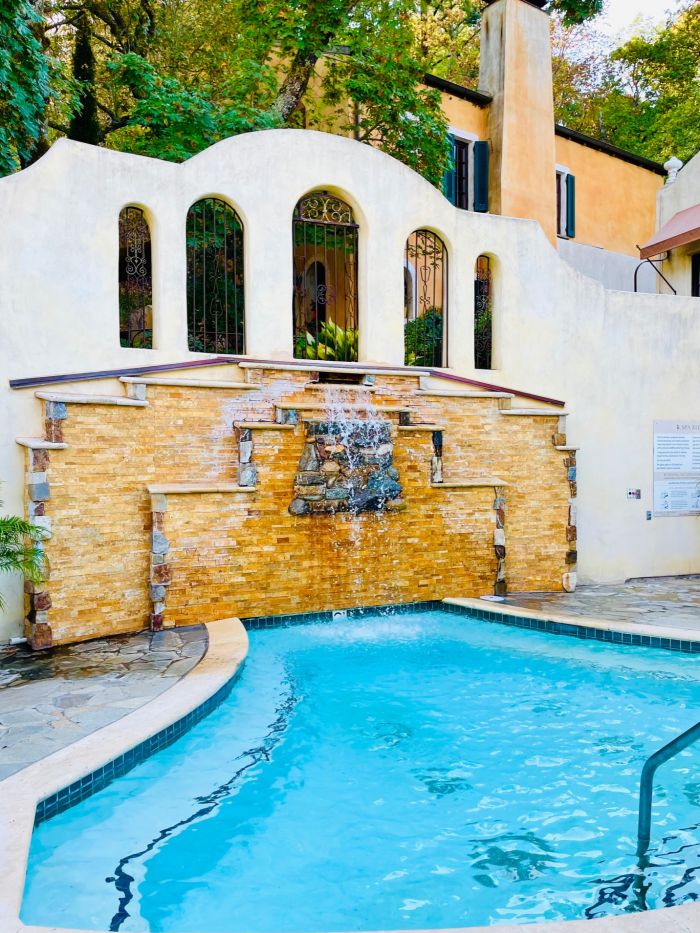 Jill Weinlein
The smaller warming pool is heated to 103 degrees for a relaxing soak near grape vineyards and oak trees before and after a day exploring Sonoma.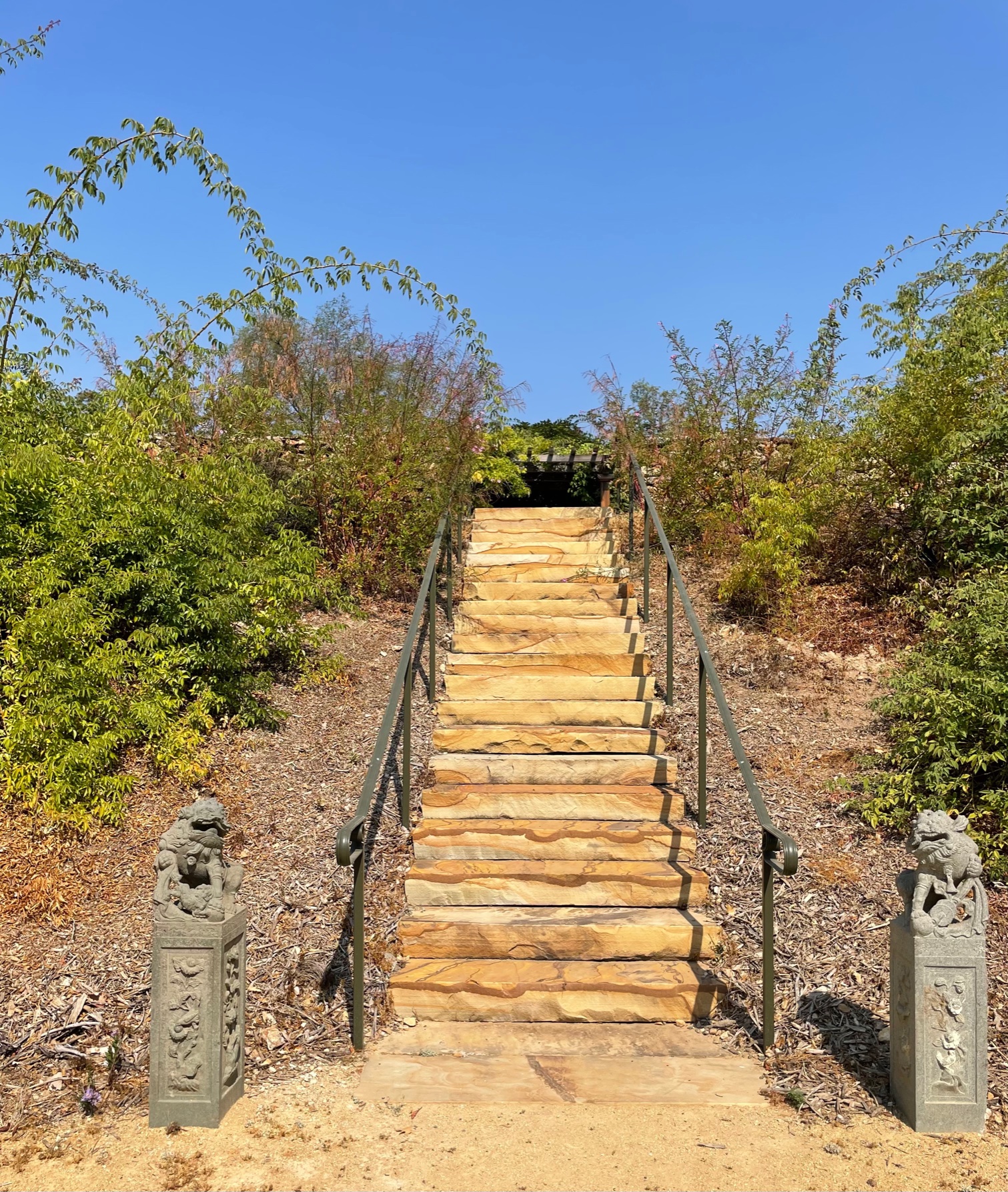 Jill Weinlein
Just like the Kenwood Inn and Spa, the nearby Sonoma Botanical Garden was saved from the 2017 fire. Walk the 2.5 mile loop to the top to see how the fire scorched vegetation and trees just outside the fence line. There is a prayer flag area to rest and take in the Sonoma Valley views. Be sure to climb the steps and cross some bridges to explore the 25-acre Asian gardens. It's been created almost entirely of wild-collected seeds from temperate parts of East Asia. The gardens use irrigation from the serene ponds in the center with white and pink lotus flowers.
Every season offers a change in the garden. The Quarryhill Loop is easy and relatively a flat stroll. The southern side of the garden is home to acres of native wild oak woodland and savanna. During the summer dimpled red fruit of the Evergreen Dogwood and Chestnut Rose offer a pop of color. In the fall the colors of fall leaves change on the maple trees and there is a burnt sugar smell from the Katsura trees. Winter Manzanitas bloom, and Spring brings beautiful and fragrant Magnolias.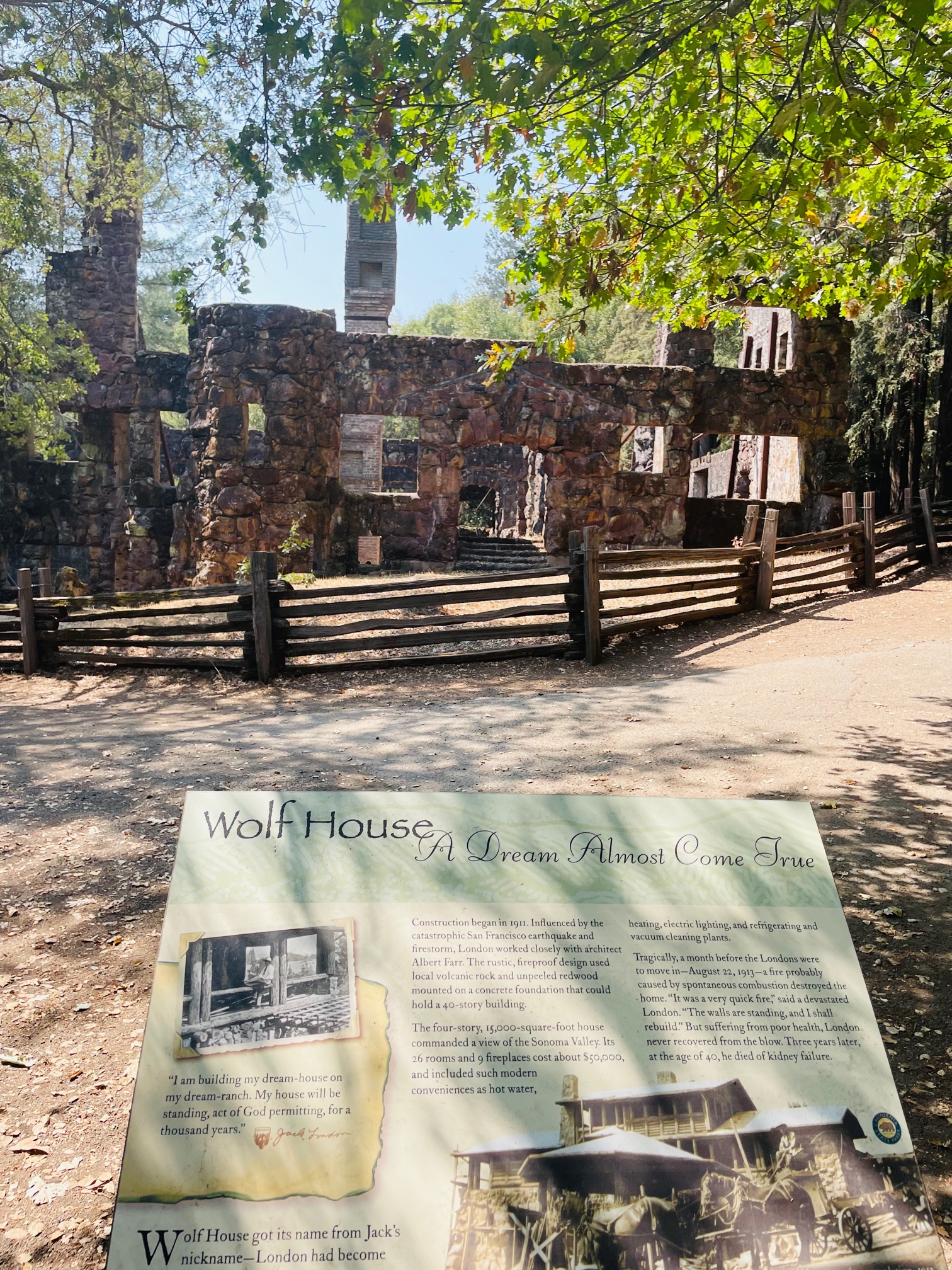 Jill Weinlein
Also near the Kenwood Inn and Spa is Jack London Village, a good lunch or dinner stop before or after visiting the last home of celebrated author Jack London and his wife Charmian. Jack London once wrote, 'Do you realize I devote two hours a day to writing and ten to farming?' He and his wife loved living in the Valley of the Moon.
In 1960 Jack London's nephew, Irving Shepard presented their ranch to The State of California. The acres of land and oak trees include Charmian's 'House of Happy Walls' built in 1919 by Charmian London in memory of her husband who died at the age of 40. Inside is an interactive museum featuring some of his books, photographs and collection of artifacts the couple collected while traveling throughout the world.
Take a short walk to see the grave of Jack London, and the ruins of Jack and Charmian's 'Wolf House'. The 15,000 sq.ft. home was built to last forever by architect Albert L. Farr. Sadly, the 26-room redwood and stone home with multiple fireplaces, burned down in a fire in 1913, just weeks before the Londons planned to move in.