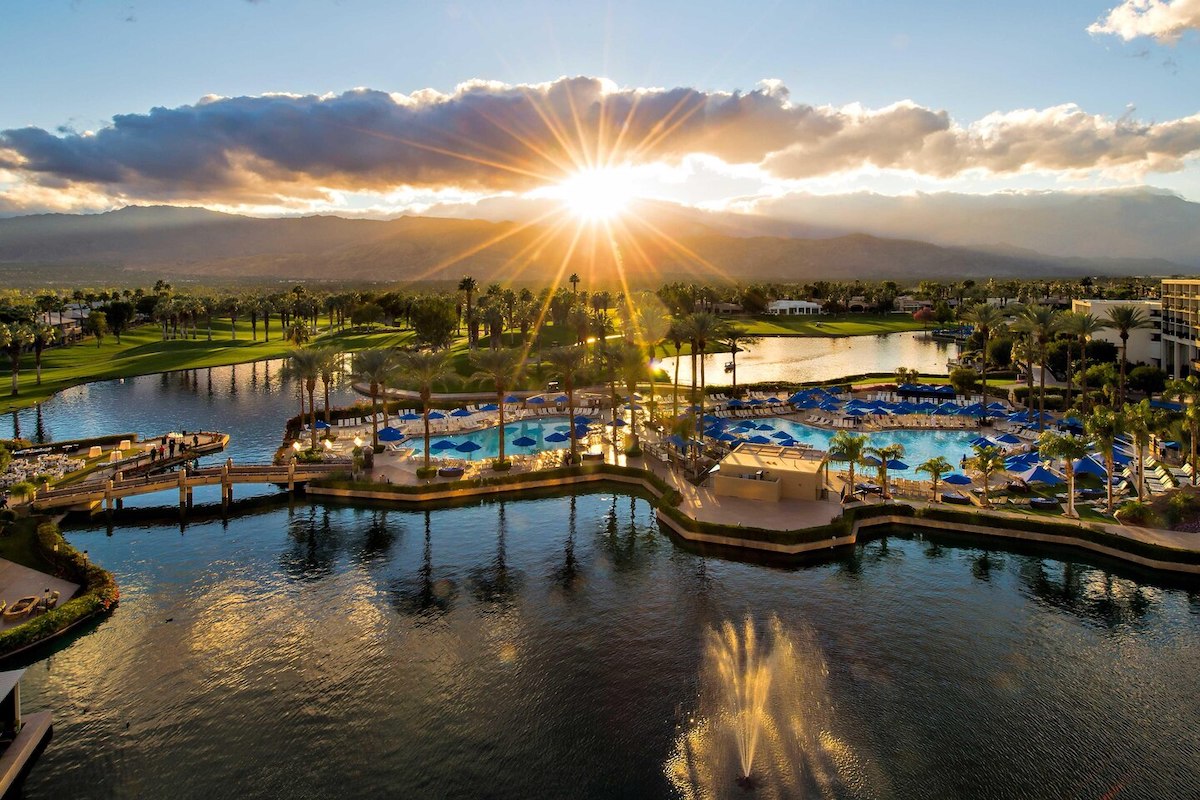 Photos Credit: J.W. Marriott Desert Springs Resort & Spa
Ask any of the staff members at the J.W. Marriott Desert Springs Resort & Spa how long they've worked at the property, and you'll most likely hear about years (sometimes decades) of service dedicated to this one hotel. It's this kind of loyalty that offers a glimpse into how the resort values not only its guests but its staff as well.
The property understands that if its employees are happy, its patrons will likely be happier as well. As a guest, this was clear from the moment we arrived. The service at the J.W. Marriott feels warm, intimate and sincere. No matter the request, there's a sense that they will do their best to make it happen or offer an alternative if they are unable to accommodate it.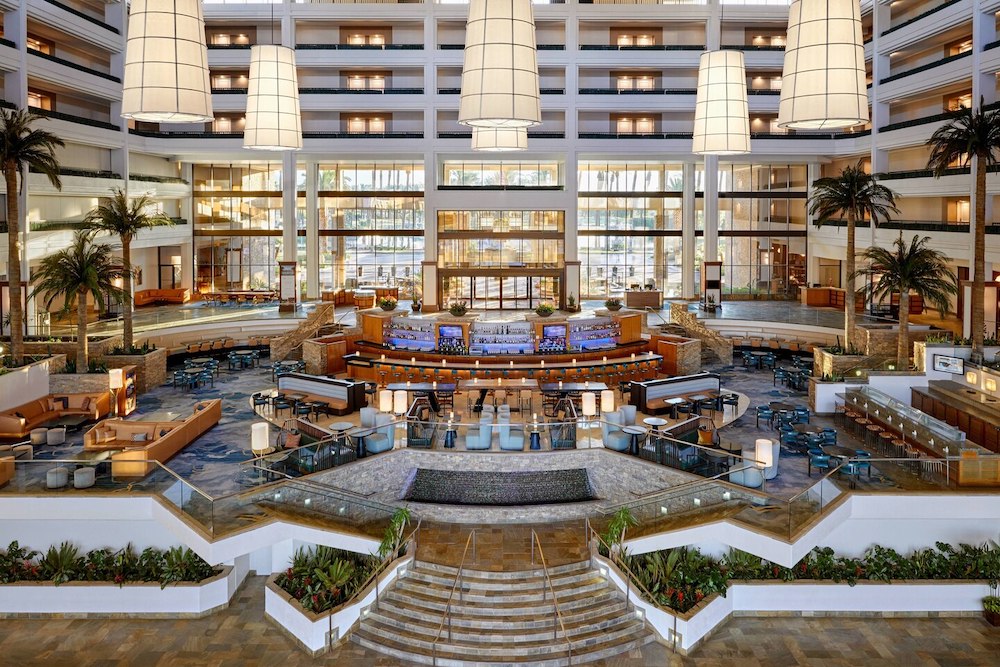 With fall in full swing and winter approaching, it's the perfect time to head to the desert and experience the kind of exceptional service that the J.W. has to offer. We recently checked out the more than 30-year-old property to learn more about its offerings this season.
Located about 20 minutes from the airport and 30 minutes from Palm Springs, the hotel sits on 23 acres of land boasting artificial waterways, two championship golf courses and beautifully manicured lawns surrounded by the desert's wild foliage. Inside, the lobby sits beneath a 30,000-square-foot atrium featuring Venetian-inspired waterways, food and dining venues, a glass mosaic water wall, and a boat dock available for rides around the man-made lagoon.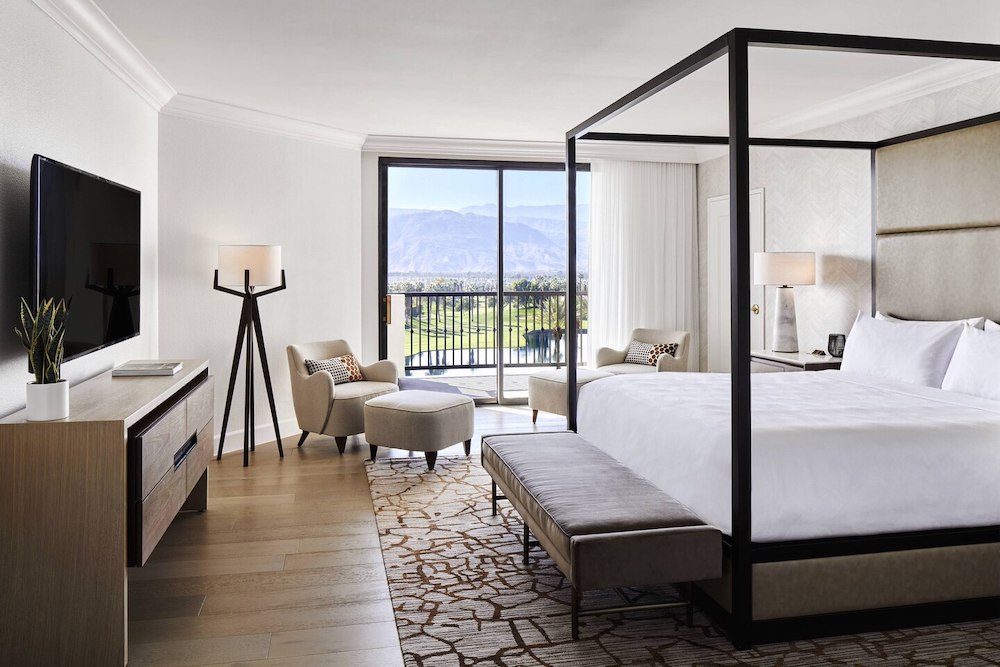 Within the expansive hotel are 884 guestrooms, including 101 luxury suites, all recently redesigned this year. Featuring warm, desert-like color palettes, the accommodations come with hardwood flooring, plush bedding, chic patterned carpet, workspaces with built-in USB ports, modern touches and spacious balconies. Bathrooms are outfitted with rain-style showers, limestone flooring, quartz vanities, and free-standing tubs in more than 300 rooms.
Around the resort, the amenities include a fitness center, boutique shops, a full-service spa, children's arcade, mini golf, tennis courts, a golf club, five pools and a hot tub, and plenty of outdoor activities to fill your days with sunshine and nature while there. To take full advantage of the main pool, book a cabana for a day. Reservations come with two lounge chairs, outdoor couches, complimentary bottles of water, individual fruit cups, and dedicated attendants to keep the drinks and food flowing.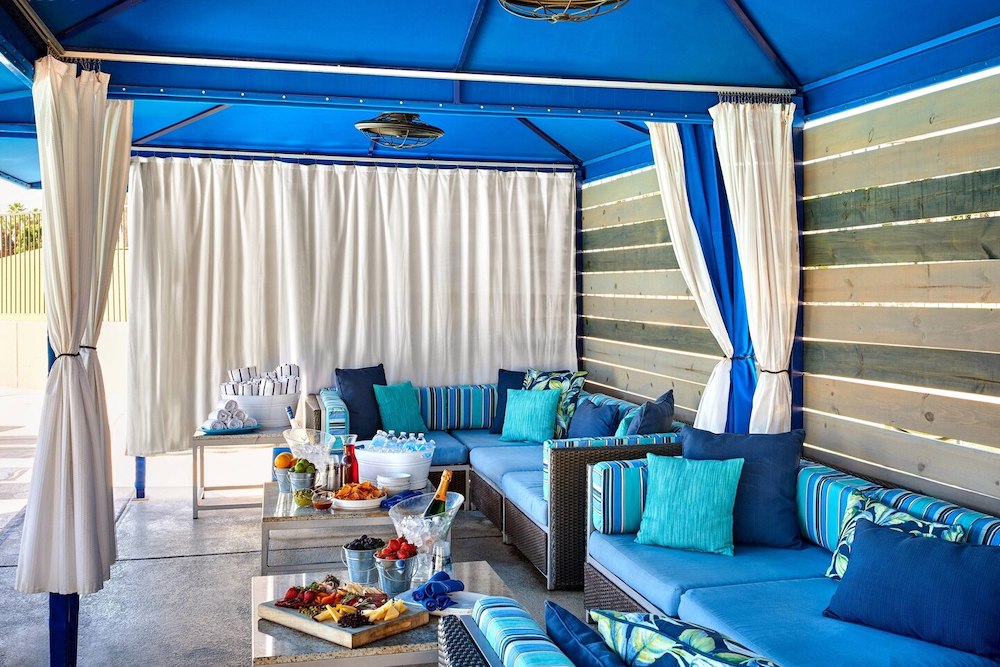 During our stay, we checked out one of the cabanas for the afternoon and were incredibly impressed by the level of service guests are afforded at the pool. All the attendants we chatted with were helpful, friendly and ready to assist in any way possible.
For dining, guests can eat at one of nine food and dining venues located throughout the resort. From quick bites at the Blue Star Lounge to fresh sushi at Aquifer65, steaks at Mikado Japanese Steakhouse, seafood at Fisherman's Landing, and American fare at Rockwood Grill, you could eat at a different eatery each day and still not have enough time to try them all.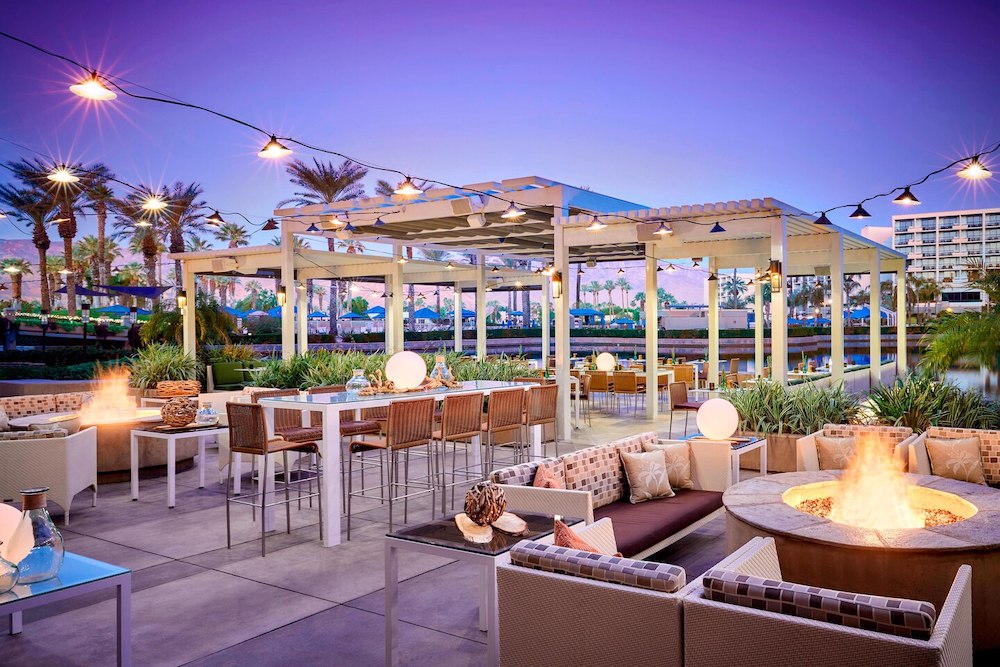 If the weather allows, opt for a patio table at Rockwood Grill one evening which overlooks the lagoon and is home to black swans, ducks and other wildlife. On its menu, guests can choose from dishes such as ahi poke, scallops with pea risotto, and grill selections like a 14 oz. New York strip with grilled broccolini, mushroom ragout, and roasted garlic potato puree as sides. We recommend starting with the bacon wrapped dates with Spanish chorizo and Point Reyes blue cheese and pair it with the caprese salad for starters. Next, opt for the New York strip with a port wine sauce and choose any of six à la carte sides.
Though the amenities and dining are standouts at the resort, the pièce de résistance de at the J.W. Marriott is its 38,000-square-foot spa. Offering an array of services, the spa features more than just your typical therapies, it also provides 48 treatment rooms, a bistro and pool area, fitness counseling, makeup services, hair and scalp treatments, men's services and therapy baths. The resort has also chosen to partner with brands and products that are dedicated to social causes.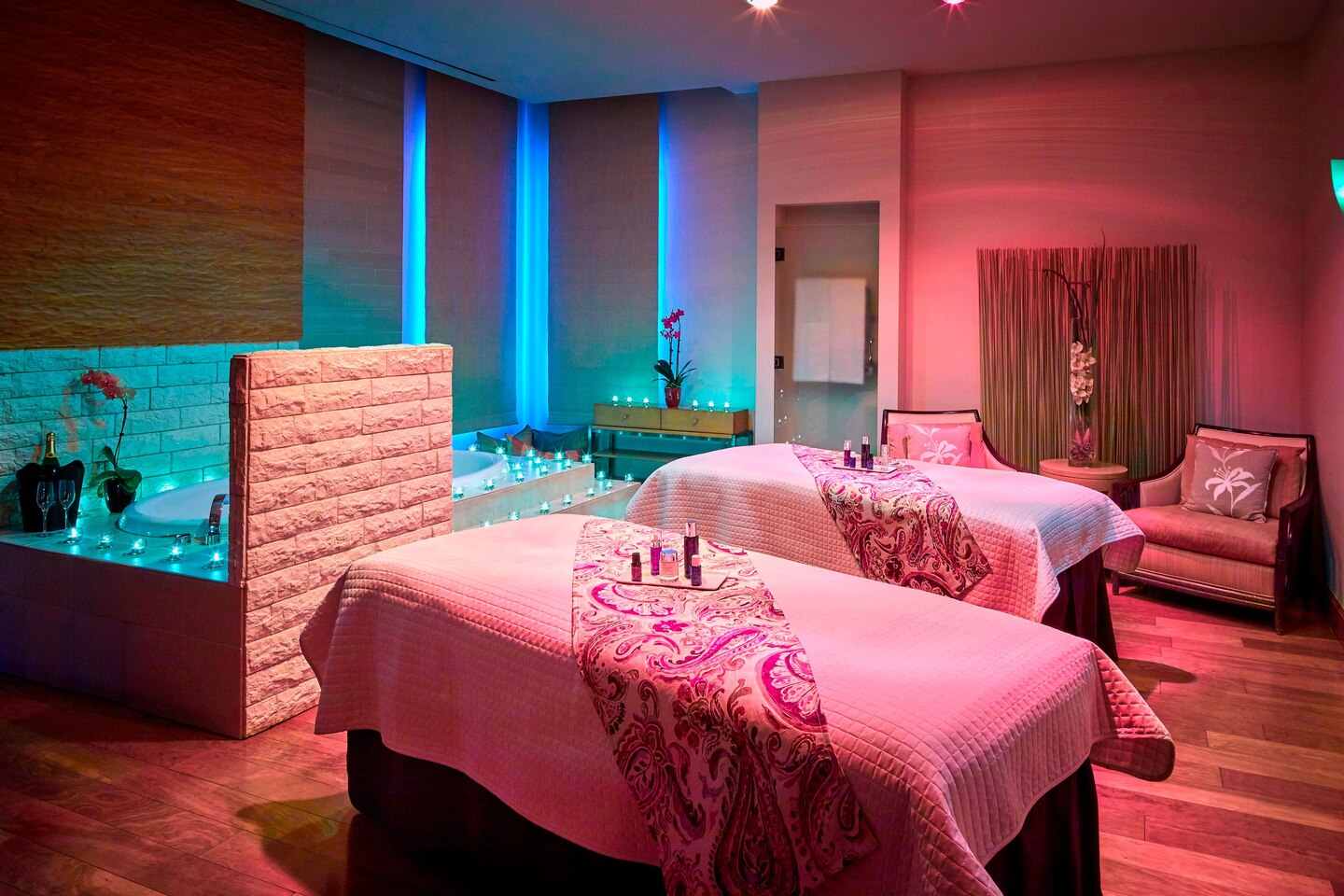 A majority of the products used within the spa give back to the community or donates proceeds to charitable causes so that by simply enjoying a treatment you'll be doing good at the same time. It's an aspect of the spa that was important for the spa director to incorporate into the facility and one that makes us feel good about purchasing products from the resort.
We experienced the DermYoung Rapid Recovery 60-minute facial during our stay which was created by skin biologists and dermatologists at Harvard Medical School. It was designed to rejuvenate fatigued skin and re-energize it with peptides, vitamins, antioxidants and minerals. This process involves steam, a vibrancy-boosting face mask, hydrating mist, extractions and pore-refining products for an overall revitalization of the skin.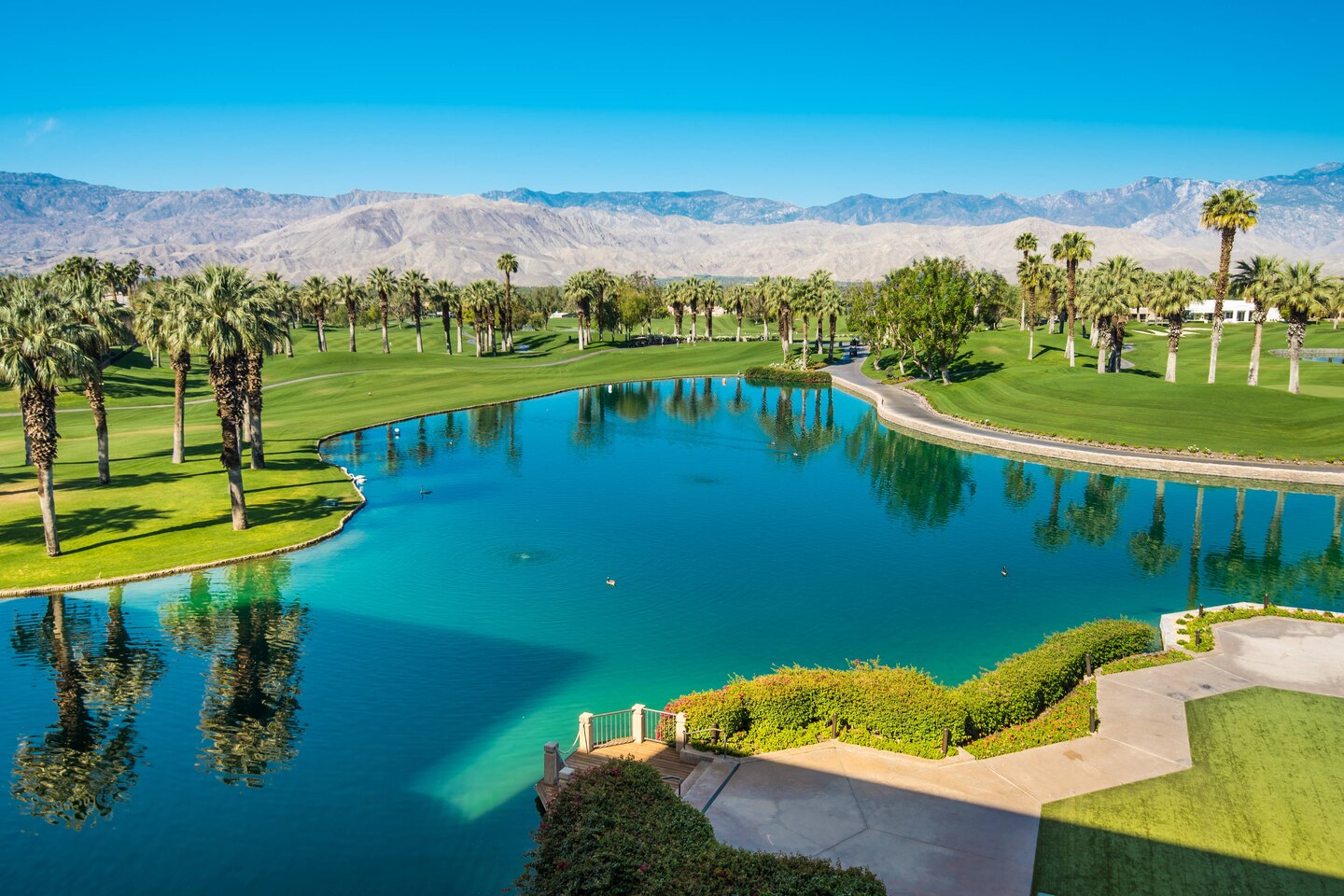 When looking for a more intimate experience, consider the 600-square-foot Sanctuary Spa Suite which can be booked for private treatments or group affairs. The suite can be accessed through a private entrance for added privacy and is staffed by a personal butler. Within the suite are two hydrotherapy tubs, treatment tables and changing rooms, an indoor-outdoor fireplace, rain shower and food service from the Spa Bistro.
The J.W. Marriott Desert Springs Resort & Spa is the kind of hotel you'll make multiple trips back to whenever you're in the area. With an array of amenities, upgraded guestrooms and a spa that could be a resort in itself, you'll never want to leave the property. But it's the staff and service that'll really have you coming back year-after-year.