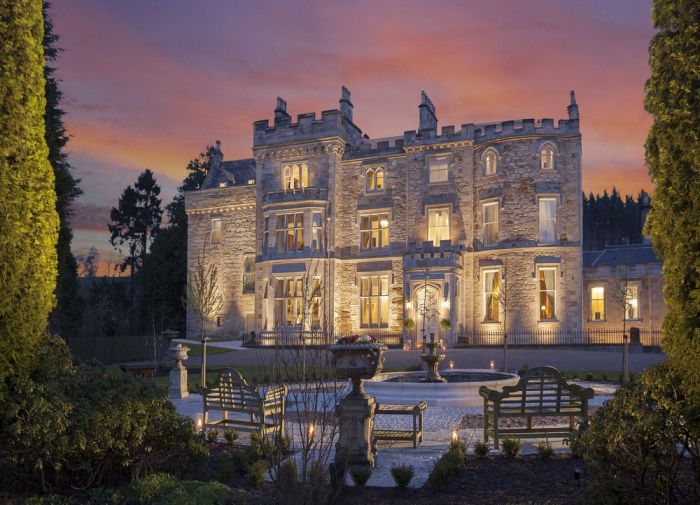 All Images courtesy of Crossbasket Castle
Throughout the United Kingdom, like most of Europe, you'll find regal castles dotting the landscape; remnants of a time when feudal lords ruled over their dominions. Their homes were a representation of their wealth and power and fortified with thick stone walls, turrets, and crenelled roofs a vantage point where armies protected their sovereignty. Today many of these noble abodes offer a respite where guests on holiday are still treated like royalty, if even for just a few days. Crossbasket Castle, in the environs just outside of Glasgow, is such a place that takes the best of the old and has upgraded it to something completely fresh, new and, ready for the 21st century.
Crossbasket is a castle experience that gets everything right. Many centuries-old castles throughout Europe find themselves in a state of disrepair or are often dark and dreary to the point of being depressing. Crossbasket could not be any further from that experience after going through a 14-million-dollar rebirth just a few years ago. It is bright to the point of gleaming, masterfully restored, and fully renovated for today's travelers while adeptly respecting the traditions of the past.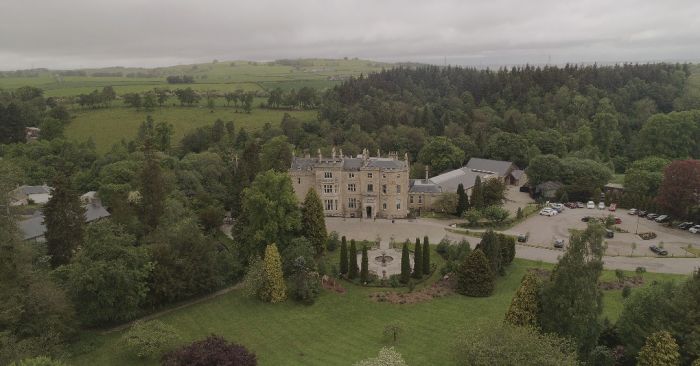 Upon arrival, the first sign of elegance comes into view of a striking fountain surrounded by manicured grounds. It is the details here that make it so wonderful with a sloping hill of green grass, gardens awash with lavender and pencil pine trees, and it at its centerpiece, a spectacular 300-year-old castle. Although a mere 15-minute drive from Glasgow, Crossbasket is ensconced in 14 acres of woodlands complete with lush walking trails and the obligatory babbling brook. To call it a fairytale setting would only be stating the obvious.
The castle itself is quaint and not as large as most other castles. In fact, it is an intimate space of only nine elegant guest rooms, several parlors' rooms, and a bar. Part of the renovation was the addition of an extensive hall and chapel for creating memories of the countless storybook weddings hosted there each year.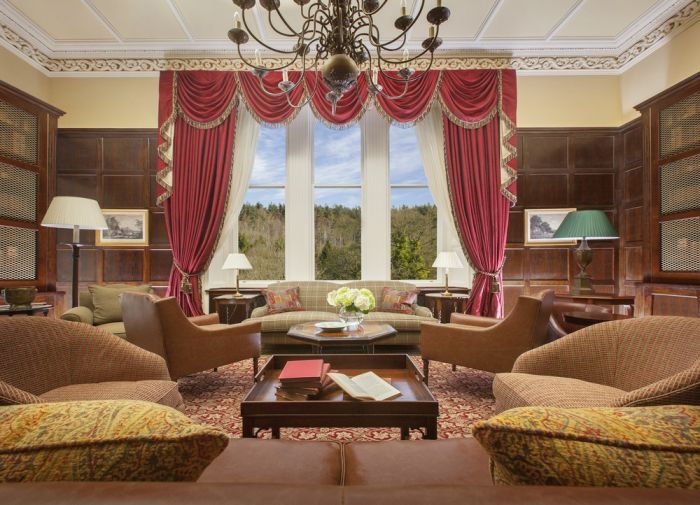 Once inside the décor is opposite of the aforementioned dreary castles. In contrast, Crossbasket offers large windows that flood each room with natural light. In place of dour spaces, you'll find light pastel colors of pale yellow and cream, bright damask print wall coverings, and ornate ceilings accented by lavish gold-leaf cornices. There are several parlor rooms with period furnishings, antiques, and comfortable places to relax around fireplaces. This is a proper English luxury that instantly feels far more like a palatial estate than a hotel.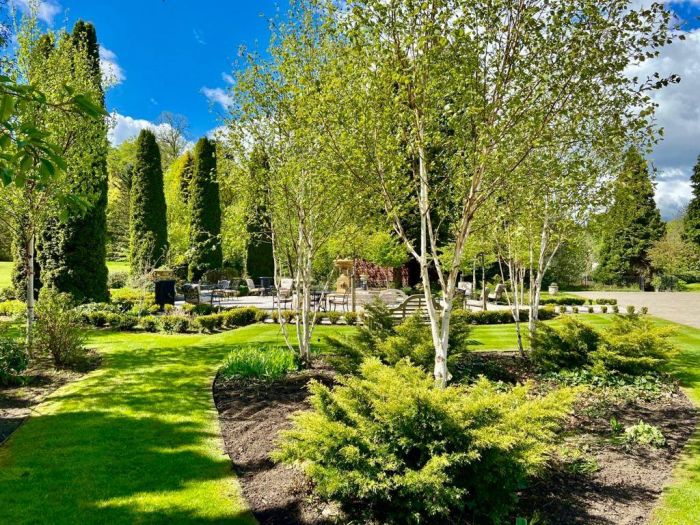 The location is ideal as well for a foray into Glasgow which has become Scotland's cultural hub and is home to the Scottish Opera, Scottish Ballet, National Theatre of Scotland, and many museums as well as a thriving shopping, restaurant, and music scene. Another option not far away is the gorgeous scenery of the Scottish countryside ideal for a drive or long walks in the forest.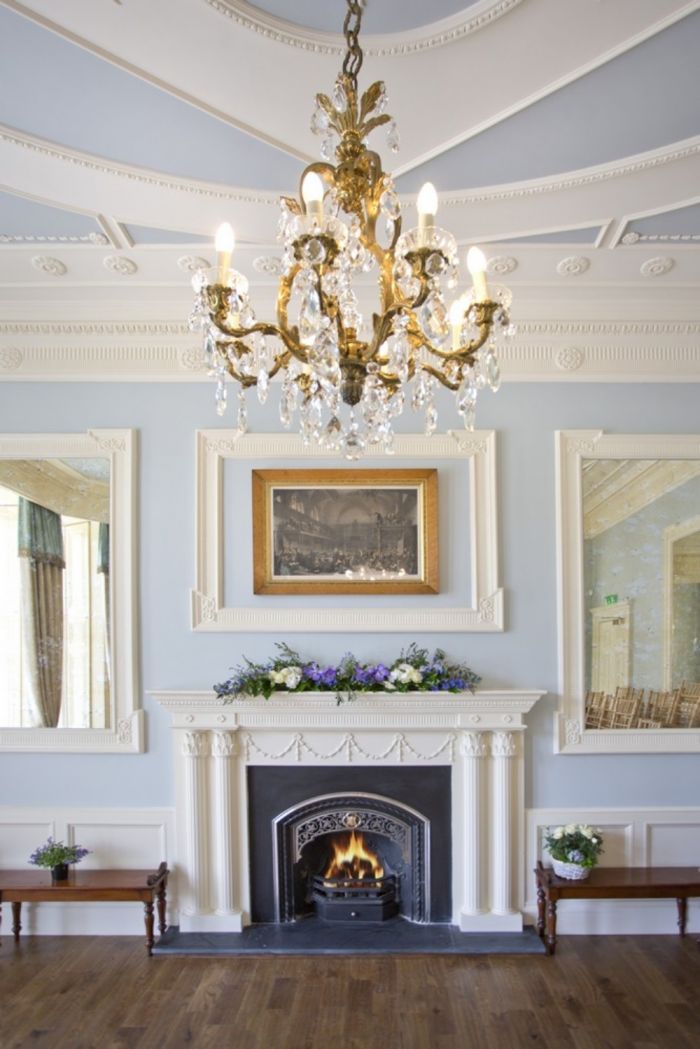 The castle was built over three centuries ago and has passed hands over the years until falling into a state of disrepair at the turn of the last century. The current owners set out on a passion project to bring it back to its full luster and invested $14 million and countless hours in craftsmanship and materials as well as the latest in modern technology. The property reopened in 2016 and quickly became one of the UK's most esteemed five-star castle hotels and has received a clutch of awards and accolades as well as the appreciation of its repeat guests.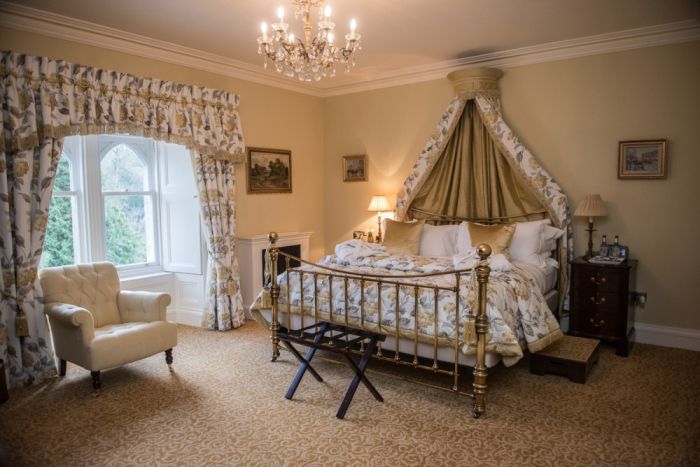 There are only nine rooms at the castle hotel, each unique and named after the former owners of the castle. Each accommodation is spacious, with 16-foot ceilings and large windows that overlook the grounds. All rooms feature bespoke furnishings and antiques, a period-inspired canopy bed, antique chandeliers along with louvered shutters and floral pattern curtains and bed covers. The bathrooms are ultramodern as well with bathtubs and designer amenities.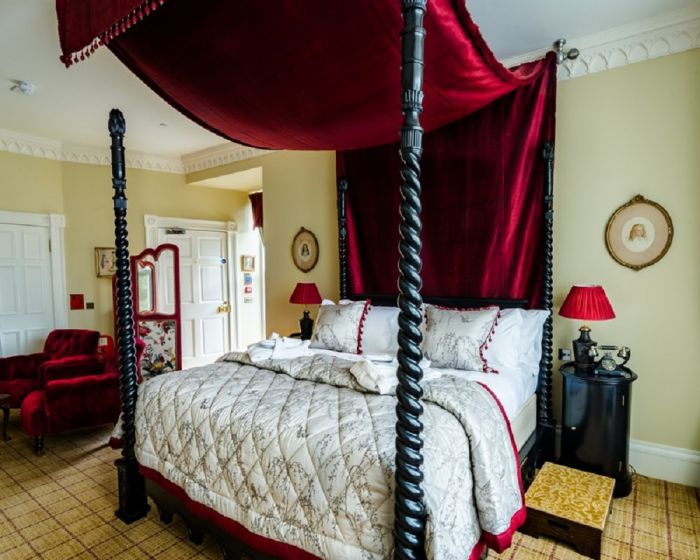 The most opulent suite is the Lindsay Tower Suite which is located in the round turret of the original 16th-century tower. The suite is well suited for a princess or in today's world, the bride-to-be, set on four floors connected by a winding spiral staircase. One floor offers a drawing room with fireplace, another floor is reserved for the spacious bathroom with clawfoot tub, and another floor, as the dressing room and finally the well-appointed bedroom. Throughout are exquisite details, antique paintings, and mirrors that add a medieval character to the suite.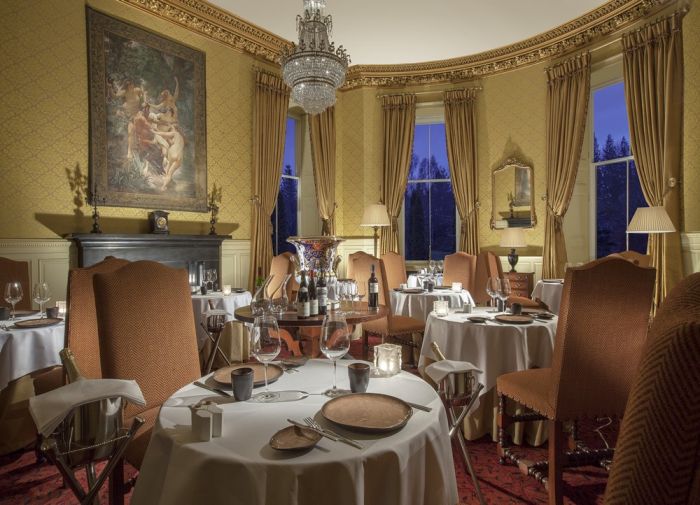 The royal treatment continues with the dining experiences offered at Crossbasket Castle. One of the UK's most heralded chefs was the late chef Albert Roux OBE who operated the first UK restaurant to earn three Michelin stars. He opened the restaurant at Crossbasket which is today run by his son Michel Roux Jr. who also helms the two-star Michelin restaurant in London, Le Gavroche. The dining experience at Michel Roux Jr. at Crossbasket is a showcase of regional haute cuisine at its finest level and is overseen by the chef in residence is Mike Matieson who ensures the cuisine follows the lofty standards set by the family.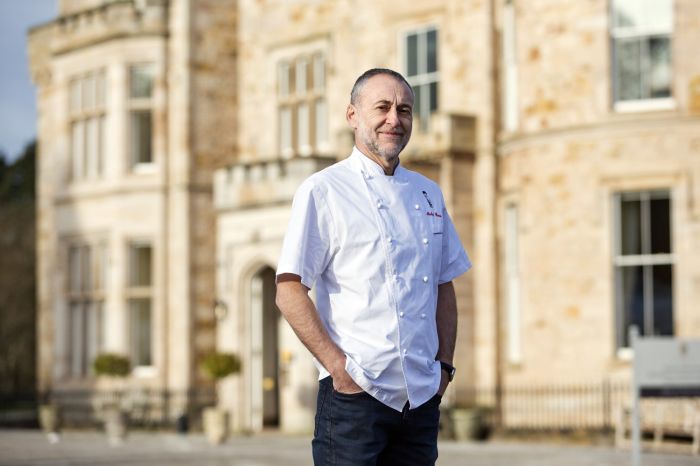 Two Michelin Star Chef Michel Roux Jr.
The seven-course degustation menu is more than a meal, it is an experience. Beginning by the fireplace in the library, the evening starts with champagne, cocktails and canapes. And as if from a bygone era, guests chat and nosh while a harpist plays her beautiful notes which set the ambiance for the evening. Meals are at set times and include a menu based on seasonal and local produce that changes frequently.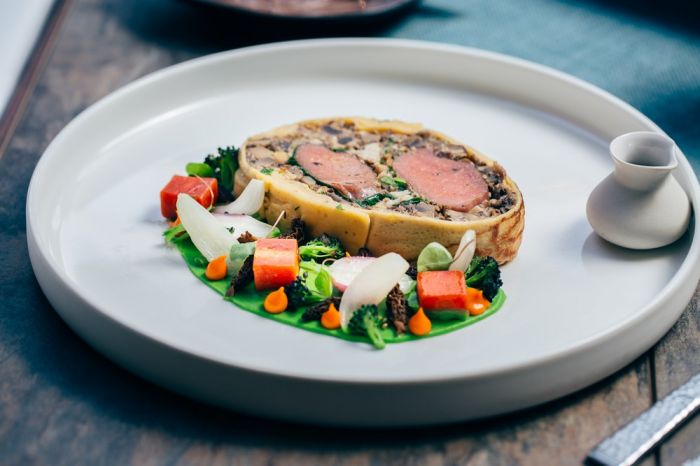 Dining is always memorable based on French and Scottish flavors with a particular focus on fish, game, and red meat with dishes such as West Coast Crab, with Marinated Tomato and Avocado or the Ballotine of Rabbit with Blood Orange and Pickled Rhubarb. Each dish is then masterfully paired with wines from their vast cellar. The wonderful evening concludes with coffee and petits fours in the drawing-room.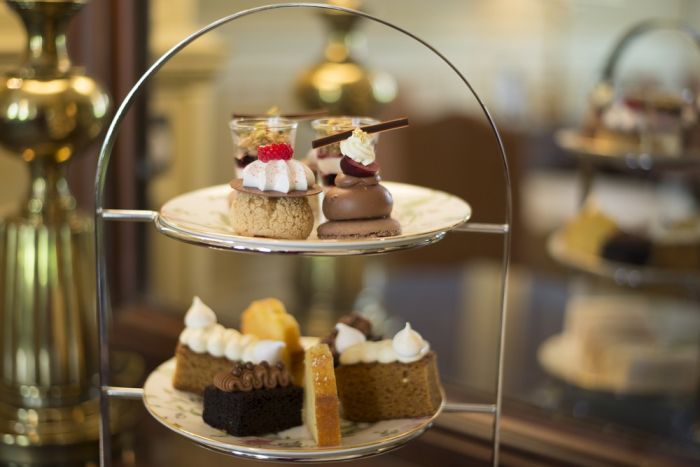 The same care and attention to the dining service are applied to Afternoon Tea as well. The experience begins with a fine glass of Albert Roux's Blanc de Blanc Champagne. The traditional tea follows with artisan sandwiches, scones hot from the oven, and decadent sweets and pastries to finish. But where this tea distinguishes itself is with the details. Homemade jam and clotted cream as well as a fine selection of loose teas. And don't worry about pouring the tea yourself, the service is above and beyond with the staff waiting on your beck and call to serve your tea while ensuring it is served at the exact and proper temperature. And throughout the stay, you'll find the staff to be caring and professional yet quite approachable and never stiff or stuffy.
Although most guests will not want to leave the castle, there's a lot of tempting experiences nearby. Crossbasket Castle sits on 14 acres on the banks of the River Calder. There are fetching nature walks through the woodlands and along the river as well as a lovely waterfall that should not be missed. Further away are more rigorous hikes and walks as well as fishing and golf. And of course, Glasgow, Scotland's largest city, is mere 15 miles away.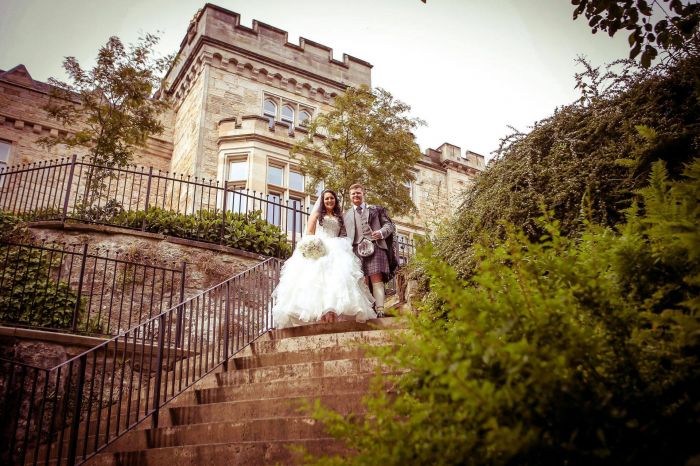 When it comes to many of the castle experiences in the UK, Crossbasket Castle breaks the mold with bright interiors, flawless craftsmanship, top-notch amenities, and one of the top dining experiences you'll find in the area. The Crossbasket Castle offers an impeccable blend of the old and the new, yet the service and experiences from a bygone era make it an ideal stay for royalty or those who fancy a regal lifestyle.