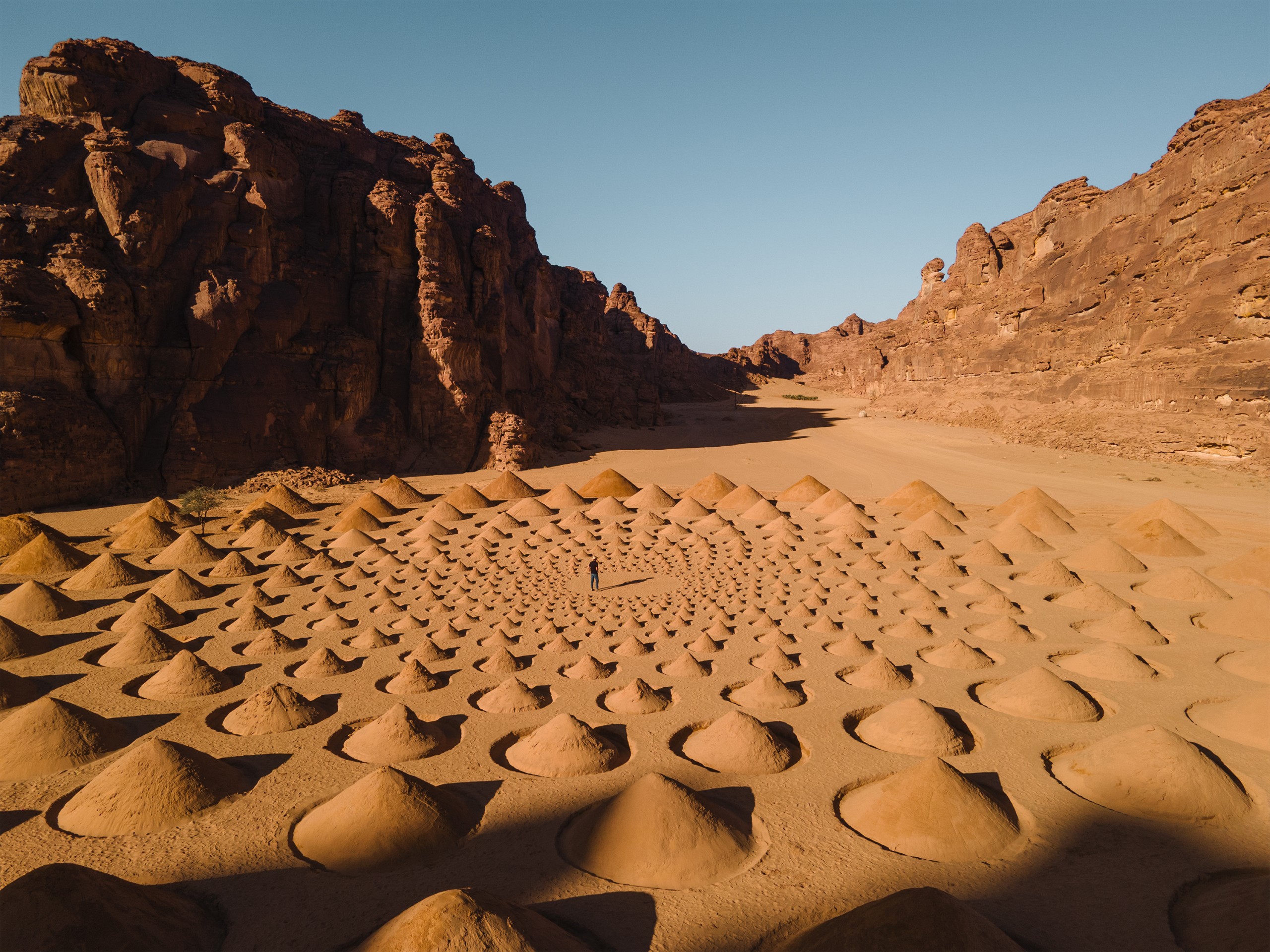 Jim Denevan Desert X AlUla 2022, photo by Lance Gerber
On a mission to redefine the luxury hotel experience, last November trailblazing sustainable hospitality brand Habitas opened its first property in the Middle East – the architecturally stunning 96-room resort, Habitas AlUla. The ancient sandstone cliffs and palm groves of Ashar Valley Alula in northwest Saudi Arabia not only serve as a dramatic backdrop to the most coveted five-star glamping destination of 2022 but create a remarkable setting in which to view striking new site-specific art installations being unveiled this month as part of international art exhibition, Desert X AlUla.
Habitas AlUla
Habitas AlUla
A place of extraordinary human and natural heritage – 200,000 years of unexplored history to be precise – AlUla is home to the ancient city of Hegra, a UNESCO World Heritage Site built by the Nabataeans (one among several nomadic Bedouin tribes that roamed the Arabian Desert) over 2,000 years ago. The site, which lies along the original pilgrimage route to Mecca, was a hub of cultural exchange for millennia, and so, what better setting for an immersive hospitality experience?
Guests are welcomed to Habitas AlUla with a unique bracelet and asked to set an intention to mark the spiritual journey that lies ahead during a ceremonial two-minute silence. Designed in traditional Middle Eastern style tent-like suites span three tiers - Celestial Villas, Alcove Villas and Canyon Villas. Expect to see plenty of Arabian design motifs and Sadu rugs but don't come looking to watch television as there are none on property.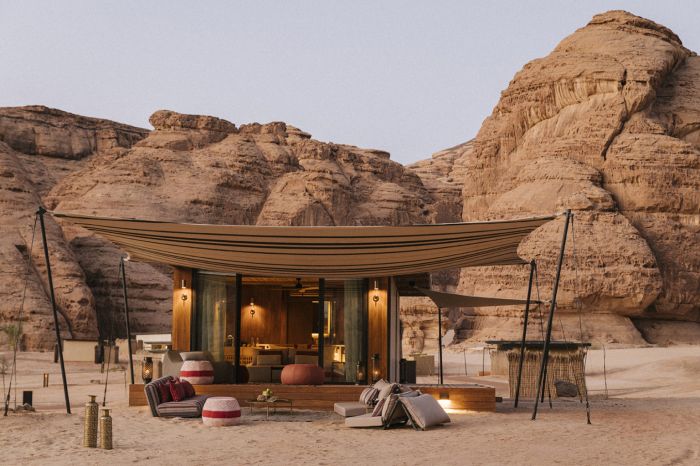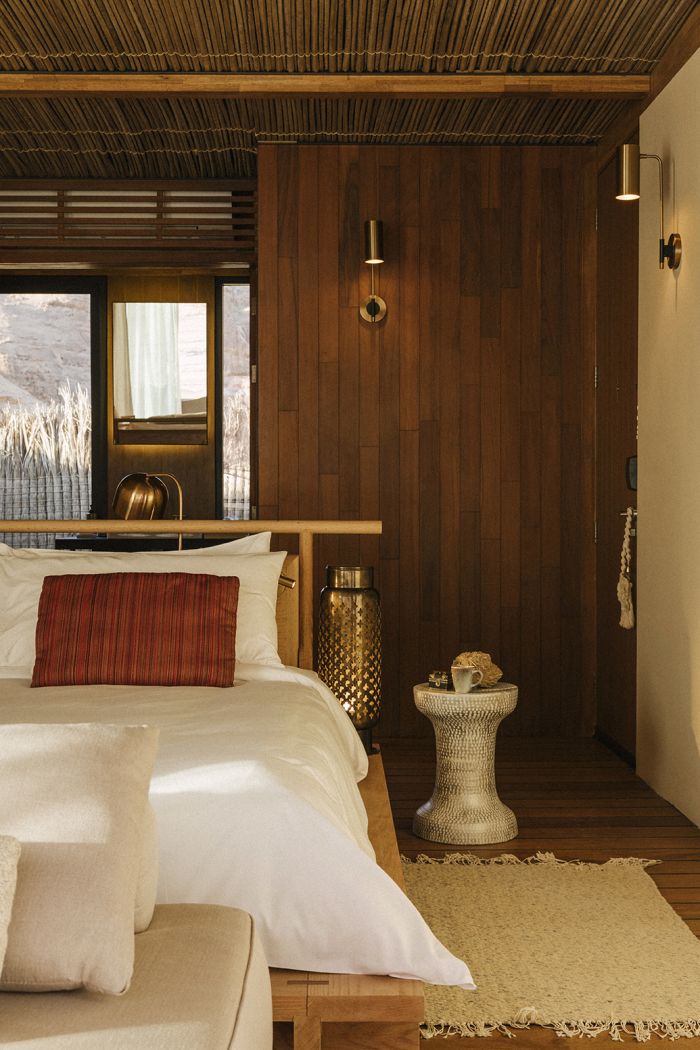 Habitas AlUla's on-site restaurant Tama (from the Aramaic word "here") sources local ingredients grown and produced using sustainable agricultural methods for its dishes which takes guests on a culinary journey across Saudi Arabia and the Middle East. The photogenic infinity pool is a popular central gathering place surrounded by beautiful sandstone cliffs. Additional facilities include a spa retreat, gym and yoga room. Immersive art installations can also be discovered around the property, including Mohammed Ahmed Ibrahim's Falling Stones Garden.
Embodying the brand's pillars of music, wellness, adventure, culture, learning and culinary, programming at Habitas AlUla incorporates art and culture walks, canyon trekking, yoga, meditation and breathwork. Rooms start from $700, including taxes. Visit ourhabitas.com/alula for reservations.
Desert X Alula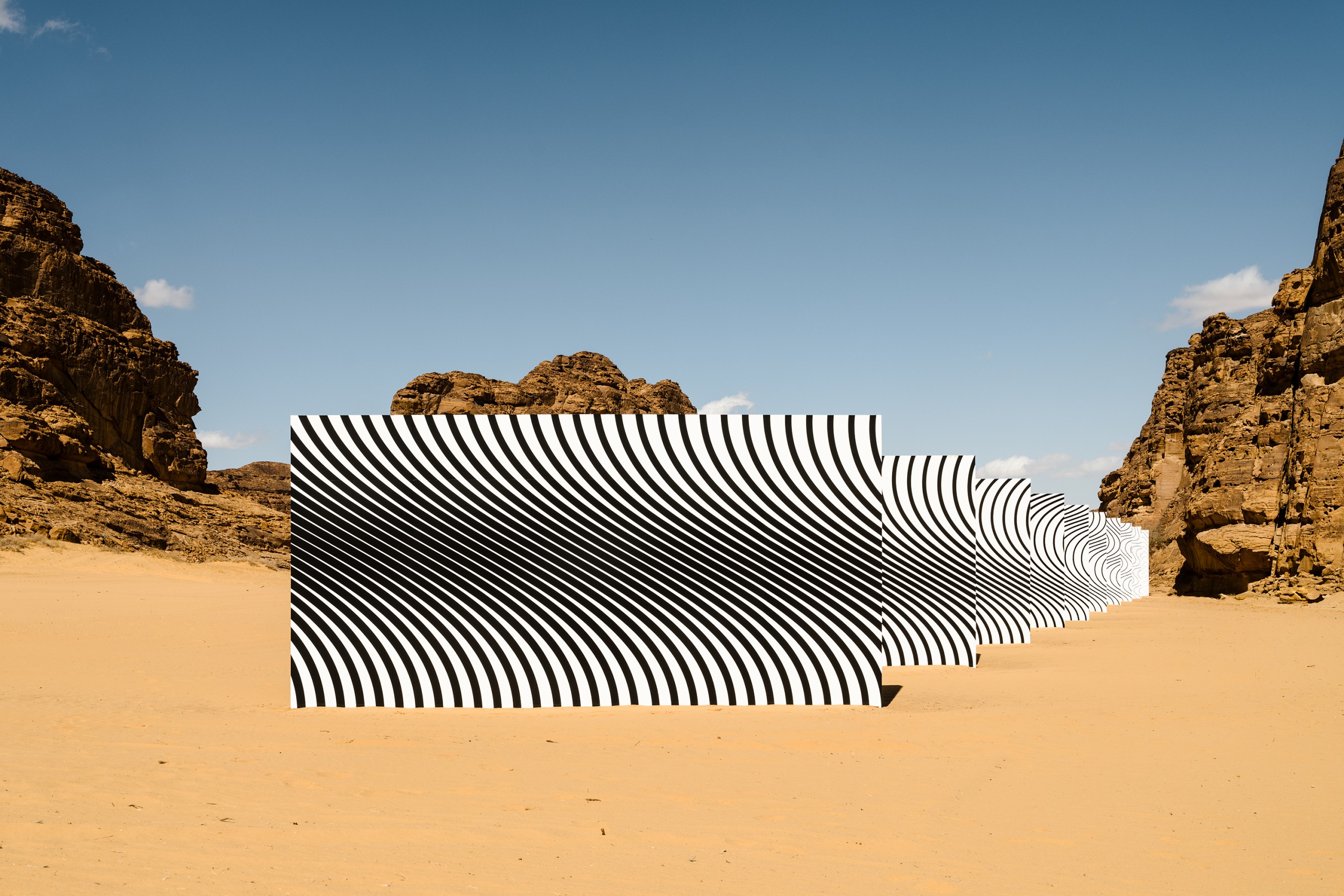 Claudia Comte Desert X AlUla 2022, photo by Lancer Gerber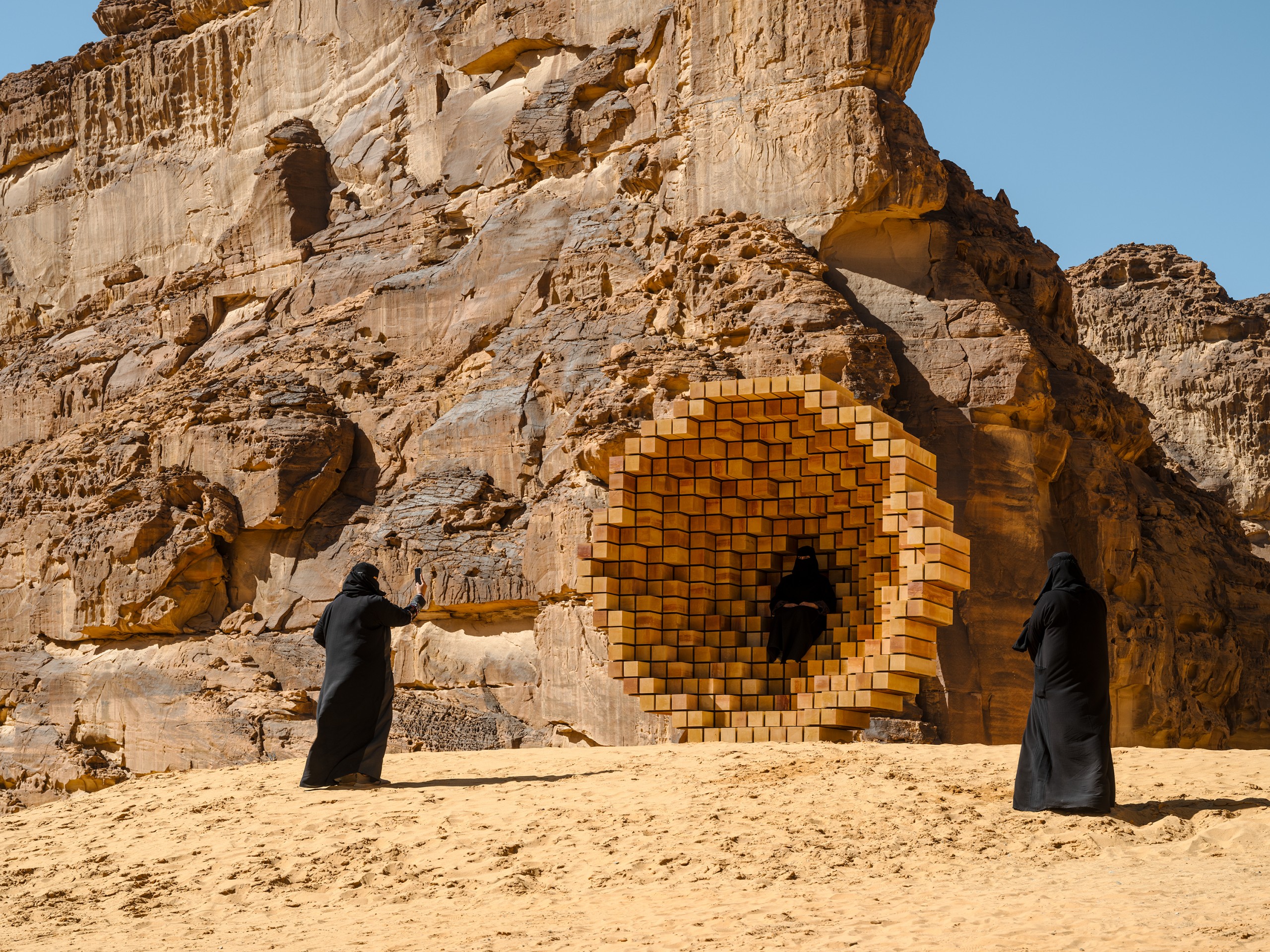 Dana Awartani Desert X AlUla 2022, photo by Lance Gerber
A collaboration between the Royal Commission for AlUla and Desert X, a foundation founded in 2017 in California's Coachella Valley, this year's site-specific biennial explores ideas of mirage and oasis under the theme of Sarab, which means mirage in Arabic. Both intrinsic to desert history and culture, the two ideas have taken on complex worldwide significance over time, says curatorial advisor to Desert X AlUla 2022, Reem Fadda.
"The desert concepts have long been tied to ideas of survival, perseverance, desire and wealth. The oasis pertains to ideas of finding prosperity or heaven, while the mirage is a universal symbol of the mysteries of imagination and reality," she says.
Each of the 15 Saudi and international artists presented in the exhibition spent time in the AlUla region, developing ambitious and innovative site-specific responses. For example, Swiss artist Claudia Comte's progression of imposing architectural walls, Dark Suns, Bright Waves each carries a larger algorithmic pattern relating to the waveforms that shape the sound and surface of the desert. Drawing inspiration from the vernacular architecture of AlUla, Palestinian-Saudi artist Dana Awartani's concave geometric sculpture references Nabataean tombs and mimics the shapes of surrounding mountains and rock formations. Free and open to all, the second edition of Desert X AlUla runs from 11 February to 30 March 2022. Visit desertx.org for more information.
A Dream of AlUla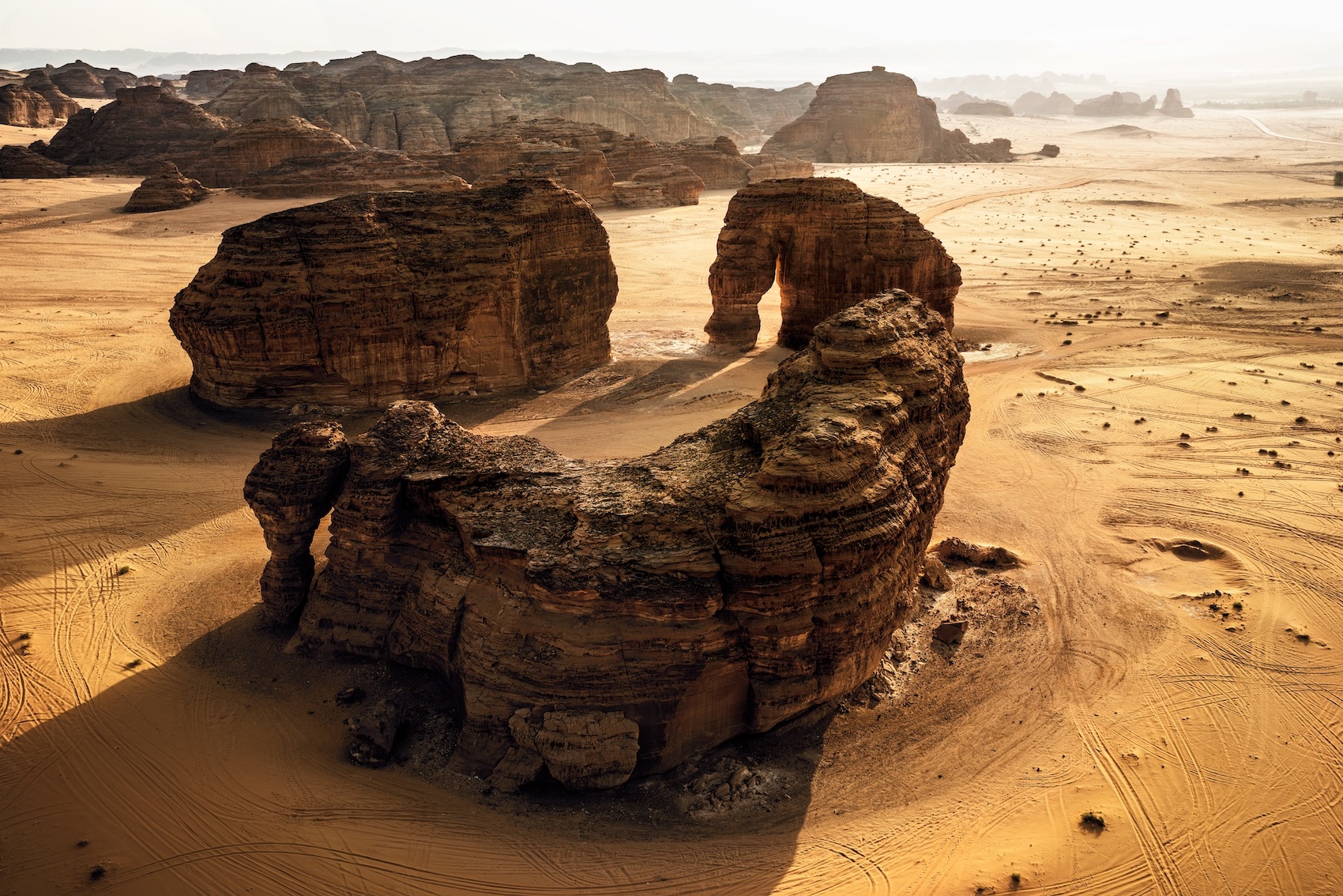 Gilles Bensimon
The artists of Desert X aren't the only people to have been inspired by the ancient Arabian desert landscape. Acclaimed French fashion photographer Gilles Bensimon has captured the majestic natural landscapes, its oases and settlements for his latest coffee table book, A Dream of Alula. Celebrating the history of AlUla, readers are treated to a glimpse of the geological wonder through Bensimon's images, which reveal magnificent age-old landscapes and people who live there. Published by Rizzoli New York and featuring a foreword by French art historian Diana W. Picasso, the oversized 215-page book A Dream of Alula retails at $300. For more information on where to purchase, visit rizzoliusa.com.