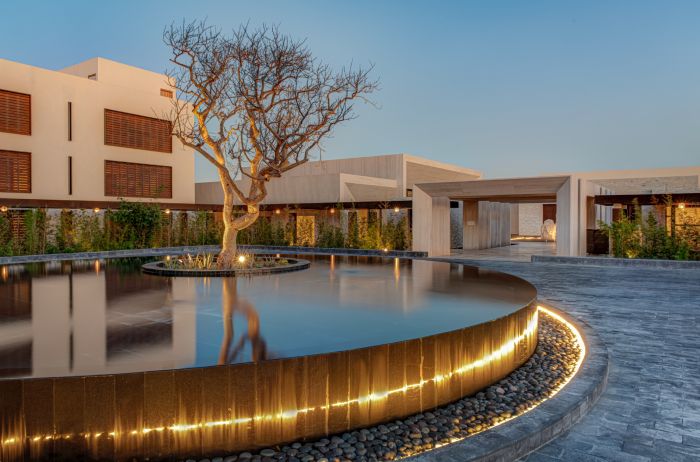 (credit: Nobu Hotel Los Cabos)
Nobu Hotel Los Cabos is Nobu's first hotel in Mexico and adds to the company's portfolio of 13 properties, with 13 slated to open in the next few years. Exuding casual elegance and the refinement guests come to expect from Nobu Hospitality, this beachfront resort presents clean lines and a brilliant fusion of contemporary Japanese minimalism and Cabo's laid-back style. Set in the town of Diamante, the resort is far away from the noise of Cabo offering expansive views on the inviting shores of the Pacific Ocean.
Sitting on the southernmost tip of the Baja Peninsula, the hotel offers 200 guest rooms and suites, each designed with modern designs but portraying the local experience. From its entry which features a dramatic stone-framed ocean view as well as a serene Japanese-inspired foyer with large sliding glass doors, guests are welcomed immediately with a smile and the feel of breeze from the ocean beyond. Designed primarily using stone and light-colored materials, the hotel's minimalist design exudes luxury and draws inspiration from Malibu Ryokan, the property's West Coast cousin.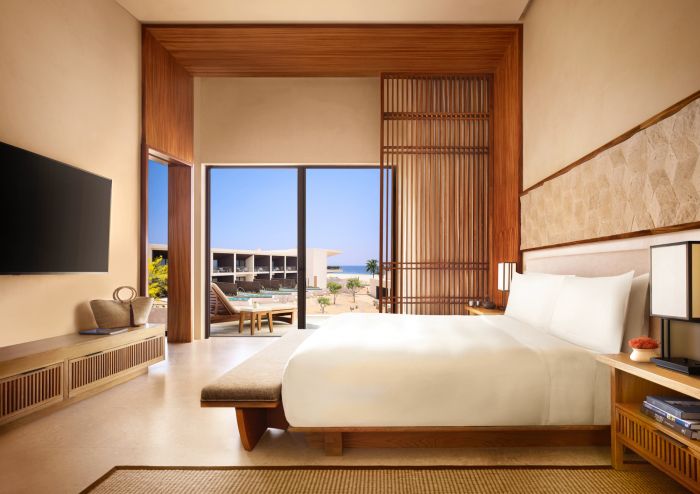 (credit: Nobu Hotel Los Cabos)
Only 20 minutes from downtown Cabo San Lucas, the hotel features four swimming pools, Chef Matsuhisa's famed Nobu restaurant, Malibu Farm's first Mexican outpost, the luxurious13,691-sf Esencia Wellness Spa and much more.
The rooms consist of 103 suites and 97 standard rooms with guests able to select accommodations that either have ocean views or private patio pools. Each type of accommodation has beautiful wood soaking tubs and walk-in showers, private balconies and locally sourced artwork. There is a selection of six room categories with their oceanfront Nobu Suite being their most deluxe option. Available as a one bedroom (1,850sf) or two bedroom (2,628sf) or three bedroom (3,142sf), the presidential suite is the only suite on property which features a chef's kitchen and some of its key design elements include its wrap-around terrace, walk-in closet and private outdoor tub with ocean views.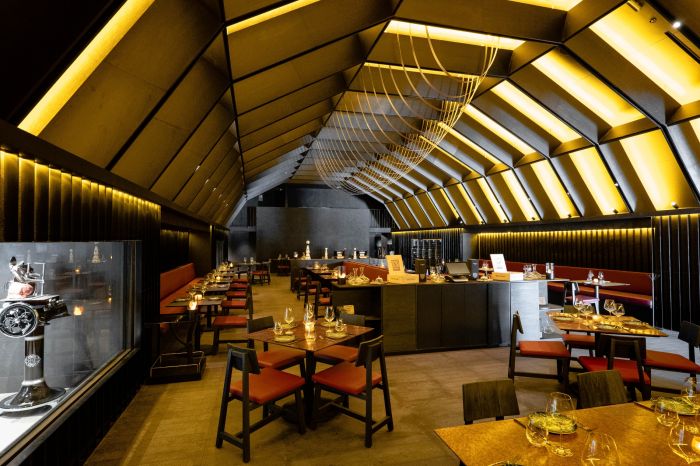 (credit: Nobu Hotel Los Cabos)
"Beyond the famed Nobu, we wanted to ensure that the experience at the hotel is nothing short of exceptional. Between the different dining options and wellness offers, Nobu Hotel Los Cabos poses as the perfect oasis for travelers seeking to truly disconnect," said Frank Maduro, VP of Marketing at AIC Hotel Group.
Executive Chef Paolo Della Corte invites guests to indulge in fine dining at one of their six restaurants, truly embodying 'buen provecho' (enjoy your meal). Starting with the world-famous cuisine at Nobu, guests will experience the latest trends in Japanese fusion cuisine with inventive dishes and bold cocktails. At Ardea Steakhouse epicures are immersed in a lively gastronomic experience coupled with novel mixology, while those who prefer to dine in can do so from the sanctuary of their luxurious private quarters and enjoy Nobu's signature cuisine. Set below Nobu just steps from the soft sand beach, guests will find the breathtaking Sunset pool with uninterrupted views of the sea of Cortez. Those looking to bask in the sunshine with a drink in hand, can enjoy the swim-up bar at Cortez pool.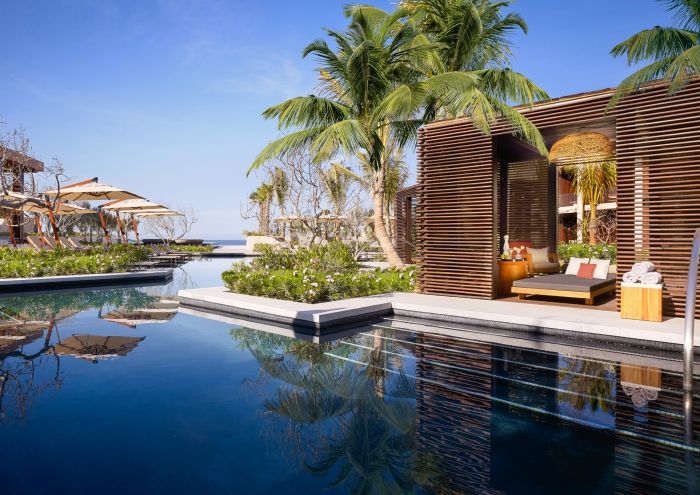 (credit: Nobu Hotel Los Cabos)
The resort includes a 13,691-square-foot spa with 13 treatment rooms, salon services, hydrotherapy, cabana Jacuzzi, steam and sauna and more. Their co-ed outdoor hydrotherapy garden includes a water circuit, experiential shower, cabana jacuzzi, outdoor shower and direct access to the sauna and steam room. From their relaxation rituals to their body treatments and facial ceremonies, the three Nobu Signature Treatments (Nagomi Ritual, Nobu Zen, Japanese Silk) truly awaken the body, mind and spirit. There is also 3,723 square feet of gym space, and an indoor/outdoor yoga and spin area, offering a wide range of movement classes.
To experience even more that the resort has to offer, book one of their private experiences which are tailored to each guests' needs. From a beachfront dinner, beach bonfire with fireworks, tequila tasting, wellness activity and more, craft your own experience here.