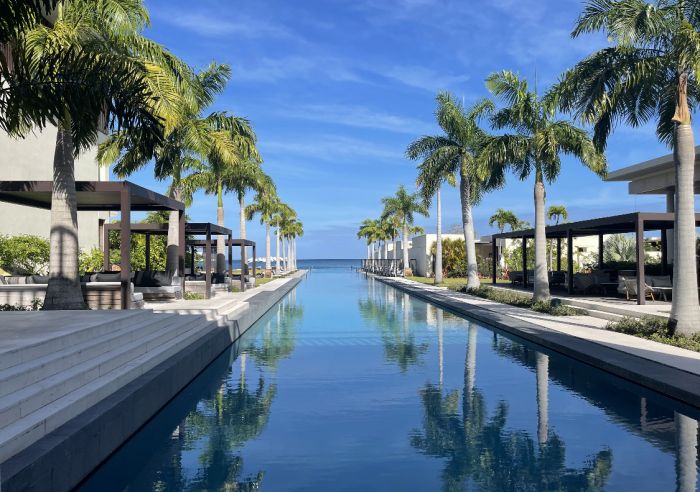 Whitney Spielfogel
The tiny island of Grenada is ready for its Caribbean close-up! Thanks to the debut of the sleek Silversands resort in December of 2018, Grenada is officially on the luxury resort map and quickly proving to be a major force to be reckoned with. This destination is poised for a very strong 2022 (Forbes just named Grenada as one of "The 22 Best Places To Travel Around The World In 2022: Where To Go Next") and the best is just beginning for this most intimate isle and dreamy destination property.
After an untimely opening, only a year before Covid hit, and the island's very strict anti-Covid approach to the crisis, visits to the Silversands were put on pause, but with the addition of many non-stop, direct flights from JetBlue and American Airlines this winter into Grenada's Maurice Bishop International Airport, the time is now to visit. Plus, as of April 4, 2022, all visitor restrictions have been lifted. That means no Covid-19 testing, proof of vaccination and/or health declarations are no longer required.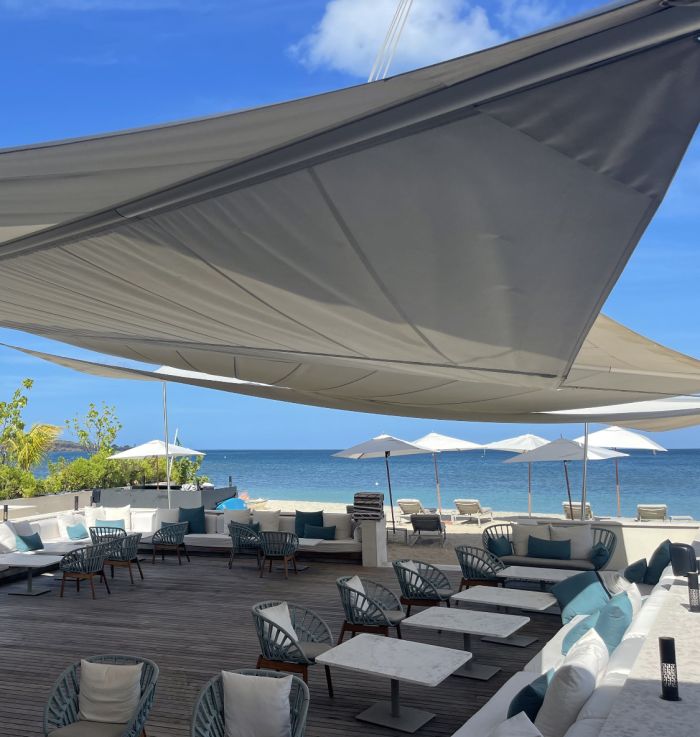 Whitney Spielfogel
Set on the ivory-white sands of the pristine Grand Anse Beach (constantly named one of the best beaches in the world… and for good reason!), Silversands has introduced a completely new way for discerning design-savvy travelers to experience the unspoiled island of Grenada, known as the "Spice of the Caribbean". Uber contemporary and ultra-modern in its design, unlike anything else on the island, the resort offers a chic luxury experience, blending the warmth and authenticity of a true Grenadian lifestyle seamlessly.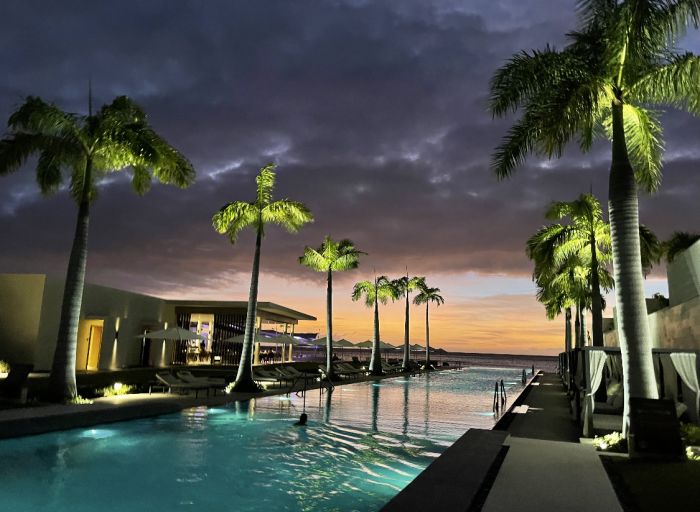 Whitney Spielfogel
The property is impressively home to the longest infinity pool in the Caribbean at 330 feet of Instagram-able content. The chic Silversands consists of 39 guest rooms, four suites and nine residential villas, which span across two main buildings directly off of Grand Anse Beach. The guestrooms consist of open-plan layouts with sweeping views of the sea and resort grounds from private terraces. All rooms, suites and villas are beautifully appointed with natural woods and stone elements, and feature floor-to-ceiling windows with beautiful vistas and flooding the rooms with a plethora of natural light. The rooms feature state-of-the art technology from Nest thermometers to automated bug nets that make for a spectacular IG reel.
Whitney Spielfogel
Silversands Grenada is a member of The Leading Hotels of the World, offering five-star amenities, best-in-class service (Grenadians are the warmest and welcoming) and exceptional dining options, all while creating authentic Grenadian experiences that create a true sense of place for guests. With an emphasis on community and culture, there are two distinctive restaurants, The Grenadian Grill and Asiatique, to showcase the island's abundant agriculture serving the likes of freshly caught fish, handpicked spices (but of course!), herbs, veggies and fruit, alongside Grenadian craft beers, wines and local rums (there's even a cigar and rum bar, Puro, on property). Be sure to take the property's Tesla (one of only two on the island… a very impressive pick-up and drop-off from the airport) across the street to Dexter's, owned and operated by one of the most lovely couples on the island, Dexter and his wife. Be prepared to have your tastebuds wowed with an extraordinary 5 course meal (with drinks included) all prepared by Dexter himself (no line cooks or helping hands). Dexter starts the day by sourcing local ingredients for each of the courses and the delicious meal is served in Dexter's own family home. Since seating is limited, be sure to have the hotel book a reservation well in advance for a memorable meal.
The Silversands Spa is a destination in and of itself. Guests can unwind and get on "island time" with locally inspired treatments. This tranquil sanctuary includes four treatment rooms including two couples' suites, a sauna, Hammam and ice cave. The relaxation area has poolside cabanas and uber-cool lighting, designed to create a sense of calm before and after treatments.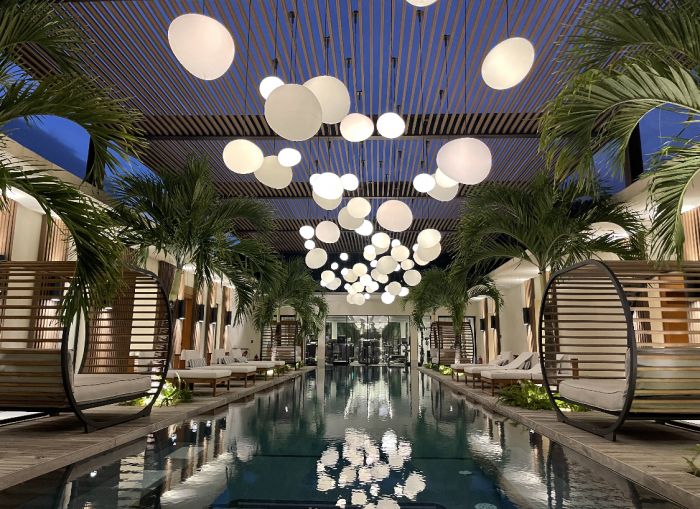 Whitney Spielfogel
You're thinking outside of the Caribbean beach resort box when you plan a vacation to Grenada and you'll be rewarded with a friendly island where mass tourism is still in its infancy and the beaches and blue waters are as warm and welcoming as they come. Sleek and modern in its design, the spectacular Silversands resort offers the most refined, yet unpretentious, luxury experience all while radiating with the kind-heartedness of true Grenadian life. The Silversands property, under Ora Developers, a leading developer of exclusive real estate in a selection of unique locations around the world, will expand its Grenadian footprint with the addition of Beach House by Silversands, a unique couples-only beachfront property with exceptionally designed "canopied suites", creating an exclusive guest experience in an intimate beachfront setting (tentatively opening in Summer 2023). Silversands Legacy is slated to open the following year, and will be an adaption of the original Silversands devotement, and will be situated on the other side of Grande Anse beach. The range of outstanding accommodation options will include rooms, beach villas, pool/beach duplexes and hillside suites – perfect for families and multi-generational guests.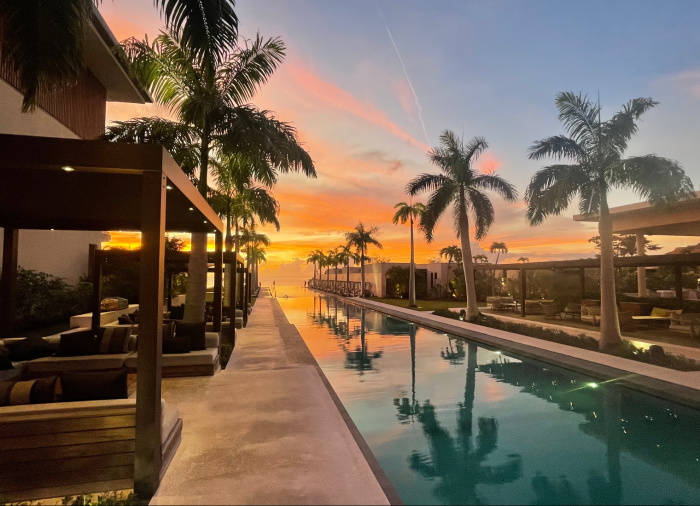 Whitney Spielfogel
Grenada is now officially the latest country that has removed all visiting entry requirements, making it the perfect time to plan a stay at the premier Silversands.