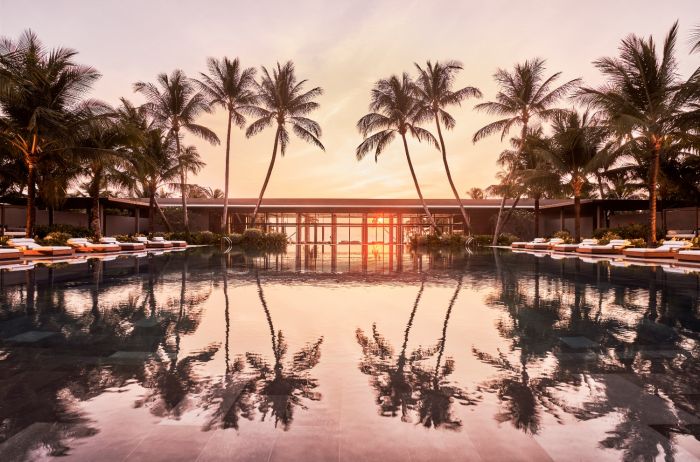 (credit: IHG Hotels & Resorts)
The newest hotel on Vietnam's Serene Phu Quoc Island (also known as The Pearl Island) sits on the longest beach on the island. Located on Long Beach, Regent Phu Quoc is the newest luxury resort in Vietnam and is prime to redefine what is five-star elegance for the hotel scene on the island. Its surrounding area provides a backdrop of mesmerizing beauty, unexpected culinary experiences and personal havens, with water being at the center -the resort is surrounded by lush palm fronds and ferns and features five large, shared pools along with two rooftop infinity pools and numerous koi ponds - of the Regent Phu Quoc. Guests who stay at this resort will be presented with a spellbinding discovery, one where curiosity is rewarded and every experience will be uplifted.
As the first resort in South East Asia under its upper luxury brand, IHG Hotels & Resorts pulled out all the stops to offer a serene sanctuary amidst a landscape of elevated luxury. Delivering a serene and sensational experience at every turn, luxury hospitality design firm BLINK Design Group blended traditional Vietnamese designed interiors with a contemporarily nod and an overall soothing color palette. From its vaulted ceilings and scallop-tiled roofs, which are inspired by traditional wooden trusses to its expansive windows and verandas to its large-scale installations such as "Charming Deeps" a hand-blown glass feature in the lobby, no expense was spared.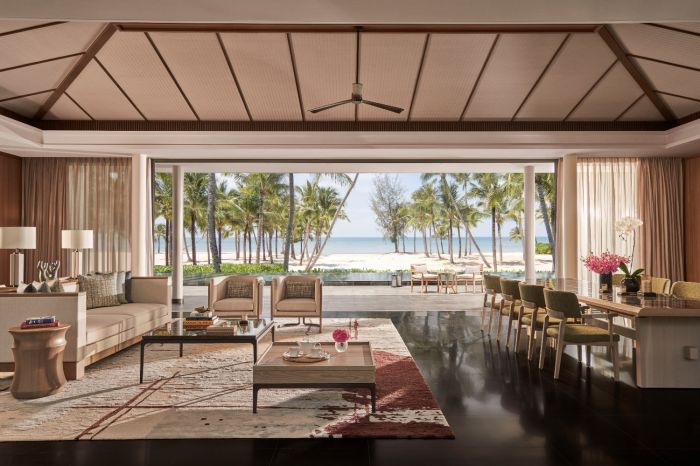 (credit: IHG Hotels & Resorts)
"Regent Phu Quoc will set the benchmark for resort luxury in Vietnam and South East Asia, and deliver a truly captivating interpretation of the Regent experience, marrying the calming, the imaginative with a touch of decadence," said Juan Losada, General Manager.
The all-suites-and-villas resort offers the brand's distinctive new hallmarks from The Regent Experience Agent to With Compliments (including breakfast buffet at Rice Market, pressing, laundry and much more). The most private options at the resort are the Garden Pool Suites and Terrace Pool Villas, but the 1,410-sqm / 14,177-sq ft seven-bedroom Club Beach Pool Villa is the property's largest accommodation. Like all other villas, guests have access to the Regent Club, a full private kitchen and four infinity and two plunge pools in the seven-bedroom Club Beach Pool Villa.
On the wellness front, The Spa at Regent Phu Quoc offers innovative techniques with natural time-honored remedies which all are rooted in three distinct pillars: high touch, high frequency and high energy. From hot sand therapy to their rooftop outdoor yoga pavilion or a personalized wellness itinerary guided by the resident Holistic Wellness Coach, it becomes quite easy to ease into a state of bliss. Their state-of-the-art gym faces the ocean and offers an array of daily scheduled activities as well as the opportunity for personal training sessions, while the rooftop infinity pool offers a time to relax and let time melt away.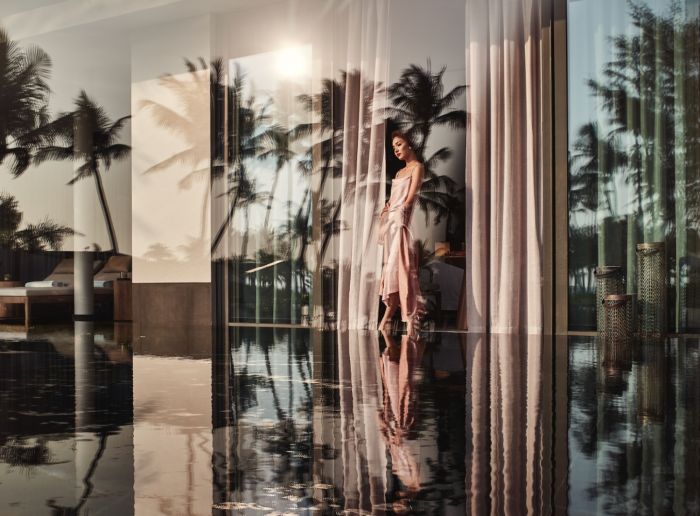 (credit: IHG Hotels & Resorts)
Regent Phu Quoccurrently offers six dining options showing the true importance of food culture in the country. Guests will enjoy a voyage of taste to discover locally-inspired dishes of Vietnamese and Chinese cuisine which have been reinvented starting at Rice Market. Mornings at the resort start at Rice Market where guests start with a Vietnamese coffee before trying something at the pho station or bahn mi area. Stop by Ocean Club, the only luxury beach club in Phu Quoc, for Mediterranean cuisine and rum-inspired cocktails during the day or in the evening when it transforms into a seaside grill. offering cinema nights. Stop by Fu Bar their sky pool terrace for cocktails crafted from 23 types of gin or the Lobby Lounge for drinks in a parlor setting. In the coming months, two additional restaurants and bars will be introduced: Oku and Bar Jade along with the resort's very own Catamaran, Serenity, also coming in the next few months.
Make the most of your Regent Experience with a range of unique and immersive experiences (indoors, outdoors and water-based) and make every moment a memory. Room rates from $361 per night and more information can be found here phuquoc.regenthotels.com.