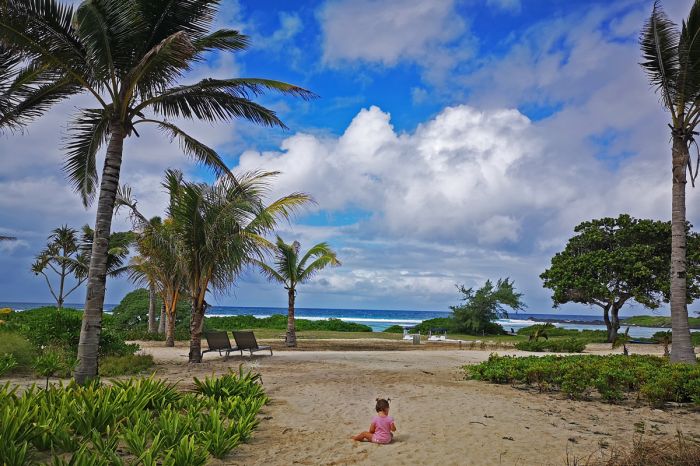 5 Star Stories
Touch down in Mauritius and you'll be at Anantara IKO Mauritius Resort and Villas in ten minutes. Well, that's once you've cleared customs and got your luggage of course. But with no more testing on arrival or mask mandates, it's a pretty seamless process and one we were most grateful for when arriving on a late flight to the island recently.
The short transfer meant we were settled, enjoying a cocktail, and indulging in a delicious buffet dinner within an hour of landing. What a way to start our holiday!
Our home away from home
Anantara IKO is located on the south-eastern coast of Mauritius, on the white sands of Le Chaland Beach. The brochure promised plenty to keep us entertained, from dining at three different restaurants and even working off all that good food at the fully equipped gym and fitness center, which also offers instructor-led activities such as yoga and tai chi.
On top of all that there is a kids club with daily activities to keep the little ones entertained, perfect as we were traveling with a one-year-old in tow, and a full-on spa with outdoor Thai massage pavilions and traditional Hammam where we could enjoy some real, full-body relaxation. And that's not all, there is also a small boat house with activities such as stand-up paddle boarding, kayaking, and pedalos for enjoying the warm crystal blue water of the protected lagoon which is right in front of the hotel.
The experience on the ground
During our stay, we also discovered that there is so much more to this resort, and Mauritius, than the brochure describes. One of the highlights of our stay started with a short transfer to the nearby protected area of Blue Bay marine reserve. Here we embarked on a private boat ride around the gorgeous bay, with a stop near the corel-clad shores to go snorkeling. As the boat we were on had a glass-bottom boat, even our little girl could enjoy the action under the water without even getting wet!
Some other activities took us off the resort and into the heart of the island. These included guided hiking in the lush La Vallée de Ferney forest in search of waterfalls, mountain biking through the sugarcane fields, quad biking in Mauritius' remote southern reaches, learning to kitesurf on the windy shores, and venturing to the busy Monday food and craft market for a spot of local culture.
Eat your heart out
Another highlight of our stay at Anantara IKO was the dining, particularly at the resort's Sea Fire and Salt restaurant which offers an a la carte menu of fresh seafood and tender meat options. All the food was prepared in an open kitchen which provides a bit of entertainment as you are able to see your meal being cooked right in front of you.
Breakfasts were also memorable, being served at the Horizon restaurant which offers a combination of al la carte and buffet dining. Drinking fresh coffee, while tucking into chocolate pancakes and freshly made omelets was a wonderful way to start the day, especially when seated out on the deck overlooking the lagoon.
Karoka bar was also a great place to just sit back and relax and enjoy one of their many cocktail options. As the bar is located right next to the sparkling infinity pool it was also the perfect spot for ordering a drink or snack while catching a tan. The bar also has a very large collection of locally produced rum on offer, and I would highly recommend doing their complimentary rum tasting which is a great way to find your favorite one.
Another fun activity held at the bar, but suitable for the whole family, was the free smoothie-making class. We made the most delicious coconut, avocado, banana, and honey smoothie with the barman in a personalized lesson. It's something we'll be trying to replicate back home in the summer months!
The small details
Aside from great food, spectacular dining, and too many cocktails to count, it was also the little details at Anantara IKO Mauritius that really made our holiday one to remember.
Conveniently located at the far end of the pool right below where the water disappears off the edge of the infinite pool, is a kid's pool. This walk-in, walk-out pool with the water falling from the main pool above, was a fun place for the little one to play and swim and a great well-thought-out touch for families.
Another small touch, which might not seem unique but is, is the quality of the rooms. Now their new and modern but the TV is also equipped with a Chromecast. In a country where you will struggle to find English channels, being able to choose your favorite streaming service right from your phone is just one of those seamless offerings you need on vacation.
All in all, Anantara IKO proved to offer just what we needed for a break from reality. The resort was conveniently located with plenty to offer and definitely worth spending a few days soaking up that warm Mauritius sun!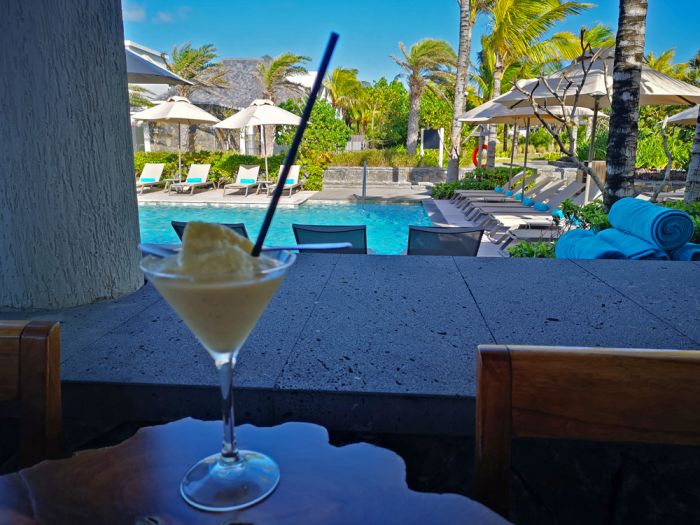 5 Star Stories
Smoothie classes poolside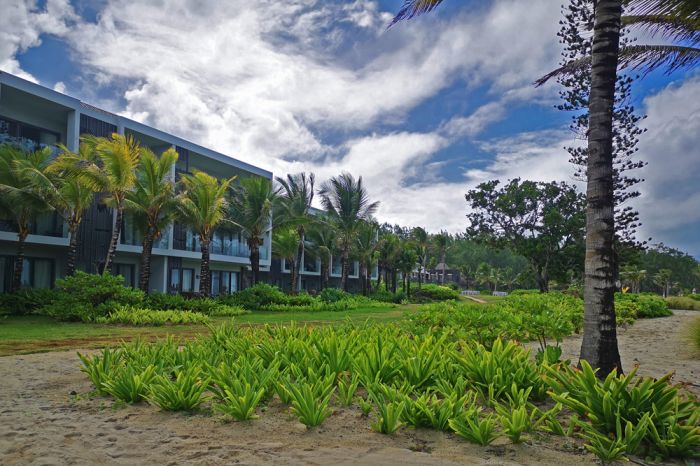 5 Star Stories
The lush, tropical gardens at Anantara IKO Mauritius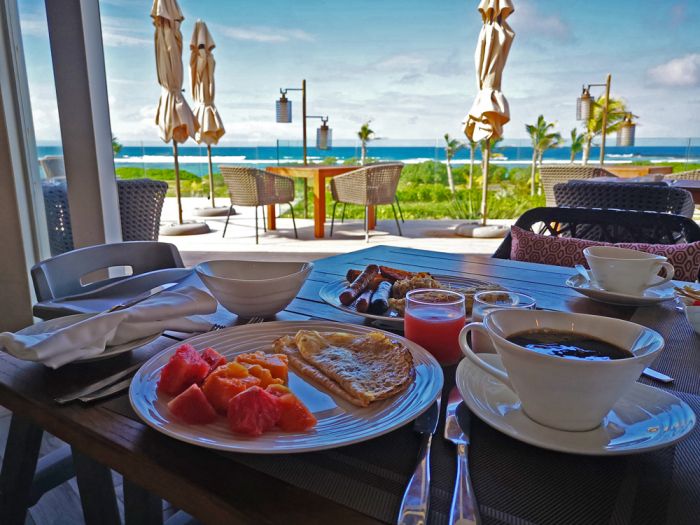 5 Star Stories
A breakfast of champions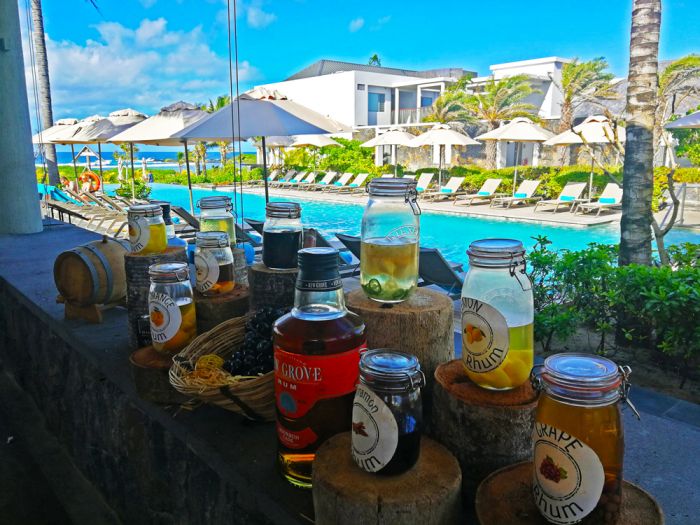 5 Star Stories
Too many rums to choose just one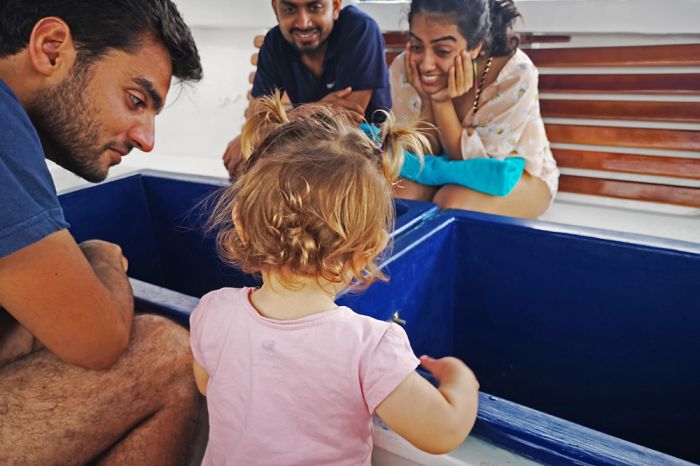 5 Star Stories
A snorkelling excursion to delight all ages