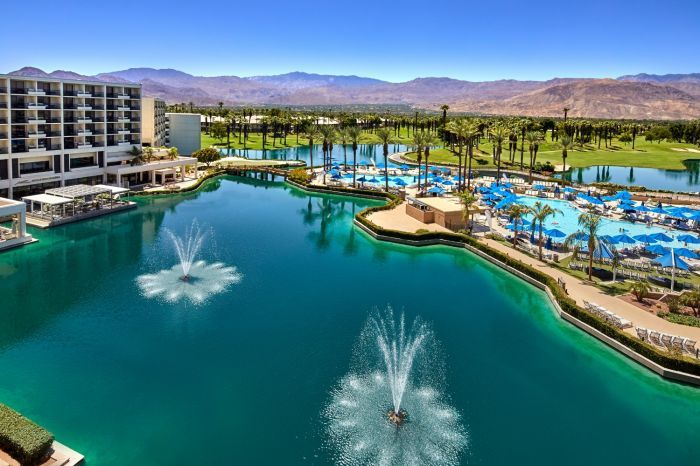 (credit: Courtesy of JW Marriott Resort & Spa)
Set on 450 acres of vibrant desert gardens, JW Marriott Desert Springs Resort & Spa is the largest resort in Palm Desert. The resort which originally opened in 1987 -and became a Marriott in 2002 - features: five pools, ten resort dining venues, PBI Tennis Center with 20 courts, two championship golf courses, the JW Entertainment Zone, a massive 38,000 square-foot spa and884 newly renovated guestrooms. Encompassing the total 884 guestrooms are 400 king guestrooms, 383 queen guestrooms and 101 suites.
Upon entering the cavernous lobby, with Aquifer65 & The JW Sushi Bar just below and Starbucks® just to the right, guests are presented with a picturesque view of the mountains beyond. Just a few steps down, guests can book a short boat ride on one of the resort's signature lakes to cruise along the 18 acres of lakes and waterways for a relaxing experience all whilst taking views of the massive property. After settling into one of the redesigned and refreshed accommodations and spending the day exploring and experiencing all there is to offer at the resort, their dining offerings deliver a variety of unique culinary experiences, from casual elaborate tasting menus. Led by recent appointee Executive Chef Eric Theiss, Eric pushes the envelope creatively in dish selection and presentation while embracing the Marriott's commitment to inclusivity by utilizing minority-owned, women-owned and small business vendors.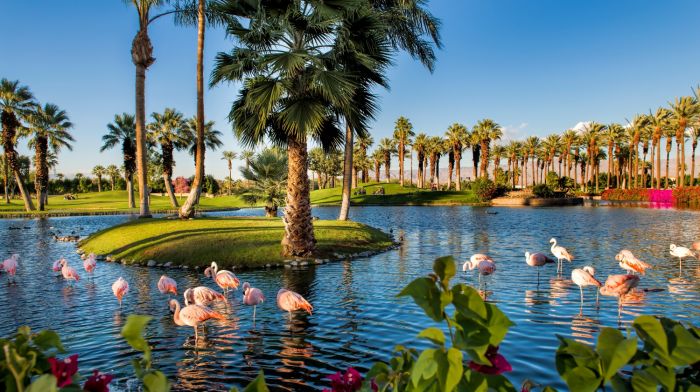 (credit: Courtesy of JW Marriott Resort & Spa)
The resort most recently debuted a pioneering herb garden envisioned and planted by renowned landscape designer Lily Kwong as part of the brand's JW Garden program. Featuring a peaceful olive grove walking path and a planting palette of endemic sages, desert marigold, milkweed and wildflowers, the garden will allow, "JW Marriott guests [to] not only enjoy our gardens' beauty, but also their bounty. Our greatest aspiration is that our work might inspire some guests to go home and grow their very own herb garden," said Kwong.
Surrounded by vibrant desert gardens, breathtaking mountain views and signature lakes, the resort recently completed a multi-million-dollar renovation which saw upgrades to its lobby, 884 guestrooms, spa and ballroom. The Spa at Desert Springs is the largest spa in the desert and its upgraded aesthetic and extensive new treatment menu promises to nurture, relax and re-energize all guests. From the exclusive Spa Sanctuary Suite to luxury standout treatments such as the M.S Desert Journey and Dermyoung Rapid Recovery Facial, "the spa's inspiring new look and unique array of therapeutic services provide an exclusive, revitalizing experience for guests in a clean and spacious environment," said Dawn Ferraro, JW Marriott Desert Springs Spa Director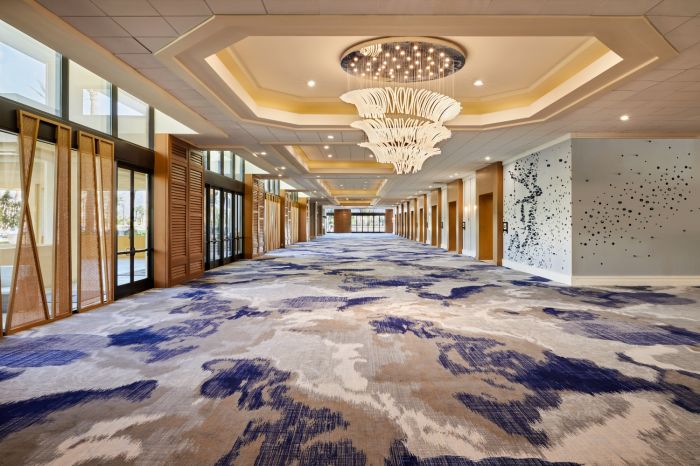 (credit: Courtesy of JW Marriott Resort & Spa)
This most recent renovation undertaking follows the resort's opening of The Sinatra Ballroom—the largest indoor hotel ballroom space in the Greater Palm Springs area at 25,000 square feet – along with debuting the JW Entertainment Zone towards the end of 2021. Featuring an arcade game room, skeeball, duck bowling, virtual reality games and seasonal activities, the 12,000 sq. ft. Entertainment Zone is the perfect place for kids of all ages to beat the desert heat.
"The JW Marriott Desert Springs Resort & Spa is a desert icon and the stunning, updated interiors honor the resort's legacy and reputation as the ideal destination in Southern California for meetings, special events and multi-generational family fun." said General Manager Nusrat Mirza.
Book your next stay in the desert here.