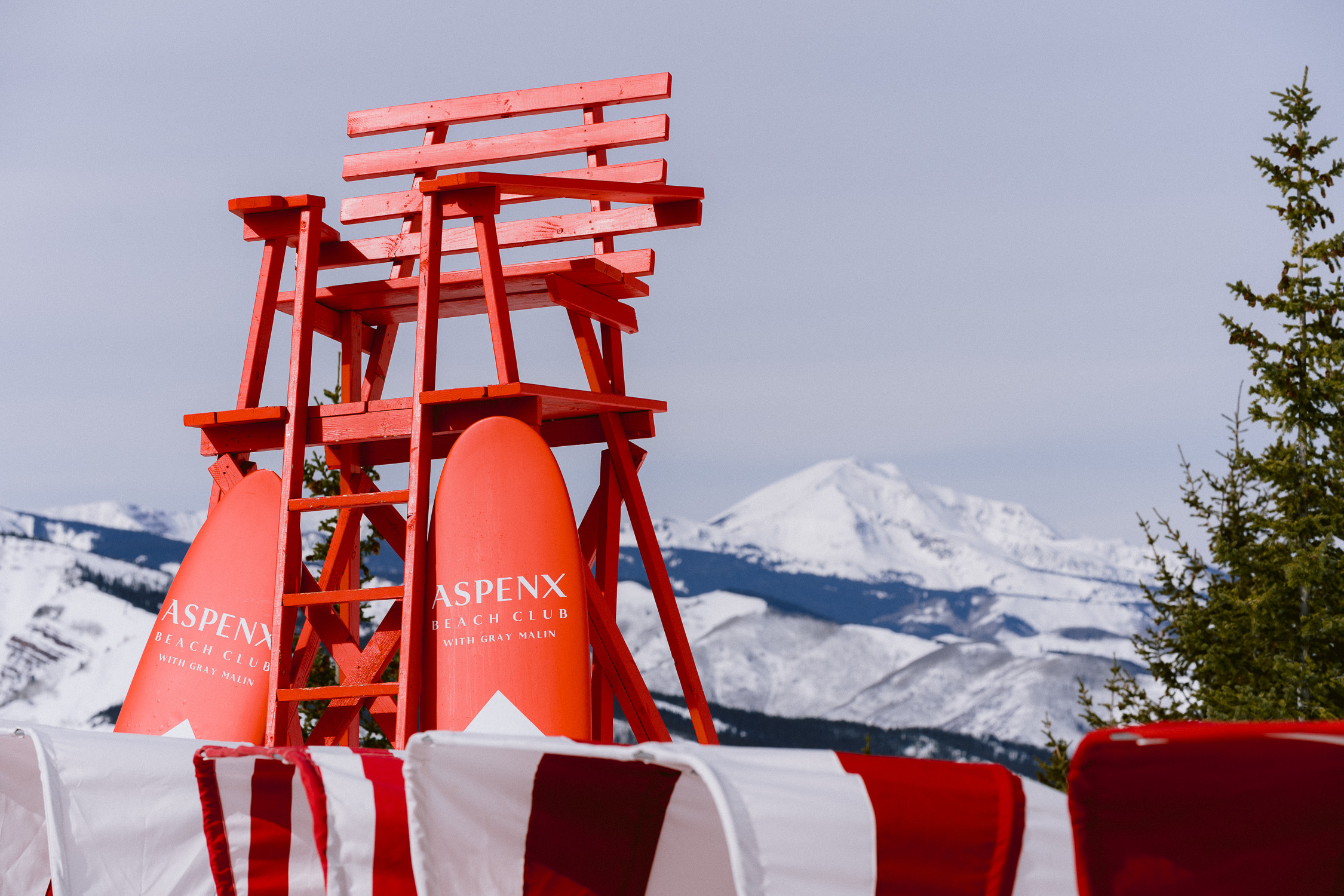 Photo: Kristen Whitaker
A day on the slopes isn't complete unless it ends with a few drinks, delicious food, and a great time with good friends. This occasion, otherwise known as après-ski, is a European-born concept that has taken on its own unique identity in posh American ski enclaves where winter sports and partying go hand-in-hand. This season Aspen, Colorado leads the pack with a range of après-ski options designed to cater to every desire. Whether it's a mountainside pop-up party, a laidback hangout in the heart of town, or an elegant dinner at a 5-star mountain lodge, Aspen offers après-ski vibes for all tastes. Here's a guide to three of Aspen's best après-ski experiences.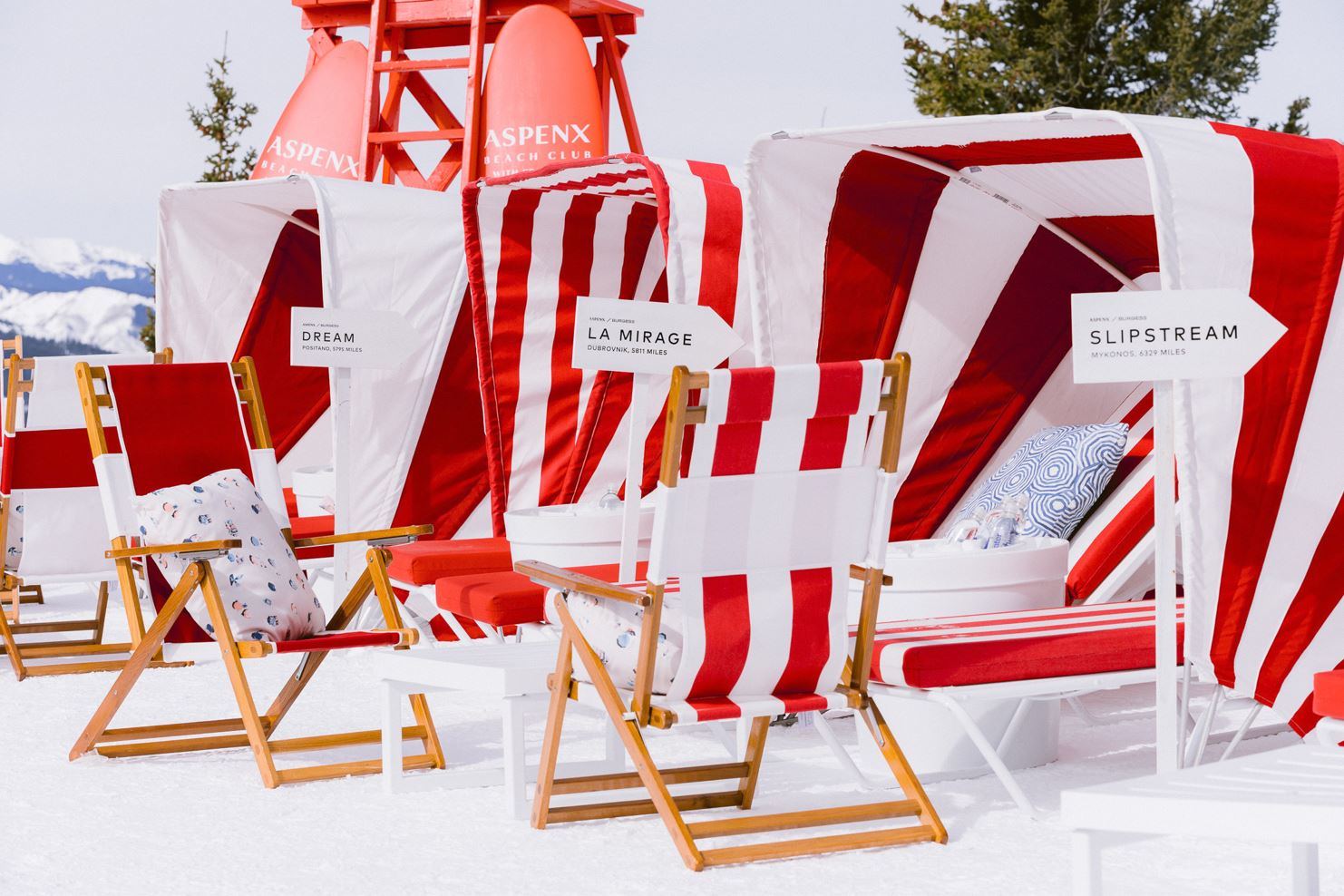 ASPENX BEACH CLUB WITH GRAY MALIN
Situated at the peak of Aspen Mountain, AspenX Beach Club is a chic winter experience that invites both avid skiers and non-skiing party goers to enjoy après-ski festivities on Aspen's postcard perfect slopes. With striped cabanas, lounge chairs, and panoramic views, the AspenX Beach Club is the perfect place to enjoy Aspen's picturesque mountainscape and glamorous social scene. Curated by renowned lifestyle photographer Gray Malin, AspenX Beach Club merges the ski-chic style of the AspenX brand, with dedicated service, and Malin's signature vibrant aesthetic. The venue is a Gray Malin photograph come to life, complete with 360-degree views of the surrounding slopes and peaks, red and white striped cabanas, and the Instagram-worthy red lifeguard tower with its matching custom longboard. The seasonal pop-up party is exclusive and limited to 100-guests per day. Live DJ sets, special events, and gourmet dining bring the party to life and create the energy of a beach party; where guests can mingle under sunny skies, lounge on striped chaise chairs, and order signature spritzes, bottles of rosé, or even a three-course meal with unlimited Dom Pérignon.
AspenX Beach Club is open until April 16 (Fridays through Sundays) from noon to 3 p.m. with a limited availability of up to 100 people per day. Guests must be 21+ to enter and a lift ticket is required to access the Beach Club via the Silver Queen Gondola. tickets go fast, so try to make your reservation far in advance.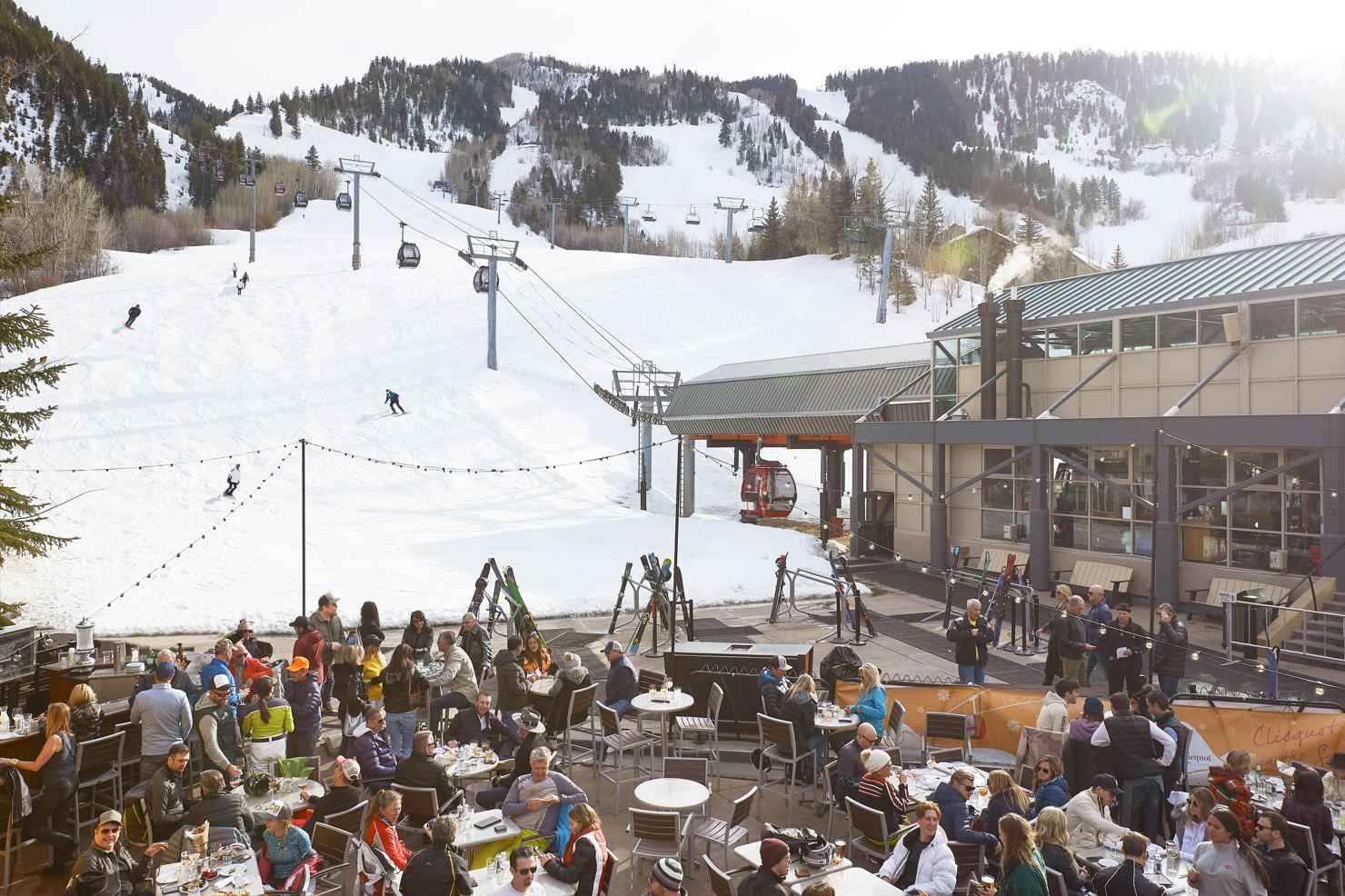 AJAX TAVERN
Located at the base of Aspen Mountain and next to the Silver Queen Gondola, Ajax Tavern is an Aspen classic. Known for its easy yet elevated atmosphere, Ajax Tavern is where everyone in town gathers for good vibes and equally impressive après-ski favorites. The sun-drenched, mountainside patio is the place to be for lunch, cocktails, and some of the most epic people watching in Aspen. That being said, don't let the social scene distract you from Ajax's main attraction, the food. Inspired by Colorado's sustainably raised meats and seasonal produce, the menu at Ajax Tavern is an innovative take on traditional tavern fare. Signature menu items include a Colorado lamb bolognese and of course, the iconic Ajax Wagyu double cheeseburger with truffle fries. For diners looking for lighter fare, the après-ski menu features fresh raw bar selections, including oysters, shrimp and crab, as well as an abundance of fine wines, regional microbrews, and signature cocktails such as such as the Hot Apple Pie with Van Gogh Salted Caramel, Cider, Caramel, the Chocolate Caliente with The Nell's Dobel Barel, or the Bad Santa made with Amaretto Cookie Liquor, Hot Chocolate, Crushed Peppermint Rim. For guests wanting something extra special Ajax Tavern's has unveiled its Boozy Builds concept, which allows guests to show off their creativity by choosing a liquor, a base and a topping to make a custom libation. Ajax Tavern is open daily from 11:30 am - 10 pm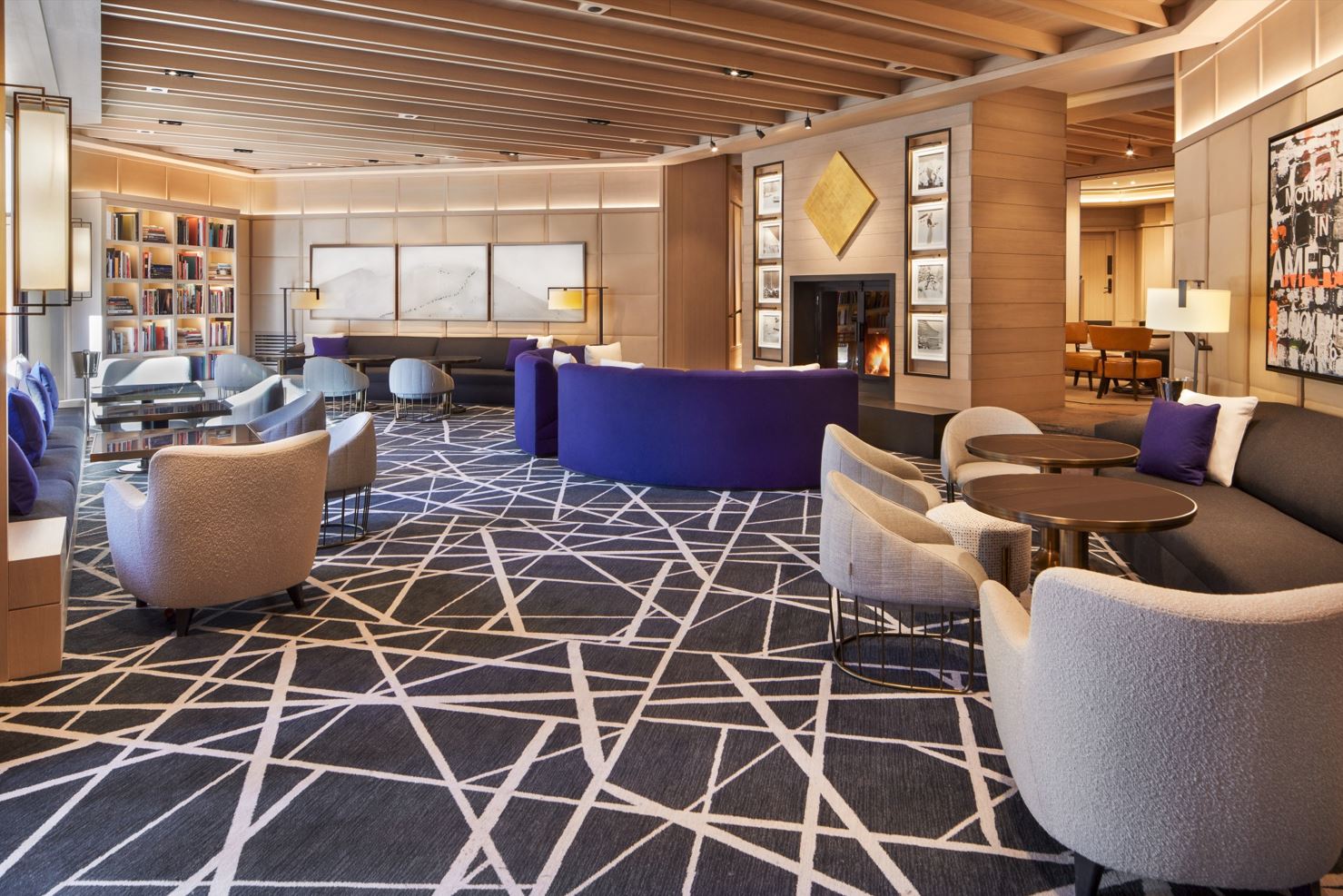 ELEMENT 47
Widely regarded as Aspen's "finest spot to wine, dine and unwind." Element 47 at The Little Nell takes après-ski to another level. Led by a carefully vetted team of culinary and wine professionals, Element 47 is an experience to remember with the type of ambiance that sets the stage for a casual yet elegant evening — picture candle-lit tables, ceiling-height glass cases with some of the world's rarest wines, original works of art by Michelle Grabner, Scott Reeder, Philip Vanderhyden and José Lerma. Whether you ski-in for après cocktails in the Living Room, settle in at the bar for a casual meet-up, or reserve a table for one of Aspen's most elegant dining experiences, Element 47 at The Little Nell hotel has an après-ski vibe for everyone.
Discerning foodies and jazz aficionados looking to take their après-ski experience to the next level can reserve a table at Element 47, where The Little Nell and Jazz Aspen Snowmass have partnered to create Jazz Nights at Element 47. On Thursday and Sunday nights from 6-9 p.m. guests can choose from a list of innovative cocktails and award-winning wine program paired with seasonally-inspired dishes from Culinary Director Matt Zubrod and Executive Chef Oscar Carrasco.
Those lucky enough to be in Aspen on March 9th can attend the Frasca Pop-Up with Bobby Stuckey. The James Beard award-winning restaurant, Frasca Food & Wine from Boulder, will take over Element 47 for an evening with Master Sommelier and Co-Owner Bobby Stuckey, formerly the Wine Director at The Little Nell. Offering refined Northern Italian plates based on locally sourced ingredients paired with top-shelf wines. Pairings include dishes such as Frico gambero croccante paired with Ronco Del Gnemiz FriulanoSan Zuan2020, seppia and black truffle ink with salumi crumble paired with Vodopivic VitovskaOrigine2018 and black cherry panna cotta with mascarpone bavarois, almond fuiellitine crisp, and orange curd paired with Marco Sara Verduzzo FriulanoPassito2021. Reservations are available from 6 – 9:30 p.m. $300++ per person.