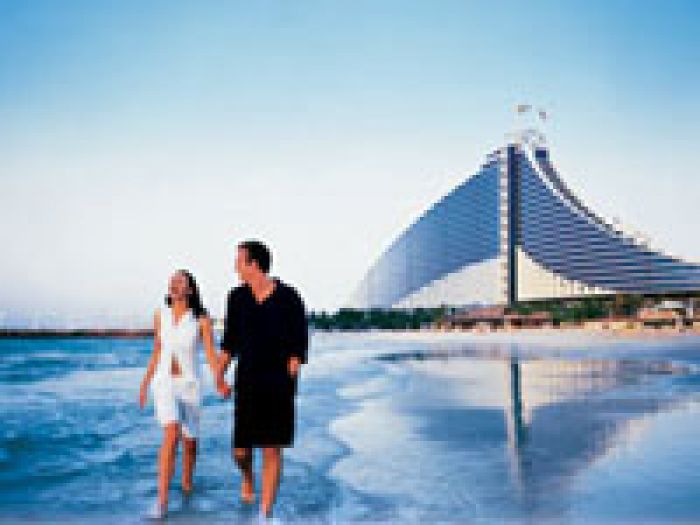 Luxury Resorts:
Jumeirah Hotels & Resorts
are different from other chains of luxury hotels, because they recognize the uniqueness of each guest and promise a special experience designed for each visitor.
Founded in 1997, the Jumeirah Group Portfolio has grown to include the world-renowned Burj Al Arab, the world's most luxurious hotel, now recognized as the symbol of Dubai, the multi-award winning Jumeirah Beach Hotel, Jumeirah Emirates Towers, Madinat Jumeirah and Jumeirah Bab Al Shams Desert Resort & Spa in Dubai; the Jumeirah Carlton Tower and Jumeirah Lowndes Hotel in London; and the Jumeirah Essex House in New York.
Part of The Jumeirah Beach Resort complex, the unique sail-shaped building that comprises Burj Al Arab rises above other luxury hotel properties in its stunning location on a man-made island, linked to the mainland by a delicate causeway. The stunning hotel offers first class luxury amenities like no other, including an extensive pillow menu, technological upgrades in suites and complimentary Hermes amenities among other special touches that make guests feel like royalty. The property also boasts several fine-dining restaurants and bars as well as a very special spa that offers guests complete seclusion.



Jumeirah Bab Al Shams Desert Resort & Spa sits in a stunning desert location, a short drive from its sister properties Burj Al Arab, The Jumeirah Beach Hotel and Madinat Jumeirah as well as a 45 minutes from Dubai International Airport. The unique low-rise resort fits into its desert heritage in the midst of Dubai's famous sands. The one of a kind building utilizes traditional Gulf décor that is emphasized by the use of natural stones, dark wood and Arabian glasswork. Each guestroom is complimented by rain showers and guests can enjoy fine dining in several restaurants as well as have drinks at the swim-up pool bar or rooftop lounge.

Adjacent to Jumeirah Beach Hotel, Burj Al Arab and Wild Wadi Water Park, the Madinat Jumeirah is complete with waterways, abras, wind towers and a bustling souk. The resort highlights authentic ancient Arabian architecture, but is filled with modern-day conveniences, depending on the suite, these may include everything from a private pool to butler service.

Jumeriah plans an ambitious expansion to encompass 60 luxury properties around the world by 2012, to provide more untold tales of luxury to today's elite travellers.

For JustLuxe Carly Zinderman

Jumeirah Bab Al Shams Desert Resort and Spa

Jumeirah Bab Al Shams Desert Resort and Spa

Jumeirah Bab Al Shams Desert Resort and Spa

Jumeirah Bab Al Shams Desert Resort and Spa

Jumeirah Bab Al Shams Desert Resort and Spa

Burj Al Arab

Burj Al Arab

Burj Al Arab

Burj Al Arab

Burj Al Arab

Burj Al Arab

Burj Al Arab

Burj Al Arab

Burj Al Arab

Jumeirah Carlton Tower

Jumeirah Carlton Tower

Jumeirah Carlton Tower

Jumeirah Emirates Towers

Jumeirah Emirates Towers

Jumeirah Emirates Towers

Jumeirah Emirates Towers

Jumeirah Emirates Towers

Jumeirah Emirates Towers

Jumeirah Essex House

Jumeirah Essex House

Jumeirah Essex House

Jumeirah Essex House

Jumeirah Essex House

Jumeirah Beach Hotel

Jumeirah Beach Hotel

Jumeirah Beach Hotel

Jumeirah Beach Hotel

Jumeirah Lowndes Hotel

Jumeirah Lowndes Hotel

Jumeirah Lowndes Hotel

Jumeirah Lowndes Hotel

Jumeirah Lowndes Hotel

Madinat Jumeirah

Madinat Jumeirah

Madinat Jumeirah

Madinat Jumeirah

Madinat Jumeirah