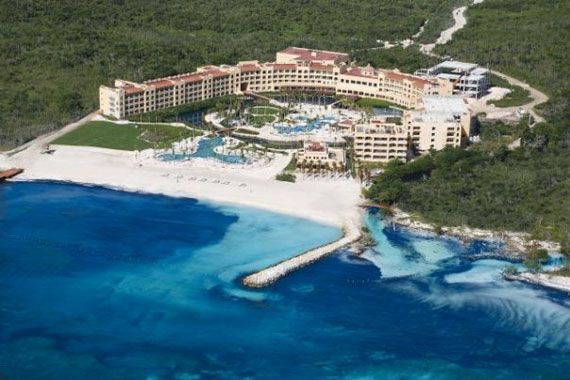 Luxury Resorts:
Normally, the words "green" and "luxury" don't come to mind simultaneously, but there is a
luxury resort
in the Riviera Maya that is changing the way we think. Hacienda Tres Rios Resort, Spa & Nature Park is exactly where luxury and sustainability unite. Recently accredited the most sustainable resort worldwide by Green Globe International, Hacienda Tres Rios has gone above and beyond the call of duty to maintain a sustainable, luxury, all-inclusive resort.
Located in the heart of the Mexico Riviera Maya and near the popular tourist town of Playa del Carmen, Hacienda Tres Rios has preserved acres and acres of natural Yucatan jungle and white sand beaches for its guest to enjoy as a nature park. But this is just scratching the surface. The resort has taken into serious consideration how building construction impacts the natural environment and its ecosystems.
Built on stilts and a permeable rock bed, this assures that the natural water flow of underground rivers remains undisturbed. Various parts of the building were prefabricated beyond the boundaries of the nature park to guarantee that traffic, dust and debris were greatly reduced. The resort also demands that all food products not grown on site be delivered in reusable containers. The list of this resort's sustainable practices goes on and on. More information can be found in its Green Book, a slide presentation that demonstrates just how they maintain sustainability in such a beautiful and fragile part of the world.


When it comes to luxury, Hacienda Tres Rios scores just as well as, if not higher than, its award-winning sustainable practices. Every suite guarantees a beautiful view of the mangrove forests or the deep blue Caribbean Sea. All rooms have been tastefully and elegantly decorated with a hint of traditional local flare, and an in-room, self-service computer concierge is currently being implemented to ensure rapid and efficient service: a complement to its already outstanding attention to guests and their needs.

Luxury resorts are always quick to mention their spacious rooms, high thread-count linens, comfortable beds, and spa services, but with all of these amenities, Hacienda Tres Rios offers a bit more. Its on-site Ya'ax Che spa is a Mayan influenced spa, complete with authentic treatments that can be experienced only in the Yucatan Peninsula. In addition to the spa and its Mayan influences, the resort offers a new kind of spa service: a sensory experience called the SenseAdventure journey. In-room Jacuzzis relax your muscles after a day exploring the nature park, and the on-site chef invites you to the Chef's Table to nourish your body with a gourmet meal. This, travelers, is luxury.

Having received awards and recognition from Travel Weekly, the World Heritage Alliance, Green Globe, and Sustainable Travel International, Hacienda Tres Rios Resort, Spa & Nature Park has done a marvelous job of redefining both sustainability and luxury. For any green-conscious, luxury-seeking traveler, this all-inclusive resort is the perfect choice.

Nature Preserve

Resort aerial view.