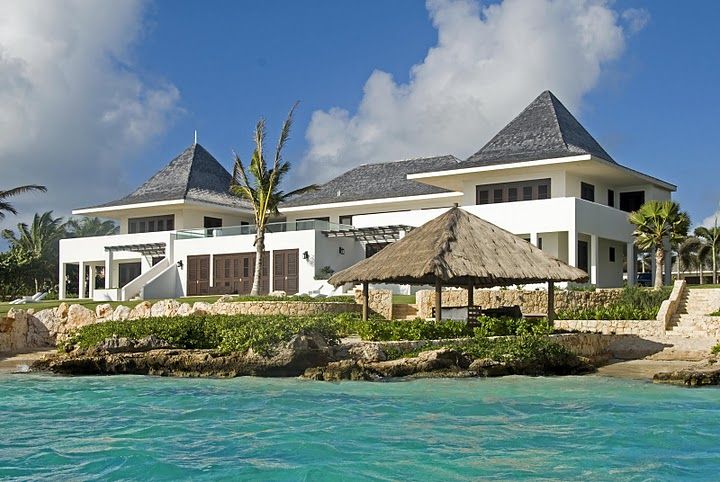 Photo Courtesy of Villa Le Bleu
Villa Le Bleu is one of the newest private
luxury villas
on the secluded Caribbean island of Anguilla. Set on 2.5 acres of land, Le Bleu features ten en-suite bedrooms and strives to set itself apart from other villas through its unique placement right on the water. Facing South-East, guests will be able to enjoy a private beach on Anguilla's Harbour and the beautiful view of the Caribbean Sea, as well as St. Martin and St. Barths in the distance.
With an electronic gate and high walls, the villa takes privacy seriously as guests stroll through the beautiful grounds undisturbed. Of the ten bedrooms, eight are in the Main House and two are separate, both areas linked by a water garden and manicured pathways. Nearly all ten suites have sea views and private terraces that lead to the sea and gardens, as well as stone baths. The two suites that lay separate from the Main House also have pool views and both outdoor and indoor bathrooms.
A large Infinity pool is in the deck area, giving guests a great view of the Caribbean and surrounding islands. The comfortable lounge and dining areas also open up onto the deck, allowing more opportunities to take advantage of the warm ocean breezes. With a cinema in the Main House, as well as two pools and access to a tennis court and gym, Le Bleu prides itself on having everything their guests could ever need while on their luxury vacation.

Included in the stay are many amenities, including various appliances and games, a private safe, cable TV, dishwasher, exercise room, sea kayaks, beach chairs and umbrellas, wine refrigerator, espresso maker, outdoor showers, a boat, and snorkeling gear. The villa is also very family friendly and can arrange babysitting for guests when requested. Rates range from $41,200 to $67,500 per week, depending on the season.
For more information visit
VillaLeBleu.com