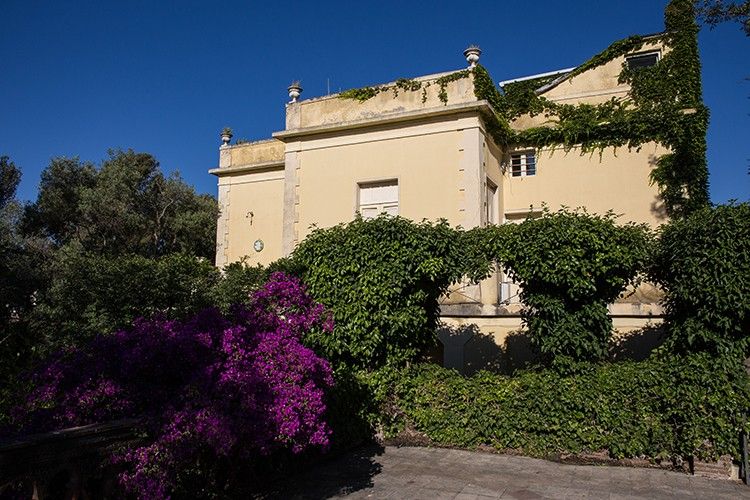 Photos Courtesy of Glyn Ridgers Photography
Owner Francesco Alessi is standing proudly in the lush garden of our grand Sicilian villa,
Il Giardino di Isabella
, holding in his outstretched right hand what appears to be a rusty spear. In broken English, he explains it was the very flagpole his great grandfather had used to claim the land on which we sit, after he had led the revolution against the Bourbon rule of Sicily about 160 years ago.
Ever since then, the property has been an heirloom passed down in the family and used as a home. Today, Francesco and his wife Maria rent it out as an impressive holiday villa. The property is about a 30-minute drive from Catania airport on the east coast of the Italian country. But it's tucked away in a quaint village in Santa Venerina, away from the bustle of the touristy areas on the base of Mount Etna, Europe's largest volcano. Il Giardino di Isabella, listed on
Owners Direct
, sleeps 12 and runs around $2,400 USD per week.
Our
car service
wound along the quiet, twisty roads filled with scents of wild flowers as the warm sun beamed down from the pure blue sky before we arrived at two large gates. We traveled along the long, tree-lined driveway to the impressive two-story, cream-colored villa. It stands as bold as a castle, draped in flora and fauna of every hue; it was breathtaking.
Inside was just as impressive; the traditional Sicilian decor has been maintained from the rustic tiles to the white walls and wooden trimmings. Downstairs boasts a lounge, a separate reading area with a fireplace, an ample dining space and a homely kitchen area. There's also a twin room with an ensuite bathroom and light streams in from huge windows in every room. Tasteful artifacts decorate the room, from colorful rugs and statues to photographs of the owners and paintings which have been passed down through the generations. It's these touches which remind guests that it's a family home with stories to tell and memories to share.

Up the marble stairway, there are three big double bedrooms, two with ensuite bathrooms and a twin room with a separate bath and shower room. Each decorated differently; they come with classic furniture, wooden wardrobes, large mirrors, and flamboyant chandeliers. There's also a TV room with a piano and fireplace for cozy winter evenings. The bedroom at the front of the villa boasts an ample balcony overlooking the expanse of the garden. My husband and I chose the room at the back of the property, which led to a huge terrace where we could walk down to the back garden.
Situated on the base of Etna, the villa is afforded beautiful views over the sparkling Ionian Sea, right across to mainland Italy. At night, the streetlights twinkle, matching the many stars visible due to the lack of light pollution. It is there, outside the villa, where we spent most of our time during the vacation. The large private garden is incredibly well maintained with bursts of color everywhere from Mediterranean flowers and lush tropical plants. The huge grass area allows for an escape from the sun, with two hammocks that are ideal for an afternoon snooze.
There are two alfresco dining areas, one directly outside the property and another by a barbecue area where we spend evenings cooking Italian food, drinking Sicilian wines and chatting late into the night. In another part of the garden is a big private swimming pool surrounded by fuchsia flowers and luscious greens.
The villa has everything guests could need for a relaxed, never-to-be-forgotten holiday. For those wanting to explore, the east coast of Sicily has plenty to offer from the sandy beaches close to Taormina and sunset trips to Etna to the Godfather tour and walks around Catania. A short walk away are shops selling every kind of produce, we buy all our fruit and vegetables from the friendly seller, who turns up frequently with a small van load of colorful fare.
"The villa was our family home. But now our children are all grown up and have moved away. So we love it when guests come to stay, filling up the house with laughter and life," explains Alessi. "It's like opening your own home and inviting friends to stay – our guests become our friends."
During our week stay, which went by far too quickly, that's exactly how we were made to feel, like privileged friends. We also enjoyed
Rhino Car Hire
which offers seven nights' car hire in Sicily from approximately $192 USD.
EasyJet
made our trip even better with flights from Catania to London Gatwick. Flight prices start from around $160 USD per person (including taxes based on two people on the same booking). Overall, it was magical, and these friends are ones that intend to stay again.