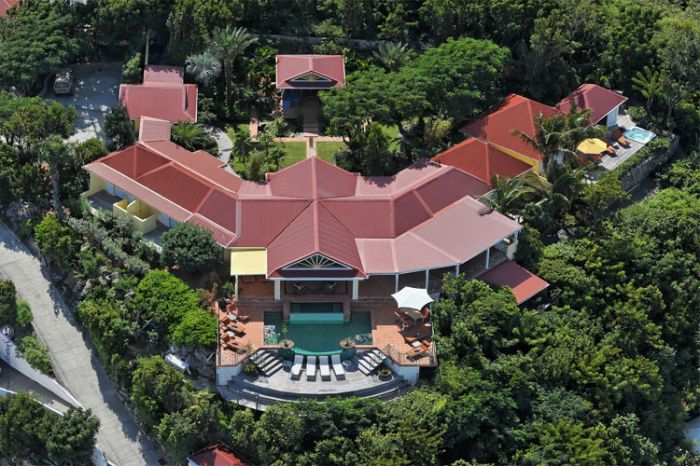 Photos Courtesy of St. Barth Properties
Emmy and Grammy Award winner
Steve Martin
is well known for being a comedian, an actor and for successfully venturing into the writing world. If you're into music, you may also know him as a banjo-playing fiend who's performed at such stages as Carnegie Hall, the Royal Festival Hall in London and the Hardly Strictly Bluegrass Festival in San Francisco. But did you know he also owns a villa (not surprising), that is currently on the market (kind of surprising), and is being used as a vacation rental in the meantime (yes!)?
Let me start by saying that his villa is less the
Three-Amigos
-type Steve Martin and more the seasoned
Traitor
-writer-and-producer Steve Martin. I should also note that in doing him justice, we're going to discuss his villa with just a little bit of humor mixed in.
Villa Au Soleil is being listed by
St. Barth Properties Sotheby's International Realty
for around $11.4 million. Depending on the season, the property can be rented from $16,500 to $38,000 per week. Situated on the hills of Lurin it boasts 180-degree views of sunny St. Jean Bay because,
a day without sunshine is like, you know, night.
The villa's main house has four bedrooms, four full baths and an open floor plan. Paired with its many floor-to-ceiling windows, any room you're in will feel spacious and airy while reminding you of the surrounding tropical beauty of the island.
There's also an infinity pool which is convenient for more viewing of the landscape, but this time, via swim suit. The multilevel sun deck and poolside barbecue shelter are great options for entertaining and for cooking up some tasty Jamaican
Jerk
chicken. For a little more privacy, located on the terrace of the master bedroom, the Jacuzzi offers a relaxing soak while enjoying the sunsets. A focal point of this villa, the Balinese-style gazebo, gives the property that extra little exotic touch.
Martin took ownership of the villa in 2008 and has actively been renting it out since that time. If his asking price is met, he will be coming out ahead with more than $2 million on the sale. Martin won't say why he's choosing to sell now, but potential buyers aren't complaining.
Getting there isn't easy, you'll most likely have to take
Planes, Trains and Automobiles
, but once there you'll feel like
The Prince of Egypt
. Or maybe just
Take a Leap of Faith
and buy the villa. Either way, with neighbors like David Rockefeller,
Daniel Craig
, Demi Moore, Roman Abramovich and Simon Cowell, we wouldn't mind an invite.