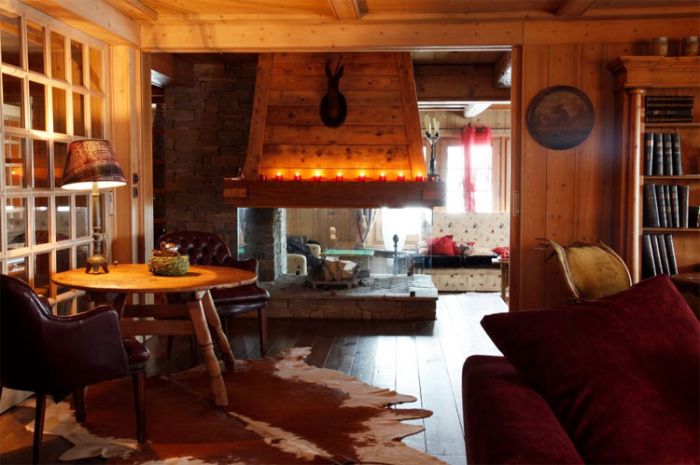 Photo Courtesy of Chalet Princesse
Tucked away in the French Alps in the charming town of Megeve, Chalet Princesse is a historic villa dating back to 1897. Designed as a ski lodge, the chalet boasts a perfect snowy holiday destination or a relaxing summertime retreat.
Photo Courtesy of Chalet Princesse
A favorite among French aristocracy, the exclusive residence offers scenic views and ski trails along with close proximity to nearby shopping boutiques, coffee shops, dining options and a casino. It also sits less than a mile away from the ski lift which delivers guests to the main ski area in five minutes.
Photo Courtesy of Chalet Princesse
The chalet features 12 bedrooms, each with ensuites, and a Jacuzzi in the master suite. The 164-foot mater also holds a living area with stylish furniture, a fireplace, a king-size bed, and spacious balcony. Adding to its appeal is its number of amenities including a Hammam spa, billiard table, wine cellar, fireplace, professional kitchen and a maid's room.
Photo Courtesy of Chalet Princesse
During the summer months, guests can enjoy activities like swimming, cycling, golfing and tennis. Or explore the local flora and fauna with the help of a mountain guide and discover historic trails and religious monuments. Many of the paths also lead down into Alpine where a number of restaurants and farms provide for a great picnic or snack stop. In the winter, Mont-Blanc turns into a snowy wonderland and a ski-enthusiast's playground. There's also ice skating and snowboarding available with highly qualified instructors teaching individual or group lessons to new boarders.
Photo Courtesy of Le Prieuré
Many Michelin-starred restaurants in the area offer delectable French cuisine like the gastronomic restaurant of Le Prieuré, one of the most elegant and popular in the area. Due to its small venue, reservations in advance are highly suggested. Lovers of fine gourmet dining should consider dining at Flocons de Sel's restaurant where, during high season, a table is almost impossible to book, so make sure to arrange it as soon as you can.
Photo Courtesy of Chalet Princesse
Chalet Princesse can be rented as the full house or by separate rooms from three days to a few months with a maximum numbers of guests set at 30 adults. Included in the basic package is maid and butler service and for an additional charge a private chef, concierge or driver can be added onto the stay.