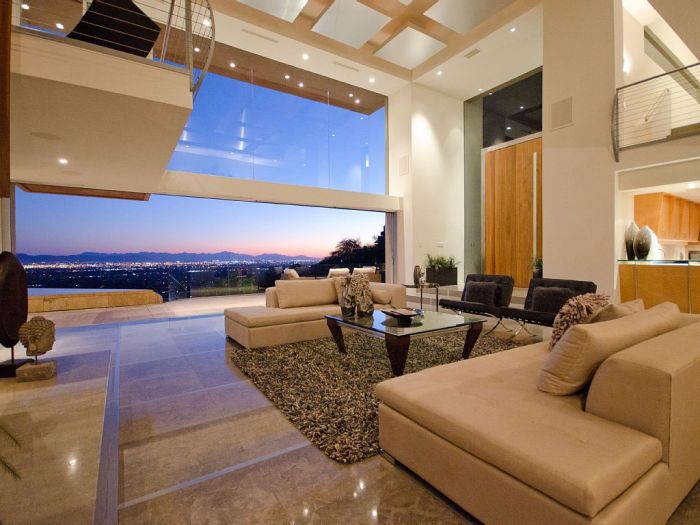 Photo Credit: HomeAway
Even though the Super Bowl is just about here, there's still time to score a place to stay if you're heading to the big event. While fewer than one in 10 hotels in the greater Phoenix area have vacancies over Super Bowl weekend (January 30 to February 2), there are a number of splurge-worthy vacation rentals just waiting to be scooped up. Take a look at these seven great vacation rentals worthy of an end zone celebration:
Photo Credit: HomeAway
A Stay Fit for a Quarterback
For a flat rate of $150,000, spend eight nights in the former home of Kurt Warner, famed NFL quarterback. Located in Paradise Valley, this 11,000-square-foot, seven-bedroom home boasts two master suites, a lap pool and spa, a game room and a home theater. Want more? Pay $400,000 for the week and score a four-pack of 50-yard-line tickets, front-row seats to the halftime show, meet-and-greets with the players, a limo and driver for the week, even unlimited spa services and a personal chef.
Photo Credit: Camelback Retreat
Control Every Amenity With an iPad
Inside Camelback Retreat in Scottsdale, guests control every amenity—from the temperature of the spa to the music played throughout the home—with just a few taps on an iPad. For $100,000 for seven nights, guests can enjoy incredible views of the Valley of the Sun from this five-bedroom, ultra-private home that sits high on Camelback Mountain. Relax in the steam room, lift weights in the fitness room or simply enjoy the sunset while watching pre-game shows on the 80-inch television.
Photo Credit: FlipKey
One of the Largest Mansions in Arizona
Need more space? Try the Palacio at the Biltmore Estates which offers eight bedrooms, 11 bathrooms and more than 20,000 square feet of living space. Inside you'll find intricate hand-carved walls and ceilings, as well as architecture and furnishings reflective of a mansion in Spain. Starting at $140,000 for Super Bowl week, the home includes a heated pool and Jacuzzi, a huge courtyard, a wine cellar and cigar room. As one recent guest put it, this private residence is "on the scale of a fancy boutique hotel."
Photo Credit: VRBO
Play Croquet in Your Free Time
Located just 20 minutes from downtown, football fans can spread out across the 8,000-square-foot Biltmore Estate which sleeps 20 in nine bedrooms. The master suite alone is a whopping 1,600 square feet. When not enjoying all that the Phoenix area has to offer, guests can play croquet, tennis and basketball right in their own backyard. There's even a sundeck with a gazebo. For Super Bowl week, look for a rate of $60,000.
Photo Credit: BookMyVacay
Taste More than 500 Tequilas During Your Stay
Situated on a quiet lot in Paradise Valley, Joshua Tree is a luxurious three-bedroom retreat with 10,000 square feet of living space and unmatched views of both Mummy Mountain and Camelback Mountain. You'll find all the standard amenities you would expect in a luxury rental, like a heated pool and Jacuzzi, but guests will enjoy extra perks like a private tequila tasting room stocked with more than 500 different bottles. As a bonus, a limo and driver are included in the $10,000 nightly rate during Super Bowl week.
Photo Credit: VRBO
Lush Tranquility in Exclusive Paradise Valley
Take a break from football and enjoy the lush tranquility of this 7,100-square-foot Paradise Valley retreat that boasts five en-suite bedrooms and 6.5 baths, plus an attached guest suite with two extra bedrooms. Priced at $55,000 for Super Bowl week, guests can enjoy the pool and spa, as well as an outdoor patio that's just right for entertaining guests. Located within walking distance from Camelback Country Club, golfers can also get in a round of golf in their free time. The house is also well-situated for hiking, biking, bird watching and taking in scenic views.
Photo Credit: Camelback Vista
One of the Best Views of the City's Twinkling Lights
The most expensive listing is Camelback Vista, which runs around $225,000 for seven nights at an exclusive 10,000-square-foot estate that's just minutes from downtown Scottsdale. Enjoy a sparkling waterfall outdoors as well as an al fresco kitchen and barbeque. Even better, the infinity pool offers one of the best views of the city. This $10 million mansion sleeps 18 in six bedrooms and also offers a four-story elevator and a home theater for all your pre-gaming needs.
Photo Credit: HomeAway
Enjoy Beautiful Sunsets from a True Southwest Gem
For a cool $60,000, guests can take in spectacular sunsets while relaxing poolside at this private getaway decorated in true southwest style. The interior courtyard is draped in twinkle lights, offering an ideal place to unwind with friends and family well into the evening. Located in the exclusive Boulders neighborhood, this home boasts four en-suite bedrooms, a private pool and spa, a rooftop patio, colorful tiled bathrooms and fireplaces throughout the house. There's even a "hidden" bedroom located just behind a bookcase.
Photo Credit: HolidayRental
An Eight-Bedroom Entertainer's Paradise
Inside this 12,000-square-foot home in the gated Paradise Valley community, guests will find all they need to entertain friends and family all week long. Look for eight en-suite bedrooms, a kitchen fit for a chef with two ovens and two refrigerators, as well as a separate butler's pantry. The home also has a huge private pool, a home theater, a fitness room, an outdoor kitchen and a rooftop deck. Appropriately dubbed Entertainer's Paradise, this home will set you back $110,000 during Super Bowl Week.