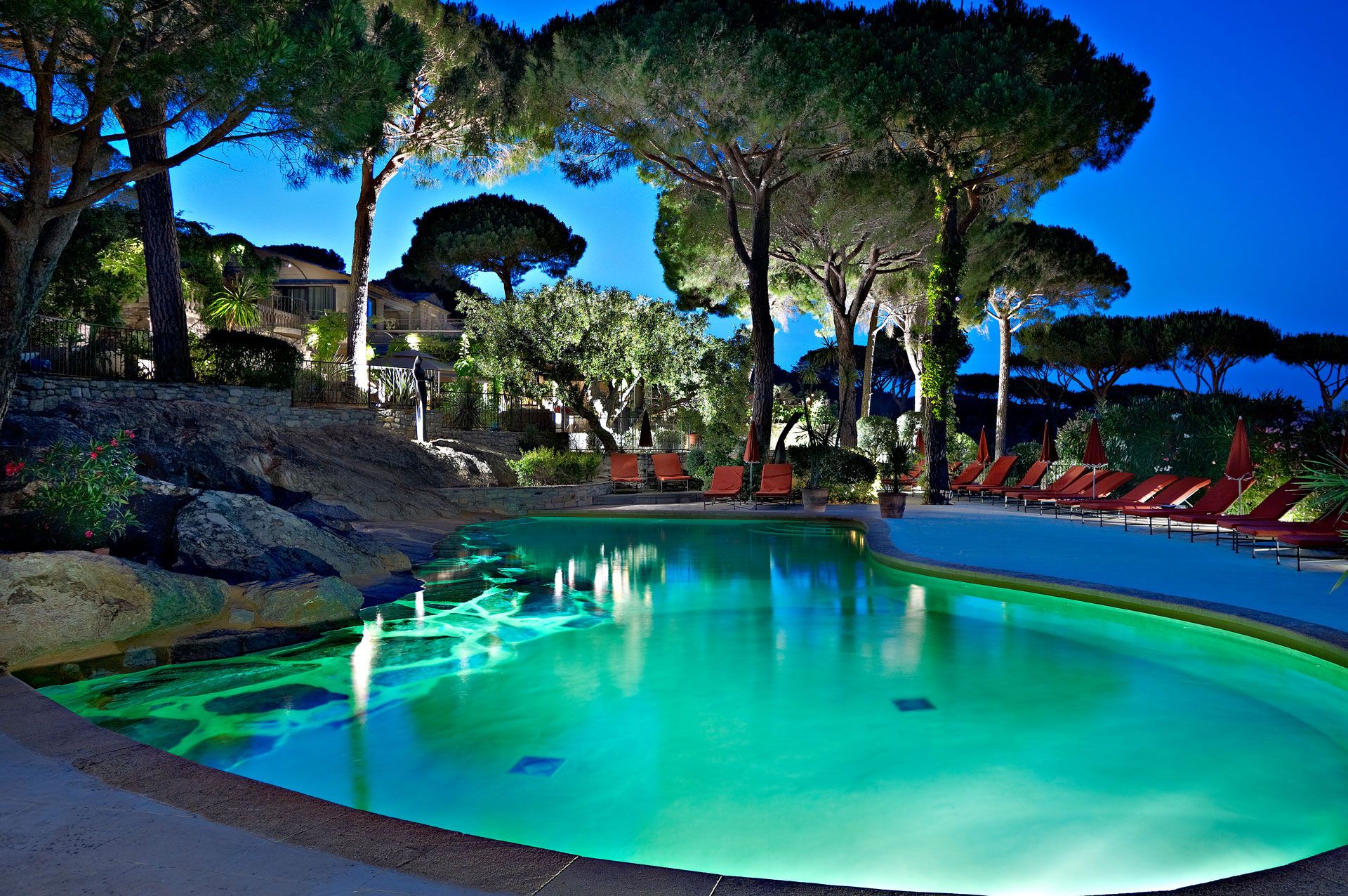 Photo Credit: Villa Marie
Gazing from my terrace at Villa Marie with curlicues of ivy entwined around it, the glitz and glamour of Saint-Tropez seem a world away; yet, the twinkling lights along the streets below seem close enough to touch. That's one of the many attractions of this five-star, 45-room Italian residence, one of several Maisons & Hotels Sibuet properties in Provence. Here, you have the choice of enjoying the tranquility of this hilltop retreat with its terraces and decorative gardens while being able to take a short 10-minute drive into the heart of the world-famous shopping and dining mecca in Saint Tropez.
Photo Credit: Villa Marie
After a long meandering drive through quaint Provençal hilltop villages, we opted to enjoy some well-earned R&R in the villa's airy, greenhouse-style Dolce Vita restaurant. Furnished in art-nouveau style with a slanted glass and iron-laced ceiling, paved limestone floor and ornamental glazed urns, the seductive ambiance is enhanced by candle-lit tables and billowing lace curtains. Soft crimson and cream seats are set against a backdrop of stunted palms and bougainvillea.
Photo Credit: Columbia Hillen
Being so close to the sea, it's not surprising to find a dinner menu featuring a variety of fish and seafood dishes. The ceviche-style, gilt-head bream which is combined with avocado and shredded crabmeat is an excellent starter. If you prefer your fish cooked, try the calamari and artichoke hearts appetizer served with homemade aioli. For the pure pleasure of simple tastes, we tried the grilled filet of sole with mashed potatoes and olive oil; we were more than satisfied with our choice. From the meat section, we opted for the grilled fillet of veal with vegetables confit and thyme oil, which came as a generous portion, thinly sliced and very tender.
Photo Credit: Columbia Hillen
Set in such tranquil surroundings and with a name like Dolce Vita, the restaurant encourages romantic evenings, even more so by offering daily specials for two including desserts such as lemon soufflé served with strawberry coulis, strawberries and basil. For post-dinner drinks, head out onto one of the adjacent open-air terraces amid aromatic herbs, citrus and cacti.
Photo Credit: Villa Marie
Later, in our duck egg and cream-colored room, we slipped into a delectable clawfoot bath that sits on a heated stone floor. With ample cupboard space, matching casis stone washbasins resembling oversized nutmegs, an enclosed shower, baroque wall lamps and a corner reading couch with fluffy support pillows, we felt suitably coddled.
Photo Credit: Villa Marie
Aside from the famed Côte d'Azur beaches, Saint Tropez is the leading attraction on this section of the French Riviera and has been for generations. To avoid any traffic inconvenience, Villa Marie offers a free shuttle service to guests, with the drop-off and pick-up point close to the seafront. With premier brand names aplenty—Dior, Louis Vuitton, Dolce Gabbana, Armani, Bulgari, Hermès and Valentino— Brigitte Bardot's hometown is a shopper's heaven. If you wander through Place des Lices, you'll find a lively square where locals indulge in their love of pétanque under the shadow of abundant plane trees. Beginning mid-June, a traditional market takes place here on Tuesday and Saturday mornings.
Photo Credit: Villa Marie
In the port, from café terraces (best spot being the first-floor of Hotel Sube, fronting the harbor), you can view small local fishing boats alongside huge yachts; the latter even more prominent during the annual Les Voiles regatta. Place des Herbes next to the marina, is also lively most mornings with fruit, vegetables and flowers being sold from the market and fishermen selling their day's catch. In season, there's also a well-developed cultural scene with renowned jazz, classical music and theater festivals taking place.
Photo Credit: Villa Marie
Dotted with inner courtyards and terraces, and nestled in a seven-acre pine forest on Ramatuelle Hill, Villa Marie offers a rich architectural style featuring pediments, génoise cornices and brick inlaid patios. Its convenient location also makes exploring easy while maintaining enough distance from the crowds to be able to break away and enjoy some rest and relaxation.