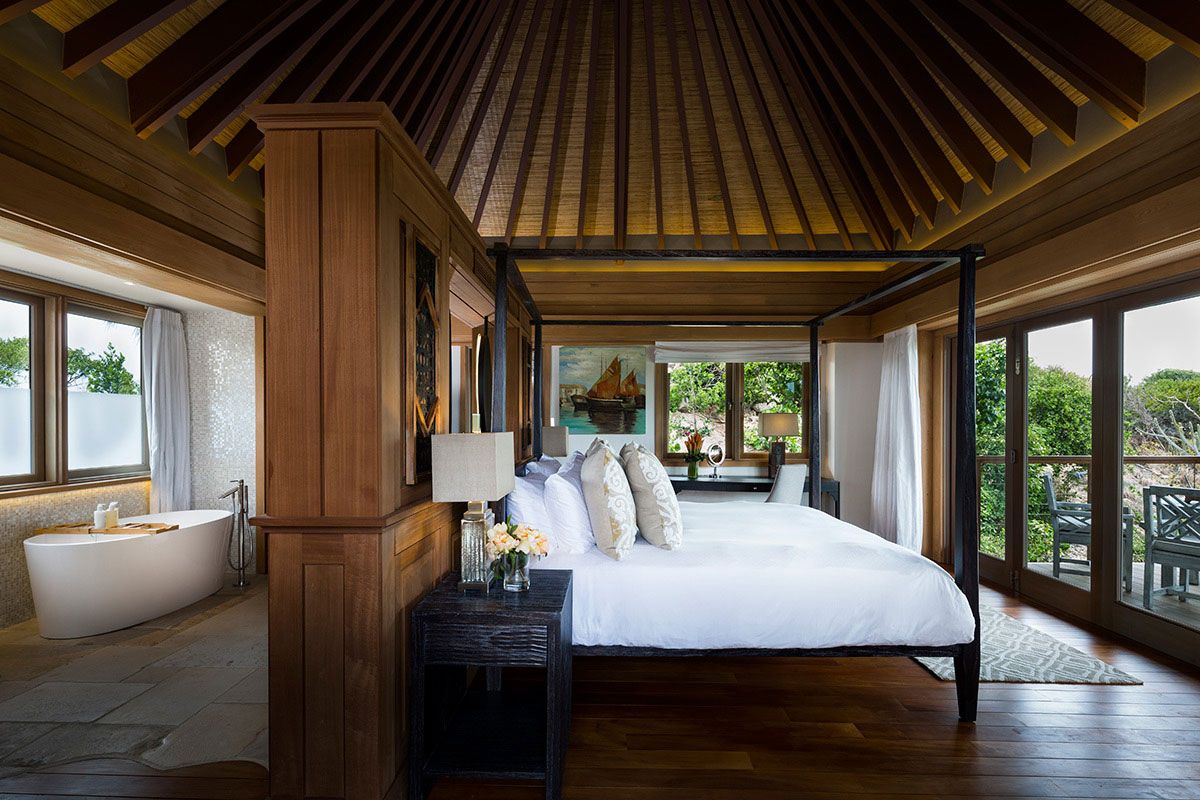 Photos Credit: Virgin Limited Edition Collection
Sir Richard Branson has a knack for knowing exactly how to create the kind of tropical-destination villas that wanderlust travelers dream about at night (we're looking at you, Necker Island). And with the opening of The Branson Estate on Moskito Island in 2016, it's clear that our boy knows his audience.
As a part of the Virgin Limited Edition properties, the BVI residence will sit on 125 acres of land and will of course be surrounded by the crystal blue waters of the Caribbean. "It's well known that I adore the beautiful and unspoiled British Virgin Islands and I'm thrilled that the new Branson Estate on Moskito Island is joining the Virgin Limited Edition collection. I'm confident that this stunning estate will be a fantastic addition to the rest of the portfolio." Just like the rest of the collection, the estate is available for exclusive hire and can accommodate up to 22 guests within three villas that are connected by wooden walkways.
The Headland House, Beach Villa and Mangrove Villa offer a total of 11 bedrooms. Inspired by Branson's son Sam, Mangrove's rooms all face east toward Necker Island and boast two additional homes that sleep two guests in each. Inside both the main and guest houses, Balinese-style décor, rich woods and chic furnishings create an elegant yet laid back atmosphere. The master suite includes floor-to-ceiling, full wallb retractable glass doors that lead out onto a patio overlooking the ocean. The villa comes complete with a fully-equipped kitchen, separate temperature-controlled wine fridge, dining room, large lounge, an infinity-edge pool with Jacuzzi and two breakfast bars. It's all pretty picturesque, but Branson's never been one to skimp on design and style.
Over at the Headland House, considered the heart of the Branson Estate, three bedrooms make up the spacious residence which includes its own elevator (oh, you fancy). The upper floor houses the Great Room and downstairs are three bedrooms, a living space and a wraparound infinity pool outdoors. If the latter wasn't cool enough as is, you can step right out from your Master Suite into the pool and swim over to the outdoor bar for a drink should you wish to forego walking.
Just as Mangrove was inspired by his son, Branson's Beach Villa muse was his daughter. The cluster of homes sit above the beach and the main house includes the same amenities as the Mangrove villa. Plus, the estate is wired to be able to play your favorite tunes throughout the residence. Hotline Bling anyone? Outdoors the heated infinity pool also includes a hot tub and a spacious deck. The Flamingo Nest Master Suite opens up to a large terrace with a day bed overlooking the pool. The room itself has a much softer look to it with white décor, neutral furnishings and a distinctly feminine vibe. This is also where you'll find a nursery which can accommodate up to two infants.
On the eastern side of the island sits the Recreation Area at the Beach House where guests can take advantage of a diverse range of activities such as a watersports center, infinity pool and bar, tennis pavilions and dining venues. It's a great central spot for socializing with your friends and family, all the while having your own villa to retreat to if you need a little R&R.
Reservations will start in early 2016, but if you're eager to secure a spot before it books up, you can contact the estate's London or New York offices. Ahem, we also wouldn't be opposed to joining you, in case you're needing a few extra bodies to fill the bedrooms. Just saying.