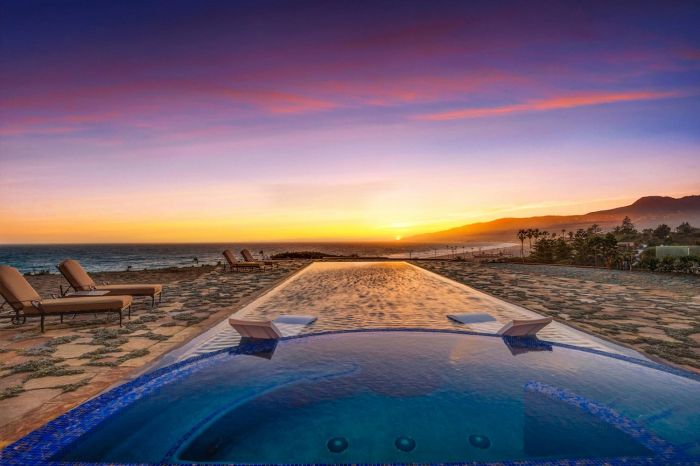 Photos Credit: Villaway
Malibu, an affluent beach city just up the Pacific Coast Highway in L.A., is famous for its beautiful sandy beaches and exclusive homes. Located just north of Santa Monica, the city is known for its 21 miles of beautiful beaches, great surfing spots and laid-back beach vibes. From nature excursions like horseback riding and surfing, to going on a wine safari, there's plenty to see and do in Malibu. The city is also home to A-list residents and luxe vacationers looking to take advantage of the year-round, perfect beach weather.
One company, Villaway, led by founder and CEO Joe Liebke, has become king of the Malibu luxury beach getaway thanks to its portfolio of extraordinary properties, five-star amenities and hospitality. Based in Los Angeles, Villaway launched in 2016 and has become the "Luxury Airbnb" to travelers in the know. The company digitally amasses thousands of luxurious estates and villas from top property managers worldwide, into one clean, well-designed and user-friendly website. Their unique distribution platform allows the discerning traveler to discover and enjoy the finest luxury vacation homes and villas around the world.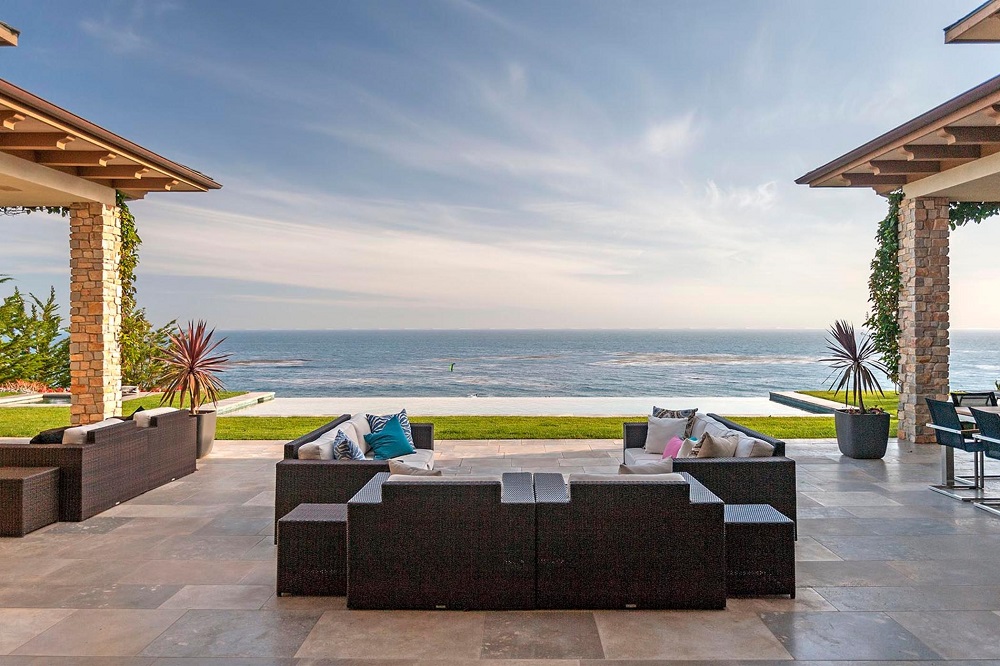 What truly separates Villaway is their commitment to "exceptional customer experience." Along with hand-selected listings and curated properties vetted to the highest standards, they offer a variety of concierge services from airport pick up, grocery pre-stocking, private chef services, client ambassador assistance, activities, restaurant reservations, event tickets and pretty much anything else you can think of. "At Villaway, we revive and reinvigorate the human spirit with extraordinary travel experiences, one villa vacation at a time," says Villaway's Liebke. With 5,000 villas in 100 world-class destinations already in their portfolio, the company plans to have more than 10,000 luxury villas in its portfolio within 18 months, making them largest luxury villa platform.
Malibu has always held a special place in Liebke's heart. He grew up surfing all around its waters and has "always believed that Malibu was one of California's most beautiful and precious beach escapes." Fast forward to 2017, he is proud that Villaway has curated many of the "finest homes within the best parts of the Malibu communities, to share the magic of a luxury Malibu retreat."
For L.A. locals looking for a luxe staycation, or visitors looking for a celebrity vacation, Villaway offers 15 different villas on the website, and several more private pocket listings, available by special request. Ranging from $1,000 to $6,000 per night, here are some of their best, over-the-top luxury villa vacation rentals in the Malibu area.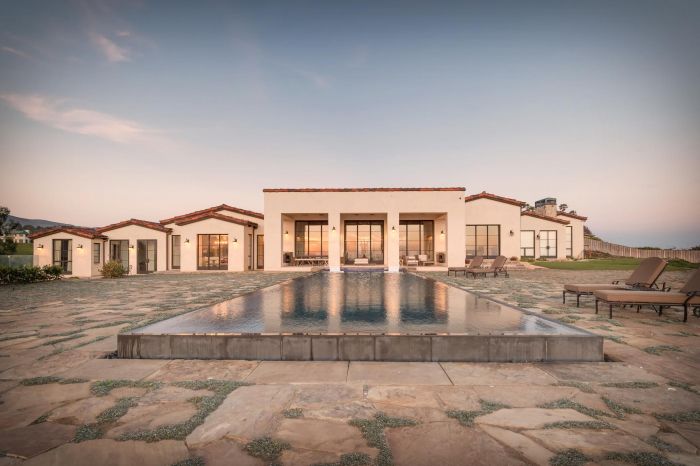 Villa Sogno
Located just a few blocks from Zuma Beach, Villa Sogno is a six-bed, nine-and-a-half-bath, Tuscan-inspired villa overlooking the blue waters of the Pacific. Starting at $6,000 a night, the 11,000-square-foot villa is filled with premium amenities throughout for optimized comfort and convenience. From a chef's kitchen to a spacious great room, attention to design at this estate is unparalleled, with soaring ceilings, floor-to-ceiling glass windows and more. Find the highest standard of living in each region of this abode's luxurious spaces which include a billiard room, high-end home theater with plush seating, spa services at the massage table, or catch up on work in the office space framed by an ocean view. Exterior amenities include an outdoor kitchen, lounge and private swimming pool, along with an exercise room and an outdoor Jacuzzi. Staff and services include a personal client ambassador, a dedicated 24-hour concierge, an on-call estate manager and a complimentary essentials package upon arrival; a multitude of other luxurious services are available at an additional cost.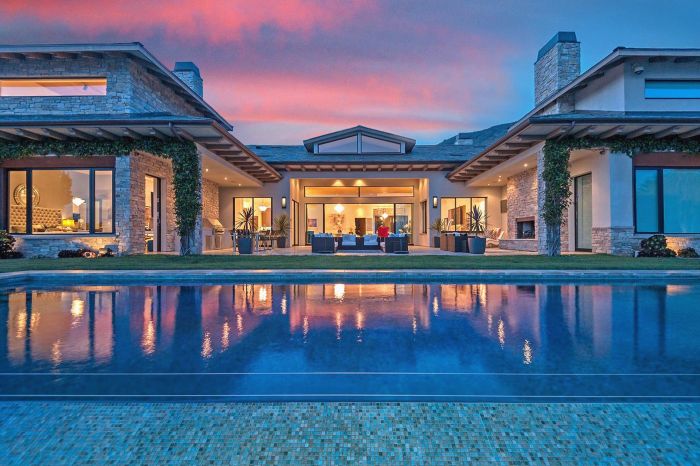 Malibu Oceanfront Escape
Steps away from the golden sand beaches of Malibu, in between El Matador State Beach and Point Mugu, sits Malibu Oceanfront Escape. This four-bed, five-and-a-half-bath treasured contemporary oasis features a 60-foot great room with a beautiful ocean view. Host a movie night on the home theater system, cook up a storm in the fully-equipped kitchen or eat in an elegantly appointed dining area. Lounge on the terrace with an outdoor kitchen and barbequem which sit alongside the private infinity pool and hot tub. Along with a home fitness center and relaxing sauna, guests can head down to the beachfront deck and relax on the day loungers while listening to the sound of the waves. Two of the master suites offer ocean views while the two guest rooms overlook the mountainous terrain. Enjoy a 7-night minimum stay and prices starting at $5,200 a night.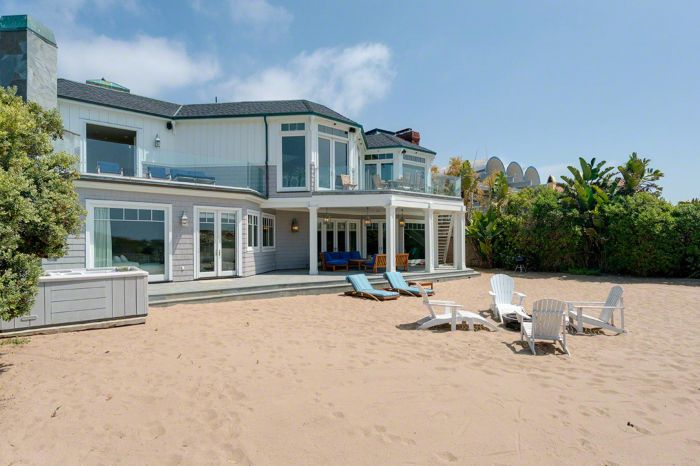 Malibu Beach Estate
Just north of famed Zuma Beach, Malibu Beach Estate is situated on an 80-foot stretch of beautiful beachfront. This seven-bed, eight-bath Cape Cod estate starts at $5,000 a night and gives guests a mix of casual luxury. The main, 6,000-square-foot house includes a fully equipped kitchen, generously-sized dining area (with the ocean as your backdrop) and beach area with barbeque equipment to dine al-fresco. The two-story guest house also features a fully-equipped kitchen and living room along with an open upper story capable of sleeping up to five guests. Enter through a private gate and enjoy ample opportunity for pampering, as the house is appointed with both a rock sauna and a hot tub that sits on the beachfront. Depending on the season, there is a three-night or four-night minimum.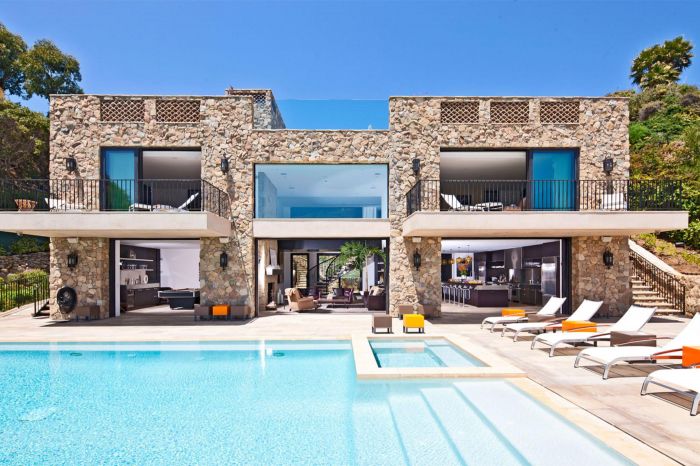 Stone House
Situated on a slightly elevated bluff with 180-degree ocean views, Stone House is a breathtaking four-bed, four-and-a-half-bath beachside estate. Along with terraced gardens, expansive grounds, and an infinity pool and spa—which look out onto a grassy lawn and the ocean beyond—the beachside property gets its name from its winding stone pathways and the fact that nearly every façade feature is covered in stone. Starting at $4,495 a night, the 5,353-square-foot home boasts spacious entertaining areas, including a billiard room, a dining area with seating for ten, a large living room with a fireplace and breathtaking ocean views, and a sparkling new kitchen. With lavish bedrooms and communal spaces, guests can enjoy their private mansion with outdoor furniture, barbecue and fire pit adjacent to the infinity pool. Staff and services include a personal client ambassador, a dedicated 24-hour concierge, an on-call estate manager and a complimentary essentials package upon arrival, with a multitude of other luxurious services available at an additional cost. Stone House requires a minimum five-night stay with a maximum of 10 guests. Unfortunately here, no pets are allowed.
Malibu Luxury View Villa
On top of a mountain in Western Malibu sits the four-bed, four-and-a-half-bath Malibu Luxury View Villa. With spectacular views of the Pacific Ocean to the West and Santa Monica Mountains to the East, guests can enjoy picturesque sunset views nearly every night. The 39-acre property is 1.7 miles up a road from the Pacific Coast Highway and completely secluded. Stating at $3,950 a night, the Spanish estate features a heated saltwater pool and spa, a wood burning fireplace, overstuffed chaises and a large Viking 54-inch BBQ on its exterior. With a game room and home theater, flat screen TVs are everywhere, and top-of-the-line appliances, kitchenware, and luxury furnishings are found throughout. Just steps from hiking trails, say hello to Zippy, their resident road runner, or the little grey fox that visits in the evenings. The two-story estate features balconies and porches that wrap around facing the pool, natural light in every room and high-ceilings which are amplified by Moorish influences. Staff and services include a personal client ambassador, a dedicated 24-hour concierge, an on-call estate manager and a complimentary essentials package upon arrival; other services are available at an additional cost. Search Best Luxury Villas for more options