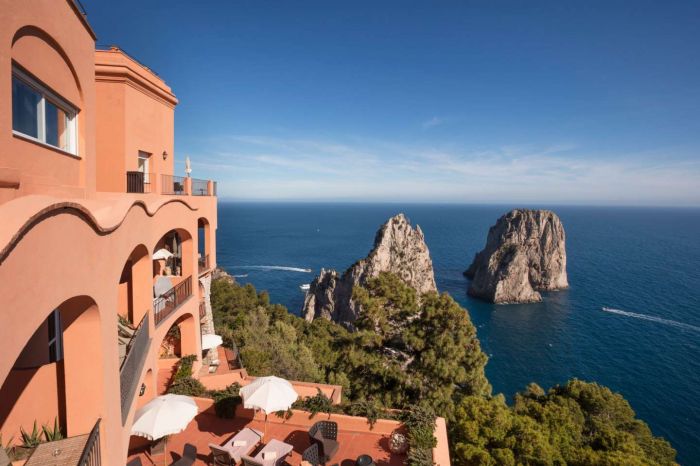 Image courtesy of Punta Tragara
In a ranking of places on earth that leave you speechless, Capri Island's Punta Tragara surely earns a top spot on the list. Perhaps best recognized as the picture perfect poolside backdrop for some of Slim Aarons most iconic photographs capturing the Capri lifestyle in the early 1980s, Punta Tragara sets the standard for la dolce vita in a way that is unparalleled. Perched high above the bustling Marina Piccola and town center of Capri, Punta Tragara is ideally situated in one of the most stunning geographic landscapes on Capri Island. According to legend, Punta Tragara was chosen by Emperor Tiberius as the perfect location for one of his island villas. Centuries later it endures as one of the most spectacular and breathtaking locations in all of Italy.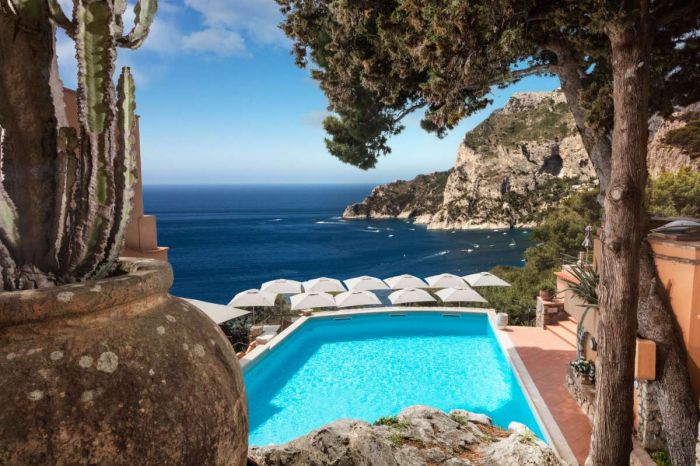 Originally a private family villa, Punta Tragara is now a luxury five-star hotel comprised of forty-four rooms and suites that seemingly cantilever over the verdant cliffs that face the iconic Faraglioni rock formations and the azure waters of the Tyrrhenian Sea just below. While the natural setting is visually stunning in its own right, the masterful architecture of Punta Tragara is that of legend. Designed by the famed Swiss architect, Le Corbusier in the 1920s, the architect famously described the house as "born from the rock itself…a refuge where to find solace for the body, heart and mind." He elaborated further in Domus magazine where he likened the architecture of Punta Tragara to an "extension of the rock, a filiation of the island, a vegetable phenomenon, almost an architectural lichen, grown off the side of Capri." In 1974 the original residence was reinvented as a hotel and updated over the years into what is now a thoroughly modern luxury hotel that has managed to retain all of its old world charisma and charm.
For my first visit to Punta Tragara, its magic began to take effect well before I even reached the hotel. Accessed only by foot at the end of a lush and sun-dappled, cobblestone pedestrian road, the process of arrival was half the fun. Upon entering Punta Tragara I was immediately immersed into a sanctum of elegance. An intoxicating blend of Mediterranean sunlight, combined with the elegant contemporary decor and effortlessly mixed with curated sculpture and antiquities, rare artifacts, one-of-a-kind photographs and contemporary works of art. All of this made even more special by a warm welcome from the wonderful staff members that greeted me upon arrival and graciously welcomed me, ready to meet all of my holiday needs.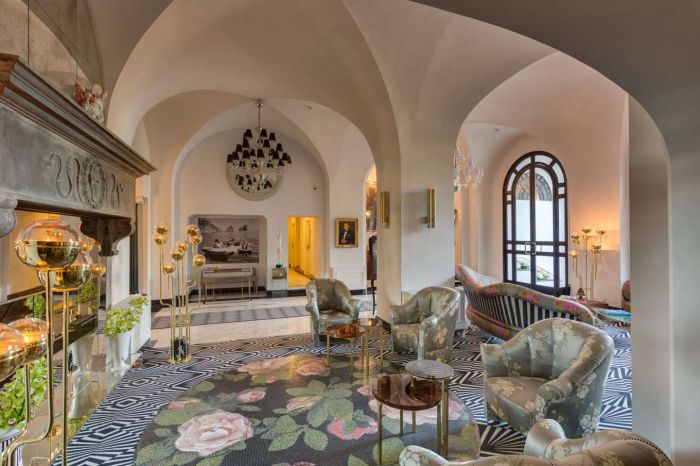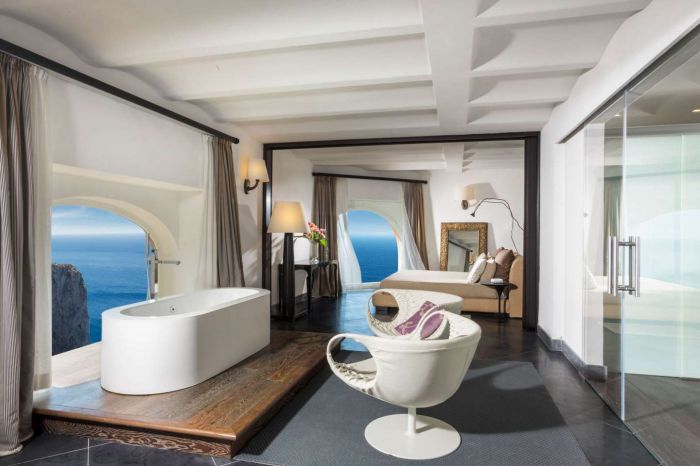 The refined eccentricity of Punta Tragara makes for a fun and elegant retreat that offers guests many options for relaxation, decadence and wellness. Guests can choose from two picturesque swimming pools, each one surrounded by verdant Mediterranean gardens and overlooking the sea. If a bit of pampering is required, the in-house spa, Unica, offers a range of thalassotherapy and spa treatments, including ultra-delicate body scrubs, perfect for a day in the sea and sun.
Part of the Manfredi Fine Hotel Collection and a member of Small Luxury Hotels, Punta Tragara is distinct from other luxury hotels in that no two rooms are identical. While each room is unique, the one thing that they all have in common is pure, unadulterated luxury. The legendary penthouse is, of course, the epitome of grandeur, complete with a large roof terrace, multiple living areas, and a 180-degree view of the marina and blue horizon beyond. The luxury doesn't end at the penthouse however. My Master Deluxe room was outfitted with a spa-like bathroom, separate living area, and a sun-splashed, wraparound private terrace with an uninterrupted view of the ocean and the famed Faraglioni rocks.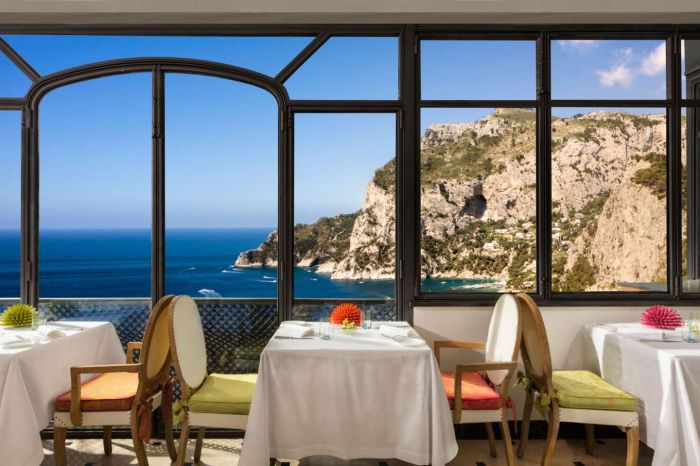 Image courtesy of Punta Tragara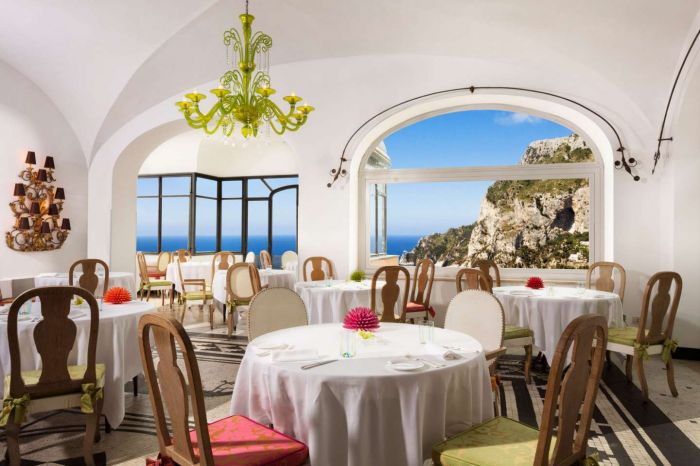 Image courtesy of Punta Tragara
What is a trip to Italy without Italian food? Guests of Punta Tragara don't have to venture very far to find one of the most inventive menus on the island. Punta Tragara's very own Monzù restaurant gave me the culinary experience of a lifetime. At Monzù, authentic Italian cuisine is re-imagined and prepared with a decidedly Capri influence. Menu standouts included Pezzogna fish with fresh tomatoes, parsley and garlic, sweet octopus ragout served over pasta and a memorable lamb dish served with fennel crumble, artichoke cream and cappon magro. I opted for the tasting menu, which was described as "an enogastronomic proposal of tradition and innovation" and featured eight-courses of Chef Luigi Lionetti's most popular dishes. The delicate portions of slow-cooked cuttlefish, agnolotti, and prawns were beautifully plated and proportioned so as to leave room for the grand finale, a gorgeous hazelnut sphere served with passion fruit and chocolate.
After enjoying every last bite and giving my sincere compliments to the chef, I decided to keep my evening alive with a bit of live piano and a poolside cocktail at Monzù Gin Club & American Bar. What started as a simple nightcap turned into a fascinating education on the subtleties and complexities of gin and its trusty companion, tonic. At the suggestion of my knowledgeable bartender, I decided to try the Filliers Tangerine, a beautifully floral confection of orange blossom and lavender artisanal tonic with Filliers Dry Gin, a botanical-infused small batch gin created in copper stills.
If can manage to pry yourself from the perfection that is Punta Tragara and decide to explore the vibrant center of Capri's town center, the Michelin-starred Ristorante Mammá is part of the Punta Tragara family and is an excellent option for lunch or dinner. Helmed by Chef Gennaro Esposito, Ristorante Mammá serves up contemporary Mediterranean cuisine alongside more traditional dishes of Capri, like seafood risotto and parmigiana made with silver scabbardfish. According to Chef Esposito, "when there's sincerity and respect in the kitchen, you can really start to enjoy yourself." This very Italian ethos and relaxed approach to cooking comes through not only in the flavorful dishes but also the lively atmosphere that mirrors the energy of the town. A nice compliment to the poolside seclusion and restful relaxation waiting for you back at the hotel.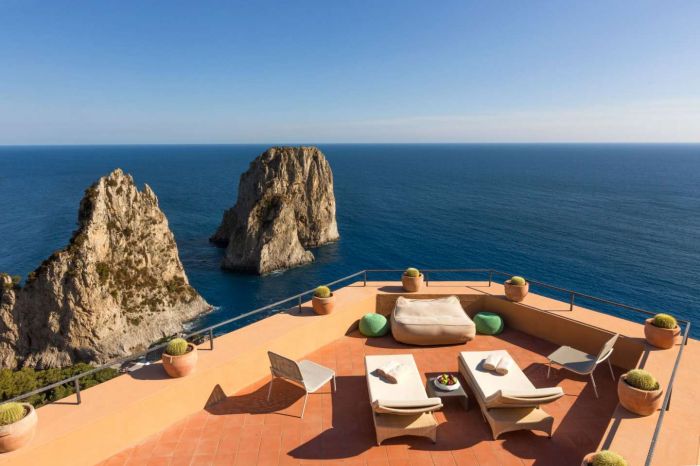 Image courtesy of Punta Tragara
La dolce vita is alive and well in Capri, and Hotel Punta Tragara is where you'll find it thriving in its purest manifestation. From the impeccable service to the five-star amenities to the incredible local cuisine to the remarkable setting of rare natural beauty, Punta Tragara gave me everything I needed for my very own taste of the sweet life.
Punta Tragara is open seasonally from April until October.
For more information on Punta Tragara, please call +39 081 8370844, email info@hoteltragara.it or visit www.hoteltragara.com.