By Touring & Tasting Jul. 23rd, 2012
Bordered by the Chesapeake Bay, and the Rappahannock and Potomac Rivers, this region is scenic, historic, and dotted with wineries.

The Chesapeake Bay Wine Trail winds through villages that were settled in Colonial times. Here, you'll find the birthplaces of Presidents George Washington, James Madison, James Monroe; and Confederate General Robert E. Lee; and a myriad of historic attractions around nearly every turn. Originally inhabited by eight separate Virginia Native American tribes, the region is one of the State's most historic.

The wine trail runs from the top of the peninsula (commonly called the Northern Neck) down through Lancaster County to New Kent County. The waters of the Potomac and Rappahannock Rivers, along with the Chesapeake Bay, provide all sorts of water fun for boaters and fishermen, while the picturesque landscape—once called "the Garden of Virginia" by George Washington—features Colonial architecture, charming hamlets, unique shops, 17 museums, countless historic sites, as well as 12 delightful wineries. Here, wine and history pair perfectly.




LOCAL WINES


Oak Crest Vineyard & Winery Quiet garden picnic area, artisan gift shop, small private events
Ingleside Plantation Vineyards Free daily winery tours, rental vacation home, classes and events
Belle Mount Vineyards Hiking trails, vineyard cottages, weddings and receptions
General's Ridge Vineyard & Winery Spacious events room, wine pairing dinners, overnight accommodations
The Hague Winery Scenic view, gift shop, Platinum award winning Meritage
Vault Field Vineyards Award-winning wines, open houses, pairing events
Athena Vineyards award-winning wines, scenic grounds, access by road and water
Jacey Vineyards Scenic view, wine-inspired restaurant, access by road and water
Good Luck Cellars Wine Down Fridays, unique hybrid grapes, weddings and receptions
The Dog and Oyster Vineyard Wine stand, vineyard guest cottages, owned by Hope and Glory Inn
Saudé Creek Picnic grounds, cheese and crackers, Sunday afternoon concerts
New Kent Winery Award winning wines, winery tours, weddings and receptions
LOCAL FINDS
Be sure to visit George Washington's Birthplace, a 550-acre park that commemorates the life of America's first president
Stratford Hall Great House, birthplace and ancestral home of Robert E. Lee
Westmoreland County Museum, a treasure chest of local history from pre-colonial times
Menokin plantation ruins, site of a remarkable collection of original relics
Mary Ball Washington Museum & Library, an historic site with exhibits focused on regional lore
Historic Christ Church, the finest and best preserved parish church from Colonial Virginia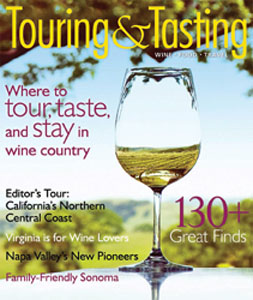 Touring & Tasting
Established in 1995, Touring & Tasting offers an array of compelling marketing opportunities through its biannual, nationally distributed magazine wine club services weekly e-newsletter print newsletter and Website, TouringAndTasting.com. Touring & Tasting's Wine Club delivers an incomparable assortment of premium, hand-selected wines to a broad spectrum of motivated wine consumers. We offe...(Read More)