Photo Credit: MGM National Harbor / Stephen Wilkes
D.C. Gets a Dose of Vegas in the New MGM National Harbor
Every one of the 308 rooms at the brand new MGM National Harbor resort in Maryland is beautiful, but the corner suites, because of the building's diamond-like configuration, make you feel you're at the prow of a ship, Titanic style. Floor-to-ceiling windows let you gaze down at the Potomac River on one side, while the Washington Monument and the Capitol building are on the other; they're just seven miles away.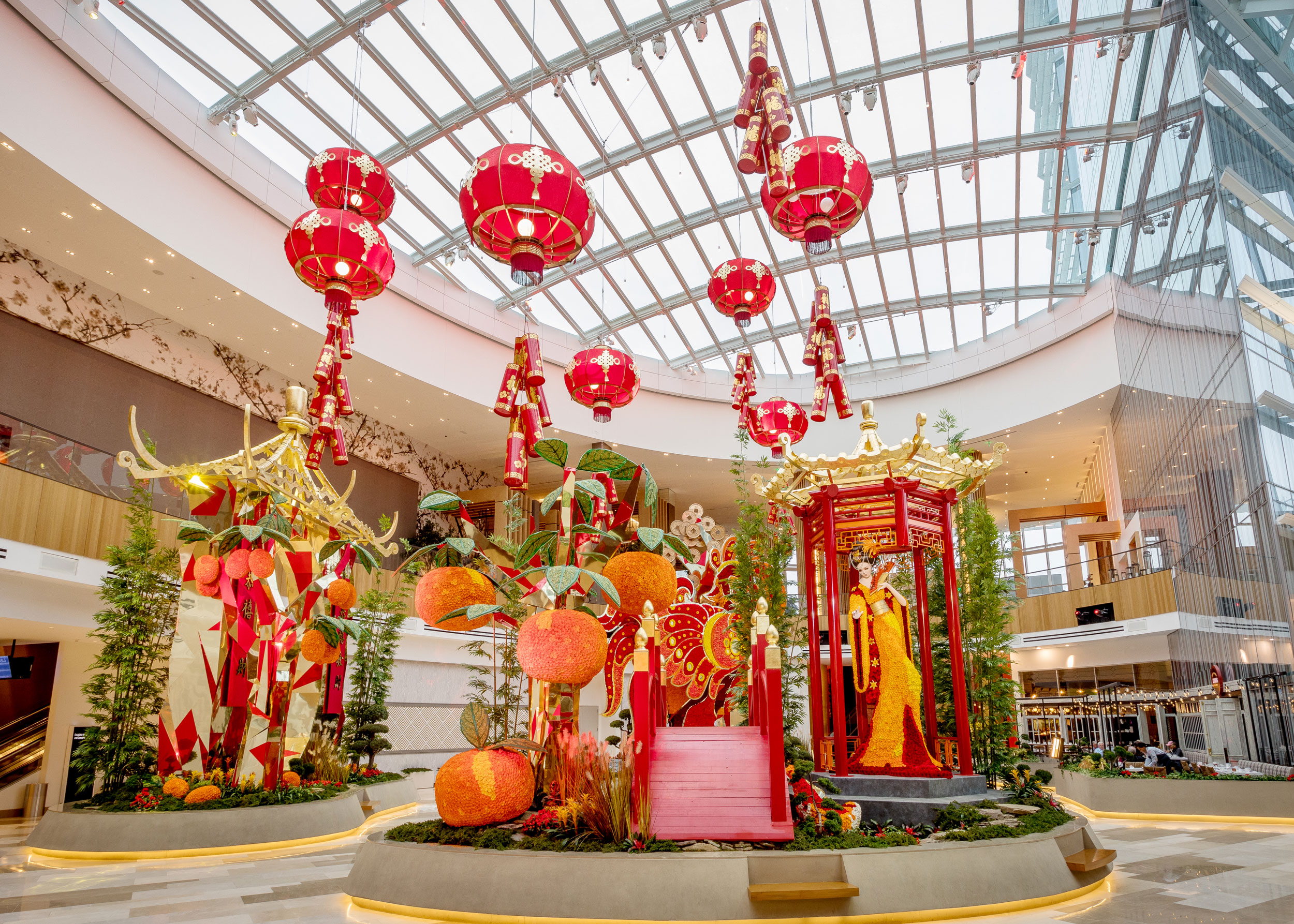 Photo Credit: MGM National Harbor
Reflecting its parent company, MGM Resorts International of Las Vegas, the 1.7 million square-foot, 20-acre property is enormous, encompassing an entire entertainment center. Of course the property also boasts a spa and fitness center, an outdoor pool (featuring huge photographs of Hollywood stars at play), and the iconic center conservatory which for now features a celebration of Chinese New Year with a larger-than-life geisha whose robe features 20,000 fresh roses.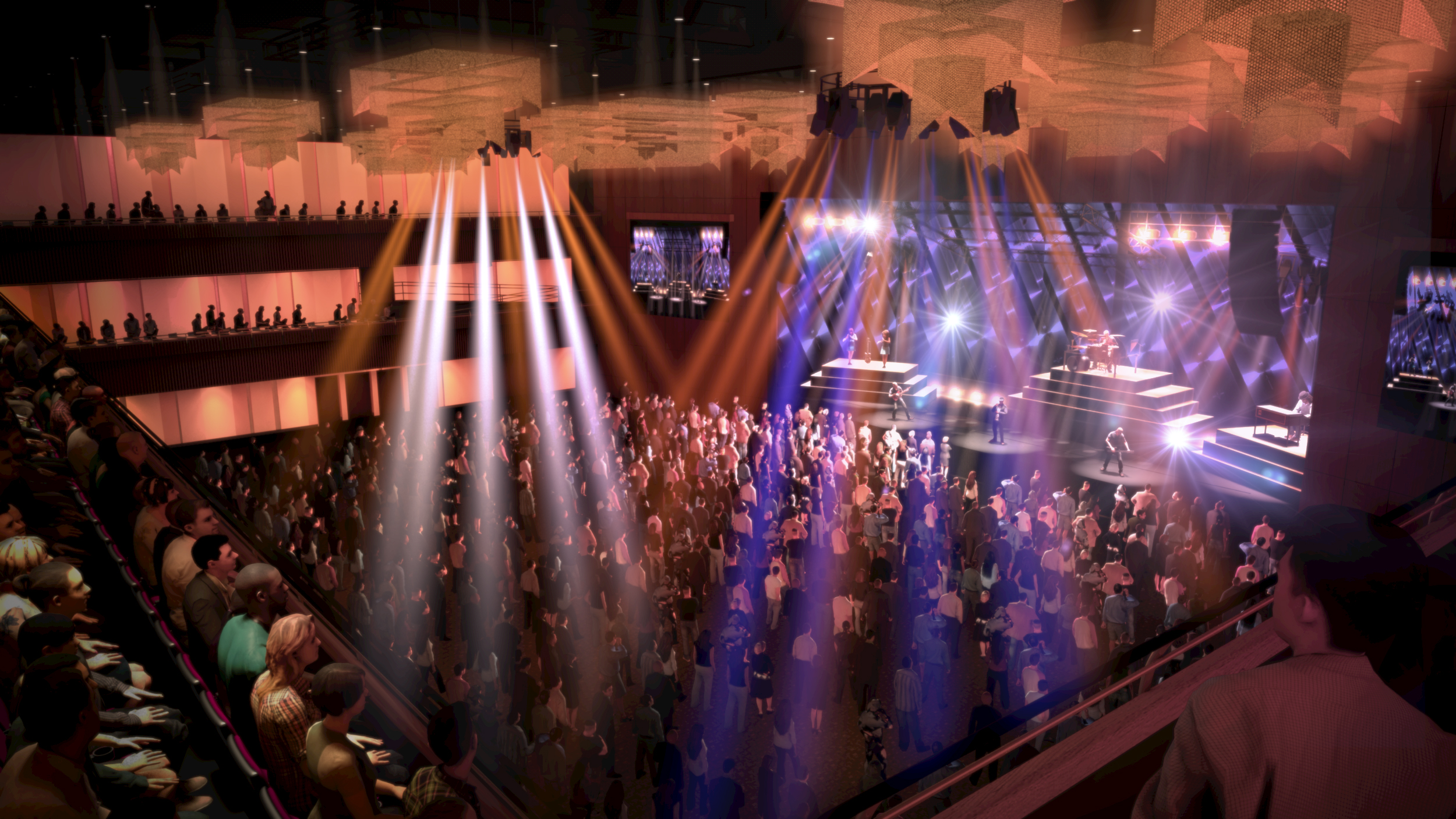 Photo Credit: MGM National Harbor
But of course a Vegas-esque resort couldn't stop there. Visitors will find dozens of fine and casual restaurants and shops (including Sarah Jessica Parker's first-ever dreamy shoe salon), art work from internationally acclaimed and local artists and a host of entertainment options. The first integrated casino on the East Coast has made its debut; there is also a comedy club and a theater, with big names gracing the stage like Cher, who is in residence through the end of September.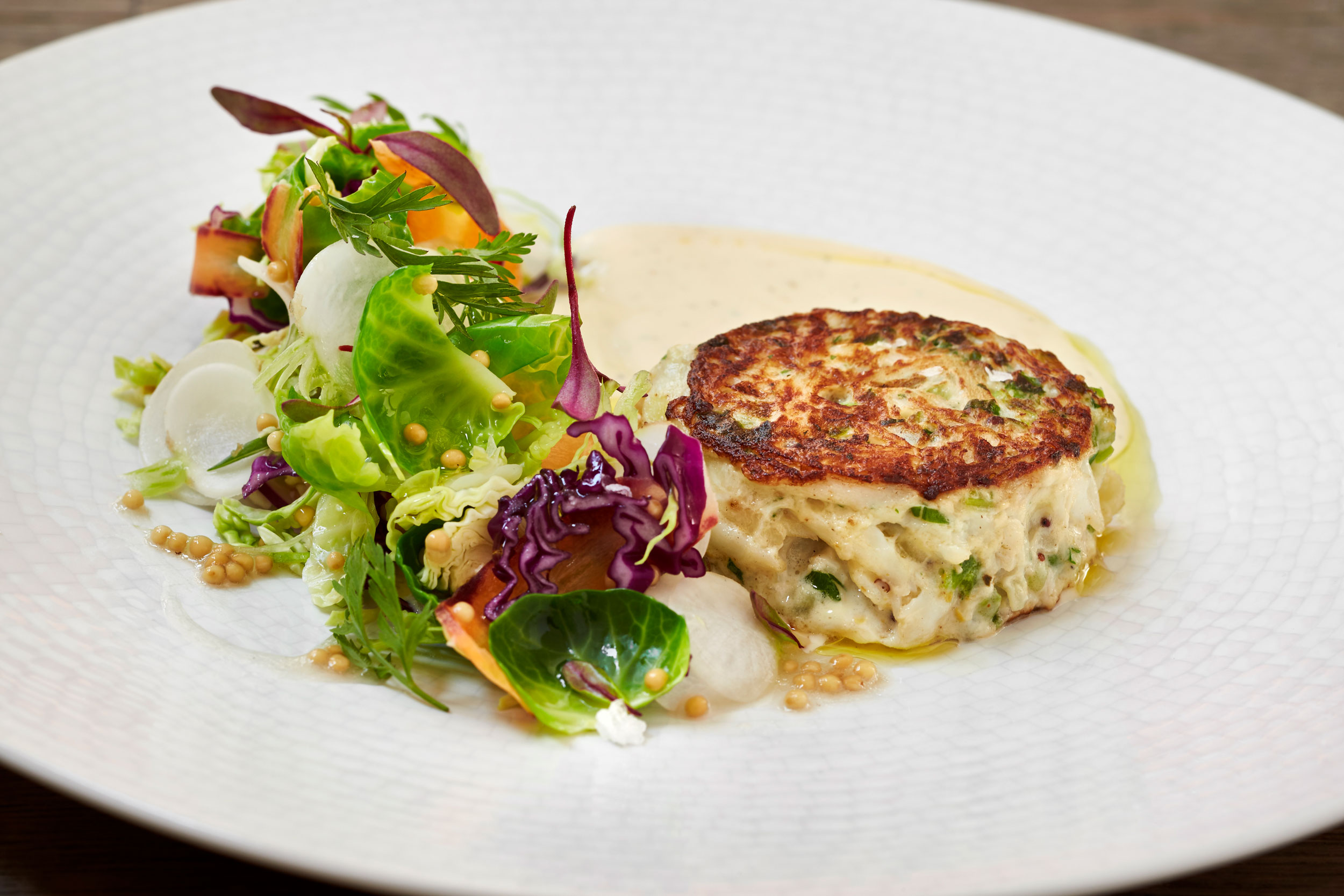 Photo Credit: MGM National Harbor
Restaurant choices run the gamut from local and fresh seafood at Jose Andres' FISH to a variety of Asian dishes at Ginger. Marcus Samuelsson is also behind the eponymously-named Marcus, where diners will find steaks and gourmet side dishes, along with a crab cake bar offering Maryland's famed local crab meat. From deliciously herbed collard greens to Vietnamese vegan dishes, you could eat for a year here and not duplicate a meal. Humor and whimsy run through the art in this luxurious property, as well as in the restaurant menus; Marcus offers "farm-to-bed" in-room dining, if you decide to opt for his chicken and waffles rather than the resort kitchen's more standard breakfast fare. Signature cocktails in some of the 15 on-site beverage venues feature innovations such as 10 different kinds of ice and the "Jasmine" cocktail, which begins with a spray of perfume.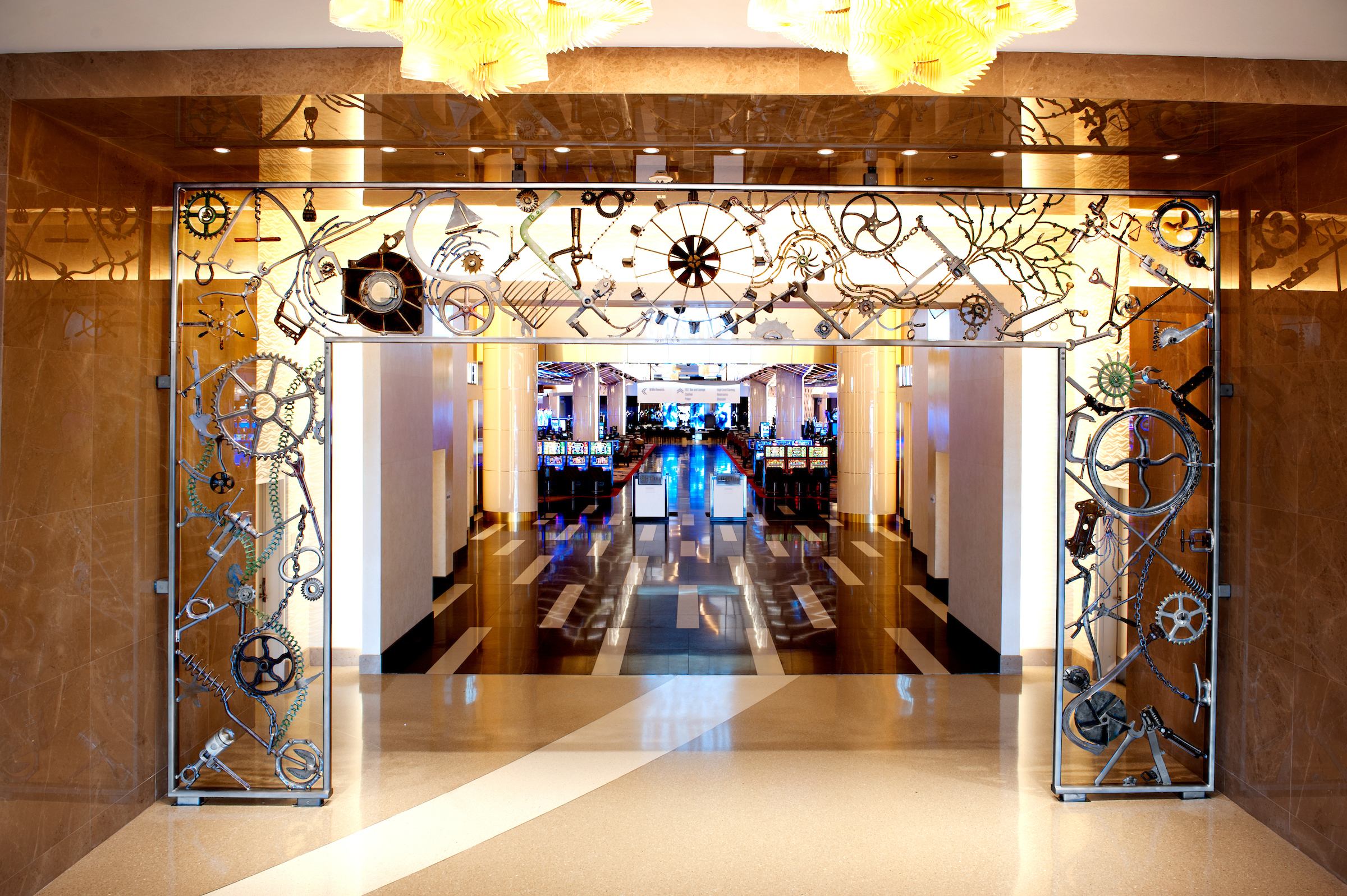 Photo Credit: MGM National Harbor
MGM's famous art collection is displayed from the front lobby to the casino, with sculptures from Alice Aycock, whose gigantic "Whirlpools" outside the casino's porte cochère look like a bouquet of gigantic white blossoms. At the actual entry to the casino, sits a massive metal gate of found objects welded together called "Portal" by singer/songwriter Bob Dylan. Just above the front desk in the lobby is the 30-by-18-foot three dimensional map of Prince Georges County, created by local sculptor Margaret Coozer, who used the soil excavated from the resort's building site for the piece. Resort managers may decide to offer resort guests a guided tour of the impressive art collection here, which includes two paintings by Robert Rauschenberg, a Robert Kelly and a Sam Gilliam, the latter one of the country's most prominent African-American artists.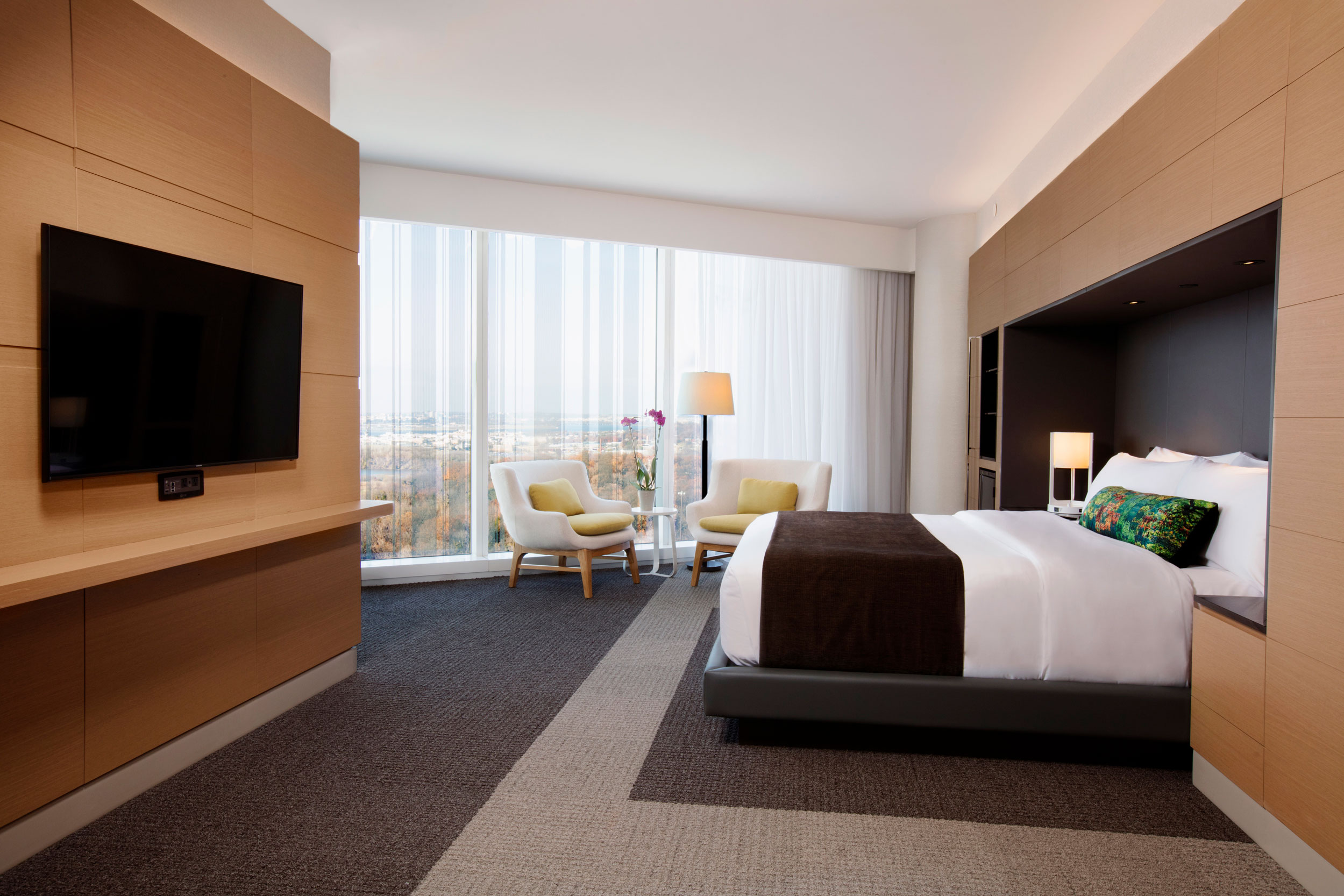 Photo Credit: MGM National Harbor
Between the casino, eateries, nightlife venues and retail options, some could be very happy living inside this city-within-a-building, just enjoying the facilities. Everything, of course, is high tech; when you walk by your closet the light comes on. When you wave your hand near the door of the spa, it opens. Naturally high-speed Wi-Fi is on offer and each room boasts a "media connectivity hub," so you can plug-in easily. Local photographer Ron Beverly's enormous cherry blossom wall murals around the hotel remind dazzled guests that they are not in Las Vegas, but right next door to our nation's capital. (As if you would forget, with the view outside your window.) But just in case, more of Beverly's work has been transferred to fabric for the pillows on guest room beds as well, lest you forget where you have decided to rest your head.