By JustLuxe Feb. 1st, 2023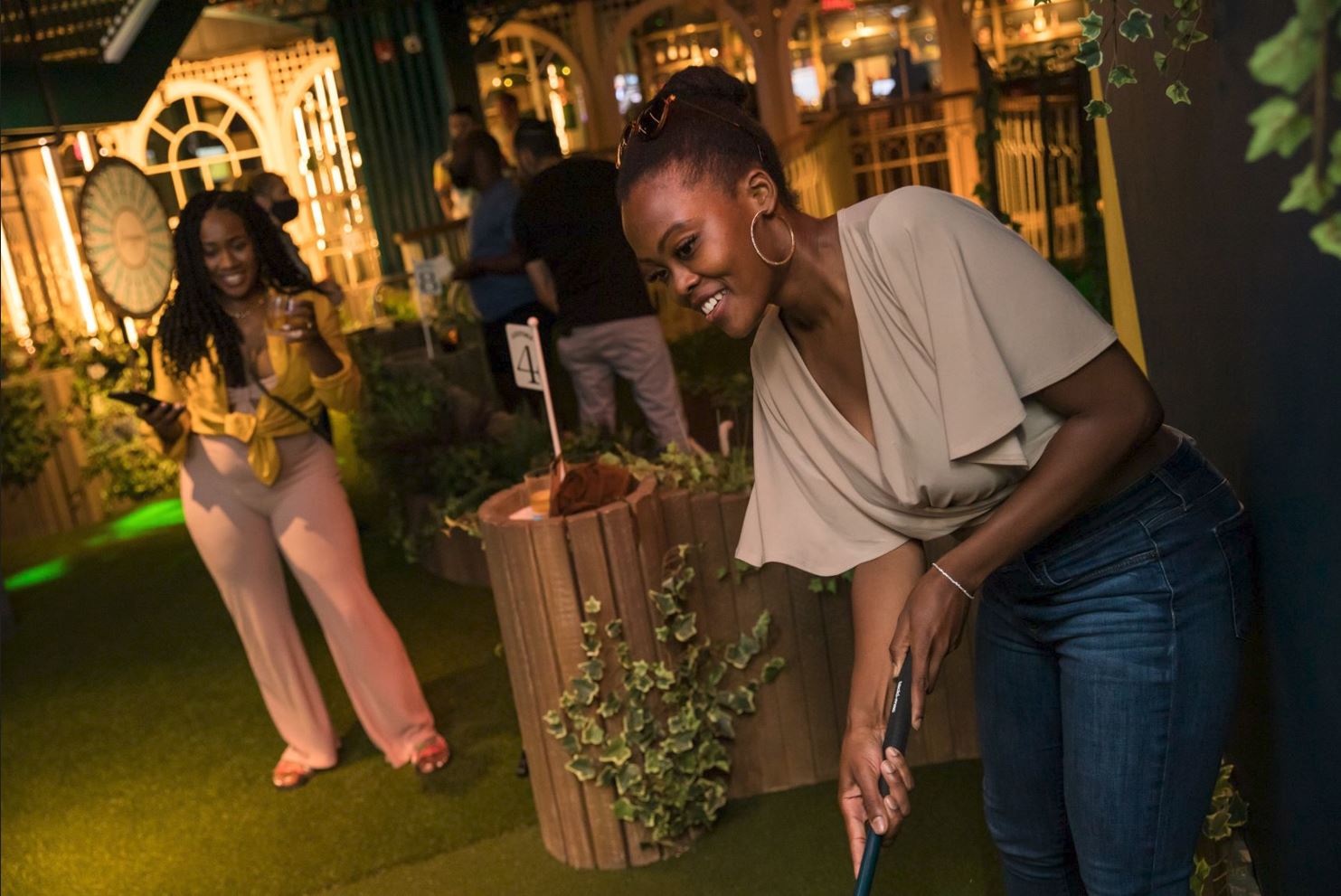 The game of golf has been around for centuries, but it wasn't until the advent of miniature golf that it really took off in the United States. Over 50,000 courses were built in the early twentieth century – and while traditional golf has since become the realm of high-level executives, it's mini golf that has captured the popular imagination.
Crazy golf, though, takes mini golf even further in the direction of delightful indulgence. This UK pastime is becoming increasingly popular in the US for its appealing twists on the classic mini golf setup – namely, indoor courses and delicious cocktails served to you while you play.
Such are the features of Swingers Crazy Golf in DC, where you can immerse yourself in another world as you enjoy mini golf and drinks on the green. Read on to discover why mini golf at Swingers is the ultimate luxury experience – and to get a preview of their upcoming club in Navy Yard, DC.
Two spectacular crazy golf courses to test your skills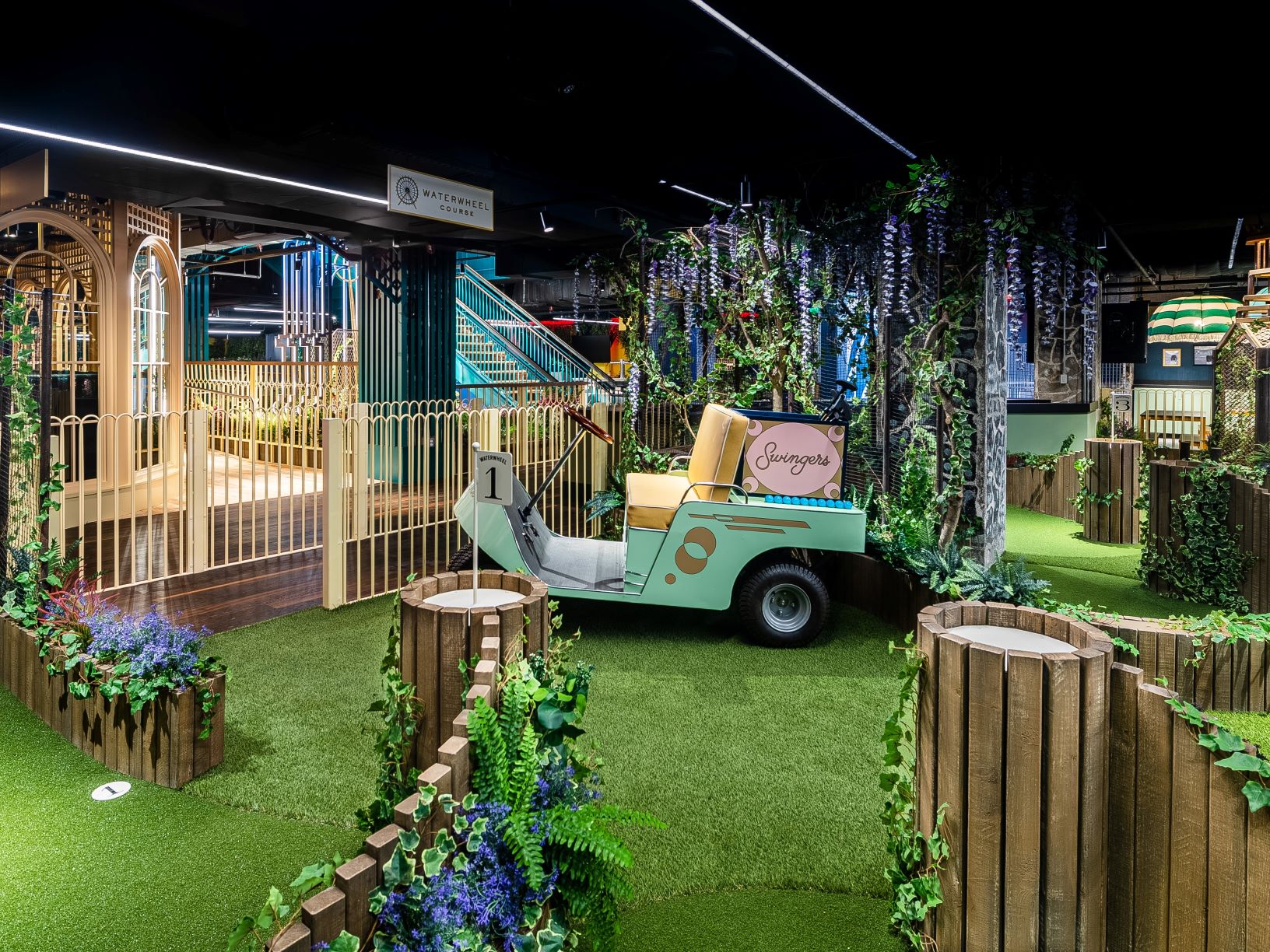 The courses at Swingers Dupont Circle are decorated with flowering vines and subtle vintage touches, calling to mind a 1920s English golf clubhouse. They're also just challenging enough to keep your party entertained as you navigate the many creative obstacles!
The Clocktower Course is an engaging course featuring none other than a Big Ben-style clocktower in the center. Pose with the tower or the botanical decor for Instagram photos with friends and family – or focus all your energy on getting past the tricky curves, craters and other Clocktower Course curiosities. Either way, you'll find time absolutely flying as you putt around this course.
The equally captivating Waterwheel Course includes a stunning lit-up Ferris Wheel and luxury golf cart you can actually climb into for pictures. That's not to mention the floral decorations and the course's iconic waterwheel. Indeed, as you take in the incredible aesthetics, you might just forget how hard you're trying to win!
Exceptional cocktails, wine and beer served as you play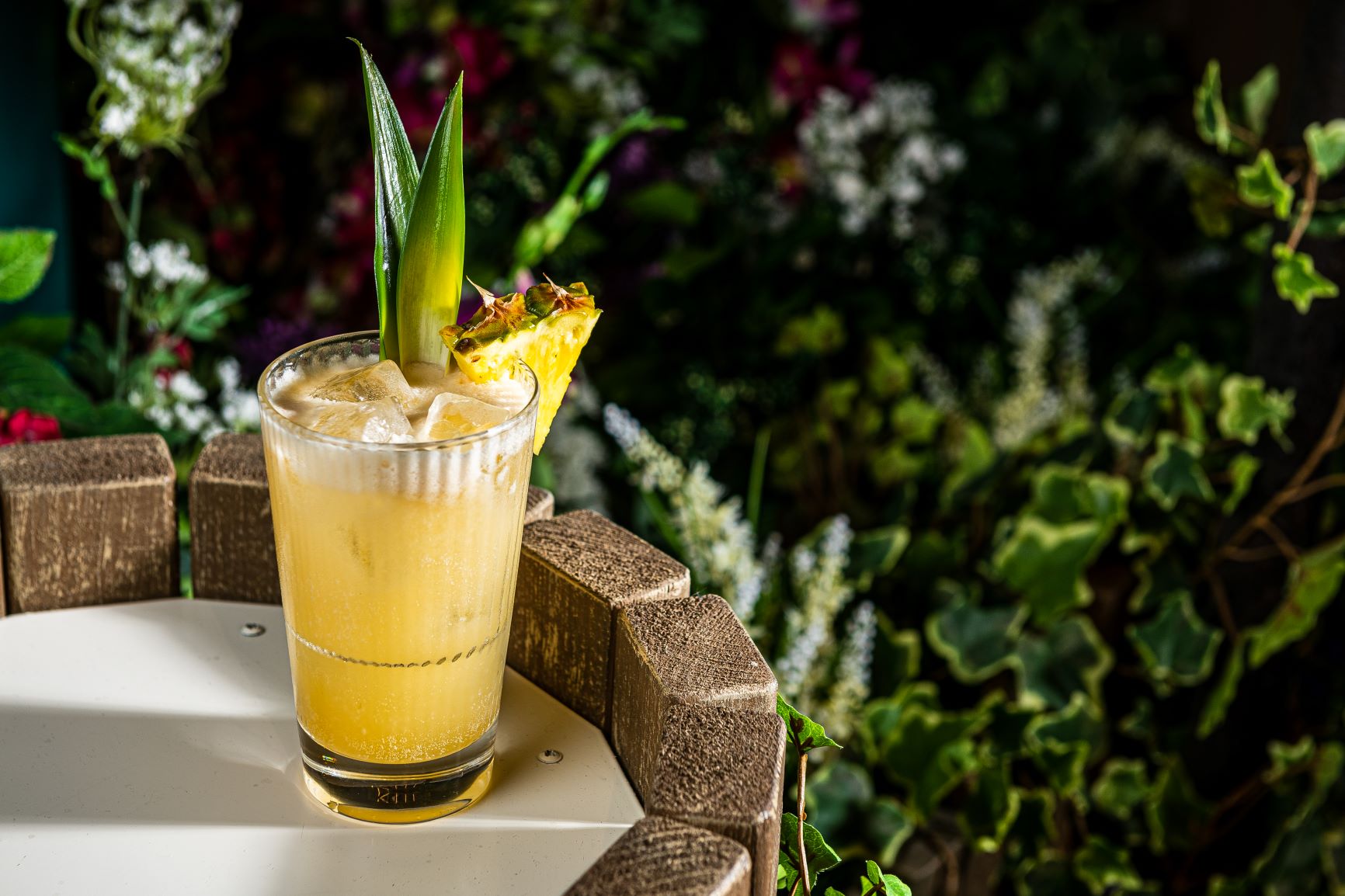 While mini golfing at Dupont Circle, you can have drinks delivered to you on the course, or peruse the menu at one of the venue's four cocktail bars.
Speaking of that drinks menu, it's hard to beat! There's the Daiquiri Noir made of Flor De Caña Rum, crème de banana, falernum and lime juice, or the enlivening Italian Job made of Aviation Gin, Caravella Limoncello, Aperol, lemon juice and Tempus Fugit Absinthe. If you happen to visit for Valentine's Day this year, don't miss the New Romantic cocktail: an irresistible blend of Espolon Reposado Tequila, raspberry, lime, ginger beer and spicy tincture.
Though we won't deny the appeal of sipping a cocktail while you golf, the bars at Dupont Circle are also pretty luxurious. The Fairway Bar is an expansive space ideal for larger groups, while the Clubhouse Bar is a stylish retro venue accented with red velvet. Meanwhile the Clocktower Bar boasts a sharp, almost futuristic setting, and the East Clocktower Bar is a nicely intimate venue for smaller groups.
Local gourmet street food to enjoy after your game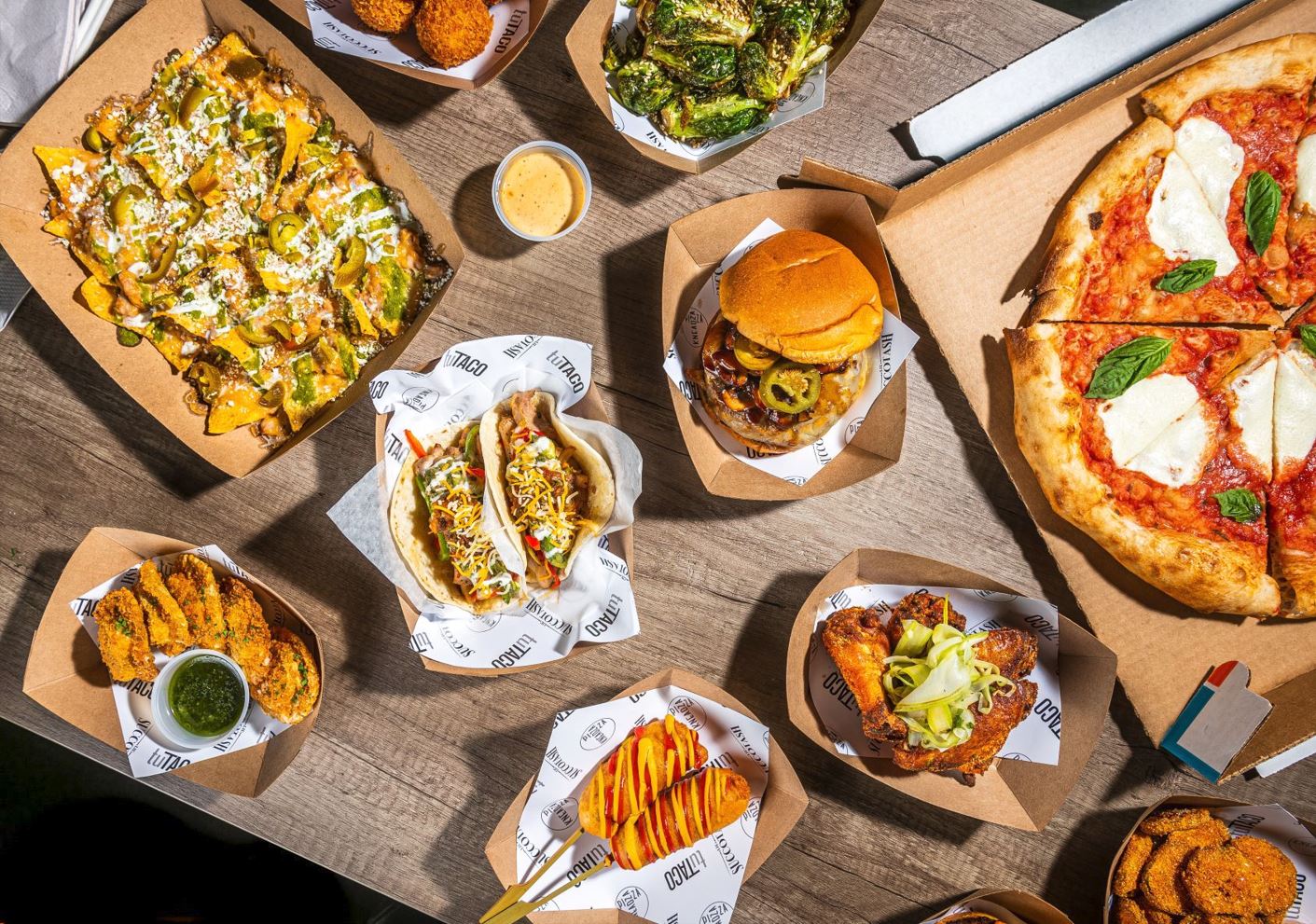 Having worked up an appetite playing mini golf, you can't go wrong with the gourmet street food at Swingers. tuTACO serves up perfectly prepared Mexican food such as tacos, quesadillas and the best nachos in all of DC. Kneadza pizza will fulfill all your Italian cravings with delicious pizza – like the spicy Piccante and rich, creamy Casper – along with soft serve and other treats from Mah-Ze-Dahr Bakery.
Succotash, the most recent addition, creates Southern fusion food you'll fall in love with. We'd recommend the pimento cheese burger for something a little different – but if you'd prefer smaller plates, try finger foods like smoked chicken wings and bacon jalepeño poppers
Perfect for private parties, corporate events and more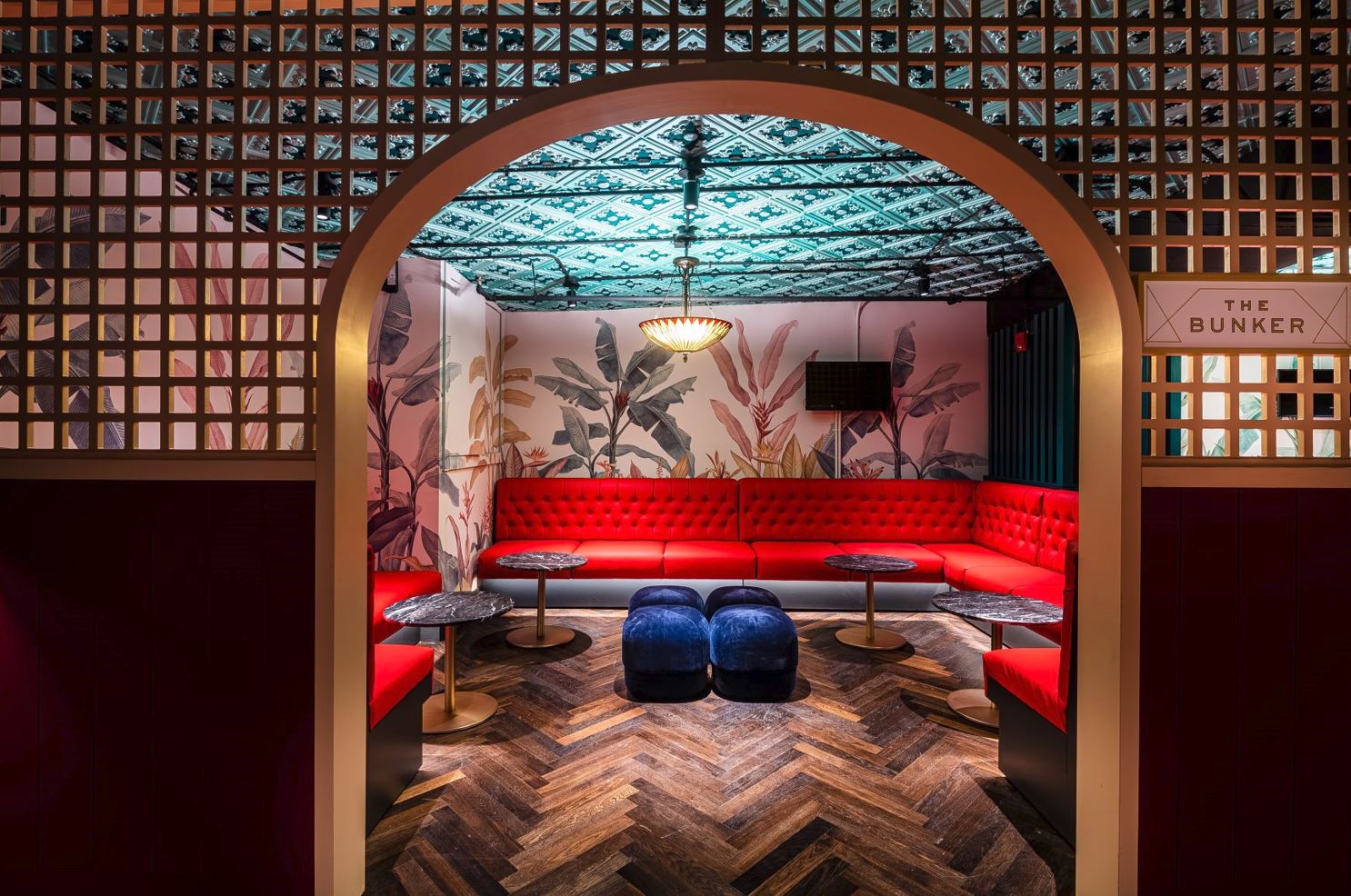 If you'd prefer to have Swingers all to yourself, we have the solution: private hires for groups of anywhere from 12-450 people. You can hire out one of the cocktail bars or a private Swingers event space, such as the Bunker (pictured above). For large corporate events and social receptions, you even have the option to hire out the entire Swingers Dupont Circle venue!
Swingers provides top-notch hospitality and their DC team can cater to your exact needs. Got a catering request? They can organize it for you. Want to plan your night down to a tee (no golf pun intended)? Simply speak to the hosts!
For now, head down to Dupont Circle to get in on the hype – and look out for Swingers' new venue coming this spring. Swingers Navy Yard will have three crazy golf courses, bars and event spaces inspired by the English coast, and even a live DJ to entertain you and your guests all night long.
So from this springtime onward, wherever you go in Washington DC, you can trust there's an amazing entertainment experience nearby just waiting to unfold – because Swingers makes it easy to putt all your troubles away.

JustLuxe Team
The JustLuxe Team strives to bring our members and readers the very best in luxury news and conversations. We love to hear your opinions and suggestions, but most of all, we love to interact with you. ...(Read More)