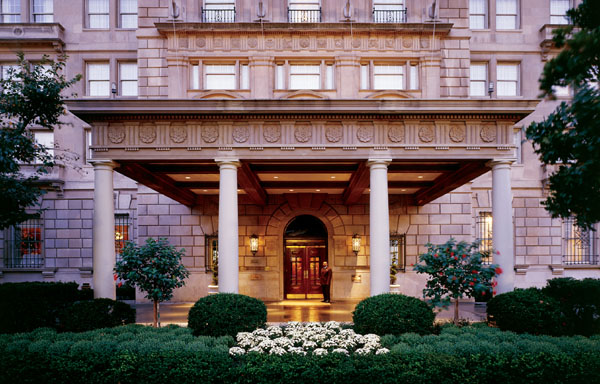 Hotels
Downtown hotel offering 145 rooms including 20 suites. Location is ideal in the center of business and government districts right across from the white house. Rooms with views of the white house are unique to the property providing an unparalleled experience. As close as one can get to staying at the White House - short of being invited by the president. This 145 room hotel is rated 4 star and 4 diamond and just completed an extensive 17 million dollar renovation in March 2002. From the moment you walk into the intimate warm lobby-you will experience a level of service not found in the larger more impersonal hotels. The multi-lingual staff can cater to your every need whether it be limousine arrangements or Kennedy center tickets.
Accommodations
Guests at The Hay-Adams enjoy the quiet comfort normally found only in sophisticated residential interiors. All guestrooms showcase carefully chosen European linens, marble bathrooms with brass fixtures, digitally controlled heating and air-conditioning, complimentary WI-FI access, and a Bose CD System. Luxurious amenities and the meticulous attention to detail ensure that we exceed the expectations of even the most discriminating guests.
DiningThe Hay-Adams is a Washington DC hotel that has a long-standing reputation as a destination for power dining among Washington's elite, as well as a favorite gathering place for visitors, friends and colleagues. Recognized as one of DC's top choices for fine dining and entertainment, the Hay-Adams delivers superb cuisine and attentive service in a stately restaurant setting. From round-the-clock room service, to the elegant dining in the Lafayette Room or cocktails in the Off the Record Bar, you will find options to indulge your mood and taste.
Meetings & Events The Hay-Adams is a perennial favorite of world leaders, business executives and prominent locals when they get together in Washington, D.C. The Hay-Adams takes pride in consistently providing elegant meeting and event facilities, personalized, award-winning service and catering excellence. For corporate retreats, parties and important social occasions, the Hay-Adams is the venue of choice.