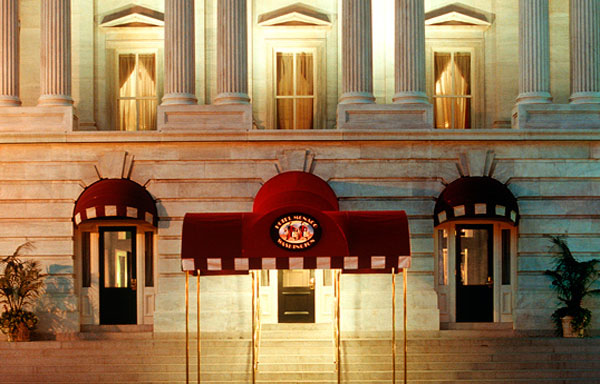 Hotels
Sophisticated, stylish, warm and inviting describe the newly renovated downtown luxury Hotel Monaco Washington DC, a Kimpton Hotel located within walking distance of the National Mall. Set in an historic all-marble building that is a Registered National Landmark, this completely restored luxury boutique hotel has emerged as the discerning traveler's choice among downtown Washington DC hotels. Surrounded by the goings-on of the nation's capital outside and a vibrant setting inside, the luxury Hotel Monaco Washington DC caters to the savviest of travelers accustomed to world-class service.
Accommodations
Discerning travelers love the Hotel Monaco's 183 spacious rooms and hotel suites in Washington DC, appointed with a blend of eclectic yet comfortable furnishings, fabrics and textures. The recent multimillion dollar renovation, orchestrated by California-based Design Atelier, shows off the contemporary styles and modern colors mixed with the traditional designs and original vaulted ceilings.
Dining
Located adjacent to the downtown Hotel Monaco is Poste - Moderne Brasserie, a Washington DC American restaurant appealing to locals and visitors alike. A bustling 174-seat restaurant and bar, Poste is accessed through the historic carriageway portal on 8th Street. This upscale contemporary brasserie features a striking exhibition kitchen and outdoor seating in the courtyard when the weather is warm. The chef offers modern American cuisine, which pairs well with the wine list of American, European and Australian wines. The bar, featuring cocktails and small plates, makes a popular spot after work or after theater.
Spa
Imagine the absolute luxury of having a full-service day spa in the calm and comfort of your Kimpton Hotel room. No walking. No taxis. No inconveniences. Whether you need to unwind after a day of meetings, a long flight, or jump-start your vacation, highly skilled professional therapists can banish stress and tension to help you indulge in the health and wellness you need.
Meetings & Events
The luxury Hotel Monaco Washington DC makes an ideal setting for your next meeting. Located on F Street, between 7th and 8th, in the historic Tariff Building, this boutique hotel provides 7,000 square feet of elegant meeting space. The gracious venue offers classic sophistication and historic significance. With regal colors, plush fabrics and original architecture and design elements, the downtown Hotel Monaco features two meeting rooms that can accommodate up to 300 guests for a reception. The Paris Ballroom, which originally served as a library created by the Post Office General, has been transformed into a distinguished banquet room featuring a dramatic dome skylight. The Athens Room, with its expansive windows showing off views of the courtyard, was originally the "dead letter" room for the post office. Also offered is the intimate Tokyo Boardroom, which can accommodate 16 for smaller meetings in a boardroom setting.