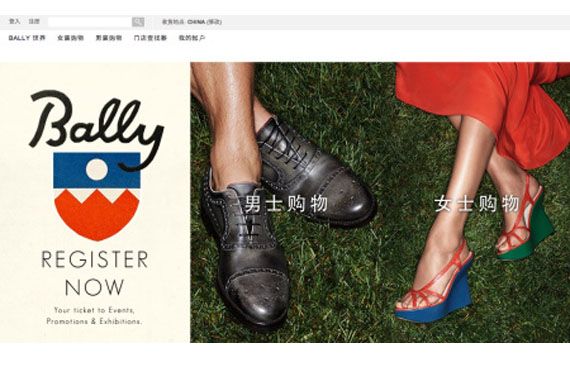 As the
digital world
evolves, it's becoming more and more exciting to see the ways in which brands and service providers are enhancing the customer experience and attracting those outside their traditional base. As Range Rover launched an interactive video, where the viewer dictates the story's path, A Hedonist's guide to...released an application to act as a city guide to 41 countries, that is integrated with Foursquare and iTunes so that users can literally see what's around the corner, whilst listening to a handpicked playlist of tunes.
At Harrods you can use to your iPhone to give yourself a guided tour of the store, whilst at Audi your iPhone can connect with Roadside assistance to rely your location and the problem with your vehicle. At Chapman Freeborn you can search, compare and request to charter a private jet. With the launch of the fifth generation iPhone rumoured for September, the possibilities continue to evolve and expand like never before.
Bally, e-Commerce – China
Following in the footsteps of Marni and Emporio Armani, Bally have partnered with Yoox to launch its first official Chinese-language "Online Flagship." The new online platform, www.bally.cn, carries the entire line of men's and women's products, with express shipping to 400 cities throughout China, local size conversion, free returns, full Chinese-language customer service, and transactions in Chinese Yuan.
Harrods, iPhone
Harrods have launched a free GPS-assisted iPhone application, to make the Knightsbridge store easier to explore, with an interactive store guide, comprehensive news and events pages, restaurant guide and menu listing, containing full details of each of the store's 29 restaurants and cafe?s. The application also incorporates a self-led tour of the iconic property, celebrating Harrods decorated history. Users can also stay informed of Harrods live twitter feed.
Heesen, iPad
Heesen Yachts, the Dutch luxury Superyacht shipyard, is proud to introduce its new iPad application, the first of its kind launched by a shipyard within the Superyacht industry. The free app allows users to browse an extensive gallery of all Heesen's latest vessel launches and includes the basic specifications and features of every yacht in the Heesen fleet. It also incorporates a selection of movies and images, which can be compared and emailed off to other contacts within the application.
Meridian Audio, HP TouchPad
Designed for the new HP TouchPad tablet device and unveiled at the 2011 Cannes Film Festival, Meridian Audio has created a HP webOS application allowing users to enjoy their favourite songs on the move. The Sooloos application is an instant-access music service, based on Meridian's award-winning software and digital media system, that allows users to import all their music from various sources to a HP TouchPad, and access it all in one place.
Chapman Freeborn, iPhone
Chapman Freeborn, the world's largest aircraft charter broker, launched the Private Jet application, giving users immediate access to thousands of aircraft worldwide. Based on live market information and users' particular flight preferences, the app provides instant indicative quotes and identifies a selection of aircraft options including high-resolution photographs and valuable information such as flight times and fuel stops. Customers can then submit their request direct from their handset to Chapman Freeborn's global offices.
InstantLuxe, e-Commerce
Launched originally in Paris, InstantLuxe is currently the only e-commerce buyer-seller platform that works with a team of certified independent professional valuers, to give a guarantee of authenticity to every product sold online. Recently the site has launched in the UK, offering consumers authentic pre-owned designer luxury goods, including bags, handbags, wallets, watches, jewellery and accessories.
A Hedonist's guide to..., iPhone
Covering 41 cities and ski resorts around the world, Hg2 have launched just one application for the iPhone, incorporating a guide to each city's best bars, hotels and restaurants. The application incorporates Augmented Reality (on devices with a compass), integrated Foursquare check-in and the option to download from iTunes a handpicked 'soundtrack to the city'. All Hg2 travel content is stored on the device, only using data connections for features such as maps, check-in and sound track to the city to minimise data roaming costs.
By Malene Birger, e-Commerce
Selling to 12 countries across Europe, By Malene Birger launched an e-commerce site, developed by GSI Commerce, a recent acquisition of eBay. The e-commerce site is lacking in shareability or social functions, focusing exclusively on the product and purchase process. Customers can leverage the Shop by Look application, where the brand has styled entire outfits to be viewed with 360-degree zoom and rotation and can buy all or part of it from the page.
Panerai Magazine, iPad
Launching it's traditionally printed magazine for the iPad, Panerai's application featuring texts, images and videos and allows an interactive navigation in the world of the most important 2011 Panerai novelties. It also presents the collection launched at the Salon International de la Haute Horlogerie 2011.
Chanel, Microsites
Following the successes of News and Confidential for fashion and beauty, Chanel launched two iPad-optimised microsites for both their Watch and Fine Jewellery collections. Users are able to learn more about each watch or jewellery piece and it's manufacturing, through a combination of video and high-resolution images on the "What's New" section of the site. In celebration of the latest resort collection, recently shown at Cap d'Antibes, Chanel have also updated their iPhone application to include images and details of the show.
Audi, Smartphone
Audi have launched a free roadside assistance app for the Apple iPhone and iPad, as well as BlackBerry and Android smartphone users. The Audi Roadside App works by accessing an Audi vehicle's basic information and delivering emergency and concierge services directly to the smartphone, for example locating dealers or connecting with the nearest service centre for repairs. Using the phone's GPS services and VIN information registered on first sign-in, the app pinpoints the trying to reach Audi's third-party service provider, and where they'll be needing a helping hand.
Starwood, Foursquare
Foursquare has partnered with Starwood Hotels and Resorts to begin offering members of the Starwood Preferred Guest (SPG) loyalty program additional points, badges and rewards for their check-ins at participating hotels. In a true display of digital savvy, the announcement was made via the SPGInsider Twitter account "Checking-in just got even more rewarding. Link your SPG acct with foursquare and earn bonus Starpoints, visit http://bit.ly/SPG4Square."
Range Rover, Interactive Video
Promoting the Evoque model by Range Rover, Jaguar Land Rover has developed an Internet film called "Being Henry" that allows users to interact with the film to ultimately reveal their own personal perfect car. The choices that the viewers make in terms of direction, colour and other choices will ultimately lead them to the ideal Range Rover at the end of the story, where there are a possible nine different scenarios with 32 possible endings.