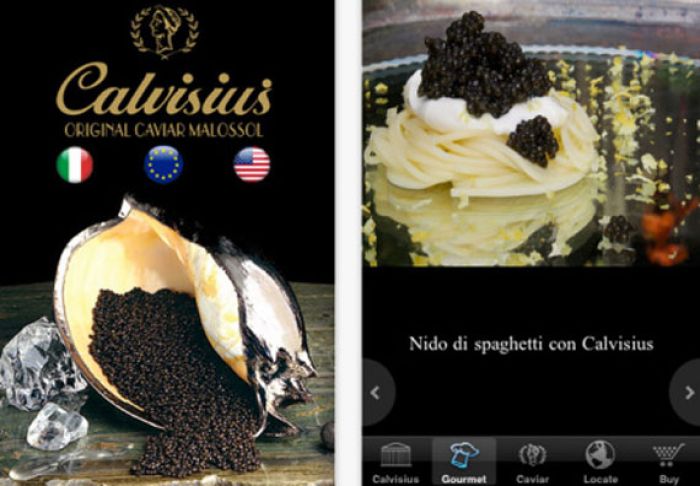 We already know that
luxury goods
manufacturers, automakers and hotels were the quickest to realise the potential of tablet, mobile and
digital technology
, but as the success stories become more prominent and the statistics grow even stronger, other segments of our industry are beginning to further embrace the technology.
Whilst applications may have become old hat for players like Chanel and BMW, this month digital debuts were made within the private aviation, interior design and fine foods subsectors, as brands launched apps and websites to better attract, engage and serve their potential customers.
Calvisius Caviar, Mobile
One of the first caviar producers to engage digital technology, Calvisius Caviar have developed an application that allows users to learn more about the types of caviar they produce, ways in which to prepare their products, a store locator and even the opportunity to purchase the product through their mobile site.
BMW, Mobile
BMW continue to utilise social digital technology to not only engage brand loyalists and consumers, but to invite enthusiasts to become collective engineers in creating the Electric Vehicles (EV) of tomorrow. Their EVolve application analyses users driving patterns to determine if a BMW ActiveE or an upcoming BMW all-electric vehicle is right for them. As the app accumulates driving data, users can connect to the EV Dashboard at Activate the Future to get an in depth overview as to how switching to an EV could positively impact their lives and communities. BMW also plan to use the collective results to continue engineering the next generation of BMW EVs.
Valentino, iPad
Valentino launched a brand application back in October 2010 to showcase collections, fashion shows and behind the scenes content from the house. Their latest update has been optimised for the iPad, meaning that you can enjoy the full Valentino experience on the big screen as well as view new content from the recent Spring Summer 2011 collection.
PreLoved Yacht, Website
Adding to an increasing number of second-hand marketplaces for luxury goods, Preloved-yachts.com is a portal moderated by Azimut-Benetti Group and Fraser Yachts, companies specialising in the management of luxury yachts. Initially available only in Italy, the website will eventually match boats with owners all over the world, and provide the support of industry experts in obtaining all necessary information, booking on-board visits, and organising trial-runs at sea.
Rolls-Royce, iPad
The latest application from Rolls-Royce allows users to visualise their perfect Phantom and share it with friends. Users can choose from 49 existing colour schemes or use the ?Bespoke Colour Match? function to match the Phantom exterior to any colour using the camera function of the iPhone or iPad 2. There is an interactive 360 degree exterior view and three interior views of Phantom, Drophead Coupé and Coupé vehicles, and the ability to customise the interior with a choice of 38 leathers, 13 interior schemes, 17 veneer options, 3 facia alternatives, 13 carpet colours and 3 different options for rear seating.
Wheel style, paint, sunroof and visible exhausts are also customisable, after which users save their car to their ?Garage? ? and share with Friends via Facebook or Email. Users can also access a media library and technical specifications or locate the nearest dealership.
Chanel, iPad
The latest update of the Chanel application features videos and photos of the Fall-Winter show, individual shots of the looks and accessories, and a list of all points of sale globally. The application also includes a direct link to their blog portal Chanel News and has been optimised for the iPad.
Magellan Jets, Mobile
In a bid to better utilise ?empty legs? on chartered jets and offer clients discounted one-way trips, Magellan have launched an iPhone application that allows potential travellers to search for availability in real-time from their iPhone. The options for charter include the most current aircraft available, search features a GPS based search to help find the nearest airport, photographs of the aircraft can be viewed as can the flight path on Google Maps. Alongside the ability to send personalised requests to Magellan Jets, users can also recommend and share empty legs with their colleagues.
Jaquet Droz, Mobile
The new Jaquet Droz iPhone application has been designed to celebrate the brand with loyalists, comprehensively showcasing collections, news and videos, alongside an international geolocation tool for retailers, so users can instantly find and contact Jaquet Droz boutiques or authorised dealers.
Occa-Home, Website
Bringing interiors to the digital age, luxury designers Occa Home have recently launched a comprehensive portal to showcase their products, aesthetics and engage provide potential clients. The website incorporates Boutiques, where the brand has put together a number of room styles in its signature designs for customers to browse through for inspiration. Moodboard allows customers to select a room background and then drag and drop furniture and accessories from the Occa-Home collection to create their own scheme. Users can also live chat with the interior design team, stay informed with weekly news and behind the scenes content on their Blog or download professional design guides to de-mystify the world of interior design.
Lara Bohinc, Web
Alongside Ernst Malmsten, the former founder of Boo.com, London-based luxury accessories brand Lara Bohinc has recently launched an online store. Of the launch Malmsten remarked: "today everyone is online and does not think twice about buying products worldwide. When we were getting started in the late 90s, e-commerce technology was expensive, cutting-edge and risky; now it is proven, totally reliable and costs next to nothing. The revolution in e-commerce technology today is its availability for everyone everywhere."
Aston Martin & HG2, App
Aston Martin recently launched the ?Experience? App featuring advanced telemetry technology and guides to the world?s 40 most exciting cities developed in conjunction with Hedonists Guide To (HG2). Built in motion sensors in the iPhone 4 enable users to record forces acting on, and around the car; as well as lateral and forward stability during a drive. The camera function allows passengers to film their drive experience, while an on screen speedometer measures the speed of the journey and augments into the view.
Finally the app invites enthusiasts to discover some of the world?s best driving roads and circuits with ?Top Roads? an ever expanding collection of the world?s most memorable driving routes. Using the phone?s built in GPS technology hardware, users can check in to locations and share their experiences online.