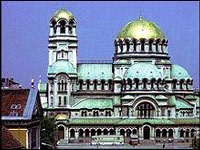 Best Restaurants in Sofia
Eating out in Sofia is a varied experience, with many different options available. Although you''ll be able to find world cuisines like Indian, Italian and Asian, the food at local restaurants tends to be of a higher quality. There are a number of restaurants clustered around the city centre, so if you''re not sure what you want you can walk around until you find something.
Meals in Sofia traditionally start with a salad and glass of plum brandy. From there you can try delicious local dishes like Tarator, a cold soup made from small cut cucumbers, yoghurt, cold water, salt, garlic and fennel; cavarma, a hearty pork and vegetable casserole; or Kiopolu, a salad made from vegetables that have been baked, mashed, then fried. Local desserts include many kinds of baked and fried pastries, like Tikvenik, a baked dessert made from phyllo pastry filled with grated pumpkin, cinnamon, walnuts, and sugar.
Waiters are usually paid a 15-20% tip for good service, which is left in cash. Most restaurants will accept credit cards, though.