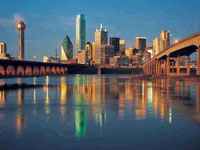 Dallas Overview
The two biggest cities in North Texas, Dallas and Fort Worth, are 30 miles (48km) apart but have been drawn together into one urban concentration known as the 'DFW Metroplex' with a combined population of more than four million.
The two cities are, however, very different halves of a whole. Dallas, its soaring glass-sided skyscrapers seemingly growing like mushrooms out of the prairie, is full of glitz and glamour. Its urban landscape is vigorous and classy, its citizens enjoying the good things in life from fashionable clothing to flashy cars. This thriving city is the ninth largest city in the United States, having grown from a frontier outpost with 20 streets in 1841 to a centre for big business and big banking, helped along a little by 'black gold', the oil that was discovered 100 miles (161km) east of the city in 1930.
Fort Worth, the western half of the Metroplex, is the gateway to the Wild West. Having started out as 'Cowtown', a base for cattle drives, Fort Worth still reflects a laid-back and slightly 'cowpoke' attitude, although surprisingly it has also developed into a cultural centre with world-class museums and a thriving performing arts sector.
Dallas is certainly the place for visitors to enjoy a rich shopping experience and upmarket wining and dining, but Fort Worth is the venue for exciting and interesting attractions and a taste of western culture.