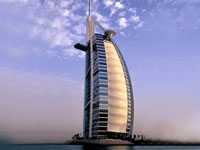 Getting Around Dubai
The most common way of getting around Dubai is by taxi; they are cheap and easy to find. The new Dubai Metro system opened in 2009 and now has 47 stations across 46 miles (75km) of track . It covers the length of Dubai from Jebel Ali in the south, all the way to the airport, then inland to All Rashidiya. Most of the malls are connected on the central portion of the route. There is a Gold class cabin, and special carriages for women and children. Tickets costs from AED2.
Many hotels offer shuttle bus services for guests as well. Metered taxis are cream coloured, with uniformed drivers. The public bus service covers most areas of the city and its beaches; the monthly period pass as well as the discounted purse pass are available. Routes and bus numbers are posted in both Arabic and English.
Small wooden motorboats ( ) cross the creek every few minutes between Bur Dubai and Deira.
Cars are the most popular method of transport for locals in the city, and although roads are well-marked and car hire cheap, visitors should think twice about hiring one, as driving standards are erratic and accidents frequent. All accidents must be reported to the police, and chances are good that a visit to the police station will be necessary. Outside the city, signposts are rare. To hire a car, a credit card, valid passport and International Driving Permit are required and the minimum age is 21 (drivers must have held a full licence for one year).