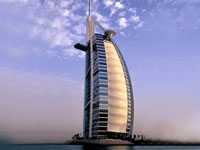 Best Restaurants in Dubai
Few places on earth are as compactly cosmopolitan as Dubai - and that translates into an astonishingly varied cuisine for diners. You can find everything from shawarma joints serving delicious kebabs for under US$1, to 7-course tasting menus prepared by Michelin-starred chefs. Seafood is typically good value and the sushi frequently excellent.
If you want an aperitif or wine with your meal you will need to eat at one the big hotels as no independent restaurants can serve alcohol. Friday brunch has become something of a ritual for both expats and locals so book ahead. During the Islamic holy month of Ramadan only the big hotels will serve food between sunrise and sunset. However once the cannon fires to signal the official sundown people flood into the cafés and restaurants to break their fast. A festive and convivial atmosphere prevails making this a great time to meet the locals.
Sales tax of 10% is added to meal bills, and a 15% service charge may also be levied. If not, a 10% tip is generally expected.