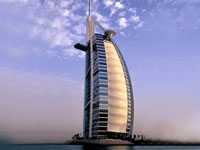 Best Restaurants in Dubai
Few places on earth are as compactly cosmopolitan as Dubai - and that translates into an astonishingly varied cuisine for diners. You can find everything from shawarma joints serving delicious kebabs for under US$1, to 7-course tasting menus prepared by Michelin-starred chefs. Seafood is typically good value and the sushi frequently excellent.
If you want an aperitif or wine with your meal you will need to eat at one the big hotels as no independent restaurants can serve alcohol. Friday brunch has become something of a ritual for both expats and locals so book ahead. During the Islamic holy month of Ramadan only the big hotels will serve food between sunrise and sunset. However once the cannon fires to signal the official sundown people flood into the caf?©s and restaurants to break their fast. A festive and convivial atmosphere prevails making this a great time to meet the locals.
Sales tax of 10% is added to meal bills, and a 15% service charge may also be levied. If not, a 10% tip is generally expected.
Ravi
This popular Pakistani restaurant in Dubai is famous for its good food and relaxed atmosphere. A cheap and cheerful takeaway with outdoor tables attracts both locals and tourists, rich and poor for its excellent slow-cooked beef nihari, lamb haleem, and fresh, buttery naan bread. There's also a family room and cafeteria. Ravi is open daily from 5am to 3am.




CUISINE:

Pakistani


Address:

Al-Satwa Road, Satwa
Ginseng



CUISINE:

Asian


STYLE:

Trendy


Address:

Wafi City Mall


Website:

www.ginsengdubai.com/site.html
Carters @ Wafi Mall



CUISINE:

Gastropubs


Address:

Wafi Mall
Trader Vic's



CUISINE:

Creole


Address:

Souk Madinat Jumeirah, Al Sufouh Road


Website:

http://www.tradervics.com/rest-dubai.html
QD's
For shisha and cocktails QD's (Quarterdeck's) at Dubai Golf & Yacht Club is place to be seen. This super chilled out, funky venue is hugely popular, particularly with young Emiratis who flock here on Friday and Saturday night to enjoy the vibe. Guests can choose to sit on the raised deck by the waters edge or, to occupy their own personal shisha tent, complete with couches and beanbags, and order their favourite flavour ¬?hubbly bubbly' from the menu. Flavours include apple, grape, strawberry and mint. Shisha waiters are constantly on hand with more hot coals to keep the pipes bubbling and the air filled with the sweet smoky smell that has become synonymous with Dubai at night. Guests can also buy shisha pipes and tobaccos to take home as a memento




CUISINE:

Local


STYLE:

Trendy


Address:

Dubai Creek Golf Course, Deira, Dubai


Website:

www.dubaigolf.com/dcgyc/Dining/Qds
The Aquarium at Dubai Golf and Yacht Club
The Aquarium is one of five restaurants situated at the exclusive Dubai Golf & Yacht Club. Located at the end of an impressive drive way, lined with immaculate gardens and enviable creek-side villas guests arrive at the water's edge to superb views of the creek and the arguably the best seafood in town. The Aquarium is aptly named; featuring ceiling to floor windows, an aqua-blue interior and an almost 360 degree panorama, the experience is rather like dining in a giant fishbowl. A large aquarium in the centre of the dining area displays a range of exotic looking fish, however it's the one's on the menu that keep reeling in diners time and again.




CUISINE:

Seafood


STYLE:

Trendy


Address:

Dubai Golf and Yacht Club


Website:

www.dubaigolf.com/dcgyc/Dining/TheAquarium.
Spectrum on One



CUISINE:

Modern Eclectic


STYLE:

Trendy


Address:

1st Floor, Fairmont Dubai Hotel, Sheikh Zayed Road, Dubai


Website:

www.fairmont.com/dubai/GuestServices/Restaurants/SpectrumonOne
Al Muntaha at The Burj Al Arab
The Friday Brunch has become synonymous with the ex-pat lifestyle in Dubai in the last few years. Endless platters of seafood, meat, salads and deserts are offered at restaurants across the Emirate but, for really exclusive dining you can't beat the famous Burj Al Arab Hotel. On Friday 10.00 to 14.30, (Please be informed that the buffet is open until 16:00 hrs) guests can dine two hundred metres above sea level in the Al Muntaha restaurant whilst taking in the stunning view of the coastline. With spectacular views over the new Palm Islands and a plethora of mouth-watering dishes 'Brunch at the Burj' is fast becoming the most sought after venue. The dress code in the restaurant is Smart casual. Gentlemen are requested to wear a shirt with collar, long trousers or smart jeans and closed shoes (no trainers). UAE national dress is welcomed. Guests are advised to book well in advance.




CUISINE:

Contemporary European Buffet


STYLE:

Trendy


Address:

Burj Al Arab, Beach Road, Dubai


Website:

www.burj-al-arab.com/dining/al_muntaha
The Meat Co.
The Meat Co. at the Madinat Jumeirah is place to go for top quality steak in Dubai. So far this South-African chain has just the one restaurant in the Emirate but it's never short of patrons and booking is essential on Friday and Saturday evenings.The restaurant prides itself on delivering A Grade Angus beef, 'wet-aged to perfection' and basted to create succulent melt in the mouth steak. The menu doesn't cater solely for meat lovers, other highlights include the skewered grilled salmon and flame-grilled king prawns. In winter the best tables are outside alongside the Madinat's man-made canals, where diners can watch the boats transporting guests along the water.




CUISINE:

International


STYLE:

Trendy


Address:

Souk Madinat Jumeirah, Shop 148, Jumeirah Beach Road


Website:

http://www.themeatco.com/middle_east/dubai/madinat_jumeirah/
JW's Steakhouse
The award-winning steakhouse is the finest in Dubai with steaks that 'cut like butter' and the freshest Maine lobsters, Dungeness crabs and oysters in town. It is popular for business entertaining as well as for romantic dinners. Begin with lobster bisque or seafood chowder, enjoy steaks, chops or seafood as a main, and finish with New York cheesecake or apple pie. D?©cor is New York style with lots of wood and leather, and the service is excellent.




CUISINE:

American


Address:

JW Marriott Dubai


Website:

www.marriottdiningatjw.ae
Al Dawaar
Situated on the 25th floor of the Hyatt Regency Hotel, Al Dawaar Revolving Restaurant boasts the best views in the city while you dine. The restaurant revolves giving diners spectacular views of the Arabian Gulf, the Creek and the city of Dubai while enjoying a variety of international cuisines. The buffet is the most popular option, including Chinese stir-fries, spring rolls, sushi and local dishes. Open daily for lunch and dinner.




CUISINE:

International


Address:

Hyatt Regency


Website:

www.dubai.regency.hyatt.com
Al Mahara
The signature restaurant of the Burj Al Arab, one of the top 10 hotel restaurants in the world, gives diners a unique experience. A mock submarine ride takes guests to the dining area, where tables are situated around a huge floor-to-ceiling aquarium full of fish. Al Mahara specialises in unforgettable first impressions and fresh seafood and was voted one of the top 50 restaurants in the world. Dinner guests will also be serenaded by harpists, adding to the underwater atmosphere. Jackets are required for men, and reservations essential. Open daily for lunch and dinner.




CUISINE:

Fish


Address:

Burj Al Arab


Website:

www.burj-al-arab.com
The Noodle House
This laid-back venue offers delicious, contemporary South East Asian fare at surprisingly affordable prices. Diners sit at long communal tables and don't need to wait very long for the region's usual favourites to appear, such as spring rolls, noodle soup, or vegetable, chicken and meat dishes served with noodles or rice. The open show kitchen allows diners to watch the food being prepared. Reservations are not accepted, and the place is busy, but the turnover of diners is high so the wait shouldn't be long. Open daily for lunch and dinner.




CUISINE:

Asian


Address:

Emirates Towers Hotel


Website:

www.jumeirahemiratestowers.com
Caf?© Chic
Michelin star chef Philippe Gauvreau creates fresh, innovative French cuisine in a comfortable, elegant setting that is widely acknowledged to be one of the best restaurants in town. As Le M?©ridien Dubai's signature restaurant, it was also honoured with a 'Best of Award of Excellence' for its extensive wine list. Diners should not miss the renowned signature dessert, the chocolate souffl?©. Open daily for lunch and dinner.




CUISINE:

French


Address:

Le Meridien Hotel


Website:

www.dubai.lemeridien.com
Casa Mia
Located within the Le M?©ridien complex, Casa Mia is thought by many to be the best Italian restaurant in the city, known for its home-cooked Italian cuisine. The menu also includes delicious wood-fired pizzas, and in 2007 the restaurant was also honoured with an 'Award of Excellence' for its unique and extensive wine list. Open for lunch and dinner daily.




CUISINE:

Italian


Address:

Le M???ridien Hotel


Website:

www.dubai.lemeridien.com
Verre
British Chef Gordan Ramsay has firmly established his restaurant in the chic Hilton hotel as one of the classiest dining venues in Dubai. The minimalist d?©cor and discreet service focuses attention on the food, which is superb. The contemporary menu includes meat, seafood, chicken and delicious desserts. The sommelier will choose a different glass of wine to complement each course.




CUISINE:

International


Address:

Hilton Dubai Creek, Beniyas Road
The Lemongrass
Voted Best Thai Restaurant by Time Out Dubai, The Lemongrass in Oud Metha serves up traditional Thai food in a relaxed, modern setting. Decor is subtle and calming and seems designed to keep the chi flowing while visitors savour delicious Thai fare. Seafood features heavily on the menu and the grilled Red Snapper in red curry sauce is an alternative to the traditional Thai Green Curry. Also worth sampling is the interesting take on the Pad Thai Noodles. The Lemongrass is a 'dry' venue; however try the freshly squeezed juices and smoothies instead. The peppermint smoothie is popular among return visitors. The Lemongrass offers affordable, appetizing, authentic Asian food. Visitors arriving by taxi, should direct the driver to Lamcy Plaza.




CUISINE:

Thai


STYLE:

Trendy


Address:

Oud Metha, Nr Lamcy Plaza


Website:

www.lemongrassrestaurants.com
Travel guide by (c) Globe Media Ltd. By its very nature much of the information in this travel guide is subject to change at short notice and travellers are urged to verify information on which they're relying with the relevant authorities. We cannot accept any responsibility for any loss or inconvenience to any person as a result of information contained above.