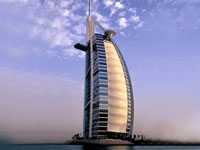 Dubai Kids Attractions
With a reputation for being a millionaire''s playground and known as the shopping capital of the world, Dubai may not seem like an ideal place to take the children on holiday. But after very little searching, parents will find that there is, in fact, plenty to keep their little tykes entertained. From water parks and theme parks to playgrounds and parks, Dubai will cater to just about any child. The beaches in Dubai are also fantastic, but watch out for what time of year you choose to travel - the temperatures can be searing and children will wilt in the heat. The choices are endless in Dubai, but it mostly depends on which park you choose for the day, as they all have something different to offer, from picnic tables and mini golf, to fishing, amusement rides and rollerbloading, there is something for everyone. It''s unlikely that the weather will be too cold to go outdoors, but when it''s scorching hot and over 113°F (45°C), parents will do well to stay indoors, where the air conditioning is cranked on full, and perhaps even attempt a spot of shopping. Most shopping. Most shopping malls in Dubai have children''s play areas and nurseries and the world''s largest shopping mall, the Dubai Mall has an indoor SEGA theme park and children''s ''edu-tainment'' centre, KidZania.
| | |
| --- | --- |
| | One of the most advanced water theme parks ever designed, the five-hectare (12-acre) water park at Wild Wadi offers families and thrill seekers hours of fun, relaxation and... |
| | Located in the enormous Dubai Mall, the recently-opened Dubai Aquarium and Underwater Zoo is fast becoming one of the Emirates' most popular attractions. Featuring the largest viewing panel... |
| | With a variety of sports to choose from, Al Nasr Leisureland offers facilities to cater to just about every sport under the sun. From an ice rink to swimming pools, tennis courts and a... |
| | This 82,890-square-foot (7,700 sq-metre) education park is located in Dubai Creek Park and offers a wide range of activities geared towards kids, making the educational process fun. Children can... |
| | Wonderland Theme and Water Park in Dubai Creek Park is a must for children struggling with the heat in this scorching city. The Caribbean-themed park offers thrilling rides and slides such as... |
| | The Dubai Dolphinarium offers guests the chance to interact with these gentle aquatic mammals and watch them perform tricks with their trainers. The Dolphinarium is home to four Black... |
| | With what seems like an endless lawn, Creekside Park is a great place for families and kids to enjoy while on holiday in Dubai. Boasting botanical gardens, an 18-hole mini golf course,... |
Travel guide by (c) Globe Media Ltd. By its very nature much of the information in this travel guide is subject to change at short notice and travellers are urged to verify information on which they're relying with the relevant authorities. We cannot accept any responsibility for any loss or inconvenience to any person as a result of information contained above.