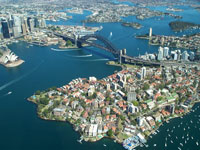 Sydney Nightlife
Sydney''s nightlife is all go, with everything from pubs and jazz bars to rock venues and nightclubs. The best party areas include Darling Harbour, Oxford Street and The Rocks. For listings and free weekly entertainment guides, Drum Media and 3D World are available at bookshops and record stores.
Number One Wine Bar at Circular Quay is quite popular, as are the Lord Nelson, the Australian and the Mercantile pubs of The Rocks. Coogee Bay Hotel has a great beer garden and the Opera bar is a good waterside venue. The best nightclub is Home, housed in a space-age building in Darling Harbour and nearby, the Cargo lounge bar has trendy house music. Tank and Cave also come highly recommended. Sydney''s famed drag shows can be seen at the Imperial Hotel or The Midnight Shift.
Artists, musicians and designers frequent the subterranean Oxford Art Factory in Darlinghurst, and there are jazz and soul performances at the Supper Club in Taylor Square. The Hopetoun Hotel and the Annandale Hotel are good venues for new bands, while the Sydney Entertainment Centre hosts more acclaimed artists. The Basement also features live jazz, world music and international acts.