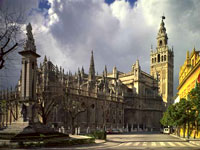 Seville Nightlife
Seville may be pegged as the slightly sleepy southern cousin of Madrid and Barcelona, but the local taste for living leaves little to be desired when it comes to nightlife. Between the bohemian "botelling" of the local university students and the affinity for the arts held by the more sophisticated Sevillianos, the Andalusian capital has an assortment of activities on offer; nightlife in Seville is merely a matter of deciding what to do and where to go.
Regardless of how you end your evening, a great way to start is by blazing a tapas trail. A wide selection of dingy dives and smoother, more stylish spaces crowd around the cobblestone streets of Barrio Santa Cruz and the area around the Catedral de Seville. Simply look for the prodigal leg of (cured ham) hanging from the ceiling and pop in for a quick bite, an easy chat and a cold (Seville''s local beer). Keep moving though: walking, talking and eating is the best way to conquer the countless options.
When you can''t stomach any more sample-sized portions, head to either Plaza Alfalfa or Calle Betis for a bit of bar-hopping. Both areas offer revellers some real choice - the latter literally wall-to-wall with local watering holes. During Seville''s sultry summer nights, sipping a sherry alongside the Guadalquivir River is also an intoxicating way to kick-off the evening.
Most Seviallanos only leave home around 11:30pm, at which point they start the night with a stiff drink and a shot. Partygoers drain their drinks and head to the discotheque around 1am - from here it''s possible to dance the night away until 10am the next morning.
For those with a calmer, more cultural appetite, the nightlife in Seville can be just as satiating.
Flamenco, a passionate mix of dance, music and singing with roots reaching into Andalusia''s Roma (gypsy) communities, is a firm favourite and must-see in the city. There''s plenty of venues with regular (performances); the Triana district caters to locals while options in Santa Cruz are more tourist-friendly - often offering a traditional Andalusian meal alongside the performance. Visit the central tourist bureau to schedule a slot for yourself and your family.
For those who would rather forego flamenco, Seville''s opera house, Teatro de la Maestranza, attracts iconic celebrities and features big-name shows. Occasionally jazz and classical concerts also take place.
If itching for something more interactive, clubs where locals show-off their Sevillanas skills are also spotted and dotted around the city. Tourists can learn the basic steps of this famous dance in these informal gatherings of singing and dancing.