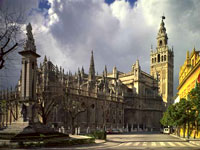 Seville Shopping
Though the city isn''t as fashion conscious as other nearby cosmopolitan counterparts, Seville is nonetheless Spanish, meaning aisle cruising is an acceptable way to spend large chunks of time. Tourists will find the experience relaxed and unhurried, many Sevillian shoppers make several stops along the way for coffee and tapas, and stores often close in the middle of the day for siesta.
Shopping in Seville has everything from small, specialty shops to big, overbearing department stores. In fact, the local little guys are often embroiled in battle with the emboldened Spanish brands, the most famous being Zara and Mango. Needless to say, tourists have an amazing assortment of options.
The area around Plaza Neuve is prime territory for anything chic and stylish, and the pedestrian thoroughfares of Calle Tetuan and Calle de las Sierpes are cluttered with opportunities to purchase some smart Spanish clothes or pay top dollar for the more high-end haute couture.
Tourists shopping in Seville may also be interested in scooping up a few items more aptly aligned with local culture. Ceramics and Andalusian linen and shawls make great Seville souvenirs and are in no short supply.
Take a trip across the Guadalquivir River to the traditional tile-making area of Triana; a handful of shops and functioning workshops sell beautifully crafted tiles and in some cases it''s possible to watch the craftsman shape their wares. Many of the beautiful azulejos (ceramic tiles) adorning local churches, houses and tapas bars are still sculpted there today.
If you don''t feel like trooping so far, the area around the Reales Alcazares and the Barrio Santa Cruz also houses a healthy supply of shops selling hand-painted ceramics and embroidered blankets and scarves. There''s also plenty of touristy knick-knacks and Seville bric-a-brac on sale.
Most shops are open from 10am to 2pm and then from 5pm to 8pm during the week; from 10am to 2pm on Saturday; and are closed on Sundays. The big-brand names and large department stores often stay open all day. Most places accept all major credit cards.