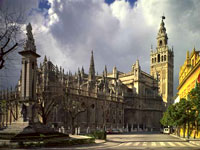 Best Restaurants in Seville
Eating out in Seville is approached with the same simplicity locals lend to their lifeview. Dishes are uncomplicated and honest, and ingredients are fresh, flavourful and above all else, tasty.
Similar to the architectural and historical roots of the Andalusian region, cuisine in Seville is a mix of Mediterranean and Moorish tradition. Main ingredients include olive oil, garlic and wine; but a strong Muslim influence has also infused recipes with a handful of mint, a pinch of spice or fragrant citrus and almond elements.
Many visitors are surprised to learn that the city lays claim to Spain''s most well-known culinary legacy - the . These small, bite-sized portions make for light and delicious meals, and cater perfectly to a culture that believes whole-heartedly in the value of good conversation.
Though tapas used to be complimentary alongside a nip of sherry or a glass of wine, these days visitors will be hard-pressed to find a restaurant simply "giving away" the traditional side of (cured ham) or the odd bowl of (olives). Still, sampling one of the 4,000 odd tapas bars is a must, or if you''re in the mood for something more substantial, the city has an assortment of impressive restaurants suitable for a variety of budgets.
Over lunchtime ask about the (menu of the day); this normally includes a choice of soup or salad, a main course, and a dessert - and often proves a delicious and economic way to make your way through Seville.
Keep in mind the Spanish eat late, most restaurants only open at 8pm; though the locals will filter in between 9pm and 11pm.