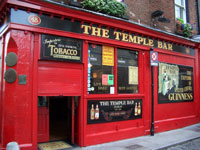 Best Restaurants in Dublin
The dining scene in Dublin is booming and has improved considerably over the past few years and much like other international cuisine hot-spots, good food can be pricey. For less formal dining, there are plenty of charming eateries for visitors to sample not only international dishes but also good old home-cooked Irish fare.
Irish cuisine consists of simple meat dishes, usually paired with boiled root vegetables such as turnip, carrot, parsnip and an Irish favourite, potatoes. Other popular dishes include mutton and beef stews, often cooked with Guinness, as well as tripe, meat and blood puddings, and sausages.
A new trend in Celtic cuisine, known as ''modern Irish'' has become increasingly popular and can be described as French cuisine infused with the natural flavours of the Irish countryside and coastal waters. The cobblestone streets of Temple Bar district, as well as the Trinity College area, offer a wonderful and eclectic selection of eateries where visitors can whet their appetites.
Gallagher's Boxty House
One of the most popular restaurants in the Temple Bar District, Gallagher's Boxty House specialises in traditional Irish food like fish and chips, soda bread, and especially the boxty, a quintessentially-Irish potato pancake. Gallagher's goes through a tonne of potatoes every week, serving them up to buzzing crowds who come for the filling food and lively music.




CUISINE:

Local


Address:

20-21 Temple Bar


Website:

www.boxtyhouse.ie
One Pico
One of Dublin's most popular eateries, One Pico has becoming something of an institution in dining out in Dublin. Thus multi award winning restaurant serves delicious local fare including organic smoked salmon with pickled cucumber, remoulade and herb crème freche, and a firm favourite on the menu, the fillet of Irish Hereford Beef served with a white onion puree, parmesan fondue and crispy tempura onion. Open Monday to Saturday for lunch and dinner. Reservations essential.




CUISINE:

Irish


STYLE:

Romance


Address:

5 - 6 Molesworth Place Schoolhouse Lane


Website:

www.onepico.com
Yamamori Sushi
With its long wooden bench tables, stone pillars, clean lines and light, airy atmosphere, this spacious eatery lends itself perfectly to the ritualistic art of eating sushi. A favourite with locals and tourists alike, Yamamori Sushi is one of Dublin's favourite Asian restaurants, and for very good reason. Feast on Karubi beef, salmon teriyaki and Yamamori Ramen, which is made up of char-grilled chicken, king prawns and char shu with crispy tofu, egg, wakame, menma and spring onion in a chicken and pork stock. Open daily for lunch and dinner. Reservations recommended.




CUISINE:

Japanese


STYLE:

Trendy


Address:

38 - 39 Lower Ormand Quay


Website:

www.yamamorisushi.ie
Juice
This aptly named restaurant situated in the Trinity College area offers around 30 types of juices and smoothies. With a wonderfully light and airy décor and such a diverse and exciting menu, most guests at Juice probably wouldn't even notice that it's a vegetarian restaurant. Brunches include pancakes and French toast with fresh fruit and maple syrup, while the rest of the day can be spent sampling dips such as hummus, tapenade and roasted carrot pâté with crudités. Open daily for lunch and dinner. Reservations are recommended. A seated service charge of 10% is charged to all tables.




CUISINE:

Vegetarian


STYLE:

Trendy


Address:

73 - 83 S. Great Georges St


Website:

www.juicerestaurant.ie
Yamamori Noodles
Popular at lunchtime, Yamamori Noodles has a casual yet lively atmosphere with an exciting menu to boot. Prices range from bargain to complete over indulgence and meals like chile chicken ramen or the with its mound of wok-fried noodles piled high with prawns, squid, chicken, and roast pork won't break the bank. Open daily for lunch and dinner. Reservations only for parties of four or more.




CUISINE:

Japanese


STYLE:

Trendy


Address:

71 - 72 S. Great George's St


Website:

www.yamamorinoodles.ie
Tante Zoé's
Located in Dublin's lively Temple Bar District, Tante Zoé's serves some of the finest Creole and Cajun cuisine this side of the Mississippi. With cosy and colourful décor, calypso music and warm hearty meals, this restaurant does not disappoint. Try the fresh fillet of pan-fried seabass served with a coconut lime and chilli sauce, or the Dooky gumbo, a hearty Cajun stew with whiskey salami, Kabonossi sausage, chicken, pork & beef. Open Monday to Sunday. Closed Sunday lunch. Bookings recommended.




CUISINE:

Cajun


STYLE:

Romance


Address:

1 Crow Street, Temple Bar
The Bad Ass Café
This loud and busy restaurant has been a much-loved eatery with Dublin's locals for over 20 years. The menu serves old favourites such as burgers, pasta, steaks and salads, appealing to just about everyone. This quirky restaurant in the lively Temple Bar District, where orders are clipped to a wire before being whizzed off to the kitchen, is known as the place where Sinead O'Connor used to wait tables. Open daily from 11:30am until late.




CUISINE:

American


Address:

9-11 Crown Alley
The Wicked Chef
This affordable neighbourhood eatery serves some of the most humble Irish cuisine Dublin has to offer. It's a firm favourite packed with locals who come to enjoy its flagship dish of Irish stew cooked in Guinness as well as its 'Dublin Coddle', among other local specialties. Open Sunday to Friday for lunch and dinner. Saturday dinner only. Reservations recommended.




CUISINE:

Café


Address:

73 Meath St
L'Ecrivain
One of Dublin's finest restaurants, L'Ecrivain offers diners a relaxed and unpretentious experience. Chef Derry Clarke's food is absolutely mouth-watering, from his seared wild Irish venison loin with caramelized pear, or seared Bere Island scallops with lobster strudel. Menu prices are changed regularly and are extortionate but L'Ecrivain gives guests the opportunity to sample some of its dishes in the form of a two-course lunch menu at a more reasonable price. Open Monday to Friday for lunch and dinner. Saturday dinner only, closed Sunday. Reservations essential.




CUISINE:

French


STYLE:

Romance


Address:

109 Lower Baggot St, Fitzwilliam Square


Website:

www.lecrivain.com
Jacob's Ladder
Offering wonderful views of Trinity College, Jacob's Ladder serves some of Dublin's finest Irish fare, from a rich prawn bisque with sautéed spinach for starters to a roast loin of wild boar with a of red onions. The food and service here are excellent. And there is also a good range of vegetarian dishes on the menu. Open Tuesday to Friday for lunch and dinner. Saturday dinner only, closed on Sunday and Monday. Reservations recommended.




CUISINE:

Local


STYLE:

Romance


Address:

4 - 5 Nassau St
Nosh
This trendy laid-back restaurant is highly popular with Dubliners for a tasty weekend brunch where club sandwiches, soups and salads are the order of the day. Dinners are slightly more exotic with Nosh offering some wonderfully different dishes such as grilled filet of plaice with crabmeat. Open Tuesdays to Sundays from noon until 10pm. Closed on Mondays. Reservations recommended.




CUISINE:

International


STYLE:

Trendy


Address:

111 Coliemore Rd, Dalkey


Website:

www.nosh.ie
Café Mao
The iconic Café Mao has been a firm favourite with Dubliners since its opening a few years back and is frequented by anyone who's in the mood for a little Asian flair. The exposed kitchen lines an entire wall, and the rest of the space is wide open which makes this an excellent environment for people watchers. The menu comprises everyone's favourite Asian dishes, such as Thai fish cakes, chicken hoisin and salmon ramen, to name a few. Everything on the menu is delicious and it is hard to go wrong when dining here. Open daily for lunch and dinner. Reservations recommended.




CUISINE:

Asian


STYLE:

Trendy


Address:

2 - 3 Chatham Row


Website:

www.cafemao.com
Abbey Tavern
Renowned for its traditional music ballad sessions, this 16th century tavern, complete with blazing fires, original stone walls and gas lights, features a wonderful restaurant upstairs. The menu changes on a seasonal basis but features such culinary delights as (seafood crepes), roast duckling with ginger and pineapple, or spinach and ricotta tortellini. After the meal, guests can enjoy the live entertainment downstairs in the form of some tradition Irish music. Open for dinner Monday to Saturday from 7pm to 11pm. Bookings are recommended and credit cards accepted.




CUISINE:

International


Address:

Abbey St., Howth, Northern Suburbs


Website:

www.abbeytavern.ie
Travel guide by (c) Globe Media Ltd. By its very nature much of the information in this travel guide is subject to change at short notice and travellers are urged to verify information on which they're relying with the relevant authorities. We cannot accept any responsibility for any loss or inconvenience to any person as a result of information contained above.