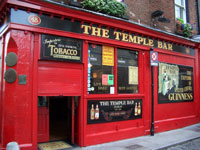 Best Restaurants in Dublin
The dining scene in Dublin is booming and has improved considerably over the past few years and much like other international cuisine hot-spots, good food can be pricey. For less formal dining, there are plenty of charming eateries for visitors to sample not only international dishes but also good old home-cooked Irish fare.
Irish cuisine consists of simple meat dishes, usually paired with boiled root vegetables such as turnip, carrot, parsnip and an Irish favourite, potatoes. Other popular dishes include mutton and beef stews, often cooked with Guinness, as well as tripe, meat and blood puddings, and sausages.
A new trend in Celtic cuisine, known as ''modern Irish'' has become increasingly popular and can be described as French cuisine infused with the natural flavours of the Irish countryside and coastal waters. The cobblestone streets of Temple Bar district, as well as the Trinity College area, offer a wonderful and eclectic selection of eateries where visitors can whet their appetites.