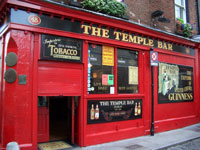 Dublin Shopping
Dublin may be small, with its two main shopping districts located no more than a 20 minute walk away from each other, but it has some wonderful opportunities for shopping sprees in some of the world''s top shops and brand names.
The largest of Dublin''s shopping centres, the Jervis Shopping Centre, is located on the north side of the River Liffey and offers 2 floors of shopping decadence while the top floor is a food hall where shoppers can stop to refuel. The Blanchardstown Centre is the largest shopping centre in Ireland, spanning two floors, four wings and a plethora of shops and boutiques selling just about everything.
On the south side of the river is Grafton Street, where some of Dublin''s most expensive shops can be found, such as Weirs, an up-market jewellery shop offering wonderful Celtic souvenirs in silver and white gold. Popular with tourists is the Blackrock Market, touting locally produced arts, crafts and food; the Temple Bar district also has several markets for books and locally-produced foodstuffs. The House of Ireland on Nassau Street is the place to go to buy some of the finest quality souvenirs Ireland has to offer, from crystal to knitwear and Irish linen, which is still regarded as some of the best in the world. Other popular Dublin souvenirs are the cheap tinwhistles found in many shops.
Most shops in Dublin are open from 9am to 6pm or 7pm from Monday to Saturday, while they''re only open from 12pm to 6pm on Sundays. Value added tax (VAT) of 21% is levied on most goods and services but non-European visitors can apply for a tax refund on any goods bought that are being exported. Not all Dublin shops participate in Tax-Free Shopping programme, so tourists are advised to look out for the logo displayed in shops windows.