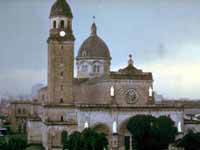 Things to do in Manila
The cosmopolitan capital of the Philippines, there is plenty to see and do in Manila. The city is full of history and this is evident in the ruins that still stand from the original capital of the Spanish East Indies which was founded in 1571, Intramuros, located on the south bank of the Pasig River. The surrounding area is full of performing venues, art galleries, shops and restaurants, making it a popular tourist Mecca. History buffs will also love the National Museum which exhibits sunken treasure from one of the Manila galleons dating back to 1600, while the Ayala Museum educates visitors on the history of the Philippines. Manila sustained heavy damage during WWII, but has since rebuilt itself into a major tourist destination in Asia.
Travellers should note that many Filipinos are Catholic, evident in the multitude of ornate churches, such as the San Agustin Church which dates back to 1606 and has survived invasions and world wars. Manila has one of the largest Chinatowns in the world, where one can find exotic Chinese goods and delicious cuisine.
The Malacanang Palace, which is the residence of the Head of State is also worth a visit, while the American Cemetery and Memorial honours those who died during WWII and is a peaceful retreat from the buzz of the city.